HubSpot has a lot of features. There's no doubt about it. That's why we've started a series on the underrated HubSpot tools in each different hub. This week we'll dig into the top underrated HubSpot sales tools that you might not even know exist.
HubSpot Sales Hub has a lot to offer its users, but it's easy to become complacent and only use those tools that are familiar. But familiar doesn't necessarily mean superior. The tools that are often overrated are often the ones that hold the most opportunities. By leveraging the tools that are overlooked by others, sales teams will be able to expand their HubSpot capabilities within Sales Hub to better serve their business and their clients.
The Value of HubSpot Sales Tools
HubSpot Sales Hub is stacked with a powerful suite of tools that accelerates the productivity and overall efficiency of sales teams. Organizations of all sizes in a variety of industries are able to capitalize on these wide range of tools to unlock revenue growth and scale business operations.
HubSpot users that take advantage of undervalued Sales Hub tools will guide prospects and customers more effectively through the sales funnel and ultimately provide a smoother user experience. It's all about offering a frictionless buyers journey that facilitates brand advocacy and retention.
The best sales managers regularly look for new opportunities to streamline and strengthen their sales funnel. The following tools will help you do just that. But before we get into the nitty gritty, it's important to remember that the value of each feature will vary according to the business it is being applied to.
So let's get to it. Here are the top underrated HubSpot sales tools that all HubSpot users and sales reps need to know.
1. Video Creation and Integration Tool
The secret is out. Video is becoming more and more important to sales professionals. According to Wyzowl's State of Video Marketing Survey, nearly nine out of ten people report wanting more videos from brands in 2021. This increased demand for personalized video marketing makes video an excellent tool for lead generation and brand awareness.
Sales reps looking for additional ways to inject more individualized and personalized communication with leads can leverage the 1:1 Video Creation tool to record and send videos in chat conversations, 1:1 emails, and sales email templates. Each of these videos can be up to an hour in length and be fully created within the HubSpot platform. It is important to keep in mind that the authorization and creation of a Vidyard GoVideo personal account is required in order to utilize this tool to its maximum capabilities.
The video creation tool has a wide spectrum of applications sales reps can take advantage of. For example, sales reps can leverage the video creation tool to send personalized videos to their chat visitors directly from the conversations inbox. The visitor who is engaging in the chat will be able to access the video directly in the chat widget for quick retrieval. Sales reps can also choose to create videos for 1:1 emails to efficiently answer prospect questions and move them further down the sales funnel. Here is a video breakdown of how to embed personalized video into your HubSpot sales emails:
To access the video creation tool:
Navigate to 'Contacts' in the top left corner, then click 'Contacts' in the drop-down menu.
Type in the name of the contact in the search bar.
Click their 'Name' and open their contact record.
Click 'Email' to the right of the 'Contact Name', then click 'Create Email'.
At the bottom of the email body text area, click 'Insert' and then click 'Video'.
At this stage, you will be prompted to set up or connect your Vidyard Go account.
Click 'New Video' if you want to create a new video, screen recording, or upload a video not yet in your account.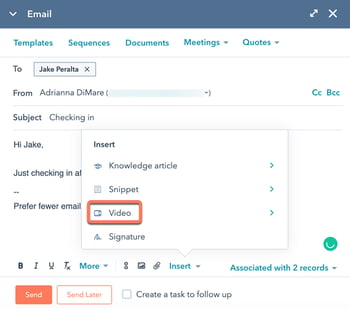 2. Mobile CRM App
The remote work landscape continues to evolve as the pandemic approaches its one-year anniversary. According to Global Workplace Analytics, 25-30% of the workforce will be remote by 2021. A majority of businesses are turning to hybrid workforces to avoid the disruption caused by the pandemic. But a remote workforce can only maintain business operations if they have the appropriate tools and technology at their disposal.
This is where the HubSpot mobile CRM app comes in handy. Sales teams that are equipped with the HubSpot CRM mobile App maintain access to important sales tools and data on the go.
Once sales reps are logged into the mobile CRM app, they can:
Access their contacts and reports regardless of time and location.
Access their 'Today View' report remotely to ensure they stay on top of prospect activities in real time.
Access chat conversations.
View and update contacts and companies.
Monitor deals and tasks.
Manage app settings.
The mobile CRM app is being further developed to include a new HubSpot keyboard included on both iOS and Android that brings together snippets, meeting links, documents, and quotes to commonly used apps such as Whatsapp, Slack, and more.
And better yet, HubSpot Mobile CRM app is available for all users. Here is a screenshot of how a typical contact record looks in the mobile app.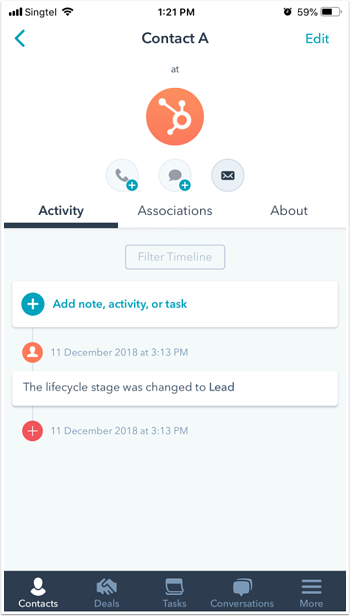 To access the mobile CRM app:
First, navigate to where you download apps.
Search App store for the HubSpot Mobile CRM App.
Download for iOS or Android.
Log into your HubSpot account.
From here, you'll be able to see CRM information, tasks, meetings, and more all in one place.
3. Snippet Tool
Are your sales reps consistently responding to leads with the same repeatable phrases? If so, the snippet tool can be leveraged to automate canned responses and speed up sales communication. This way you can guide prospects over the conversion finish line faster and more effectively.
So what exactly is a snippet? Not to be confused with a featured snippet or a structured snippet, a snippet is typically described as reusable text blocks that can be utilized for contact, company, and deal records, in email templates, in chat conversations, and when logging an activity or note.
Snippets provide sales reps the capability to respond to prospective leads quickly without compromising the tailored approach or the quality of information. For example, a sales rep can use snippets to quickly respond to a prospect during a live chat conversation or to quickly pull in important product or service information when writing an email.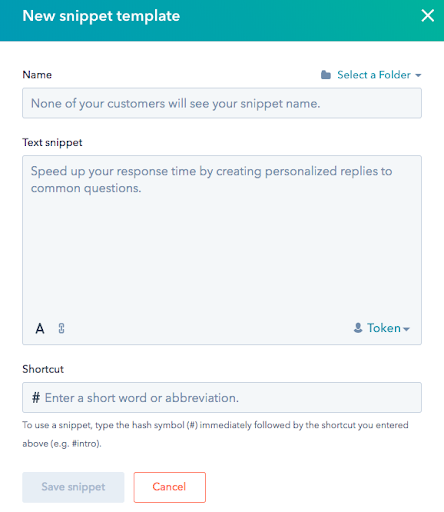 To access the Snippet tool:
Navigate to Snippets (Conversations ⇒ Snippets).
Click 'Create Snippet' in the upper right corner.
Enter a name for the snippet in the 'Internal Name' field.
Enter snippet copy in the 'Text Snippet' section.
Enter a name for the snippet shortcut in the 'Shortcut' section. This shortcut is used for inserting snippets in a record, email template, live chat conversation, or when logging an activity.
When finished, click 'Save Snippet'.
4. Artificial Intelligence Tools
HubSpot continues to push the innovative needle further through continual development of artificial intelligence. HubSpot's AI tools help streamline the information capture process by automatically scanning a prospect's email signature and pulling relevant information like name, job title, company, and more into your CRM. HubSpot estimates that this AI feature alone will save sales reps one hour and 50 minutes of time per week.
While AI is included with HubSpot and requires no technical set, it does however need to be proactively turned on. This small activation step is the main barrier preventing the majority of HubSpot users from capitalizing on this time-saving tool. But not you. You are different. You view the latest technological advancements as opportunities to better serve your clients rather than an obligation or a necessary chore in order to keep up with rising competition.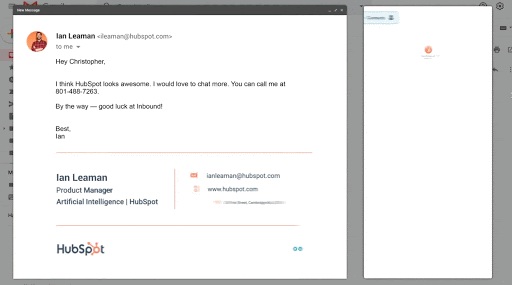 To access the AI powered tool:
Click the 'Settings Icon' in the main navigation menu.
Navigate to 'Contacts & Companies' in the left sidebar menu (CRM ⇒ Contacts & Companies).
Once on the Contacts tab, click 'Automatically capture contact details from emails with HubSpot AI' to toggle on and off.
If a sales rep wants to export a file of all contact properties automatically filed by HubSpot AI click 'Export Filled Properties'

5. Sales Analytics Tool
The measured success of a sales team highly depends on the ability to provide streamlined sales reporting. The harsh reality is that most sales leaders spend too much time in spreadsheets, fumbling over data to create even the simplest monthly report.
The new Sales Analytics tool provides rich insights into the general health of your sales pipeline. The increased visibility into rep performance and deal pipeline allows sales managers to utilize data to coach sales reps and improve outcomes over time. Sales reps can utilize powerful customizable sales reports such as the deal funnel report, deal pipeline waterfall report, and the deal change history report to gather actionable data on their rep performance, deals, and sales funnel in order to be better positioned to optimize a sales strategy for future projects more effectively. Here is a breakdown of some of the new powerful sales reporting options available.
Deal Funnel Report - This report provides a classic view to easily comprehend the efficiency of your sales funnel. The report shows the total number of deals in the deal stages of the pipeline selected and the conversion rate between each deal stage.
Deal Pipeline Waterfall Report - This report helps illustrate the "why" behind changes to your pipeline. End-users can easily view the specific types of changes to deals in a given time period and even take it a step further by analyzing the deals that had decreased or pushed during a given time period.
Deal Change History Report - This report is used to figure out exactly why deals changed by illustrating a real time feed of every change to deals in your pipeline. In this report, HubSpot identifies important changes such as new deals created, close dates that were pushed out, changes to deal amounts, and deals that have regressed to earlier pipeline stages.
Coach Reps & Teams Report - This report provides rich insights on individual sales rep performance so managers can have more comprehensive coaching sessions and 1-on1s. By understanding the successes and shortcomings of individual sales reps, managers can better apply personalized training and coaching to bolster performance and efficiency.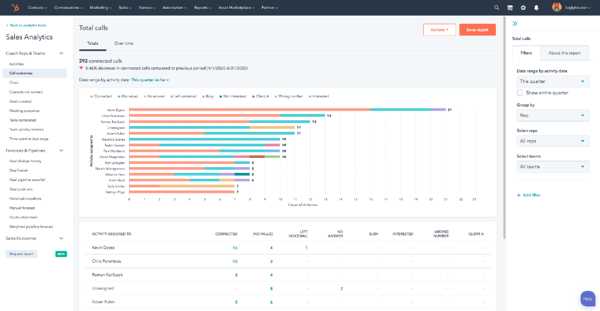 To access the Sales Analytics tool:
Navigate to 'Analytics Tools' (Reports ⇒ Analytics Tools).
From there, click on 'Sales Analytics'.
Click 'Filtering Options' to easily customize the reports.
Differentiate from Complacent Competition with Underrated HubSpot Sales Tools
New tools are often underutilized due to people's inherent avoidance of pattern disruption. In other words, tools become overlooked and thus underrated because people tend to fear the unfamiliar. Once people enter a comfortable routine, it's hard to prove it's worthy of breaking. This type of mindset can be extremely detrimental in terms of innovation and optimization. How can you be sure you are serving your client's best interests if you don't consistently search for ways to expand your capabilities and break out of your comfortable routine?
As always, it is the marketers that are ever curious, consistently self-educated, and primed with an innovative mindset that will end up differentiating and positioning themselves for long-term success.
HubSpot users and sales teams that break out of their comfort zone and begin utilizing underrated HubSpot sales enablement tools will differentiate themselves from their complacent competition and better position themselves to meet the needs of their business and clients.