Have you noticed, branded backpacks are the new go-to briefcase? Corporate America is ditching the traditional work bag and opting for something a bit more versatile, useful and personalized.
Instead of a briefcase, that gets you to work and back, the backpack is made to carry all the necessities of life. Whether it be a corporate meeting or a workout class, the backpack is adaptable and functional. Simply put, it targets a modern person's needs.
This shift is great news from a marketer's standpoint. Branded backpacks are in high demand because they can be used for everything. Their versatility increases the longevity, brand exposure, and staying power of a promotional bag. And thus, a better overall investment.
So what's the strategy behind selecting a top branded backpack? With countless styles and options to choose from, you have to have a solid understanding of your buyer persona. Start here to gain an understanding of what delights your customer.
Top Branded Backpacks for Every Persona
When it comes to branded backpacks, there's really a little something for everyone. From customized hiking backpacks to promotional backpacks for the office, you can find a style that will suit your ideal customer. In this post, we've outlined our top picks for some of the most popular adventures. But just in case you don't find what you're looking for, here's an overview of some of the most popular types of branded backpacks you can choose from:
When selecting the type of branded backpack, you'll also want to consider your budget and the purpose of your gifts. If the goal of your giveaways is to spread brand awareness with freebie gifts to any interested prospect, maybe a lower-cost option is for you. But if you're targeting a valuable account, or investing in employee gifts, maybe a luxury backpack is the better choice.
Whatever your goal, you'll want to make sure your choice is aligned with the right persona. So consider first what fits your buyer persona, then choose from these top branded backpacks for every adventure.
1. Best Carry-On Travel Branded Backpack
Is your targeted persona a frequent flyer? Perhaps they spend their days traveling for business or just enjoy traveling in general. A good carry-on travel branded backpack will allow users to keep all their essentials in an easy-to-reach place. It includes space for electronic devices, yet isn't overly bulky. Frequent travelers spent their time dashing from airport terminals to trains to taxis. So a branded carry-on travel backpack shouldn't weigh them down.
Our Top Pick: The Mission Pack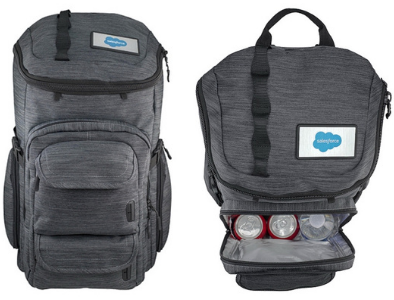 This branded backpack features a large interior space capacity that will give secure protection for laptops up to 15 inches. It also features an insulated cooler pocket which can help keep healthy snacks cold even at the airport. And, we all know the struggle of having to find a charging port while in the middle of the airport. The Mission Pack's built-in dual tech ports allow for easy connection, even if it's a little inconvenient to be trapped next to the only outlet left in that airport terminal.
For added peace of mind, the backpack is also RFID-lined, which secures electronic devices and other sensitive material from hackers. And let's not forget about the padded shoulder straps with a sliding sternum strap, adding comfort no matter how heavy the load.
Branding Options: The bag can be customized with a full-color logo on its top panel, giving you maximum brand exposure, wherever your recipients' travels take them.
2. Best Road Trip Travel Branded Backpack
There's usually a big difference between a frequent flyer and a frequent road tripper. The road tripper will likely have more essentials packed in their load. Typically, the road tripper is using their backpack outside their car too. They might be hitting the hiking trail, or jumping from house to house visiting friends. They might even be living out of their cars. If this is your targeted persona, you definitely want a bag that can do it all.
Our Top Pick: The Elevate Soleil Backpack Power Bank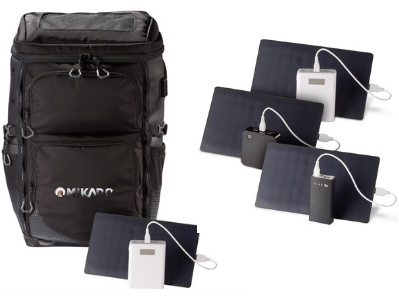 Even the most rugged road trippers usually need some sort of power. That's why we love that this backpack features a 5W solar panel that can capture power from the sun, while simultaneously charging your devices through the 8000 mAh power bank. It comes with a USB port and cable, giving road trippers everything they need to stay powered.
Plus, the bag itself is spacious enough to carry even the heaviest of loads. Clip the hidden front straps to the synthetic rubber daisy chains on the front panel to hold jackets, sleepings bags, tents, a drone, or whatever your road tripper brings along. It also includes padded shoulder straps, a back panel for comfort, a trolley sleeve, and custom zipper pullers.
Branding Options: Maximize your brand's exposure with a digital print transfer imprint on the lower front pocket. The large imprint area will ensure your company's name is recognized wherever your road tripper takes your brand name.
3. Best Hiking Branded Backpack
Similar to the road-tripping backpack, a hiking backpack must be able to pack a lot of essentials. But probably the most important thing that your hiking backpack has is an efficient way to store essential food and drinks. Consider opting for bags that include insulated cool sections. The hiking backpack should also make carrying a heavy load comfortable. The user is hiking up a mountain with a load of stuff on their backs after all. Think about bags that have storage straps and tons of extra padding.
Our Top Pick: Hadley Insulated Haul Bag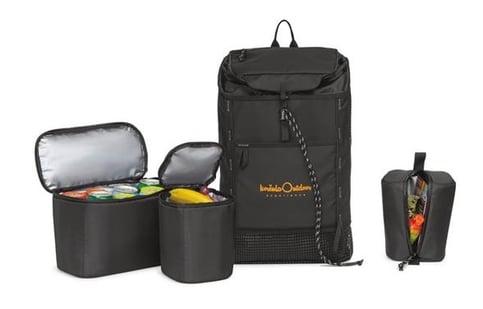 This highly functional haul bag is designed for the mountain. Its best feature is its packing cube-inspired coolers that allow for tons of snacks and drinks to be kept cool and organized. These "cubes" fit easily into the bag's main compartment.
It also includes a top flap zippered pocket for storing extra accessories, along with a front slash pocket with a key fob loop. Additional hiking gear can easily be attached to the daisy chain webbing loops. And the rubberized mesh detail provides comfort and breathability for hot days while allowing dirt to easily fall out.
Branding Options: You have lots of different options when it comes to branding this backpack. Choose from print, embroider, or heat transfer technology. Your logo can either be centered on the front pocket, or on the upper or lower side of the pocket.
4. Best Retail Branded Backpack
Branded backpacks are sort of like shoes in the sense that brand names matter. It often determines the longevity of the bag itself. A name brand or retail brand backpack is great for those prospects you notice who might be carrying around a cheaper backpack that's falling apart, or those that you know will just appreciate a good and sound retail brand. Some high quality branded backpack brands that have customization options are:
Under Armour
The North Face
OGIO
Patagonia
Osprey
Name brand backpacks might be a good option for millennial prospects. This generation values brand names more than any other generation, and they remain the most loyal to their favorite brands.
Our Top Pick: Osprey Nebula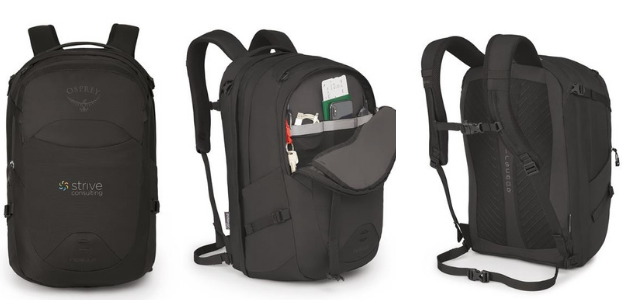 Osprey is a household name, known for its outdoor gear. They have lots of different options for outdoor enthusiasts. Generally, Osprey products are known to be versatile, durable, and high quality. The Nebula is one of our favorites because it's perfect for everyday use. Made with a soft, breathable back panel and harness, it's a comfortable office bag. It has a padded laptop and tablet sleeve with direct zip access, making it easy to find electronics. The front panel has an organization pocket for smaller items and includes a key clip. Plus, it has two dual stretch-mesh water bottle pockets, great if you've already given your prospect a branded water bottle.
Branding Options: Heat transfer your logo in the center of the front pocket, and admire your brand name showcased on a very high quality, well-known backpack brand.
5. Best Corporate Office Branded Backpack
For those personas that would appreciate a new office bag, a high-quality corporate office backpack is a good option. Think about those customers that might have hybrid work situations, or who are constantly traveling back and forth from the office. Corporate office backpacks are great for storing laptops, notebooks, and other office essentials while leaving room for personal items. Plus, they look professional and would fit with both a suit and tie or the more modern, casual office attire.
Our Top Pick: Ashbury Aqua Flip Top Backpack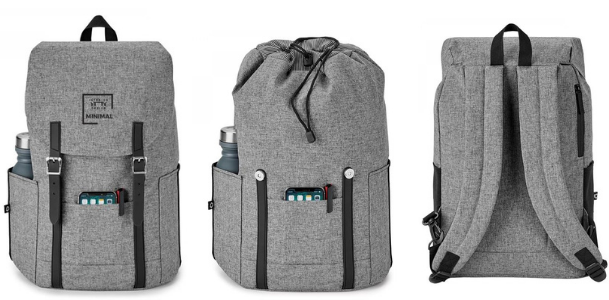 This backpack has it all, with its padded laptop compartment, water bottle pockets, multiple pockets, and sleek design. Plus, it's made out of 100 percent rPET fabric, for an eco-friendly option.
The laptop compartment includes extra padding on both the sides and base of the bag, so users can rest assured their devices will remain protected throughout their commute. The water bottle pockets also offer heavy-duty elastic adjustment to accommodate different bottle sizes.
A flush, front pocket allows additional storage for smaller personal items, while the main compartment features a convenient magnetic snap opening for easy access. And a concealed exterior zippered safety pocket will securely store those valuables like your credit cards, wallet, or cell phone.
Branding Options: Your logo will look professional on this corporate backpack either centered above the pocket, on the closing flap, or centered on the front pocket.
6. Best Stylish Branded Backpack
We all know those clients who have an eye for fashion. Impress them with a branded backpack that makes a statement, with leather strapping, on-trend colors, or unique designs. But make sure whatever backpack you consider also offers some function. The best stylish backpacks will combine look and feel with utility. Look for backpacks that include organizational pockets, accessory pouches, and lots of space.
Our Top Pick: Finley Mill Pack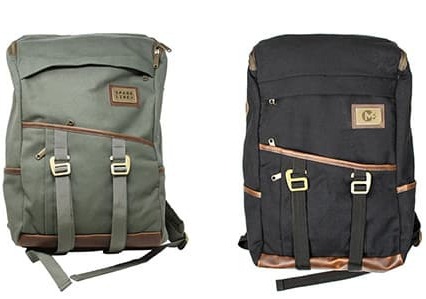 This Finley Mill bag combines functionality with style. With a rustic design and modern features, recipients will feel on-trend when sporting this bag. And with a padded laptop sleeve, a luggage pass-through, and seven accessory pockets, you can rest assured that the user will find value beyond its style. It comes in a natural muted green color or a modern-looking black. Plus, its cotton canvas comes with a water-resistant coating, so users don't have to worry about it getting ruined.
Branding Options: Laser engrave your logo on the bag's front plate for a truly unique and professional look that your customers will love representing.
7. Best Branded Backpack with a Purpose
If you're considering launching your own cause marketing campaign, or just have prospects that would appreciate a cause promoting the greater good, then consider backpacks made for a purpose. Cause marketing is a trend that's gaining traction as more and more consumers expect brands to be socially responsible. It's all about shifting your business strategy to focus on a social issue or belief. Giving a branded backpack that supports a cause your target customer values is an excellent way to form a deep connection with that prospect while establishing a sense of trust and authenticity around your brand. Luckily, as cause marketing becomes more and more popular, you have a lot of different options for branded backpacks with a purpose.
Our Top Pick: MiiR Olympus Computer Backpack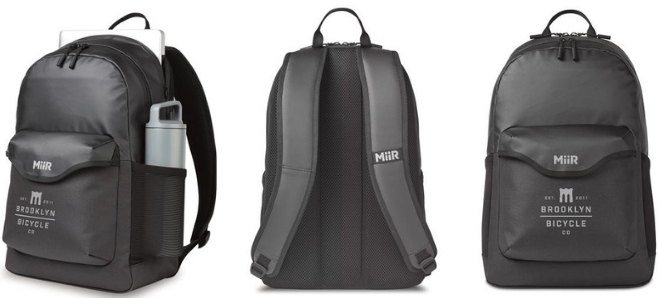 Miir is a company that creates high-quality gift items that support projects focused on clean water, a healthy environment, and creating strong communities. The company also makes it so consumers can track the projects they are supporting. Every MiiR product, including the Olympus Computer Backpack, comes with a Give Code that gift recipients can register online. Once registered, they can keep track of the cause they supported, learn more about the community, and get involved on a deeper, more personal level if they choose.
Let's talk about the bag itself. With lots of space, it features a dual-zippered opening to a large main compartment. The front pocket has a magnetic snap closure that will keep content secure. If you have some avid bikers as customers, they will love the added safety accents on this backpack. Other additional features include dual-sided elastic water bottle pockets, an interior mesh organizer with a zippered mesh pocket, and a zippered and padded laptop pocket.
Branding Options: Don't forget your brand's logo on this high-quality cause-driven gift. Imprint your desired logo on either the front lower pocket or the bag's front upper panel.
8. Best Sustainable Branded Backpack
Along the lines of cause marketing, sustainability is another expectation of today's businesses. It's a buyer demand that's even impacting the promotional product industry. The Advertising Specialty Institute (ASI) reports that 46 percent of consumers have a more favorable opinion of an advertiser who hands out environmentally friendly items. Investing in a backpack made from sustainable materials shows your brand cares about and aligns with a greater cause.
Our Top Pick: Cambelbak Eco-Cloud Walker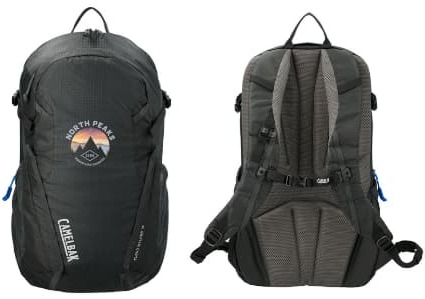 A durable yet sustainable option is the Camelbak Eco Cloud Walker. It's the perfect day-to-day backpack that can serve as a corporate office bag, travel bag, or even a hiking adventure backpack. Made from waterless dyed lining, recycled poly air mesh, and other eco-friendly materials, users can feel good about using this pack. Plus, the bag is part of the Ecosmart product line, where one percent of sales go towards nonprofits dedicated to protecting the planet.
The bag is also pretty functionally made. It has a large inner compartment that is large enough to store clothes, snacks, or other must-have essentials. Plus, a 15 inch computer pouch will keep devices safe, while the air mesh back panel will allow for plenty of breathability and ventilation when used.
Branding Options: Bring your brand to life on this high-quality bag by choosing between a digital print transfer or embroidered logo. The bag can be imprinted on the center of the front pocket.
9. Best Everyday Branded Backpack
Everyone needs a day-to-day bag that they can easily grab when they leave the house. Whether it's to go to work or just to go on a trip with friends, a basic, everyday bag needs to be lightweight, yet spacious. We'd recommend finding one with space for a laptop as that's now an everyday essential item. You'll also want to choose a backpack with bold branding options. The everyday backpack is a great opportunity to take advantage of maximum brand exposure.
Our Top Pick: Basecamp Navigator Laptop Backpack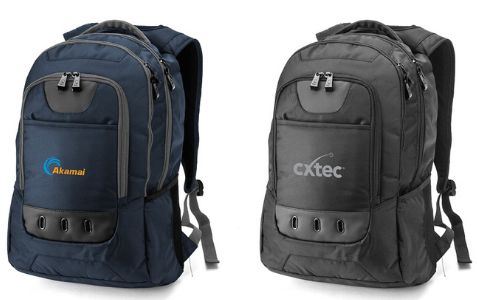 This bag is made with high-quality black 1680 denier fabric and measures 20 x 13 x 5 inches with a large main compartment, dual heavy zipper, and a protected secure slot that will fit a 15-inch laptop. An organizational panel keeps smaller items neat and tidy. The bag boasts lots of pocket space, with an extra inner zipper pocket, front zipper full-size pocket, a front drop pocket, and two large side pockets. The bag has a sturdy web handle, adjustable wide comfort shoulder straps, and an extra padded back panel. The exterior is accented with an oval metal grommet.
Branding Options: Embroider or heat transfer your company's logo on the front pocket, both sides of the pocket, or on the top zipper slot.
10. Best Premium Branded Backpack
Last, but certainly not least is the high-quality backpack for those very special clients. A premium backpack says "thank you" or "we appreciate you" in a very bold way. So what kinds of things should a high-quality premium backpack have? Functional space is number one. The premium backpack that you gift out should be large enough that it can be used for anything. It also needs to look sharp. A sleek design is a big part of what makes a backpack look high quality. Finally, it needs to be durable. The fabric should be tear-resistant and waterproof and made to last.
Our Top Pick: Tahoe Weekender Backpack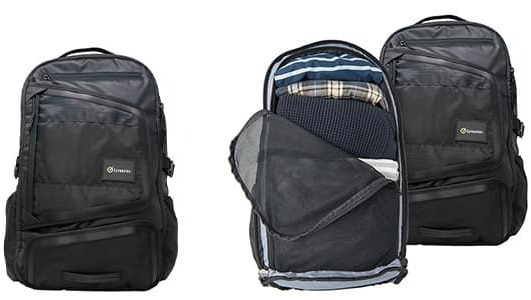 This multi-functional backpack boasts 18 pockets of space, water-resistant polyester material, and a professional, bold black design. It's got a unique full-open organizer section perfect for bulky clothes. And a separate waterproof bottom compartment is great for things like wet shoes or dirty laundry. Other premium features include a large stash pocket for secret items, a felt-lined sunglasses pouch, a load stabilizer, and a memory foam back panel to help distribute weight. This bag packs everything into one and would be a truly premium choice for those high valued customers.
Branding Options: Truly make a statement by branding your logo with a full-color imprint or laser engraving on the bag's front panel. Your brand's imprint will come on a leather patch, making it professionally stand out.
A Branded Backpack for Any and All Adventures
Perhaps what I love most about branded backpacks is there truly is something for everyone. We covered a lot, yet we only scratched the surface on backpack categories. With so many options, you'll be sure to find something that delights even the most unique personas.
And as the briefcase takes a backseat to the backpack trend, it's a great opportunity for companies to maximize their brand exposure, while delighting their prospects with something on-trend and useful. You really can't get much more functional than the branded backpack. Keep your audience in mind and choose a backpack that's aligned. You'll be well on your way to activating your brand beyond its logo.