As marketers, we spend a ton of time creating content. First, there's the creation process. It might take weeks, even months, to create that massive long-form guide or data report. From there, you spend time, and maybe even money, promoting that piece of content. From social posts, to paid ads, to backlink outreach, the goal is to get as many eyes as possible on that valuable piece of content you created.
The sad truth? A few months after your digital marketing campaign, the piece of content falls stagnant - out of sight, and out of mind.
Smart marketers spend less time creating new content, and more effort on content repurposing. By finding new ways to revive old, yet valuable content, you'll expand the life of your campaigns, reach different audiences, and drive more traffic to your site.
Content repurposing requires creativity. In this post, we've gathered some of the most effective ways to repurpose content, plus 21 content repurposing tools that will make reusing this content easy and worthwhile.
Clip Webinars into Short Videos
Typically, webinars pack a lot of content into one, long video recording. Yet, data consistently reveals that short attention spans prefer shorter videos. Sixty eight percent of people say they'll happily watch a business video if it's under a minute. This isn't to say long, 60 minute webinars are no good. They definitely have their place. But shorter, bite-sized videos have been proven to perform better on social media and other content promotion efforts.
A regular 60-minute webinar can easily be broken into 6-8 small and reusable video clips. Think hard about what the most pivotable, and valuable moments were in the webinar. Was an important point stressed via a memorable anecdote? Did someone from the audience ask an unusual question or make a powerful point? Look for key moments that can easily be turned into impactful video clips. These videos can be uploaded to Youtube, posted on social media, used in email outreach, or even turned into blog posts.
Editing webinars will take some work. But the following content repurposing tools can help you quickly turn long webinar recordings into short and impactful social videos.
1. Wondershare DemoCreator - Free trial, starts at $6.99 a month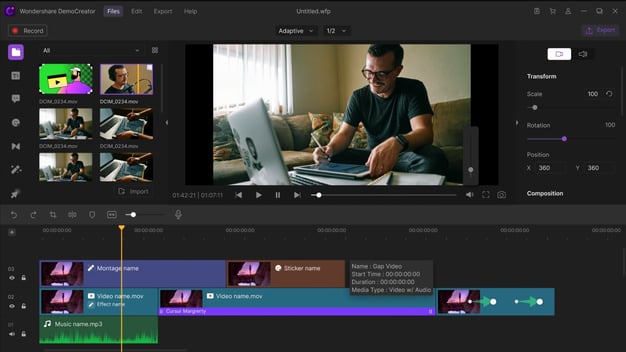 Use this tool to easily record your screen during webinars. This tool allows you to add markers throughout the recording, to emphasize an important point. You can also capture video, audio, webcam and mic at the same time. It features a wide array of audio and voice editing tools to help you clip down your webinar quickly and easily.
2. Lightworks - Free version or paid starts at $24.99 a month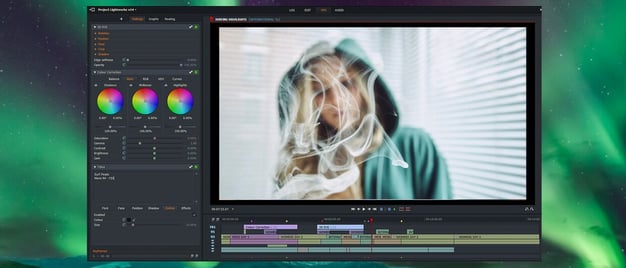 We recommend Lightworks for a quick and easy webinar editing tool. It features all the tools of a typical professional video editor but is simple to use, even for the most novice of video editors. When it comes to webinar editing, Lightworks offers easy access to video clipping, plus audio and video timeline edits. You can also export your videos in easy-to-share formats for social media.
3. HitFilm Express - Free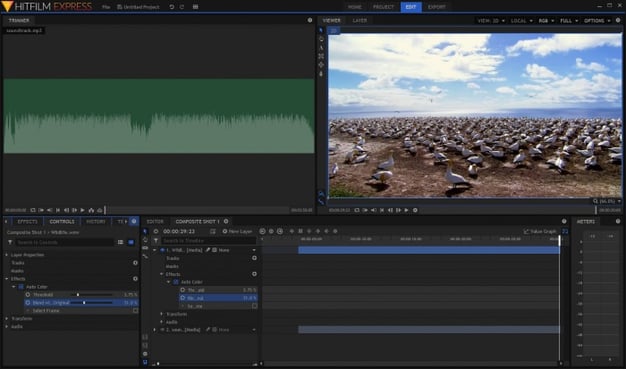 For a bit more bells and whistles, HitFilm Express offers a more complex webinar editing tool. You'll have access to things like visual effects, transitions, title tag, green screen, compositing tools, and color grading. Use this tool if you're looking to get a bit more creative with your webinar edits, and want a more flashy video for social media. But keep in mind that this tool is a bit more complex and not quite as intuitive as the tools listed above.
Combine Blog Posts into Guides
Blogs are extremely valuable tools for search rank. But when you're consistently writing about relevant keywords in your industry, you'll find yourself with a library of related content that could be more valuable to the reader if it was compiled together into one single resource. Not only is this a better user experience, but it also helps you rank higher for the targeted keywords.
When it comes to repurposing blogs into guides, you'll want to choose your keywords wisely. Robust keyword research is always the first step. This will ensure you're selecting the most relevant blogs, targeting the most profitable keywords. The next step requires presenting your already written content into an easy-to-read and digestible guide. Luckily the following content repurposing tools make all of this a simple and easy process.
4. SEMRush Keyword Magic - Free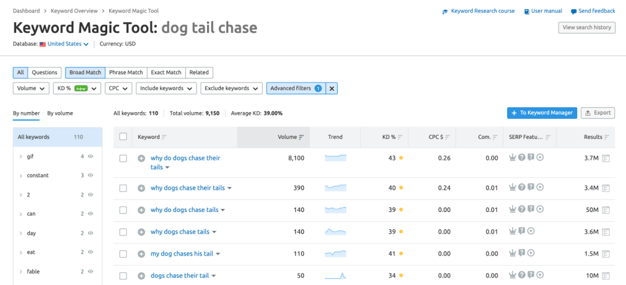 This is our favorite keyword research tool. You can use it to perform up to 10 requests a day, including broad match keywords, phrase match, exact match, related, and questions about the keyword. This tool can be a valuable asset when determining which keywords your repurposed guide should go after.
5. HubSpot Downloadable Ebook Templates - Free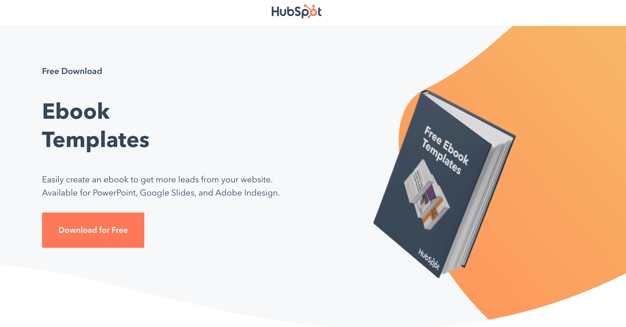 You don't have to be a designer to repurpose your blogs into an easy-to-read guide. HubSpot's downloadable ebook templates make this process easy. With six different ebook design templates available for PowerPoint, Google Slides, and InDesign, you'll be able to quickly repurpose your content into a digestible format.
6. Venngage Ebook Creator - Free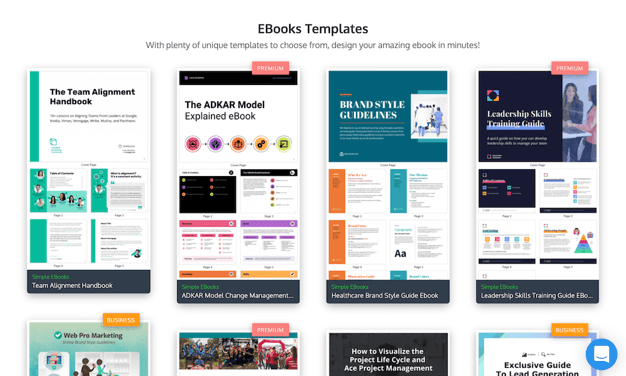 If you want to spend a bit more time on design, but still don't have the experience of a designer, Venngage is an easy-to-use platform that simplifies the ebook creation process. It offers a library of icons, images, and illustrations that can be combined with the drag and drop editor into a premade ebook template. The tool also offers some unique collaboration tools, making it simple for your team to access, share, edit and download your guide anywhere.
Turn Presentations into Searchable Sales Tools
Does your marketing team spend quite a bit of time putting together presentations for your sales teams? What do you do with these resources? Sure, they're great sales tools, but they can be repurposed into so much more. This type of content repurposing doesn't take a lot of effort either. Just reshare your presentation to relevant slide-sharing sites. By repurposing your presentations into shareable resources, you'll reach a new audience and put your content in front of people who might have missed your presentation the first time around.
Here are some of our favorite places to share your sales presentations:
7. Slideshare - Free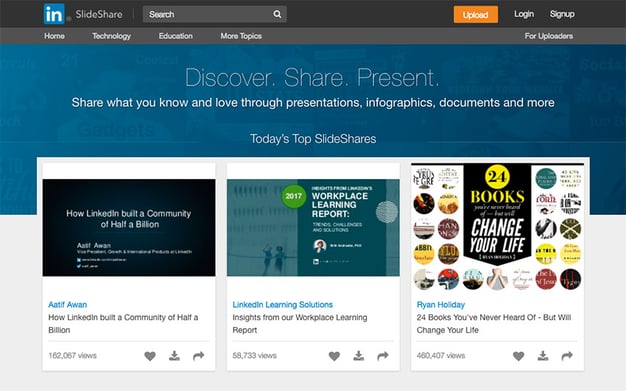 This tool allows users to upload any PowerPoint, PDF, Keynote, or OpenDocument presentations to a public database. With 80 million visitors, 80 percent of which come through a targeted search, sharing a presentation on Slideshare is an excellent way to reuse an old presentation, getting it in front of people searching for relevant information. You can even add Slideshare to your LinkedIn account for added exposure.
8. Speaker Deck - Free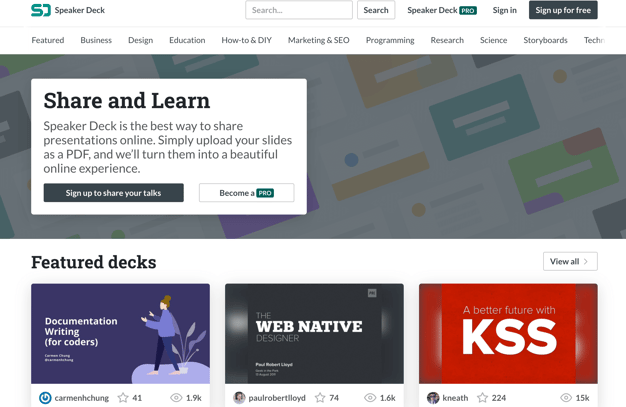 This tool makes it easy to share your presentation in whatever method you find beneficial when repurposing. By uploading your slide deck, you can create a shareable link that you can embed on other websites, your own website, or even shared on social media sites.
9. Isssuu - Free version, or starts at $19 a month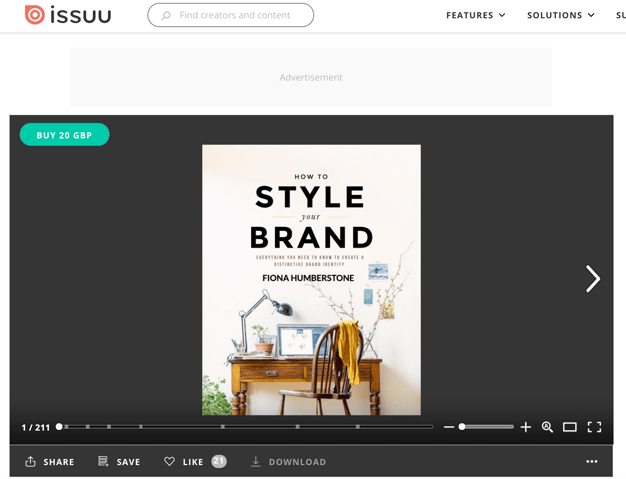 Issuu is another tool that can help make your sales presentations searchable. With over 1 billion page views monthly, it's an excellent way to expand the reach of your content. Simply make an account, and upload your presentation file as a PDF. You'll want to be strategic about the title and description. Remember SEO best practices.
Convert Interviews to Case Studies
There's a number of reasons why a business might conduct interviews. Maybe your sales teams are looking for reviews or testimonials from past clients. Perhaps, you conduct post-project interviews with your clients to evaluate the success of your products or services. Sometimes you might even have a question and answer style blog post that requires an in-depth interview. Whatever the case, these interviews can easily be repurposed into visually appealing case studies that can be distributed by sales teams and through online channels. With the following content repurposing tools, you can quickly turn interviews into valuable case studies.
10. Visme - Free version or starts at $15 a month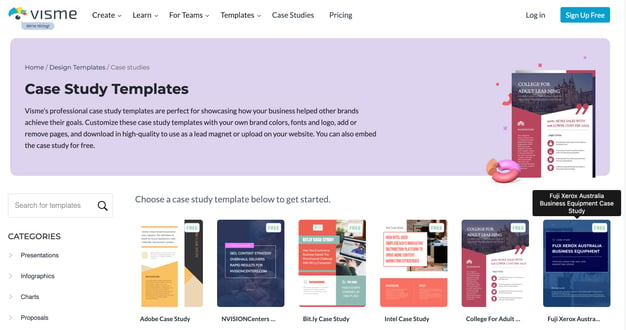 Visme offers a visual content tool that has a variety of different content marketing templates, several of which can be used to create impactful case studies. The tool offers case study templates, designed to showcase hard data and results in a compelling way. Visme's templates also provide an outline for your case study's content based on best practices.
11. HubSpot's Case Study Templates - Free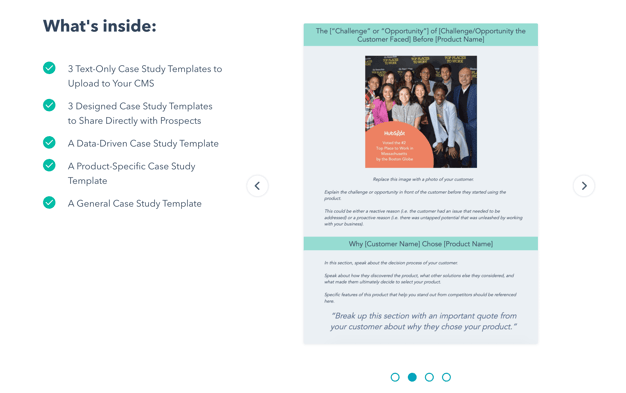 HubSpot offers a free case study creation kit with three templates in Google Docs and Microsoft Word. This kit includes basic outlines for your content and three designed templates that can be personalized with your logo and brand colors.
12. Xtensio - Free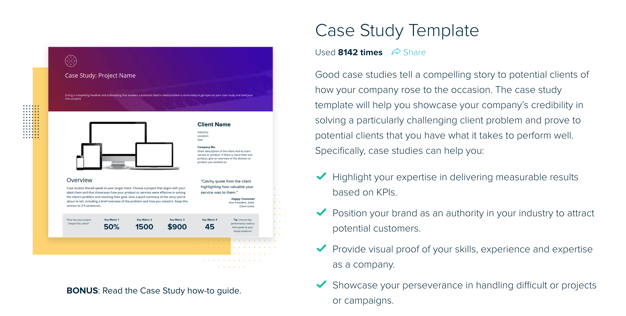 Xtensio is another easy-to-use visual design tool that can guide you through creating a compelling case study. Not only can you customize one of their premade case study templates, but you can also use this tool to take your content repurposing a step further. Easily merge your case study content into other templates like sales presentations, reports, or infographics.
Create Infographics from Data
Chances are, you probably have quite a bit of graphs or charts that you've used as illustrations in some of the content repurposing methods listed above or just in your content as it stands. If you haven't turned these graphics into visually appealing infographics, you're missing out on a great content repurposing method. In fact, HubSpot reports that infographics alone can increase web traffic by up to 12 percent. Again, you don't have to be a designer to create highly appealing infographics. Use the following content repurposing tools to simplify the creation process.
13. Canva - Free version or starts at $9.99 a month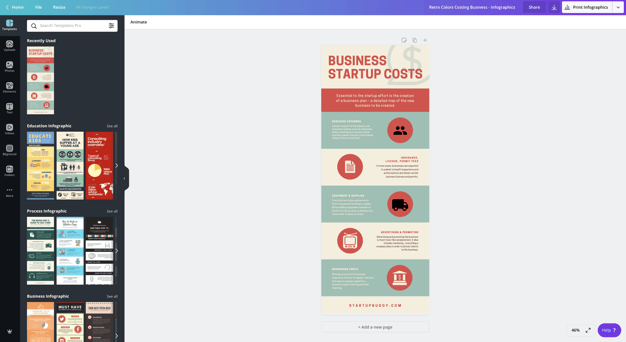 One of the most popular graphic design tools out there is Canva. And for good reason. Canva offers several different pre-made infographic templates, including free and premium layouts. These templates can easily be customized with the drag and drop editor and thousands of included photos or graphic design elements. Once you're done creating, you can easily share your new infographic directly from Canva to social media.
14. Snappa - Free version or starts at $10 a month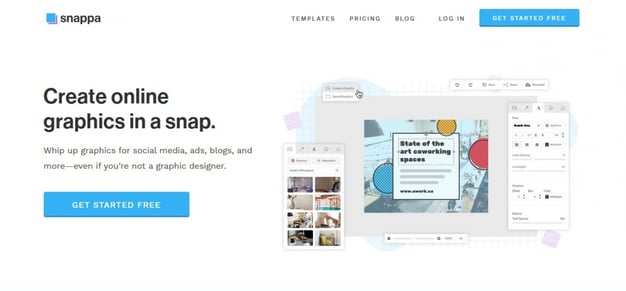 Another extremely easy-to-use infographic tool is Snappa. No need to even purchase an account with this tool. You'll get essentially all it's with a free plan, the only exception being the number of files you can download per month. But the easy-to-use editor allows you to choose from plenty of pre-built infographic templates that can easily be customized.
15. Vizual.ly - Free

Here's a unique tool for both inspiration and content promotion. It's essentially a database of infographics. You can search within their community for design ideas or upload your own design to help it get more traffic.
Use Quotes in Social Graphics
Do you have any stand-out quotes from clients? Maybe you found a powerful statement from a customer in one of the old interviews you have. Or perhaps you found a compelling quote while writing a case study. These testimonial quotes can easily be repurposed into powerful social graphics. Turn these statements into shareable elements by leveraging the following tools:
16. Pablo by Buffer - Free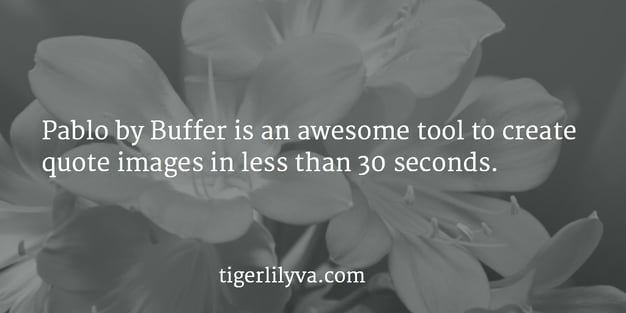 This tool offers an easy way to turn quotes into powerful graphics. Combine engaging images with meaningful statements to create a testimonial graphic that will drive social media engagement. Choose from various images on their platform, or upload your own and customize it with effects or text styles.
17. Quotes Cover - Free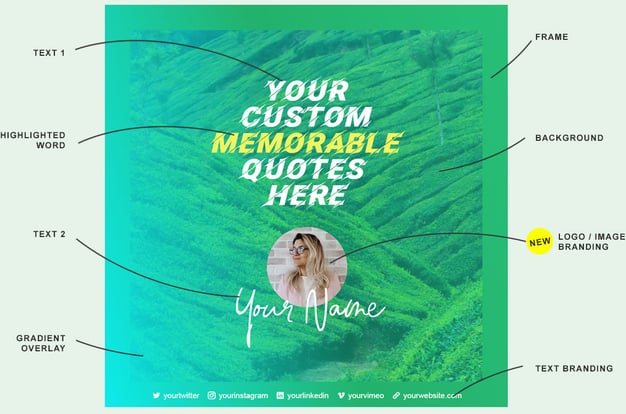 Here's another easy-to-use tool for quote creation. With Quotes Cover, simply make an account and start designing. It's as easy as uploading your image and adding a text overlay of your quote. Always keep in mind your audience and how you can target your social graphics towards this persona.
18. PixTeller - Starts at $9 a month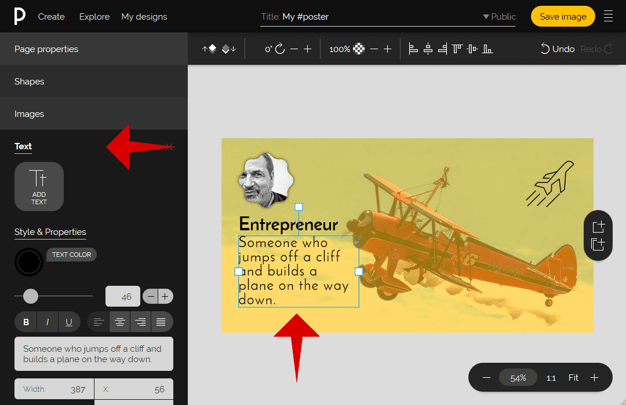 If you're looking for a bit more design functionality, PixTeller might be your best choice. Though it does cost some money, it's worth what you pay. The tool offers hundreds of premade social media templates broken down by common industries. You can find inspiration for quotes, as well as a more extensive array of editing tools. PixTeller also offers animation features. This could help you turn a series of quotes into a social media testimonial video.
Repurpose Blog Posts into Podcasts
We all know that everyone prefers to consume their content in different formats. Even your highest-performing posts might fail to reach those buyers who just don't like to read. Think hard about your buyer personas. Do they spend a large part of their day on the road, in the car, or traveling? If so, repurposing your written content into audio content can help you widen your reach and connect with this type of buyer.
It's important to note that turning your blog posts into podcasts doesn't mean just reading your posts word for word. Liven it up by having guest contributors and even influencers on your podcast. This type of content strategy will have dual benefits. You'll create a high-quality podcast that audience members are excited about listening to, all while bolstering your blog with guest contributors.
Here are some tools to help you get started with your podcasting efforts:
19. Audacity - Free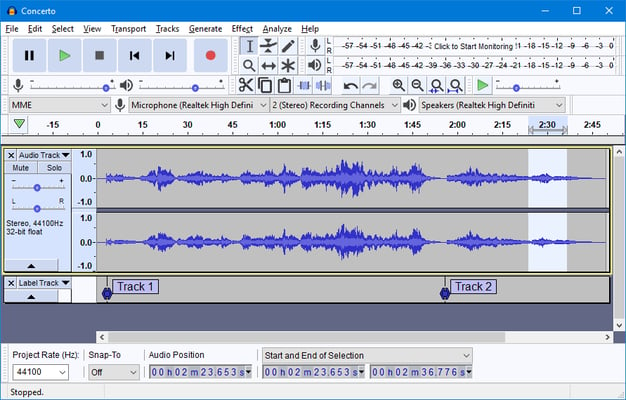 This tool may look pretty outdated, but it has everything you need to start podcasting for free. Audacity is a practical tool that, if you can get past its basic design, you'll love using it to kickstart your podcasting adventure. It offers easy-to-use multi-track editing and works on pretty much any desktop operating system. Audacity also offers most of the same tools as the more advanced programs, including volume adjustment, fades, and basic enhancing effects.
20. Adobe Audition - Part of the Adobe Suite or $20.99 a month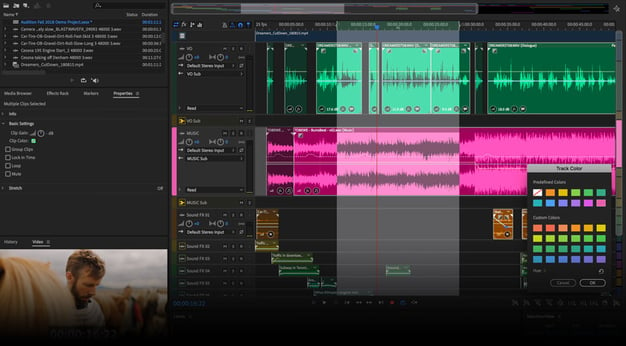 If you're already a member of the Adobe Suite, you have a pretty useful tool at your fingertips. Adobe Audition offers professional-grade editing features and can record multiple audio tracks simultaneously. Included are tools to help reduce background noise, mix recordings, or add effects. It's probably not worth the price if you're not already an Adobe Suite member. But if you are, Adobe Audition is an excellent podcasting tool you might not be aware of.
21. Pro Tools - Starts at $34.99 a month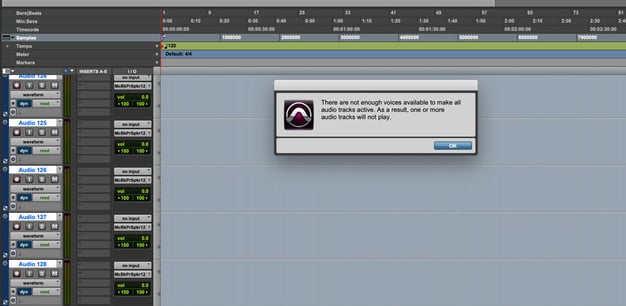 This tool is for the more advanced podcasters. Packaged full of all the bells and whistles you'd need for recording, editing, and mastering your audio, this high-quality tool is for those that are ready to take their podcasts to the next level. It has a higher learning curve than most and a higher price tag, so we'd recommend only making the investment if you're serious about podcasting regularly.
Scale Content Creation and Repurpose Great Content
Smart marketers know the content creation process is rarely ever over. Publishing a piece of content is never a final step. Repurposing great content will not only help your content strategy reach more people, but it will also make the content creation process easier, quicker, and more successful. There are so many different ways to revitalize content and so many content repurposing tools out there to help you do so.
Keep in mind that not everything is worth reusing. Start by choosing the highest-performing content. Think hard about what audience members you might be missing with this specific piece of work. Then brainstorm ways you can reach that persona. Once you've determined how you're going to repurpose your content, tap into the tools that already exist to make the process easier.
And remember, our team of content marketing experts is always on hand to identify creative and innovative ways to make the content process easier, simpler, and much more effective at driving business.