Remember when hand sanitizer used to be an overlooked commodity? We all had a bottle hidden at the bottom of our purse or stashed away in our cars. We never gave much thought as to what was in it, and it was mostly used for emergencies.
Things certainly have changed.
According to the Satista, hand sanitizer sales have risen by 80% in the past year alone. And the demand for sanitizing products isn't expected to dissipate. As the importance of practicing regular hand sanitizing is reinforced among consumers, the market is expected to grow by 22.6% in the next 7 years.
This new and heightened interest in sanitation, has made promotional hand sanitizers a popular product for many businesses. And with the cold and flu season just around the corner, it's an even smarter promotional investment.
But with so many different choices, and the pressure of picking an effective product, it can be hard to narrow down the right option for your business and customers. To make things easier, we put together this guide highlighting some of the most important factors to consider when selecting a promotional hand sanitizer.
1. Choose FDA Compliant Hand Sanitizers
Amid the pandemic, there's been a lot of hand sanitizer controversies. First, as the demand for sanitizer saturated the market, the FDA relaxed rules allowing new manufacturers to join the market. Unfortunately this has led to an increase of ineffective products being sold to consumers. And most recently, a recall of more than 80 types of hand sanitizers due to methanol contamination.
So, it's now more important than ever to pay attention to the ingredients in the promotional hand sanitizers you choose. According to CDC recommendations, hand sanitizers should contain at least 60% alcohol to be effective. All of the products we sell range from at least 60-70% alcohol-based, so you can rest assured that you'll be investing in a safe and effective promotional hand sanitizer.
2. Consider Hand Sanitizers that Don't Dry Out Skin
One of the number one complaints you often hear about hand sanitizers is the effect it has on the skin. A product containing the recommended amount of alcohol can leave hands feeling rough and dry. To avoid this, you can invest in promotional hand sanitizers that contain aloe vera, a natural ingredient that will keep skin soft and moisturized, even with all that alcohol.
Customers and prospects will see a clear difference in the hydrating power of aloe vera based sanitizers. This can lead to a positive brand association for your clients, which goes a long way in promoting customer loyalty.
This gel bottled promotional hand sanitizer is one of our favorite aloe vera based products. It also has a 70% ethanol based solution to ensure effectiveness. The 2 ounce bottle comes in a compact size that will easily fit in small pockets and purses. Plus, the clear bottle comes with a full color label where you can showcase your brand name, logo, event title or marketing message of your choice. Choose between unscented or a warm, vanilla scent.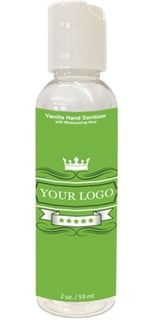 3. Opt for Specialty Hand Sanitizers
Another common complaint about hand sanitizers is their overpowering smell. But just because they contain a lot of alcohol, doesn't mean they have to leave users smelling like a sterilized hospital. There are quite a few products out there that still offer an effective formula, combined with specialty scents that mask the unpleasant alcohol smell.
Consider choosing this antibacterial hand sanitizing gel to offer a more enjoyable experience for your customers or prospects.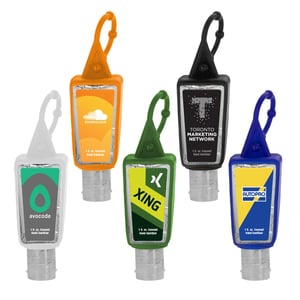 It comes in two different scents: tropical coconut or freshing citirus breeze. Choose between five different colors like green, orange, royal blue, black or even clear. The 1 ounce bottle also comes with an adjustable silicone loop that can easily clip on to any purse, belt or backpack for easy travel. It contains 70% alcohol per volume and kills 99.9% of bacteria and germs. It also comes with an ingredient label on the back which can help ease concerned minds.
Make it your own by customizing this promotional hand sanitizer with a full color imprint. Your logo will look professional on the clear bottle, keeping your brand top-of-mind for the end-user.
4. Choose Easy to Carry Hand Sanitizers
Hand sanitizer is an on-the-go product. So the most useful products will be portable in size and easy to carry around. Many products now feature clips, attachments, and creative designs that make them even easier to transport. Consider choosing a promotional hand sanitizer that incorporates one of these functions for maximum usability.
This clear sanitizer with a carabiner is a great choice. With 1.9 ounces of clear 70% alcohol solution, it can easily be clipped onto a bag or purse. End-users can say goodbye to the days of fumbling around inside a large bag or backpack.
This promotional hand sanitizer also comes with a lot of different customization options. Choose between a direct print or full color brand on the label. You can also opt to get the carabiner laser engraved with a message of your choice. The clip comes in blue, red, green, purple, black or silver. Plus, you don't have to worry about the alcohol scent with this product, choose between citrus breeze, coconut or unscented.
This credit card style antibacterial spray hand sanitizer is another unique option. Just as the name suggests, it's shaped and sized like a credit card, making it perfect to fit into the wallet or pocket.
It also offers a 62% alcohol based spray solution, for those that might not be fond of gel. It holds .68 ounces of solution and is citrus scented. Plus it comes in ten different colors for a truly custom look. Brand your company's logo or message with a full-color process decal or one color direct print to spread.
5. Consider Hand Sanitizing Sprays or Pens
Promotional hand sanitizers are unique, and that's one of the reasons people love them. So consider capitalizing on their unique components by investing in a spray or pen version. These sleek and stylish sanitizers offer both an appealing and functional upgrade to the basic bottles sold in stores. Plus, they often offer some more unique customization options.
Here's a cool spray sanitizer that is literally a pen! A hybrid design, it offers .17 ounces of 75% ethyl alcohol on top of an ABS plastic barrel pen with a silicone stylus tip.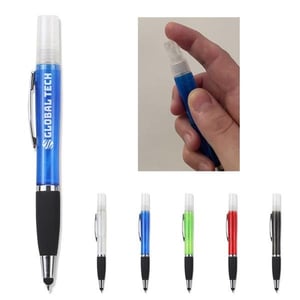 The sanitizer can be refilled with any spray of the user's choice, offering a longevity that will be valued by clients. The pen features a twist action with a metal clip, and comes with a black ABS plastic grip for comfort in writing. It includes black, medium point ink.
Customize it with a pad print logo and choice from a variety of different colors like clear, translucent blue, translucent lime green, translucent red, or translucent smoke.
Another creative option is this clippable 10 mL CleanZ hand sanitizer pen. It comes in a variety of bright colors and scents, and features a clip on the lid, combining on-the-go versatility with a unique design.
This sanitizer will give users 80 sprays of FDA certified solution. Customize it with a full color imprint on the label, and your customers will love the overall unique, versatile, and easy-to-use design of this promotional hand sanitizer.
6. Choose Essential Oil Infused Hand Sanitizers
Finally, depending on the type of customer you have, essential oil infused hand sanitizers can be a luxury item sure to delight. These products combine the powerful mood-enhancing effects of essential oils with the everyday functionality of hand sanitizers. We recommend these products for end-users who may work in the cosmetic space, or show interest in designer goods and luxury items.
This .33 ounce spray hand sanitizer and essential oil combo is our favorite choice. We love how it features a full color customizable label that offers a big brand impact.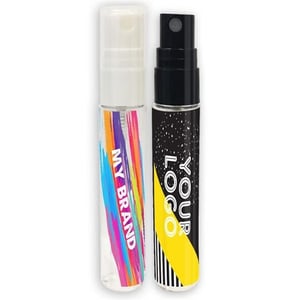 The spray itself is infused with essential oils that create a sense of aromatherapy while killing germs. It even comes in pleasant scents like citrus or lavender. Choose between a black sprayer or white sprayers, and don't be afraid to go bold with your full color customization.
Choose What's Best for Your Customer
In the end, it all comes down to what works best for your company and your customer. Always consider your buyer personas before investing in promotional hand sanitizers. This will give you insight into what type of style, design, solution or scent will work best.
As promotional hand sanitizers continue to be a hot product in high demand, be careful about who you purchase from. Always ask questions about the ingredients, double check the label, and triple check FDA regulations and recalls before making any decisions.
We pride ourselves in offering only the best and safest products to our clients, so you can rest assured you're investing in a safe, effective and brand activating promotional hand sanitizer.