Everyone from the giants at Bank of America to the takeout joint around the corner are leveraging chatbots to automate time-consuming tasks.
So I guess the cat(bot)'s out of the bag.
Many companies have the best intentions to engage and help their customers when they implement chat, but they don't always succeed. The trailblazers of successful chatbot strategies, however, are putting the customer experience above all else.
When used the right way, chatbots provide a genuinely helpful service to website visitors by giving them exactly what they're looking for, exactly when they're looking for it, and in the most direct fashion.
All the rest — the streamlined buying process, the freed up resources, the increased website conversions — are the byproducts of a beautiful user experience. So company stakeholders and marketers alike should care about how to best enhance the user experience using chatbots.
I've compiled some noteworthy chatbot strategies that companies are using to set themselves apart from the rest by going above and beyond in user experience.
Help Center bots
Drift's 2018 report shows the top two most common consumer frustrations are websites being hard to navigate (34%) and not being able to get answers to simple questions (31%).
Now if you're an obsessive problem solver like me, you recognize just how potent of a solution chatbots are for these consumer gripes.
Implementing a Help Center chatbot strategy is an effective way to deliver answers to simple and common questions in real-time. These bots connect with your FAQs and other resources to automate live chat support, serving users the exact info they're looking for. And you can relieve your team from taking time to answer the same question for the umpteenth time.
Example: Amtrak launched "Ask Julie," its customer service bot that helps visitors answer their questions using live chat rather than sending an email or making a call.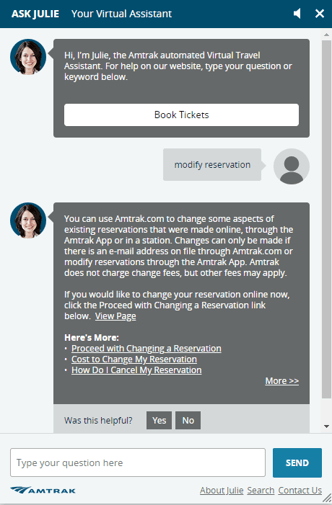 Using this Help Center bot model, Amtrak answered 5 million customer questions, saw an 800% return on investment, and saved $1 million in customer service expenses in a single year.
Whoa.
The takeaway: Consumers expect to answer their questions online quickly, easily, and on a moment's notice. Implementing a Help Center bot strategy will help you rise to the on-demand, around-the-clock expectations of 21st century consumers.
Online ordering
Let's be honest — in 2019, making a phone call feels like a last resort. And from a business standpoint, it takes a lot of resources to cover the phones.
That's why takeout food establishments are seeing so much success with online ordering bots.
DOM, Domino Pizza's ordering assistant bot, helps you to place an order, track your order, and even reorder "the usual" with a single click. When 65% of U.S. sales occur on digital platforms, this kind of capability is a no-brainer.
It doesn't stop there — Domino's has aspirations to be 100% digital.
Last year, they launched DOM voice recognition to take phone orders. According to a company press release, this technology is enabling Domino's to deliver even more convenience while freeing up employees to better focus on preparing orders and serving in-person customers.
The takeaway: Chatbots can be a great tool for automating time-consuming tasks so your team can focus more resources on the most important task at hand: best serving your customers.
Customizable curation
Consumers these days are faced with the paradox of choice — there's just so much information out there, too many choices. Chatbots can alleviate this 21st-century problem.
For example, we've all had the experience of aimlessly wandering around the grocery store with no plan for dinner, only to leave the store with a hodgepodge of ingredients and still no cohesive meal plan.
Whole Foods implemented a Facebook chatbot to solve this problem. The bot helps customers browse store products and generate personalized recipe recommendations. Users can type in words (or emojis), or filter by cuisine and dietary preferences.
And for us digital marketing types, we're all too familiar with the oversaturation of content.
Tech Crunch is using a Facebook chatbot to empower users to select the type of content they're interested in and how often they want to receive it. This customizable and personalized curation is a godsend for us content nerds. Platforms like MobileMonkey take it a step further, allowing you to customize an FAQ bot while harnessing the power of Facebook Messenger.
The takeaway: Using chatbots can be a strategy to help consumers navigate the oversaturation of information and limitless options. In doing so, you can build a positive association with your brand for being genuinely helpful to your customers.
Conversational commerce
Retail chatbots are exploding in popularity as a way to customize the user's shopping experience. They're also an effective automation tool for moving customers down the funnel.
Companies like H&M and Sephora are using chatbots to mimic the in-store, one-to-one interactions with store associates on a mobile device.
The H&M bot works like a personal stylist, using conversation and gamification to identify the shopper's style preferences (and budget) to serve personalized outfit inspiration.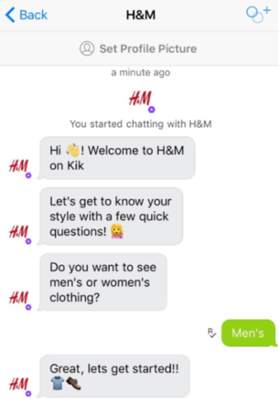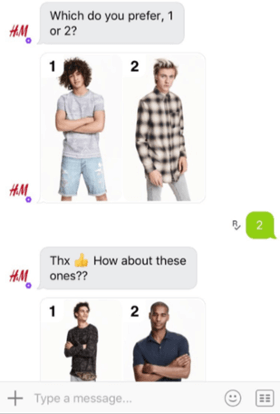 Source: BotHub
Sephora hopped on the chatbot train, too. Their chatbot technology utilizes the one-to-one chat interface to help customers shop and purchase products, as well as recommend makeup tips, video clips and makeup tutorials.
The takeaway: Chatbots meet the retail expectations of an increasingly mobile/connected audience through fun, interactive, real-time conversations. They're like your most knowledgeable sales assistant — driving sales for your company and providing a superb experience for your customers anytime, any place.
In conclusion
This is by no means a comprehensive list, but my hope is that you're starting to feel excited about the infinite opportunities to delight your customers and solve their problems with a user-centered chatbot strategy.
And remember, what's good for your customers is good for business.