Forget touring venues. If you're an event planner, you know it's all about comparing the pros and cons of different virtual event platforms. Luckily, it's a lot quicker to do than physically touring a host site. But, it's a whole lot easier to get lost in the weeds of features, tools, and offers. Not to mention, there's quite literally hundreds of virtual event platforms out there.
To help you avoid spending an afternoon lost in the cyberworld scrolling through websites, we've put together this list of some of the best virtual event platforms for businesses. We break down prices, features, and services to help you narrow down the best platform option for your business, audience and event.
Let's dig in!
What to Look for in a Virtual Event Platform
Though it's the new buzzword in our industry, virtual events and virtual event platforms are still a new practice and tool. So it might be helpful if we define what exactly an effective platform will have.
First, a virtual event platform is defined as a tool that uses video and audio and streaming capabilities to allow you to host an interactive online experience with attendees. The best virtual event platforms for businesses and marketing events will have specific features and tools that boost brand engagement for your event. Let's look at a few features you'll want to consider having:
Live Broadcasting & Video Library
The number one feature your virtual event platform should have is the ability to livestream. If it's not happening in real time, you'll lose all the great engagement options that virtual events can offer. Make sure your event platform also supports multiple speakers. This gives your event the social appeal that is often missed during generic webinars or online learning sessions.
Live broadcasting is important, but you also want to make sure you can record, and upload sessions to a centralized location. The flexibility of rewatching content is one of the biggest benefits that virtual events offer. So be sure to capitalize on it, by choosing a platform that allows you to easily upload sessions, plus adds an easy way for attendees to access the content following the event.
Branding Options
You want your virtual event to feel and look like your brand. So be sure any virtual event platform you choose allows for customization features. Here are just a few that your event should have:
Branded event website
Branded registration page
Branded chat rooms
Branded event email templates
Branded event backgrounds
Engagement Features
One of the biggest complaints people have about virtual events is their tendency to be long, boring and unengaging. But recently, there has been a lot of focus on bringing these events to life with different virtual engagement ideas, often offered by virtual event platforms.
Consider what types of activities you'd like to include in your virtual event. If you're looking for inspiration read our ideas in 9 Smart Ways to Keep Virtual Attendees Engaged.
Here are some features that are important for event engagement:
Audience chat capabilities
Question/Answer features
Booth rooms
Live polling
Breakout session capabilities
Reporting & Analytics
Finally, since the whole point of event marketing, is to increase brand awareness, driving revenue and sales, it's important to have a way to keep track of your success. Make sure the virtual event platform you invest in has the capability to track data and provide insights into various aspects of your event. This will help you determine how to make improvements in the future. Some features you might want to consider are:
A real-time metrics dashboard
Multi-dimensional view of attendees
Integration of data into CRM
ROI reports
The 7 Best Virtual Event Platforms for Businesses
Now that we know what a virtual event platform should have, let's dig into our top 7 picks that have all of the above and then some. We ranked these platforms by event size. The larger the event, the more extensive service you'll likely want to use, and consequently the higher the price.
1. Hopin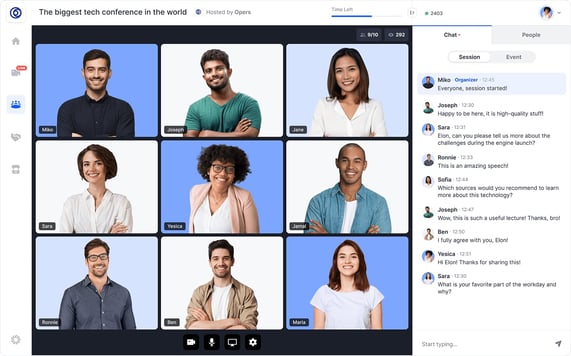 Price: starts at $99 a month
Pros: If you're looking for a simple, easy-to-use, platform that doesn't need much guidance Hopin is a great choice. The quick and easy set up is one of the most notable features of the software. Plus their base package also offers most all of the key features we outlined above. Here's a look at some of the notables:
Live stream to YouTube live
Live chats and polls
Video networking
Breakout rooms
One of the unique features is a robust event schedule tool, that not only allows you to easily keep track of all the events you have planned to host in the platform, but also keep track of networking connections you may have made at past events. It's almost like a social dashboard to keep track of all your virtual happenings.
Cons: The biggest feature that's missing from the starter package offered by Hoppin is custom branding of your event. You'll be able to use all the core features above with their base package, but if you're looking for a more personalized event experience, you'll have to upgrade to their business or enterprise packages. These prices are not listed on their website, so you'll have to contact sales and inquire about a demo.
2. BigMarker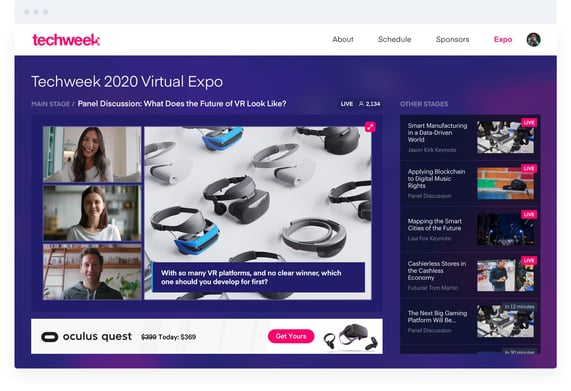 Price: $79-$299+ a month
Pros: BigMarker is ideal for those looking to host large scale webinars of up to 1,000 attendees. It offers a robust package of features to help with virtual event management and engagement including:
Live chat
Screen sharing
Live streaming to social media
On demand content sharing
Landing page creation
Surveys and polls
Email marketing
Advanced reporting
A notable feature this platform has is customization options. Not only can you add your logo and company colors to any event you host, but you can also take advantage of the built-in email marketing tool, which allows for customized emails to easily be sent to any leads or event attendees.
Another feature worth noting, is that BigMarker is browser based. This means you can easily launch the tool right from the web, and don't have to worry about downloading any extensive software. For those looking for a quick solution to their event platform needs, browser launching can be an attractive benefit.
Cons: This tool is definitely more suited for one-sided events or webinars. Though it does offer engagement features, they aren't as robust as they could be. For example, BigMarker doesn't offer the ability to create virtual booths for event sponsors or vendors.
Connectivity could also be an issue. Since the platform is browser based, you must have a strong internet connection to ensure your virtual event goes without a hitch. If internet service is a concern, you might want to consider a downloadable tool instead.
3. Topia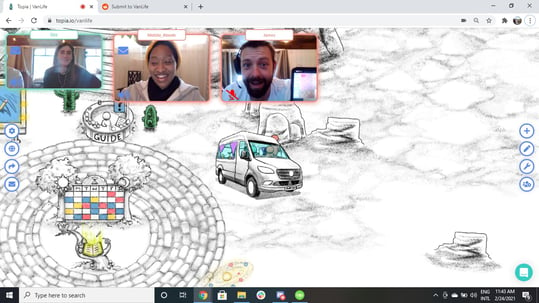 Price: Starts at $5 per month, plus $2 per person per event
Pros: What about internal events? How do you bring back human interaction and employee engagement in a virtual world? The platform Topia is our top pick for internal meetings and/or employee engagement events. The unique platform allows users to create a fully customizable virtual world. It's a true world, where you can interact with people in "hallways", wander through different spaces, and use spatial video to mirror real-world interactions.
It includes:
Customized branding
Built-in Templates
Real-time chat
Tools for collaboration
Cons: Because this app lacks CRM integration and other marketing event tools, it's best to use it for internal events and gatherings. If you're looking for a platform for an external virtual event, you'd be better off opting for a platform with more built-in event marketing tools.
3. Engagez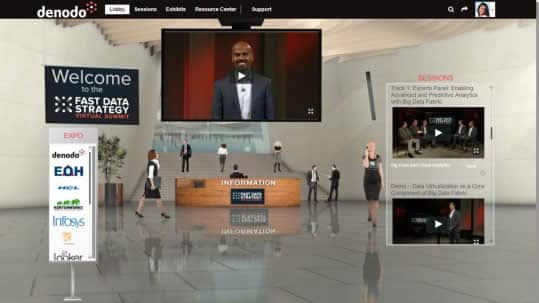 Price: $399 a month
Pros: For those hosting a webinar, but want a bit more focus on networking, Engagez might be a good option. It does offer more creative engagement capabilities, like virtual booths and lobbies for attendees. Here's a birdseye view of some of the tool's features:
Attendee live chat
Customizable branding
Surveys/polls
Live Q&A's
Lead capture
Advanced reporting dashboards
One of the big benefits with a platform like Engagez is the customer service and team of specialists who will help you launch your event without any glitches. If you want the added support, then consider going with a tool like Engagez.
Cons: The biggest con we have when it comes to this platform is the lack of integration into a CRM. The tool offers lead capture features, but these leads will then have to manually be imported into your CRM platform. So if you're looking for a seamless integration, this might not be the tool for you.
4. GoToWebinar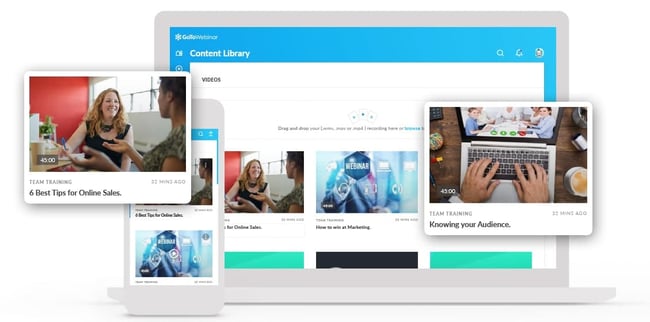 Price: $49 – $399 a month (paid annually)
Pros: Sure, you've probably used GoToWebinar for team meetings or monthly webinar sessions. But it also has pretty robust virtual event hosting tools as well. The tool can accommodate up to 2,000 people for an event. It also offers quite a few notable features:
Personalization
Polls
Surveys
Marketing emails
Audience handouts
One interesting feature this platform offers is a unique way to promote your virtual events. GoToStage is an all-access video platform that features business content from companies all over the world. You have the opportunity to upload your content to the platform following your event. As a newsfeed of webinars that reaches 60 million professionals around the world, you have a great opportunity to reach new people and drive new leads to your content and website.
Cons: Usability is a bit of a challenge with GoToWebinar. It's not as easily navigable as some of the other tools listed here. If you're pretty advanced with technology, this shouldn't be too much of a challenge. But we'd recommend either staying away from this platform, if you expect usability to be a challenge, or hiring a professional to guide you through the process.
5. Bizzabo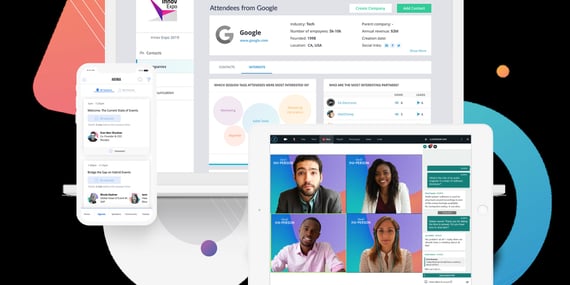 Price: Varies, free trial available
Pros: So, as offices start to open back up, we've seen a new trend enter the event industry, "hybrid events". If you're considering hosting an event that has in-person and virtual components, Bizzabo might be a useful platform. They offer onsite services combined with their robust virtual event features:
Ticketing services
Event promotion suite
Event website
Email marketing
White label interactive app
Polling and surveys
Sponsor and exhibitor rooms
Virtual whiteboard
Advanced reporting dashboard
CRM integration
You also don't have to worry about limiting the number of attendees. Bizzabo offers unlimited audiences.
Cons: Bizzabo is one of the more comprehensive software solutions. It offers almost everything, and the complaints we've seen primarily have to do with usability and a problem with customer service. So again, this might be a platform to consider if you feel you'd have a pretty good handle on navigating the software without extra help.
6. Whova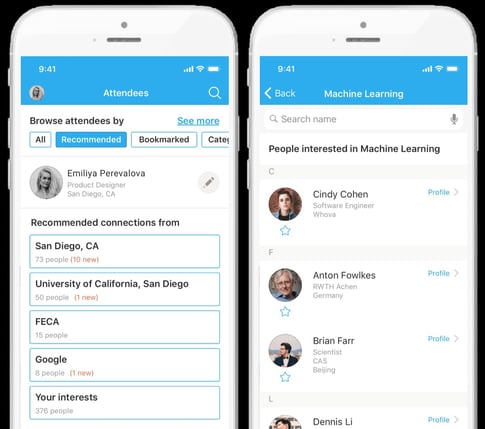 Price: Varies on event size, best for events over 50 attendees
Pros: If you have a medium sized event, with over 50 attendees, Whova could be a good option. The platform is really focused on event management, and excels at helping you with logistics, improving overall attendee experience, and event management. It includes the following features:
Event website
Video conference integrations
Pre recorded video sessions and content library
Polls
Live chat
Q&A's
Live data insights
Branding capabilities
This tool is pretty comprehensive, and it's easy to use. If you're looking for a tool that will cover everything for you, from start to finish, without a lot of complex knowledge needed on your end, then this platform is for you.
Cons: One of the cons of this platform is pricing is contingent on audience size. So if you have a pretty big event, this platform could become costly. There also have been complaints about the email marketing tool that comes with the platform. Some users have found it to be glitchy, while others were annoyed with automatic emails being sent out to attendees.
7. Accelevents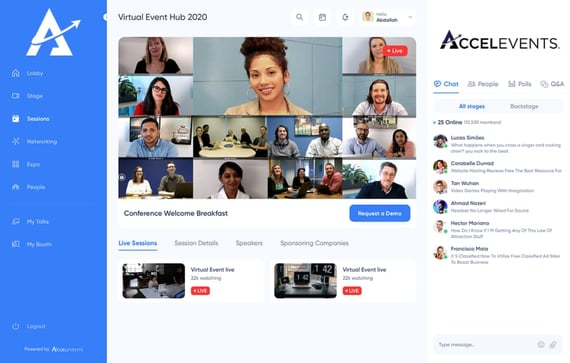 Price: Starts at $500 per event
Pros: Another easy to use platform, Accelevents is known for its live 24/7 support team. This platform is all-in-one, and really is focused on the engagement and networking features of virtual events. Here's some of what it includes:
Ticket sales
Live streaming
Live chat
Polls
Sponsor and exhibitor rooms
Small breakout session rooms
Lounges for networking
Roundtable capabilities
Accelevents also offers capabilities for hybrid events. The tool easily integrates with several different CRM platforms, and offers extensive reporting capabilities like what sessions performed best or what sponsor booths different attendees visited. Other engagement tools that are unique to this platform include:
Video speed dating
Discussion groups and watch parties
Fireside chats
Cons: The biggest thing you'll want to keep in mind when deciding whether or not to use Accelevents, is the size of your event, and whether or not you're charging attendees. Due to their price structure, Accelevents makes most sense for events of 100 people or more. The platform charges $3 per attendee for free events, or 20% of the ticket price for paid events. Plus, there is a $500 minimum fee. So you'll want to analyze the price and ROI, before you commit to their services. You can learn more about their price structure here.
Which Virtual Event Platform is Best for You
So how do you decide which platform is best for your business? One method is to outline the key features that are important to your business in an event software. Every event and audience is different. The purpose of your event is also important to consider.
Maybe you're more focused on brand awareness than anything else. In which case, you'd definitely want to go with a platform that offers customization. Or maybe generating new leads is the biggest purpose of your event. In that case, you'd want to make sure the software you use integrates with your CRM.
The biggest thing you want to consider? Reliability. Don't just choose a platform because it's cheap. Weigh all the pros and cons, and consider reviews left by other users. Your virtual event is a definition of who you are as a business, so you want to make sure whatever platform you decide on values your brand, and the need to give your audience a seamless virtual experience.