Here we are, approaching the end of 2020, and wow - things sure have changed. But what's interesting is digital communication is stronger than ever before.
During these socially distancing periods, our phones are lifelines to staying in touch and informed. And as the pandemic continues to evolve, people are becoming more and more connected - especially in digital sales interactions.
Alongside the many ways people have adapted to a remote and socially distant lifestyle, we're seeing trends change in how social media is being consumed. There's a big shift, and this list of trends should help redirect strategies for businesses big and small through the end of this year.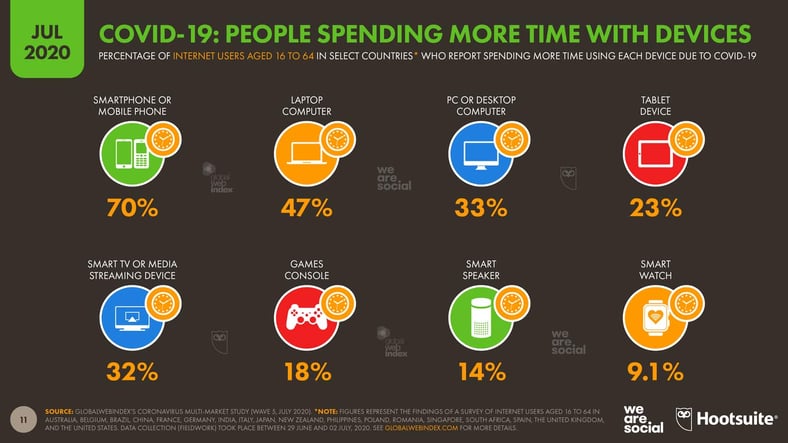 1. Local is more important than ever
Small businesses have had to pivot to new strategies to confront a dramatic decrease in foot traffic and in-person sales. Among the easiest ways for them to get connected to their local audience is through social media.
Once everyone began to shelter at home, online social media time increased. Since states and businesses have begun to re-open, the overall time on social media holds steady, but how users now expect to gain information on local businesses has changed.
Thanks to Instagram and Facebook, small businesses have been able to harness an engaging and dynamic digital presence to drive online sales and promote remote orders. Not all industries or local businesses translate to visual platforms, but for B2C businesses trying to stay in touch and in front of a local market, social media made a huge difference in traffic, brand awareness, and sales overall.
Meanwhile, Google, Bing, and other search engines have been trying to keep up with businesses' adjusted hours, but they rely on business owners to update their directory or listings pages as well as their website, which can add another barrier between a business and customers. Individuals now expect businesses to post closures, operation hour changes, or specials to social media over updating websites regularly or relying on search engine and directory listings.
2. Rise in social advertising
Since everyone is on social media more often, social advertising and social selling have become game-changers - for B2C AND B2B companies.
Ads on social media can be cheaper than traditional marketing channels, and even more cost-effective than Google or LinkedIn, providing businesses with more opportunities for engagement.
Social media is also an ideal platform for dynamic visual ads that customers feel comfortable interacting with. Instagram introduced product tagging to reduce the number of clicks customers need to make before a sale, giving businesses and users the ease of use of an e-commerce platform in between their influencer BFF's selfies. And the "stories" feature on Instagram and Facebook provides a unique opportunity to stay authentically connected while maintaining a curated, branded feed. These stories are often less staged, and give brands a great opportunity to put a human face to their business.
3. Improved sales with B2B social selling
Wait, what exactly is social selling?
Social selling is a sales rep's golden playbook in 2020: reps research, prospect, and connect with leads on social media channels to engage with them in conversation on social platforms.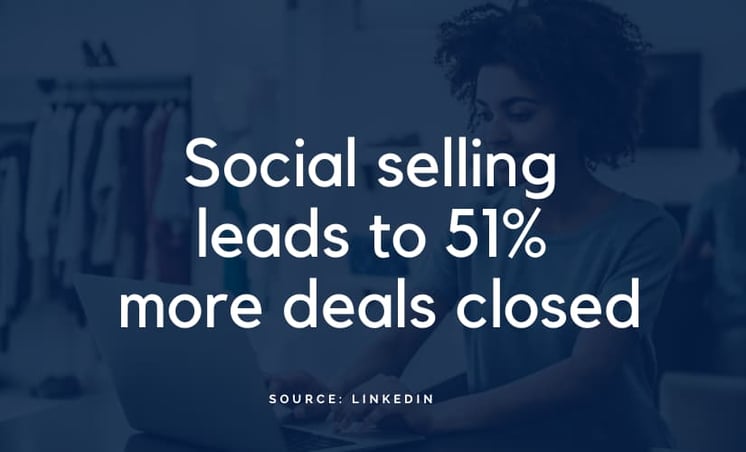 According to LinkedIn, sales reps who value social selling and are active on social platforms close deals 51% more than their colleagues. Platforms like LinkedIn and Twitter are the primary channels for B2B social selling, but others can be leveraged if that's where the target customer base spends its time.
The platform is key to finding and engaging with your target audience, in their natural habitat, as it were. It's like the old school sales tactic of networking at an event, and striking up a conversation - except now it's happening in the comments thread on a post on the local Chamber of Commerce page.
Not sure where to go hunting for leads on social media? Scroll to the next trend.
4. Fostering online communities
One of the biggest advantages of social media is that it provides an ideal location for building digital communities. Whether that's interest-driven groups or targeted business pages, these communities help provide social capital for digital brands through user generated content and direct engagement.
Digital communities have become especially important lately as brands help people find a sense of connection, no matter how far apart. Facebook in particular has been developing its "Groups" feature to connect people from all over the world, based on everything from personal interests to job hunting to professional networking.
5. Video content is here to stay
One of the most evident developments of social media's 2020 trends is that video isn't going away anytime soon.
Brands are investing in high-quality video content for platforms such as Instagram, Facebook, and YouTube to drive organic traffic and create dynamic content that users want to see and interact with. They're also seeing the value and potential of video ads across social media platforms.
People have short attention spans in 2020 - especially now that we're all on our phones all the time. Video ads are a great way for businesses to stand out and grab audiences' attention while they're scrolling through their newsfeeds.
Even with a limited budget, businesses can create compelling video content for their social media platforms and ad campaigns. With some good lighting and strong staging, it's easy to create videos that people will be excited to watch.
Creating the right video content can be a tricky target. You can start with a small-scale virtual event like a webinar, tutorial, or other focused Q&A to help develop your voice, audience, and focus for video content.
Leveraging Social Media
Social media has long been an important component of a holistic digital marketing strategy. In the COVID-era, social media has quickly become an essential means of communication between customers and prospects about new business procedures, adjusted hours, and online sales.
What we've seen so far in 2020 is that social media is so much more than a place for brands to conduct business. Facebook, Instagram, YouTube, and every other platform offers businesses the chance to build a loyal community of followers and customers who enjoy interacting with their products and services and actively seek to support the brand.
In a time where so much is uncertain, it helps to know that your community has got your back—even the digital one.