It sounds easy right? Just post a picture, a few catchy words, and a link to drive traffic - and BAM - your social content is complete for the day.
But if this is your mindset, you're missing out on the true power of social media in marketing.
A well thought out social plan doesn't just happen overnight. It takes thought and strategy to see your ROI grow. You must constantly come up with consistent and creative posts. And you must carefully analyze your social metrics - engagements, impressions, leads and conversions - to measure your success and determine next steps.
Sounds like a big job, huh? Well luckily, there are a ton of free and low cost social media tools out there that can make this mighty task a whole lot easier for you.
The first step in any social media plan is to create a strategy. Let's break down the tools that will help with just that:
1. Quuu
Price: Free but limited option, or paid plan starting at $19 per month
What makes a successful social media strategy? Interesting and engaging content.
It's that simple. But finding that content is where things can get tricky.
Quuu is a great social tool designed to alleviate that hassle by automatically curating handpicked content for you and your business.
How It Works
When you sign up for a Quuu account, you are asked to pick from several different categories that align with your niche. Quuu then sends you relevant, high-quality content from these categories each day, which you can easily use to schedule posts.
All this includes a link to the content, a catchy caption designed to drive engagement, and relevant hashtags and social handles to make it easier to tag the source.
This handy tool even integrates with social schedulers such as Buffer (more on this below), or even HubSpot, to make the process of selecting and planning your posts as easy as a click of a button.
2. Buffer
Price: Free, but very limited options, or standard plan starting at $10 per month
An efficient social strategy must come with an efficient plan to churn out content. This makes social schedulers key. But with so many tools that do just that - it can be hard to find the best one.
In terms of ease and functionality, Buffer is a prime pick.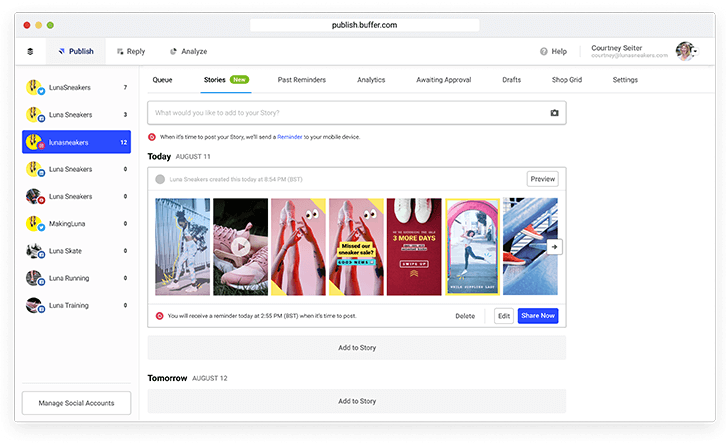 How It Works
Buffer allows you to connect multiple social accounts to schedule at different dates and times.
You already know that different social media platforms have different optimum times for engagement. Buffer allows you to capitalize on this notion, and strike when the traffic is hot.
Some of the functionality of the app includes a browser plugin to make life even simpler. So the next time you're browsing the web and see something you just have to share - you can easily add it to your scheduled social content with a click of a button.
If that's not enough, Buffer also comes with a number of integrations to other social tools, including Quuu. Link the two accounts, and anything loaded to Quuu will automatically feed to Buffer for posting.
Combining tools for maximum efficiency - now that's pretty cool.
3. GaggleAMP
Price: Starts at $12 per month w/ free demo
The double edged sword that many marketers face when developing their social strategy is finding the time to post consistently, while also having enough reach to make such efforts a wise investment.
Enter GaggleAMP.
GaggleAMP is a social media tool that allows you to automatically tap into a larger network of people - coworkers, influencers, or business partners - to auto publish your posts to their own social networks.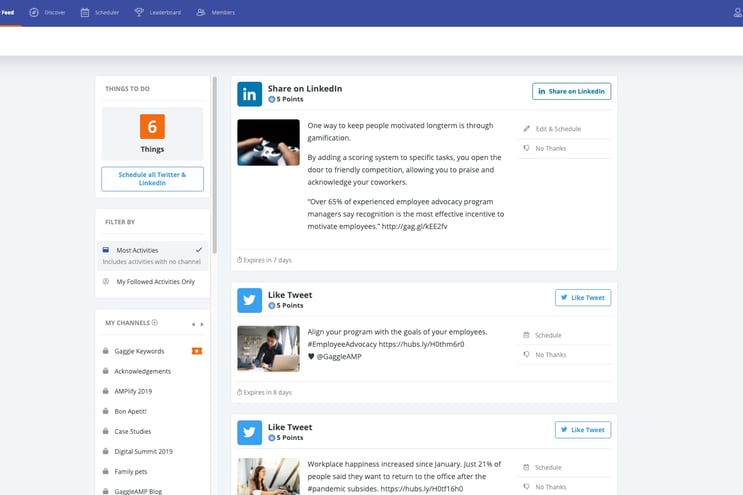 How It Works
GaggleAMP allows you to request members to join your "Gaggle". Once you have your group of influencers, you can then schedule a post simply by composing it in the editor and choosing which social platforms you'd like to publish to. Pick a time to publish - and then once posted you will have reached not just the followers of your business, but also the networks of your influencers.
It's an easy way to amplify your social voice, while increasing reach and drawing traffic back to your website.
4. IFTTT (If This, Then That)
Price: Free
Automation is your best friend when it comes to streamlining your social strategy. You've got your content research automated, you've got your posts automated, you've even got your influencers automated.
So what's next?
Automating everything else.
IFTTT is a tool that can do just that. And really, the name explains it all. Standing for If This, Then That, the tool utilizes "applets" designed to trigger an action when a certain activity occurs.
Here are some useful examples:
Automatically post a tweet when you publish a new blog post
Get notifications when you are mentioned by key influencers on various sites
Save posts with specific content to a spreadsheet
Automatically share posts with a specific tag to LinkedIn

How It Works
Simply download the IFTTT app, create a free account, and you're up and running.
There's an endless amount of "recipes" or applets that can be created, so IFTTT helps by providing automation recommendations for new users. You can browse some of the most useful applets under categories such as business tools.
When you're ready to create your own applet, you can do so by combining various app "services", or social platforms, and setting trigger parameters.
5. MobileMonkey
Price: Free Version or plans start at $21.75 a month
You may already utilize a chatbot strategy for your website. MobileMonkey allows you to extend that strategy to Facebook Messenger. This is a very valuable tool, specifically if Facebook is the primary social platform for your buyer personas.
MobileMonkey allows you to build customizable chatbots for Facebook Messenger, which automatically respond to your prospects or customers. It also offers features like Chat Blaster - where you can send a "bulk chat" to all of your Messenger contacts, Drip Campaigns within Messenger, Facebook Messenger Ads, and Auto-Response to Facebook Comments.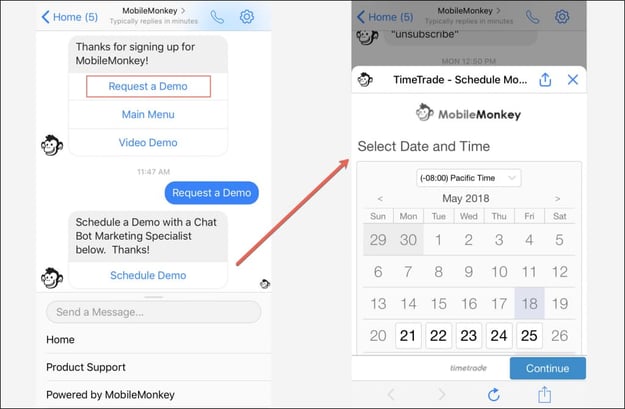 How It Works
To build a custom bot within MobileMonkey, head over to the Bot Builder. Here you'll be able to create your first dialogue. The tool has easy to use widgets, which can be combined to create your bot conversation template. Some of the features you add to your conversation include:
Text
Images
Image galleries
Native video
Attachments and PDFs
GIFs
Email notifications
Navigation elements
Questions and forms
Once you have your chatbot created, you can then set up different campaigns like those mentioned above.
6. Social Inbox
Price: Starts at $800 per month w/ 30-day free trial
Keeping up with all your social engagements, traffic, conversations, mentions, comments, and messages is just plain overwhelming. Hubspot's Social Inbox tool can help.
Social Inbox allows you to connect all of your social media inboxes into one, easy to monitor dashboard. This allows you to easily keep up and respond to all your interactions - satisfying your consumer's need for an immediate response.
How It Works
Once you have all your social media platforms hooked up to the software, Social Inbox allows you to create custom streams which you can organize into specific groups. The tool automatically filters through your interactions and keeps you up-to-date with alerts when responses are needed.
Social Inbox will also help you keep track of how many leads and customers you are acquiring through your social media efforts. This makes it a valuable tool for measuring the overall ROI of your strategy.
Once you have your content strategy in place - it's time to spice up those visuals. Here are some tools that will take your graphics to the next level.
6. Unsplash
Price: Free
Ever get stuck finding that perfect picture for a post? Consider turning to Unsplash. The website offers a massive library of clean, polished and professional photos - all for free!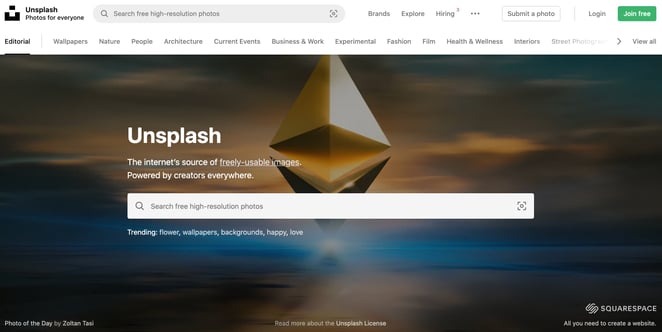 How It Works
Using this site is as simple as typing it into your search bar. You don't even have to create an account to download photos. But if you do create an account, you can follow certain creators who match your brand and create your own collection for photos to use in the future.
Once you've found a photo you like, downloading is as simple as choosing your image size and clicking save.
7. Adobe Lightroom
Price: Plans start at $9.99 a month
A good photo editing tool is necessary for social campaigns, but finding one that's easy to use can be a struggle. Adobe Lightroom is perfect for the not-so-design-savvy marketer.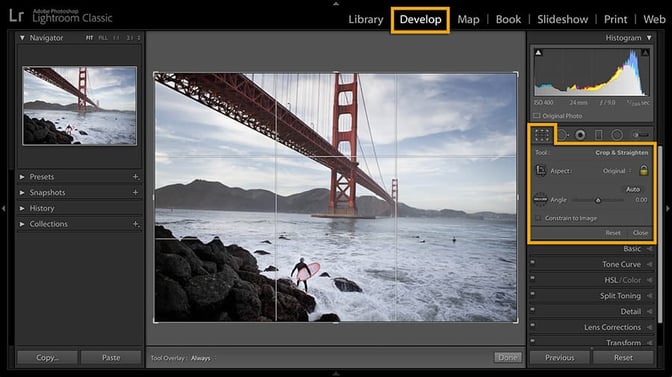 How It Works
Lightroom is organized into several different modules, which help users keep their workflows organized. The two most helpful for social media marketers are the Library module and the Develop module.
Library Module - where you import, organize and catalog photos
Develop module - where you will find the bulk of image editing tools
Once you've finished editing your photo, simply download your file and you're ready to share.
The great news? Lightroom can be used across desktop and mobile - making it easy to edit your photos for social media, even if you're out in the field.
8. Canva
Price: Free version or Premium starts at $12.95
Ever wonder how some social media feeds seem to churn out beautiful graphics 24/7? That content manager is probably using Canva.
This social media tool makes designing eye-catching graphics as easy as dragging and dropping into a ready-made template.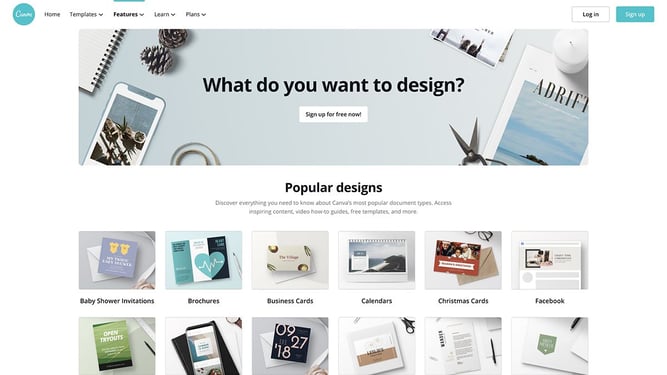 How It Works
Sign up for Canva using your Facebook account to allow for a streamlined way to post.
Once a user, Canva features an intuitive graphics builder that allows you to pick from a massive library of over two million templates. You can then use the builder to customize your graphic to fit your brand and messaging.
The free version will get you pretty far, but if you do fall in love with a premium design - you might want to invest in the paid monthly plan.
Protip:
You can still download premium Canva designs for free with a watermark. Sometimes the watermark is small or disguised, and it might not even affect your graphic.
9. Visme
Price: Free version on Premium starts at $25
Depending on your industry, there will likely be times when you're trying to come up with a simple and digestible way to share complex information on social media. A great solution? Infographics.
There are so many different tools that can be used to design infographics, but we found Visme to be a low cost and easy-to-use solution intended for the amateur designer.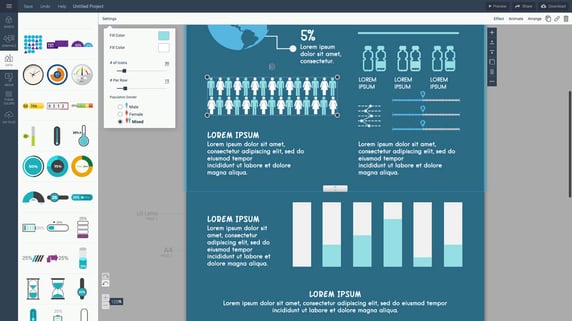 How It Works
Creating an account is easy with either an email, Google, or Facebook account. Once you're in the platform, you can pick from a wide variety of designs and templates. When you select "infographics," you're faced with pages and pages of options.
Visme makes it as easy as possible to build your graphic with the unique use of "blocks." So if you're not exactly sure what you're graphic will look like or how many data points you want to share, you can build as you go. When designing, you can choose from Visme's 18,000+ library of icon assets, and yes - they are ALL free.
Once you have your infographic designed, you can then add your own color theme to the entire graphic, making for an easy way to brand all your visuals.
10. Unfold
Price: Free or plans starting at $2.99 a month
With an average of 500 million daily active stories on social media a day - it's a no-brainer that you need your social stories to stand out. Unfold is a great tool to do just that.
Branded as "a toolkit for storytellers", Unfold will help you prepare more professional looking stories, while keeping your social media on brand and driving engagements.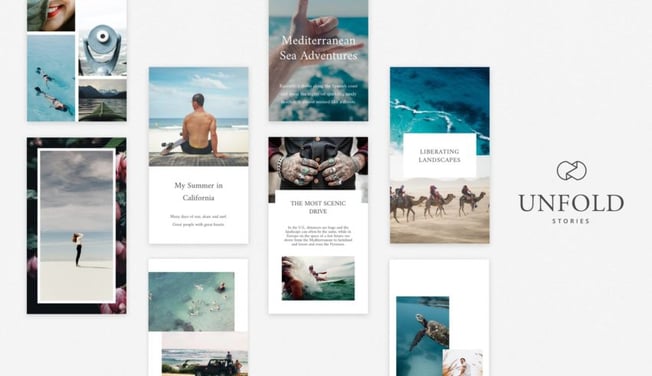 How It Works
Unfold is an app that can be downloaded on IOS or Android. Once you create an account, you can design your stories from the 25 different templates and fonts.
This tool can be used to create both photos and videos. Once you're finished creating, simply download your stories from Unfold, save to your camera roll, and then you're free to use your creations as you wish.
11. InVideo
Price: Free version or business plan starts at $15 per month
Every social media strategy should combine beautiful photos and catchy graphics with the gold standard of content - video.
With video being the most shared and most engaging content type across social media, it's important to create attention-grabbing videos. But working with video can be challenging, especially if you don't have much design experience. InVideo is an intuitive tool that helps make professional-looking videos a simple and easy process.
With 400+ easy-to-use and tweak templates, you can trick anyone into believing your a master video editor.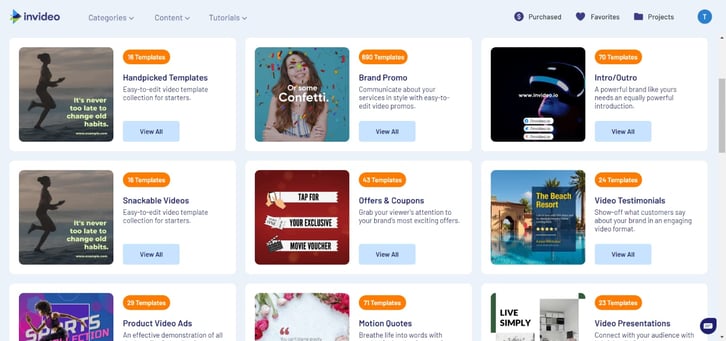 How It Works
Once you've signed up for the platform, you'll choose from a library of video templates premade for various social media platforms. You'll notice Youtube templates, Instagram story video templates, and Instagram video post templates among others. Pick your favorite one and start editing it.
InVideo offers an extensive editing tool that is beginner-friendly and easy to use. Simply upload files to add assets to the video, and use the bottom timeline to adjust the scenes. The tool also offers thousands of stickers, effects, shapes, and icons to add to your videos.
Once finished, simply click the "Download & Share" button at the top right corner of the editor and download the finished product.
11. Animoto
Price: Starts at $8 per month
Another video editing tool that utilizes templates is Animoto. One of the cool things about this tool is that it allows you to choose between templates based upon your social media campaign goals.
For instance, if you're launching a campaign to announce a particular product or service, you can select this goal in the platform and be presented with different templates designed with this goal in mind.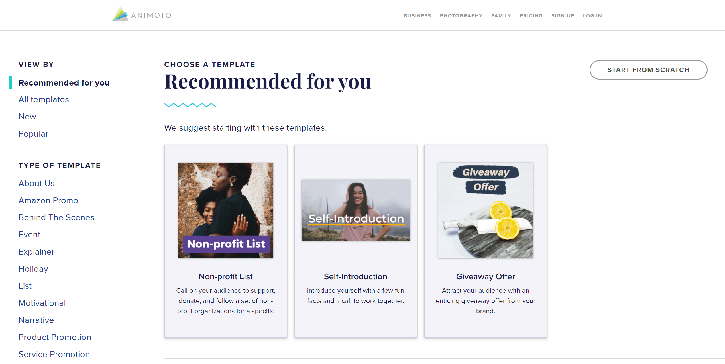 How It Works
Once you've launched your account, the first step is to find a template that suits your campaign. You can choose from a variety of different types of videos such as:
Behind the scenes videos
Explainer videos
Product and service promotion
Testimonials
Tutorials
Once you've settled on a template, Animoto's simple editor allows you to upload clips, images, music, and graphics to use. When you are happy with your creation, you can then share your video directly to your social media pages, or you can download in various file formats to use for later.
12. Clipchamp
Price: Free or plans starting at $9 a month
If you're looking for a free and easy to use solution to your video editing needs, Clipchamp is a great place to start. What makes this tool stand out from other video editing tools is its versatility. It essentially has everything you'd ever need to create a marketing video from a video editor, compressor, converter, and webcam recorder. Everything is also done within your browser, and you can upload files directly to social media. This is great if you have a computer with relatively low memory; you don't have to worry about your files taking up too much space.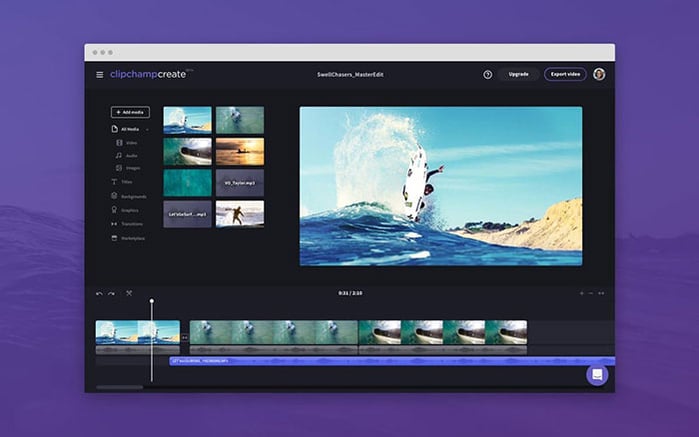 How It Works
Clipchamp has a simplified user experience. All you have to do is sign up for an account and follow the prompts to upload your media files. Use various tools within the "Create" tool to clip videos, change backgrounds, and edit your project. You can choose from a variety of templates, which are pre-sized for social media use.
In the "Utilities" tool, you can upload and convert videos into different formats. This is especially useful for social media when you need to compress files. Once you're ready to share your video, Clipchamp creates a link that can be shared on social pages within minutes.
You have a solid strategy in place, you're created engaging and professional visuals, now it's time to monitor your social success.
13. Socialinsider
Price: Free 7-day trial, plans start at $59 a month
Socialinsider is a great analytics and benchmarking tool that takes a deep dive into your metrics to help you understand how your pages are performing.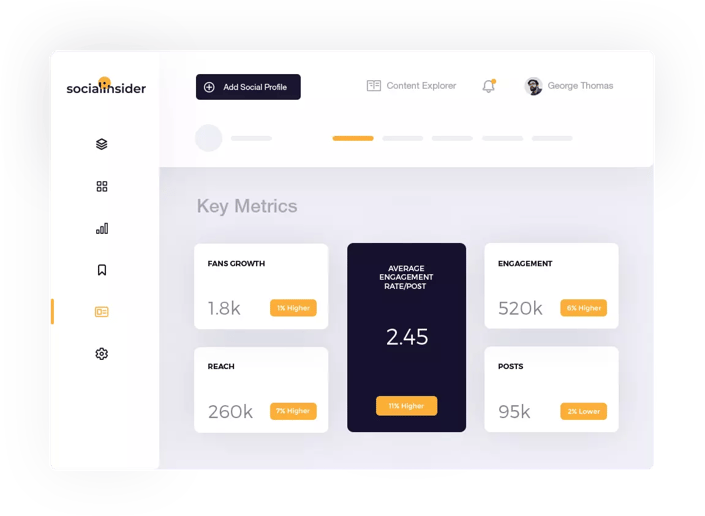 How It Works
For this tool, you'll need to link each social profile you'd like to monitor. Once linked, you can measure the following:
Your rank: Measure how you are performing against

similar pages or competitors

.
Boosted content: Keep track of when your competitors are spending money to boost specific posts. This will help you not miss out on content of your own that you might consider spending money to boost.
Overall metrics: Socialinsider gives you an in-depth look at what campaigns are performing well, and what campaigns are struggling. Monitoring these results will allow you to tweak your strategy and make necessary changes.
14. Keyhole
Price: Free trial, plans start at $49 a month
Keyhole can help you expand your content's reach by keeping track of hashtag analytics. This tool provides a real-time performance analysis of industry and campaign-specific hashtags across Twitter, Facebook, and Instagram.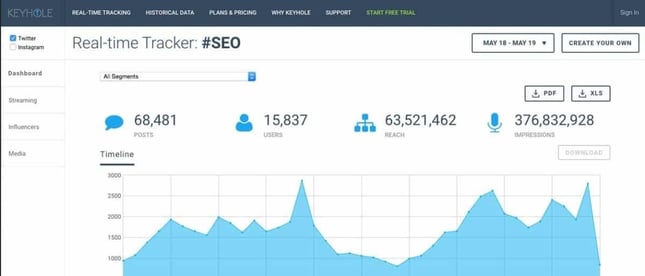 How It Works
Get started with Keyhole by creating a "track". First insert a keyword, hashtag, or URL that you would like to track, and select the social network needed.
Keyhole will then compile data within a single page of graphs and charts. This data will provide insights such as demographics, location, and topic clouds, all of which can be used to help identify tactics to boost your own campaigns.
15. Qwaya
Price: Starts at $149 a month
Social media advertising is an important part of any marketing strategy. But ad dollars can add up fast. So it's important to have a foolproof plan before you launch an advertising campaign.
Qwaya can do just that.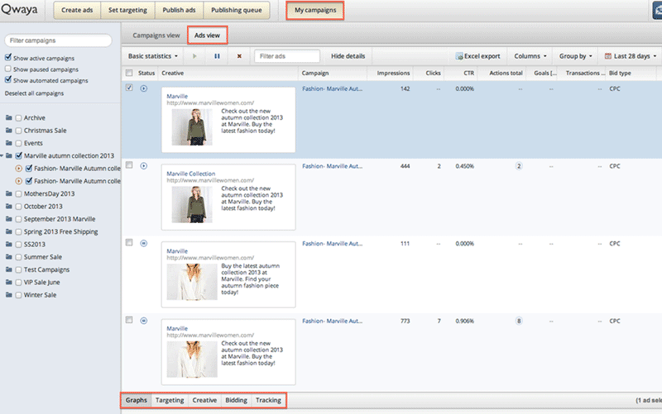 How It Works
Two of the most beneficial features Qwaya will offer once you create an account are A/B testing and campaign scheduling.
A/B testing

: Qwaya allows you to test every possible variable you can imagine with your ad campaigns. By comparing the results, you're able to decide what advertising techniques work the best, and what's worth spending money on.

Scheduling

: Qwaya's scheduling tool allows you to measure the most effective time of day to post ads. You are then able to schedule your campaign when potential ROI is at its peak. By scheduling your campaigns based on targeted days and times, you are able to eliminate advertising waste.
You've saved some time - now what?
There's no doubt that an effective social media plan needs a great deal of thought and strategy to feed it. But don't let mundane social media tasks take away from the time you have to establish a winning game plan.
These are just some of the tools out there that will save you seconds. Reinvest that precious time into a strategy that will turn your leads into customers.