Inbound marketing is all about using content to lead your customer through the buyer's journey. These days, paid search campaigns are a critical part of inbound marketing. Yet, there's a lot of debate over its value. Some businesses swear by paid search; others remain frustrated and skeptical.
The truth is, paid search doesn't work for every vertical. But for many in the B2B space, it can be a valuable tool to set you apart from competitors, especially in a saturated market. Paid search gives businesses a way to take control of their search rank and rise above complicated search engine algorithms.
At the same time, paid search is an investment. So it's crucial to have a deep understanding of what a paid search campaign is and the value it can provide before deciding if it's right for your business.
In this post, we'll discuss what paid search campaigns are, why they're valuable, and the types of businesses and industries they work best in. By the end, you should be able to confidently answer whether or not your B2B company should invest in a paid search campaign.
What is a Paid Search Campaign?
A paid search campaign is a type of marketing strategy where advertisers can buy space on search engine results pages. Google Ads, one of the most popular types of paid search campaigns, works on a pay-per-click model where advertisers pay only when a user clicks on their ad. They can be optimized based on targeted keywords and search intent.
5 Reasons Paid Search Campaigns are Valuable
Paid search campaigns lay down a foundation of growth. But a lot of businesses get frustrated when they don't see immediate results. When you look beyond the goal of quick results, you'll find the benefits of paid search campaigns. Let's take a look at the top 5 reasons paid search campaigns are valuable.
1. Paid Search Generates Brand Awareness
Even if you don't get an instant conversion from a paid search campaign, when you're running ads, you are constantly generating brand awareness.
Think about it this way. Perhaps you're a newly established brand, competing against two to three other well-established companies with large followings. How do get your name in front of competition like this?
Paid search gives you the advantage of ranking in the top 1-3 positions on Google. People searching for your services will start to associate your brand with the names of your competitors. And the more often potential customers see your brand and become familiar with it, the more likely they'll click on it.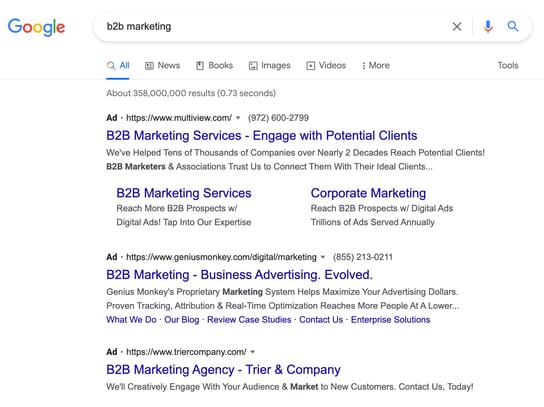 2. Paid Search Boosts Web Traffic
Sure, not every user that clicks on your paid search campaign is going to convert as a customer. But once you've brought them to your website, you've then taken hold of the conversation. Paid search campaigns alone might not be enough to convert web traffic into leads. But when combined with a strategic inbound marketing strategy, your paid search campaigns will become a lead-generating machine for your business.
If you want to effectively use paid search to drive traffic to your B2B site, don't go for the hard sale. In order to generate the right type of traffic, you want to use the inbound approach. Instead of saying, "hey, look at me and buy my service", attract them with a useful and relevant content offer. Write ppc ad copy around this valuable resource, bring them to your website, and then let them educate themselves on your company.
3. Paid Search Supersedes SEO
SEO can get tricky. Even the most experienced SEO experts will have trouble getting their site to rank if they're up against huge and well-established brand names as competition. Why? Because backlinks are one of the most important ranking factors and often times a hard thing for a company to control. But when you run paid search campaigns, Google lets you beat its algorithm and supersede SEO.
We're certainly not saying you should throw SEO best practices out the window. But, as a small business owner, it's not your job to be an SEO expert. Unfortunately, this is what's holding so many B2B companies back from brand awareness and visibility. Paid search campaigns give you a fast way to start competing in the same sandbox as your well-established competitors. Sure, you might not have the best SEO masterminds on your team, but you can always pay to play.
4. Paid Search Can Boost Your Other Campaigns
We know inbound marketing is all about providing multiple helpful touchpoints through the buyer's journey with the goal of leading them towards a purchase. That's why there are so many different tools in the inbound marketing toolbox. Paid search campaigns are just one tool that can work alongside other nurture campaigns.
For example, say you are launching a targeted email campaign towards a specific persona. But you've exhausted your list of contacts. You can run a paid search campaign to refuel this list and find other qualified prospects that might be interested in your products or services. Use your paid search ads to drive traffic to a strategically designed landing page that includes an email address form fill.
Or, you could use other marketing campaigns to target users who you've already influenced through your paid search campaigns. If they've clicked through to your website and submitted a form, it's prime time to take advantage of the lead with tools from your inbound marketing toolbox.
5. Paid Search Campaigns Give KPIs that Prove ROI
As digital marketers, we live and breathe data. There's nothing worse than launching a campaign where you can prove measurable success. But when you launch a paid search campaign, you'll have key performance indicators (KPIs) for each ad, each keyword, and even each user your ad is served to. Here is just a surface level view of some of the data points you'll have access to when launching a paid search campaign within Google Ads:
Reach
Impressions
Impressions by Campaign
Impression share
Click-through Rate by Ad Group
Click-through Rate by Campaigns
Total Clicks
Average Cost Per Click
Cost per Conversion
You can also go a step further and track engagement onto your website using UTM tracking codes. This will help you understand exactly what paid search ads worked and drove conversions to your site. So yes, you might be making an investment with your paid search campaigns, but you'll be able to track every dollar spent.
What Types of Businesses Should Invest in Paid Search?
You now understand the value that paid search campaigns can have. But, as we mentioned above, it's not always the right tactic for every industry. Here's a look at some of the characteristics of businesses or industries that respond well to paid search campaigns.
1. Businesses with High Customer Lifetime Value (CLV)
High customer lifetime values mean customers are extremely loyal to your brand and will make repeated purchases, or use your services over a long period of time. Because most B2B companies typically have longer sales cycles, high CLVs often follow. These types of businesses will see more value in a paid search campaign investment, as converting just one new customer can mean multiple sales over time and a higher ROI.
2. Businesses with High Margins
Think hard about the value of a new customer to your business. How much will you profit from a new customer? If you score just one new contract from a paid search campaign, and it's worth thousands of dollars, you can easily justify spending a couple hundred bucks on your PPC strategy. Businesses with high margins for each sale will certainly see the value in a paid search campaign.
3. Businesses with Unique or Complicated Products or Services
Are you in a totally niche industry? Does your target persona even know that your product or service could be a solution to their pain point? Specific industries like manufacturing and consulting can often be ambiguous. It would be hard for a searcher to just stumble upon the right solution. In these scenarios, a paid search campaign allows companies to take advantage of target keywords that are truly unique to their personas. Even if they aren't actively searching for your brand name, or even solution, you can educate them that your products or services exist as a solution.
Is Paid Search the Right Investment for My Business?
Hopefully, you now have a clearer idea of how to answer this question. But before we leave you, here's some additional food for thought. Oftentimes, the businesses that aren't finding the value in their paid search campaigns are those that haven't set the right goal.
It's all about perspective. Paid search campaigns were designed to nudge buyers along the funnel. They don't necessarily result in an instant conversion. The goal of paid search is to get your message to those that might not find it otherwise. Then, using the other tools in your inbound marketing toolbox, lead them to a purchase.
As long as your ad copy is sound and you've set a clear goal for your campaign, you will continue to move towards that goal. It's a constant climb, and eventually, you'll reach it. It might not be instantaneous, but it's consistent.
That's the value of paid search.