Sales collateral is powerful stuff. It helps sales teams maintain meaningful conversations with prospects and customers while providing tremendous value to the buyer's journey.
Think of it as an arsenal of weapons your sales teams needs while they look to convert new leads. What good are weapons on the battlefield if they aren't locked and loaded?
It's a universal problem that's plagued marketing and sales teams. Sales collateral works, yet nearly 70 percent of all B2B content goes unused by sales. Why? Because there is very little strategy around what is created and where it is stored. And when sales collateral is impossible to locate, it goes untouched by sales teams.
A strategically thought out sales collateral management process can help keep all these valuable assets organized and accessible, so your sales reps remain armed and ready to win over prospects and close more deals.
What is Sales Collateral Management?
To answer this question, let's first make sure we understand what sales collateral is.
Sales collateral refers to any type of content, either printed or digital, that helps the sales team move prospects, leads, or customers down the sales funnel. It's essentially educational material that informs the buyer according to where they are in their journey towards making a purchase. Some examples might include product brochures, case studies, sales presentations, ebooks, and even blog posts.
With this definition in mind, sales collateral management is the way in which all of these materials are organized, stored, and accessed. An effective sales collateral management system ensures all materials are stores in a central, secure online location accessible for everyone in the organization. An effective sales collateral management system should be:
Easy to use
Easy to locate
Easily integrated into current workflows
Easy to update
Why is Sales Collateral Management Important?
When sales collateral isn't effectively managed, it loses its power. People begin naming and saving things randomly. Documents become scattered across the digital ecosystem. What once was a useful tool becomes a cumbersome obstacle that a sales rep is much more likely to ignore. Then, reps begin to make their own sales collateral, causing the company's brand to become scuttled. Messaging is no longer cohesive, and most importantly, sales collateral remains unmeasurable.
When a sales collateral management system is missing, valuable time is wasted. According to a report by McKinsey Global Institute, employees spend 1.8 hours every day searching and gathering information. That leads to 9.3 hours per week, or the equivalent of one day per working week, of time wasted because a salesperson can't find the information they need.
That's some negative stuff. But with a sales collateral management process, you have the power to change this. By keeping all your sales assets in an organized and easy to access location, you'll enable your reps to sell more effectively while saving them valuable time, which can be used to strike up more conversations with potential customers. If tools are easy to find, reps will be much more likely to use these resources - keeping the buyer experience consistent while maintaining brand alignment.
5 Sales Collateral Management Tips
If you're looking to adopt a sales enablement approach as a business, strategic sales collateral management is needed to empower salespeople. But where do you start? These five sales collateral management tips will give you the foundation you need.
1. Audit all sales collateral
The best way to improve upon your process is to gain a solid understanding of the sales collateral you currently have and where it's being stored. The first thing you can do to start properly managing your sales collateral is to do an audit of all existing resources. Make a list of every piece of content you currently have and where it is currently being stored. Some things to consider:
Is all your content current?
Does it talk and speak about the products or services you offer?
Is it on brand?
Is it relevant?
Once you have a list of your current content, determine what needs to be updated, what can be repurposed, and what might just need to be thrown out. Remember that each piece of content should be connected to the buyer's journey in some way. If the content doesn't effectively educate prospects, convert leads, or delight customers then does it deserve a place in your sales collateral management system?
You'll also want to keep an eye out for duplicate content. When companies go through rebranding, old documents can get left behind. This creates inconsistent branding, which can lead to confusion and a reduction in overall brand equity.
2. Choose a Sales Collateral Management Platform
Once you've established the content you have in your toolbox, it's time to determine where to house these valuable assets. A sales collateral management platform is key to keeping files organized, centralized, and accessible. There are a lot of different tools out there. The biggest thing you'll want to ensure is that whatever platform you choose integrates with your CRM.
HubSpot users are at an advantage with HubSpot's Sales Document Management & Tracking Software. Users can easily create a sales collateral management system directly within their HubSpot CRM. This keeps team members from hopping around different software programs and allows for an easy way to share documents internally and externally with prospects.

It's pretty simple too. To create your sales collateral management library, all you have to do is start uploading documents. Navigate to Sales -> Documents and select "Upload New Document". HubSpot allows you to upload a variety of different file formats including Word, PowerPoint, and PDF documents. Plus, you'll be able to track the effectiveness of each piece of sales collateral with aggregate data collected in the HubSpot platform. This will provide insight into the best performing documents, fueling your future sales collateral strategy.
HubSpot also allows users to integrate their CRM with other sales collateral management platforms. Within the HubSpot ecosystem, there are a variety of partner software solutions to choose from. Here are just a few:
The key is to select a platform that integrates with your CRM. Whether you're using HubSpot or not, it's hard to have a centralized location for your sales collateral if the tool you use lacks the necessary integration. Other things you'll want to consider when evaluating management platforms:
Does the platform have a robust search function that makes finding the right content easy?
Does it have an easy way to organize sales collateral by the naming convention of your organization?
Can reps easily share, comment, or add their own notes to different pieces of collateral to help keep them organized?
Can you track data behind each piece of collateral and assess how helpful it is in the field?
3. Create an Organizational System Within Management Platform
Uploading your documents to your sales collateral management platform is only the first part of the equation. No matter how robust the software is that your using, it won't do any good if you have a confuddled mess of documents within it. A strategic naming and organizational system is necessary to make these assets easy to find.
Recognizing that every platform is different, the organizational structure you use will depend on the capabilities you have. If you're using the HubSpot platform, the easiest way to keep everything organized is to create folders. Consider creating a folder for each different document category you have. For example, you might have folders for the following:
Case Studies
Ebooks
Data Sheets
Product Brochures
Sales Presentations
Installation Instructions
Specifications
Guides
Think about documents that are typically shared via email. Having an organized folder dedicated to these files will make it easy for your reps to import them in any email outreach they do to prospects or customers.
You'll also want to make sure the actual file name makes sense. A sales rep should easily be able to search for whatever document they're looking for. Externally used content could be categorized by buyer persona, buying stage, industry, etc. The important thing here is that you're consistent and that it makes sense to your sales reps.
Here's one example of a possible naming convention structure:
Type of asset - Title - Funnel Stage
EB-BuildingAMarketingTeam-TOFU
Make it easy for a rep to search and find these tools in just seconds. Whether they're emailing a prospect, or talking on the phone, they should never have to dig for these assets.
4. Make It Easy to Share Sales Collateral
Sales collateral is meant to be shared. Any sales collateral management system should make this foundational goal easier. Luckily, this is pretty simple if you're a HubSpot user. The sales document and management tracking tool offers a few different ways for reps to easily share sales collateral with prospects and customers.
Create Email Templates
Creating standardized email templates is one way to set reps up for success. You can easily add some of the most commonly used pieces of sales collateral to an email template and it will automatically pull in the document. Remember to remind your reps to always personalize these emails. Templates are helpful bones of email outreach but should never be used without being targeted towards the prospect.
Here's how to add sales collateral to your email templates:
Go to Conversations-> Templates.
Select "New Template" or click the name of an existing template to edit.
In the template editor, click "insert" on the bottom menu and select your piece of sales collateral.
Edit the text of what you would like to display for the document link. This is what your recipient will see.
Select "require email to view document" to track who views the document. You can also add a link preview for the recipient.

Setting up templates that include these commonly used pieces of sales collateral will ensure your reps are using the tools you have in your toolbox. It's automatic, and your reps won't have to dig for anything.
Create Sharable Links
Documents in HubSpot's sales collateral management platform can also be easily shared via links. This is a great way for reps to share information without clogging up recipients' inboxes with large file attachments. Sales collateral can be shared internally or externally with these shareable links.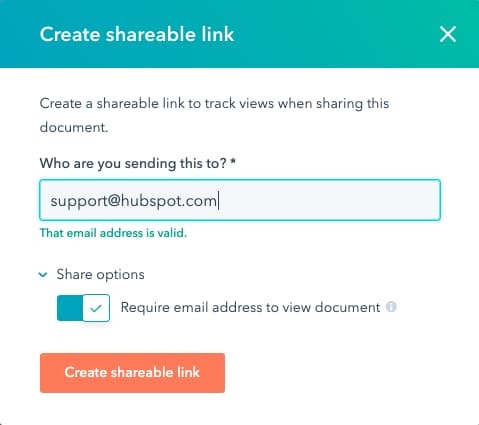 It's pretty simple to create one:
First, go to Sales -> Documents.
Select the document you would like to send by checking the box next to its name.
Hovering over the title, select Actions -> Create Shareable Link.
Enter the email address of the recipient. Customize your sharing options for added security.
Click "create shareable link."
Copy and paste this link to share with your contact directly, or click the button that says "Email from CRM" to send an email with a link to the document.
If you're not a HubSpot user, you want to make sure whatever platform you decide to use to manage your sales collateral offers an easy and repeatable way to share this content.
5. Regularly Update Sales Collateral
Once you've got all your collateral in a centralized location that's easy for reps to find and share with their prospects, it's now essential to maintain this organized system. Make it a regular practice to update your sales collateral at least once a year, or as much as it makes sense for your business.
You'll want to evaluate the following on a regular basis:
Branding - Companies often rebrand or update their logos every few years. Don't forget about your sales collateral. Regularly check to make sure all your documents are brand-aligned.
Product Information - Products and services change. Make sure your sales collateral reflects any changes.
Old Dates - Sometimes sales collateral is dated, whether it's a time-sensitive deal or event-based information. Regularly comb through documents and retire any old pieces of collateral that have since expired.
Updating your sales collateral includes creating new resources to help your sales team. You'll want to work closely with your marketing team to make sure they know what types of content would be helpful for your reps. Have your team make a list of FAQs they get from prospects and customers. You'll also want to review sales recordings or calls regularly. Take this knowledge to the marketing team every quarter. This will help empower both your sales team and your marketing team to create better content that converts.
Unify Your Brand with Proper Sales Collateral Management
A lot of time and effort - not to mention money - goes into creating content. So it's pretty sad when it goes unused by the sales team. But it's hard to blame reps when your sales collateral is messy, unorganized, and impossible to find. Their job is to sell. Not to dig around in Google Drive for a piece of content that might be outdated anyways.
Proper sales collateral management is key to empowering your sales team and using content to fuel the buyer's journey. Creating a centralized location for all sales collateral will ensure brand alignment across departments and consistency across your sales teams as they position your brand in front of prospects. With the proper sales collateral management, you'll ensure that your sales teams effectively locate the valuable content created and get it in front of prospects in an efficient manner. That could be the difference between a won or lost deal.