Always Be Closing. Sound familiar?
Sales leaders are constantly preaching to their reps to close more deals. Yet, many haven't taken the necessary steps towards sales automation, causing them to fall behind.
How can you always be closing if you're tied down behind your desk doing data entry?
Sales automation is key to increasing revenue. Currently, sales reps spend only a third of their productive hours talking to prospects. They spend the rest of their time doing day-to-day tasks like entering data, prospecting, team meetings, and scheduling. But imagine how much more your business could be selling if you used sales automation to free up the other two-thirds of your team's time.
By automating your sales team, you'll enable reps to focus on what you (and they) care about most - creating meaningful relationships with prospects that close more deals and lead to business growth.
So let's dig in.
First - What is Sales Automation?
To successfully automate your sales team and adopt sales automation, it's crucial to have a deep understanding of what exactly it is.
Sales automation is the streamlining of manual, administrative tasks using software, artificial intelligence, and other digital tools. Basically, it's putting the day-to-day mundane tasks of your reps on auto-pilot with the use of technology.
By taking away these administrative duties, your reps can focus more on connecting and selling to prospects and customers. Plus, sales automation unifies your sales process. By automating these tasks, your team will have an iterative approach to follow, rinse and repeat.
HubSpot Report Finds Sales Automation Improves Rep Productivity
Don't just take my word for it. Let's dig into some data.
HubSpot's 2021 Sales Enablement report surveyed 500 different sales leaders across eight various countries and found 40% missed their revenue goals last year. Interestingly enough, most of these sales leaders, regardless of their performance, ranked CRM's and videoconferencing software as the most important tools for remote selling. What separated the overperforming from the underperforming was how sales leaders used these tools. Sixty-one percent of overperforming leaders used their CRM to automate their sales process compared to just 45% of underperforming leaders.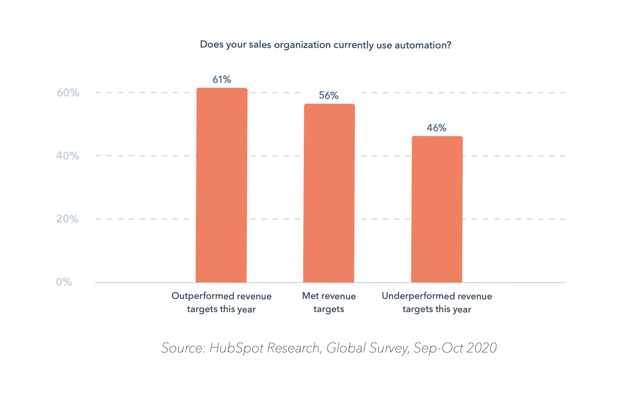 So the difference comes down to tool usage. Though the adoption of sales technology is a vital first step, sales automation is critical if leaders want to see growth.
Follow These Four Steps To Automate Your Sales Team
Having a strategic plan to implement automation into your sales processes is key. So I've outlined the following steps as a guide to help you automate your sales teams, close more deals, and drive more revenue to your business.
1. Establish a Sales Automation Champion
One of the biggest challenges I see when businesses try and implement sales automation is a disconnect between sales and marketing. The marketing team is often the department that owns the automation software. They are often responsible for putting together workflows or sequences in HubSpot or the CRM of choice. But yet, they don't translate this knowledge to the sales teams. They often think they've done their work but drop the ball right at the sales rep's feet.
The solution is to establish a sales automation champion. This person should take ownership of both the organization's marketing and sales processes and help connect the two. This person is responsible for ensuring that sales reps have all the tools in their toolbox to automate their processes. They also are responsible for training these team members on these tools and making sure they know how to use them effectively.
The sales automation champion will take the lead on the following steps and make sure the ball doesn't get dropped between departments.
2. Organize Existing Sales Collateral
You can't fix what you don't even know you have. So to successfully adopt sales automation, it's crucial to define what your current processes are, where your reps might be spending too much time, and what you might need to implement automation.
This process includes getting together with your marketing team and categorizing all the marketing and sales collateral that sales teams have to use in their automation. These might include the following:
Email templates
Guides
Brochures
Ebooks
Playbooks
Once you've established all that you have for the sales team to use, determine if these are easily accessed.
Sales reps are good at making excuses, and will create off-brand sales collateral on their own. This causes stress and division between the sales and marketing teams.
So don't give them any reason not to use these tools. Remember, their job is to sell and not dig through the website to find marketing collateral. If the resources and tools used in their automated processes are easy to find, sales automation will be easier to achieve. This also includes coming up with an easy-to-use naming convention for all files and hosting them in a central, easy-to-access document library.
3. Standardize Sales Processes
Once you have your marketing assets organized and added to your marketing automation platform, like HubSpot, start mapping out the areas in your current sales processes that need to be streamlined. This might be a bit overwhelming, so here are a few steps to help you focus on the most critical areas.
Determine and eliminate any unessential tasks that aren't adding value to the business.
Come up with a list of tasks essential to the sales process.
Are these tasks able to be standardized with the above marketing collateral?
If so, come up with a standardized process.
Use automation to make this process easy for every rep.
You won't be able to standardize all your sales processes at once. So focus on what will add the most value to your business. Are there areas where you can achieve quick wins? If so, you might want to make this your focus. If team members see the results quickly, standardizing other processes will be easier down the road.
Standardizing sales processes is a significant step in the direction of sales automation. By having a centralized way in which all your reps manage their prospecting, outreach, and deal tracking, your team will find it easier to manage the tasks they have at hand.
But automation will take things a step further. And now that all processes are standardized, it's a whole lot easier.
4. Decide What You Want to Automate
If you're using a CRM like HubSpot, there are so many different automation tools that it's impossible to list them all out. But here are some key areas that are likely wasting time for your reps and easy enough to implement once you have a standardized process in place.
Prospecting Data
Do your reps waste time searching the web for background information when you assign them new leads? Make prospecting easy on them by giving them a centralized place to find all the prospecting data they need.
Many CRM's allow you to create workflows that trigger internal notes of a known customer's information, such as industry type, company size, pain points, and goals. The Inbox Profiles tool in HubSpot Sales will pull all this information into a centralized location. Sales reps will be able to see any historical data on the contact, their social media profiles, and any other company relevant information. HubSpot will even give insight into the last page they converted on, allowing a rep to send an even more personalized email.
Email Outreach
Templated communication is often discouraged in sales. And rightfully so. You never want to sound like a robocaller. But, email outreach can be automated in a way that's both beneficial for your reps and effective with your prospects.
CRM's like HubSpot offer email templates that are easily customized based on the prospect. Simply write master versions of commonly sent outreach emails and save them as templates. Easily attach marketing collateral such as guides, ebooks, or proposals to these emails and be on your way.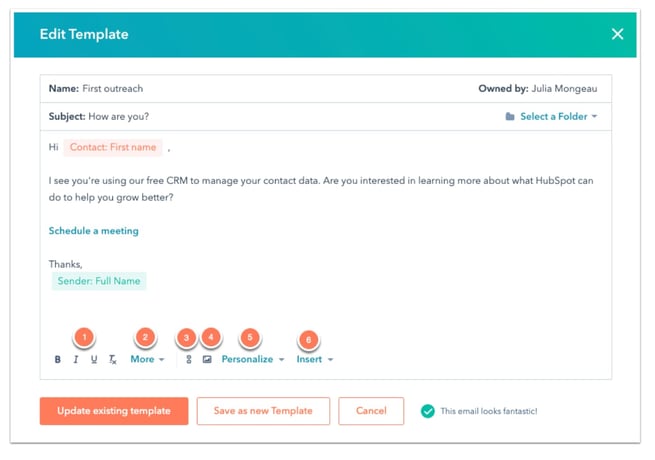 Email campaigns can also be automated in HubSpot, so you don't have to send multiple emails to prospects in a row. The sequences feature allows sales teams to set up an email campaign unique to a specific prospect.
So, for instance, if a prospect doesn't answer the first outreach from a rep, a date can be set for another follow-up email to go out. HubSpot even allows you to add personalization tokens that will show personalized content to contacts based on their property values in your CRM. When the prospect does respond, you can quickly shut these sequences off.
This type of automation will take the place of re-engaging old contacts, helping your sales team spend more time on closing deals with those already engaged leads.
Calendars
Scheduling meetings can be a time sucker - especially if you're working with multiple people, jumping between schedules. By automating your reps' calendars, you can eliminate the back-and-forth of setting up a meeting.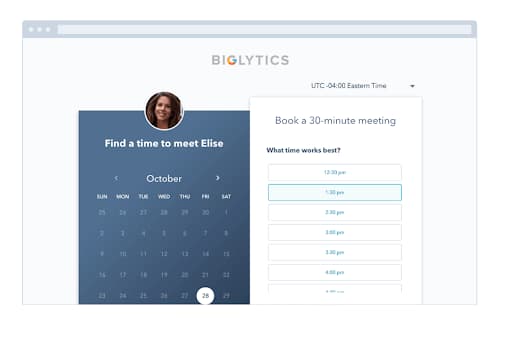 HubSpot Meetings is a great tool that syncs to your Google or Office 365 calendar and allows prospects to see your most up-to-date availability and automatically book appointments with you. For new prospects, all of their information is then automatically imported into your CRM. Easily send an email meeting link to groups streamlining the scheduling process.
Lead Qualification
When your sales team has multiple leads, all in different parts of the buyer's journey, it can be hard to keep track of where everyone is and how to nurture each one. HubSpot's Lead Scoring tool can help automate the lead qualification process and save time, so reps don't have to get lost parsing through data.
Predictive scoring uses data you've collected in your CRM and specific criteria you've outlined to identify your best and most qualified leads. You can then use this "lead score" in HubSpot to segment email lists and trigger sales rep notifications. Plus, it allows your team to track those highly qualified leads and better determine what types of collateral, outreach, or personalization they might want to use.
Proposals
What about proposals - one of the time-consuming and most essential part of the sales process? Yes, even this can be automated.
HubSpot partners with different tools that allow for easy integration into your CRM, so that when you go to create a quote, all the key details you might need automatically populate. Here is a list of tools that can integrate with the software:
In HubSpot, you can even set up timed reminders to send to prospects reminding them to sign. Or if your team needs a manager to review contracts first, you can set up an automated workflow that sends the proposal off to the right stakeholders before it's automatically sent to the buyer.
Playbooks
You can even automate your sales processes themselves. HubSpot offers dynamic playbooks which can make training new reps and guiding your current team a seamless process.
In HubSpot - playbooks are defined as a collection of tactics or methods that a sales rep relies on to do their job. The HubSpot playbook tool gives salespeople a centralized location to store these methods and tactics. It also offers dynamic, AI-powered technology that will guide sales reps through calls which question and answer boxes. Plus, all the information stored in these playbooks during a call, can automatically be imported into a customer's profile. This means reps don't have to double back and retype their notes into the CRM.
Sales Reports
Automating reports can save both you and your sales team time. HubSpot's sales reporting software takes away from the tedious task of separating all your reps' deals into separate reports for you to analyze. It also keeps everyone on task. By automatically pulling metrics into an automated dashboard, everything is visible. Your rep always knows where they are at in accordance with their sales goals, and you have an easy way to hold them accountable.
There are 90+ templated sales reports you can use in HubSpot, or you can create customized reports that align with your business goals. Here are a few favorites that aid in productivity:
Deal Forecast Reporting - this report will automatically show forecasted revenue by deal stage
Funnel Reports - multiple customizable funnel reports help you better understand how deals are moving through the funnel and where you might need to focus efforts
Sales Activity Reports - An easy and automatic way to monitor each sales rep's activity
By automating your sales reporting, you'll never have to waste valuable time putting together numerous spreadsheets. All the information is right at your fingertips; you just have to add the filters you want to see the information you need.
5. Train Reps on Automation
Oftentimes marketing teams forget to train or show their sales departments how to use the sales automation processes available. This is a mistake. For sales automation efforts to be effective, the whole team, including the sales leaders, need to understand how to use these new processes.
Immerse your team in the systems by holding a workshop on automation. Your sales automation champion can lead this effort with help from the marketing team as a whole. HubSpot also offers a variety of online courses and training that can be useful for sales reps.
We also recommend sales enablement training. Defined as arming your sales teams with all the content, training, sales collateral, and tools they need to engage with prospects, sales enablement is a continuous effort, and it's a critical part of implementing sales automation.
It can be a heavy lift. That's why there are teams out there that specialize in this type of training. Consider taking advantage of the sales enablement services we offer to better align your sales teams with new sales automation processes. It will help them gain more confidence as they work to implement these tools into their workflows. And the more confidence they have, the more likely they are to adopt them.
That's certainly what you want to hear as a sales manager who just spent a lot of time investing in and redefining these processes.
Achieve Long-Term Growth with Sales Automation
Sales automation is the key to reaching target revenues in 2021. Sales leaders that invest the time and energy into sales automation now, will see the fruits of their labor in business growth.
But it's not just about immediate growth. Sales automation can also help make strategic decisions for the future. The HubSpot's Sales Enablement report found that those high-performing leaders who exceeded revenue in 2020 also were focused on improving pipeline velocity. By using automated reports and data compiled from automation efforts in HubSpot, they were able to pinpoint areas to focus on process improvements.
So with automation, everyone wins. The sales rep can focus more on selling, the sales leader can focus more on growth, and the business can focus on strategic planning. Not to mention - the customer benefits from an overall more efficient process and a company focused on serving its prospects and clients.
Take a cue from the data. The time is now to automate your sales team.