LinkedIn advertising has a well-deserved spot in the B2B marketer's playbook.
A social platform where millions of professionals connect for information sharing and workplace development? Yeah, that's a no-brainer.
While other advertising channels are more effective for brand awareness, Sponsored InMail advertising is an excellent tool for generating and converting leads.
All you have to do is get people to take action after reading your message!
I know, I know. Us marketing folk know that's often easier said than done. And that's why you're here: to learn more about how to use LinkedIn Sponsored InMail effectively for lead generation and conversion.
Sponsored InMail 101
The Sponsored InMail advertising option is a great way to reach a targeted audience by sending a personalized, conversational, and highly-relevant message directly to their LinkedIn inbox (assuming you're doing it right, which we'll get to).
Unlike other channels that have become so saturated with information, options, and offers, LinkedIn's Sponsored InMail has strict delivery frequency caps to help your message cut through the clutter and get noticed. Plus, messages are only delivered when your audience members are active on LinkedIn — so we're talking a 100% deliverability rate.
Other benefits of Sponsored InMail include:
Super granular targeting capabilities, including by job title, location, industry, skills, seniority level, education, and more.
Mitigating B2B data decay by staying in front of your prospects, even if they go to another company or have a change in contact information.
2X improved content consumption compared to traditional email marketing.
So it's clear that InMail is a platform worth taking advantage of. But simply reaching your audience's inbox isn't enough. Your real goal should be getting them to take a specific action.
Here are 8 proven tips for ensuring your audience is compelled to act on your Sponsored InMail:
Tip #1: Be clear about the intent.
Sponsored InMail is a great strategy if you're after direct responses — that is, you want your reader to respond by taking action. Have an explicit strategy for what you want your recipient to do.
That could be:
Register for a webinar or event;
Enroll in a program or certification;
Submit a job application;
Download a piece of content;
Join a network, and so on.
This intention will shape every part of the message, from copy to creative to CTA.
If general awareness is what you're after, LinkedIn's Sponsored Content advertising may be more appropriate for what you're looking for. (Check out Tip #8 to learn how these two advertising platforms can complement one another.)
Tip #2: Keep the subject line concise and impactful.
This is the first thing your reader sees, and it shapes how impactful (or not) your message will be. You've got 60 characters to let your value shine.
LinkedIn has identified the following keywords in best-performing subject lines:
"Thanks"
"Exclusive invitation"
"Connect"
"Job Opportunities"
"Join Us"
Tip #3: Address your audience directly.
Like with good email marketing, personalization is key to make sure you're not coming off spammy. Use their name, make reference to their job title/company, and refer to them as "you" to tap into the one-to-one message dynamic.
Remember: It's like you are hand-picking your audience, so aim to create that insider-y, personal connection.
Tip #4: Use a relevant and credible sender.
This is another tip out of the email marketing handbook. Make sure the sender of the message is the most relevant person within your company to be messaging on the topic (even if they're not necessarily the one actually drafting and sending the message — here's a nod to all the ghostwriting copywriters out there!)
Tip #5: Stay on-brand.
Your message should be an extension of your brand. Use custom creative that enhances your message but doesn't distract. Use action-oriented, concise, and conversational copy that's consistent with your company's voice.
Tip #6: Always include a call-to-action.
The whole point is you want the recipient to take action, so make sure there's only one clear action for them to take.
The subject line should pique their interest, the compelling copy should escalate their interest, and the CTA should be a natural progression to convert that interest. And LinkedIn has a top-notch responsive design with a persistent CTA button so your CTA is always visible.
Here's an example of what it could look like all together: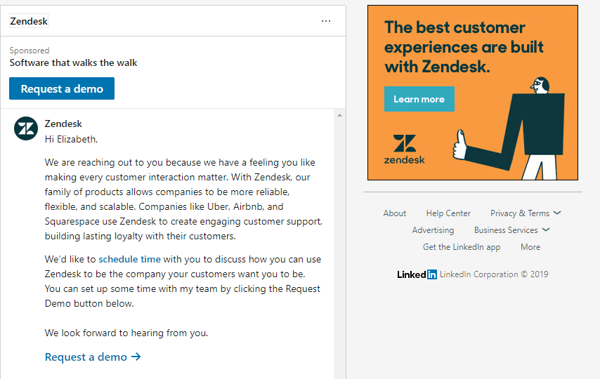 Tip #7: Mobile-optimize landing pages.
That's just best practice in general nowadays, but this especially rings true for LinkedIn. 85% of LinkedIn engagements are mobile, so make certain your landing pages are packing a punch on the small screen.
Tip #8: Use in tandem with Sponsored Content.
On average, buyers consumer 10.4 pieces of content before making a purchase decision. Sponsoring content to get in front of your audience from the early awareness stage then slipping a Sponsored InMail message into their inbox at just the right time will help your brand stay top of mind throughout the entire buyer's journey.
---
Sponsored InMail delivers the personalized, one-to-one experience at scale to stay in front of your audience's most important decision-makers and influencers. Now you're equipped with 8 proven tips to generate action with your InMail strategy … so get to it!