Brand is one of the key elements of any successful business. A strong brand differentiates you from the competition, increases customer loyalty, and helps you stay profitable.
The promotional items, branded clothing, and corporate gifts your organization gives out are just as important to your brand as other elements. In fact, they are some of the most important pieces. After all, promotional items are a physical, tangible representation of your brand in the real world.
You're here because you believe, as we do, that a truly great promotional item is about so much more than simply putting your logo on a cheap giveaway. Whether for an event, a client thank you gift, or employee recognition, promo items and branded merchandise are powerful branding tools that communicate information about your organization to the world.
If you're ready to boost your promo game to create higher perceived value, delight your recipients, and increase ROI, here are 5 proven rules from the world of branding to elevate your promotional items.
Rule #1: Understand your recipients deeply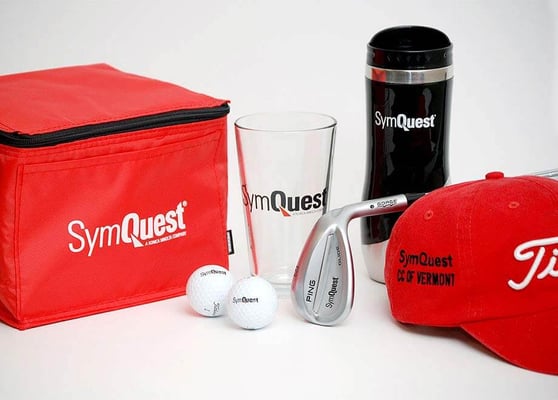 Before you think about ordering promotional items, you must be intimately familiar with your recipients, whether that's customers, prospects, employees, or event attendees.
Start by thinking about recipients' demographics, interests, challenges and behaviors. How old are they? What is important to them? What are some things they enjoy or need? Then, think about the purpose of the items you're ordering. Are you planning for a trade show, holding an event, or simply stocking up on giveaways?
The goal is to hand out something your recipients will genuinely like—or maybe even love. There's little ROI to be found in promotional items if your recipients are more likely to add your trinket to a junk drawer than to make it part of their daily routines. Taking the time to discover what appeals to your audience is a basic branding rule that applies to every area of your organization.
Rule #2: Develop an identity and style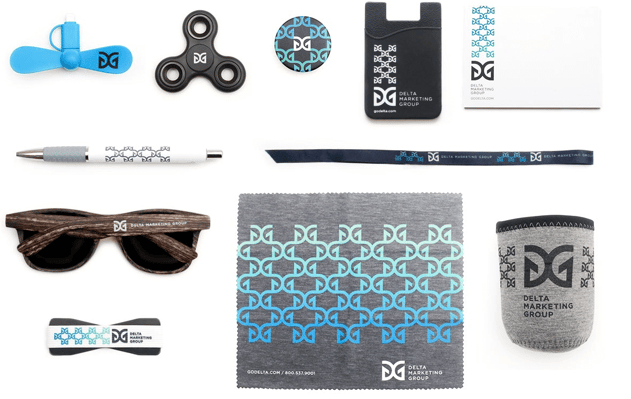 Does your branded merchandise look like a cohesive collection, or is it all over the place?
To create a united brand, similar elements must be repeated throughout your designs. These elements could be your logo treatment, colors, textures, or a combination. Create a brand identity that can work seamlessly across many different mediums.
Beyond the product design, the products themselves are part of your company's identity and style. The items you present to people communicate a lot about how your brand should be perceived. Is your organization innovative? Traditional? Fun? Professional? Creative? Whatever the case, the items you select are embodiments of your brand, so choose items strategically to reflect the tight tone and style.
Rule #3: Less is more
Plain and simple: busy designs are confusing. If your artwork has too much going on, chances are it will not look good once printed. Think about some of the most famous brands in history. One thing they all have in common is simplicity in their design.
Clean branding not only looks better, but recipients will be much more likely to use—and keep—your promotional items if they are a bit more understated. That's not to say if your branding incorporates fun colors or fonts you shouldn't use them! But often, the fewer different elements you use, the more appealing the effect will be.
Bonus Tip: One of the most common challenges I see week to week is people wanting to imprint promotional items with too much. Either their logo is too busy, they have multiple logos to incorporate, or they want to include some text or a tagline. Unfortunately, unless the item you select has a particularly large imprint area, this almost never works out to look nice. In fact, once customers see how their "stuff" will really look on the item, they frequently end up removing some elements. Do yourself a favor, and start with good design!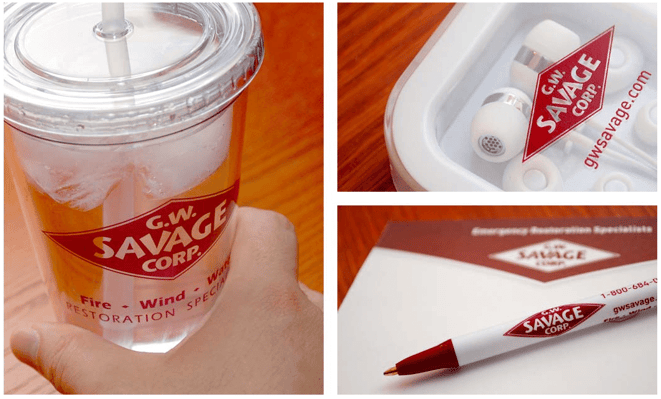 Rule #4: Be consistent
Branding is all about recognition. How can someone remember your brand if it's constantly changing? When you order promotional items, be consistent in the types of items you order and the designs you use.
Remember, consistency doesn't mean letting your promotional items get stale. We've all reached a point where boxes of the same old pens, stress balls, and sticky pads are sitting in a closet gathering dust simply because they're no longer interesting or exciting. To avoid this, switch up your products to align with the latest promo trends.
Rule #5: Stay true to your message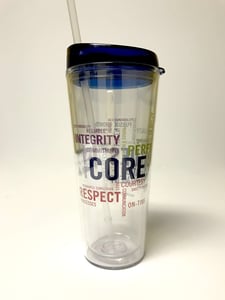 Your organization has something to say. The way you communicate—both to the outside world and internally—lets everyone know what you're all about. Sometimes, promotional items speak louder than words! Branded merchandise and apparel are the perfect mediums for communicating your company's message.
Again, it's not always the literal wording on the product, but the product choice itself that represents your message. If your organization is an advocate for the environment, perhaps you want to order eco-friendly promotional products. If you're innovative and creative, maybe technology-focused products speak to you.
Follow these proven rules, and you'll be well on your way to creating some powerful branding tools that people will truly enjoy. Interpret these rules in ways that fit your company culture and style.