Have you ever experienced that moment of panic when you drop your phone and it lands on the screen?
You hesitate to pick up your beloved device – fearing the worst. No one wants to look at a cracked phone screen when they're checking their smartphone about 50 times per day. But the truth is, people are constantly holding their phones, and this only increases the chances of dropping them.
As a promotional product marketer, I'm constantly on the lookout for unique and innovative products. I've found that people value useful products that fit right into their everyday lives. That being said, there's an ingenious promotional product I've discovered that I would like to share with you. It's called the SlingGrip.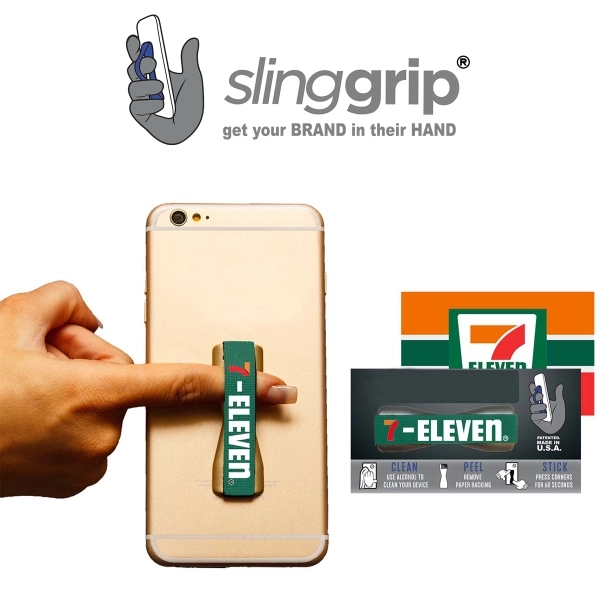 SlingGrip is an elastic smartphone handle that attaches to the back of any phone, tablet, or case with the help of 3M peel-and-stick removable adhesive. Simply slip your hand under the elastic band, and you won't have to worry about dropping your electronic device.
Here's a closer look at the SlingGrip:
Materials
SlingGrip is made from Polyester-ABS. The elastic handle guarantees a secure and comfortable fit for all, making it a giveaway for people of all ages.
3M adhesive also ensures that the band will stay attached to your case or electronic device. If you've ever used this adhesive, you know that it will have no problem sticking to your device. All you have to do is clean, peel, and stick.
When you want to remove the SlingGrip, the adhesive can be slowly pulled off without causing damage to the device. If there's any remaining adhesive, you can remove it by rolling it with your thumb, or you can use an alcohol wipe.
Price
One of SlingGrip's best features is its cost-effective price point. At a unit price of under $3.00, this giveaway is ideal for companies on a budget.
This giveaway may be inexpensive, but its purpose is valuable because it's used to prevent dropping expensive devices. Despite the inexpensive price, your customers and clients certainly won't view this product as cheap, especially because it serves a high-quality purpose.
Packaging
When you hand your customers and clients the SlingGrip, it will be mounted on an instruction card. The instruction card is a great way to show customers how simple the product is to use. The mounting card is also double-sided, which means your company name and logo can be imprinted in full color on the back of the card.
Custom packaging is important because it is an additional way to show off your brand, and it shows consumers that you put thought into ordering the promotional product. The SlingGrip itself may already have your company's name on it, but the packaging design is an additional way to remind consumers of your brand. This adds to the perceived value of SlingGrip because it presents a retail-inspired image.
Imprinting
Full color and logo imprinting on the SlingGrip is available with sublimation. You can choose a base color from a variety of options including: White, Black, Blue, Purple, Red, Pink, Green, Gray, Gold, Silver, or Chrome.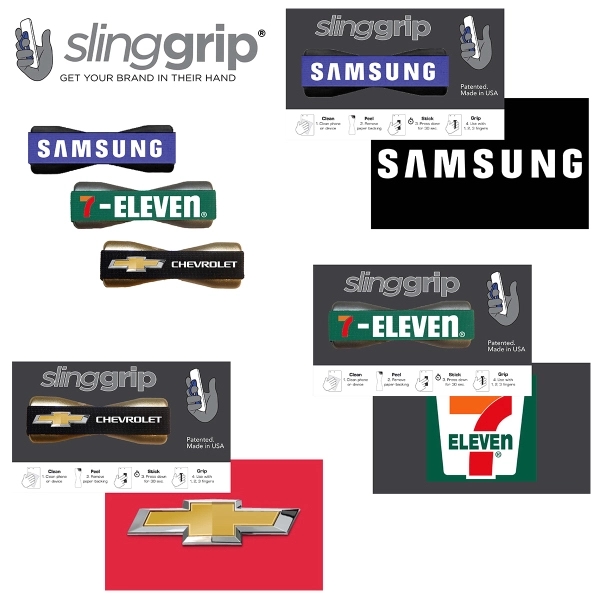 The imprinting options for SlingGrip are important for branding because they allow you to design the best promo for your company's image. Each time a customer or client uses the band on their phone, they are showing off your company's name or logo. Use this to your advantage by choosing colors and patterns that reflect your brand.
Uses
SlingGrip is a promo for all different types of events, but here are few ideas:
College Fairs: It's not a secret that millennials love technology. In fact, 77% of this generation owns a smartphone. Their desire for useful promos makes SlingGrip an ideal giveaway because it's an accessory for the electronic devices they love to use.
Trade Shows: The unique qualities and low cost of the SlingGrip make it a good option for trade show giveaways. It's only been patented for a few years, so it's possible that some trade show attendees have never seen the product before.
Employee Welcome Packages: When you're designing welcome packages for your new employees, it's always a good idea to include a product that's different– something they probably wouldn't receive at a different company.
Marketers know that the majority of consumers have some kind of cell phone or electronic device, and they can reach out to their target audience with promotional products that help. Cell phones and tablets are expensive, and no one wants to drop them. Show consumers you care about their needs by giving away a useful technology product they can use everyday .
Closing Thoughts
I highly recommend the SlingGrip. With customizable features it allows you to promote your brand in the best way possible, at a reasonable price. Its versatility also makes it a great product for all businesses. You can get a handle on your promotional marketing strategy with SlingGrip.