Premium. It just sounds expensive.
So you might be asking, with so many cheap options out there, why invest in premium promotional items?
To answer that question we first need to stress that high quality doesn't necessarily have to be high cost. There are plenty of high quality, premium options out there that won't break your giveaway budget.
Now that we got that out of the way, let's look at why we should invest in premium promotional products.
Why go premium?
To answer this question, we have to first dig into the meaning behind promo products to begin with.
Promotional Products Association International (PPAI) defines promotional items as "useful products usually imprinted with a company's name, logo, or message and designed to increase brand awareness among consumers."
In simpler terms, the whole point of giveaways is to get someone to remember your company by providing them with something they want, need, or will use. Makes sense, right? But how do youneed do that?
Let's turn to the facts. According to PPAI, 69% of consumers are said to pick up a promotional product if they deem it useful, and 77% say a promotional product's usefulness is the number one reason to keep it.
Useful. Purposeful. Inspiring. These are the words that should describe what your company is handing out. If the goal is the get your customer to keep your item, then the facts say it has to be more than just junk.
The answer is selecting premium, high-quality promotional items. Here are five premium product categories to consider.
1. Technology
It comes as no surprise that tech items rank as one of the most influential promotional products globally. Think about the items you use every day. How many of them are tech-related?
As businesses focus their marketing efforts to reach the younger generations, technology is going to be key. We know millennials to be continuously connected, with 98 percent owning smartphones that they keep with them at all times. With instant access to information, this generation is turning to brands that offer information and convenience. Technology products can do both.
At DMG, this is our most requested product category. We've put together a collection of some of our favorites, which include earbuds, USB drives, speakers, power banks and more. When choosing a tech product, it's essential to keep your budget and target audience in mind.
My recommendation: The Skinny Dip Wireless Speaker

If your ideal customer does skew on the younger side, the Skinny Dip Wireless Speaker is a great gift. It has a light-weight and compact design, which makes it great for those who may be in a hybrid working environment right now - in the office one day and working from home the next.
It uses Bluetooth technology that works up to 25 feet from a connected device. It also features built-in dual woofers, which provides a high-quality sound experience plus a classy design that looks like a premium product.
Choose between two different branding options. If you love the wooden design, you can keep it and simply imprint your logo in color on the top, or you can go full customization and wrap the speaker in your company's chosen design.
2. Self Care Items
We're living in very uncertain times that are driving stress levels to new highs. A recent survey by the Washington Post found that 70 percent of people are currently experiencing some sort of stress as a result of the pandemic. Self-care items can be one way your business can help alleviate turmoil in your customers, while showing you truly care about their health and well-being.
There's a lot of different options when it comes to self-care. You can focus on products that provide actual health benefits, stress relief, or just plain old comfort. We've selected a few different ideas to help get you started.
Health Benefits:
My Recommendation: The Comfort Set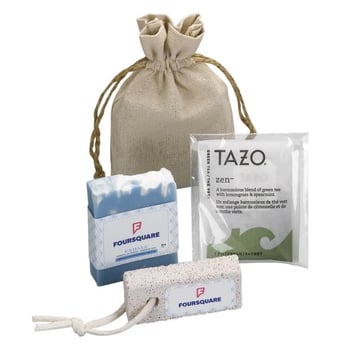 This comfort set actually combines health benefits, stress relief, and comfort all into one, which is what makes it one of our top self-care product recommendations. Everything comes within a medium-sized 6x4-inch linen bag. Inside is essential oil-infused soap, a 1-ounce pumice stone, and a 2-pack of TAZO Green Tea.
Your company's logo can be imprinted multiple times with this comfort set. Brand the soap, linen bag, and pumice stone with a full-color label.
With so much comfort packed into one, this is a great high-value gift for those clients that you really want to impress or employees you want to reward.
Stress Relief:
My Recommendation: Zen Essentials Set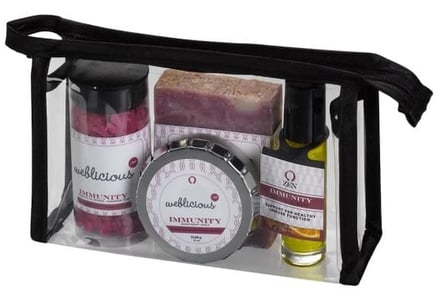 This Zen Essentials Set is the ultimate stress-relieving premium product. It includes four different products that all fit within a convenient 4x6-inch vinyl zipper bag. The following is packed inside:
10 mL essential oil rollerball bottle
3-ounce oil infused soap
2.73-ounce essential oil-infused bath salts inside a cylinder container
.8-ounce essential oil-infused candle in a push-tin
Customize this premium gift with your company's logo imprinted on all four products. Every time the recipient uses their kit to destress, they'll be thanking your company for its thoughtfulness.
My Recommendation: Scented Tumbler Candle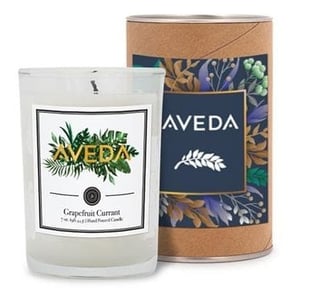 Believe it or not, candles can do more than just make your house smell good. Scented candles have been found to stimulate the part of your brain connected to memory and mood. With the right scent, you can boost energy, relieve stress, and enhance mental clarity.
That's why this scented tumbler candle is a premium product packed with benefits. It comes available in a variety of warm and refreshing scents like berry spice, citrus verbena, and sugar cookie. It comes in a cardboard gift tube with a full-color label for your company's logo. It's the perfect gift of stress relief, and your customers will love relaxing and unwinding, all thanks to your brand.
Comfort:
My Recommendation: Oversized Sherpa Blanket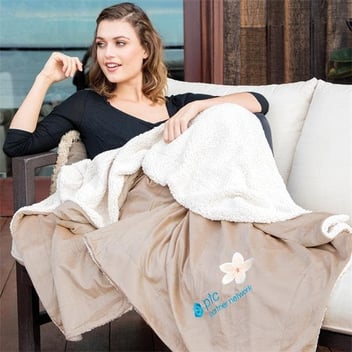 With so many different uses, blankets are one of the most useful and versatile promotional products out there. To ensure high quality, you want to be careful when selecting the material. This Oversized Sherpa Blanket is dual-sided, with one side made from luxurious faux micro mink, and the other side of cozy faux lamb's wool sherpa. The material combines durability with comfort to make for a lasting gift that your customers will love to use whether they are relaxing at home, outside for picnics or camping, or trying to keep warm at sporting events. Measuring 60x72 inches, it's large enough for the whole family to use.
Embroider your company's logo, name, or custom design on the location of your choice. The blanket itself can be purchased in camel, navy, or gray.
3. High-Quality Writing Instruments
Here's an eye-opening stat. Nearly 90% of consumers own a promotional writing instrument, and 20% own ten or more. But if everyone is giving out pens as promotional items, how do you get your company to stand out? You'll see better success if you choose higher quality writing instruments.
The market research firm, Technavio, has researched how the digital age is affecting pen sales across the globe. It turns out that in the United States and Europe, the demand for luxury pens is higher than ever before. "These are preferred as gift items and nowadays perceived as fashion accessories, similar to high-priced watches," Technavio reported.
There are so many options when it comes to selecting a writing instrument, but choosing a premium and versatile product is essential to set your company apart. And remember, high quality doesn't have to mean expensive.
My Recommendation: Ellipse Stylus Pen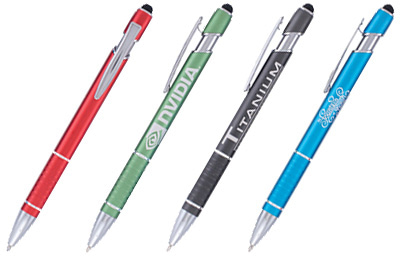 Choosing a writing instrument like this Ellipse Stylus will give a dual gift of functionality and style. Recipients can use the pen for traditional note-taking, but easily switch it over to a stylus when on their electronic devices. This pen comes in black ink with a unique grip design, chrome metal clip, matte finish barrel, and a click action plunger.
Engrave your company's logo on the side barrel for a premium, long-lasting look. The silver metal accents also give this pen the look of a luxury writing instrument. Choose between nine different colors for a truly unique statement.
4. Versatile Journals
You might be surprised that journals make our top list of premium promotional items. With the rise of technology, it's a common misconception that paper journals are a thing of the past. But thanks to influencers on social media and the creativity and versatility that journals offer, we've seen a big rise in their popularity.
One of the great things about journals is that it doesn't take much to make them into a premium product. Add in some leather binding, durable paper, a sleek bookmark, plus an attachable pen and you have a high-quality promotional item.
My Recommendation: TWIST Three-In-One Journal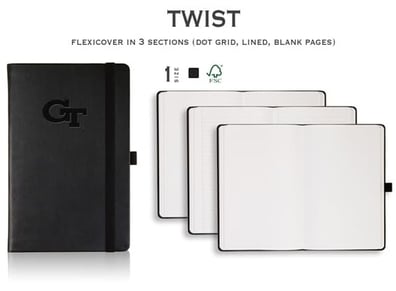 This particular journal is a great option because of its versatility. Featuring three divided sections of lined, grid, and blank pages, it gives a place for notes, sketches, brainstorms, and bullet journaling.
It also looks high-end. With a flexible cover made from vegan leather cover, a bookmark ribbon, and an elastic pen loop, your customers will feel professional carrying it. Brand your company's logo on the front with a deboss imprint or foil stamp. You also have the option of adding a full color printed logo inside the journal.
5. Unique Drinkware
Drinkware is one of those essential items that everyone can appreciate. According to the Advertising Speciality Institute (ASI), 50 percent of people who own logo-ed drinkware use it two to three times a week. That same study reports that drinkware items get an average of 1,400 impressions throughout their lifetime. That means that if you spend $7 on a promo drinkware item, your cost per impression is just ½ of a cent. That's a pretty valuable return on investment, making drinkware a smart product to make premium.
Think beyond the traditional coffee mug. There are so many ways to get creative with drinkware, making it easy to turn into a high-quality gift. Here are two different suggestions perfect for hot and cold drinks.
My Recommendation: Colby Copper Vacuum Bottle with Storage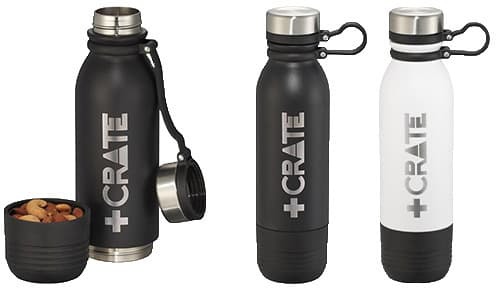 This 17-ounce stainless steel vacuum bottle has many different uses, making it a versatile option. It comes with copper insulation which will keep your beverage cold for 48 hours and hot for at least 12 hours. Plus, the screw-on metal lid comes with a comfortable soft handling loop, perfect for clipping onto a backpack or travel bag.
What I love most about this bottle is the 3-ounce removable rubberized base that can be used for extra storage. It's perfect for those outdoorsy people who might need an extra snack on a hike.
The bottle comes in black or white, making it look professional and high end. Brand your logo with Laser Plus technology, which will ensure it lasts and doesn't rub off over time.
My Recommendation: H2go Waterbottle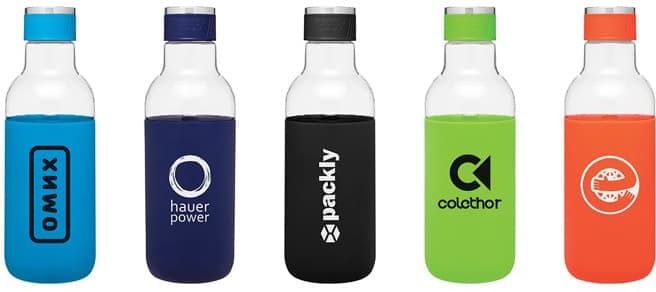 If you want to get a bit more colorful with your drinkware, the H2go Neo water bottle is another great option. This 25-ounce BPA free bottle comes with a silicone sleeve designed to keep hands warm and beverages cold. It comes in seven different bright colors which make it a truly unique gift. The matching spill-proof lid is accented with a stainless steel border, which gives it a professional look. Your company's logo can be spot color imprinted on the sleeve and the lid comes in black, blue, red, or white.
You're Inspired - Now What?
You're now inspired with a variety of different high-quality premium promotional items that will truly set your business apart, and delight your customers. So where do you go from here?
Planning out exactly what products fit your customers needs can be overwhelming. That's what our team of experts is for.
It takes creativity and strategy to go beyond your logo and set your business apart from the thousands of other promotional items out there. Our team is here to help you select the right products that will create that emotional connection and first-hand brand experience.