Editor's Note: This blog was originally published in May of 2015 and has since been updated to align with promotional and technological trends.
The technology industry always seems to be ahead of the game in just about every aspect, including the marketing world! I'm seeing it firsthand; technology related promotional products are some of Delta's most requested items. I think it's because tech items are actually useful and relevant to just about everyone. I don't know about you, but I'd rather receive a branded smartphone accessory over a cheap pen that I'll wind up throwing out in a matter of weeks.
Take this real life example: One of my college clients, UMass Lowell, ordered custom phone cases to promote their Sexual Violence & Education program. Needless to say, the tech related products were a hit among students! This case proves that technology promotional products have huge potential for your brand due to their relevance in our tech-obsessed society.
As is to be expected in the technology world, new products are surfacing each day. I've made a list of the top 10 technology promotional products I recommend you order to make for an impactful marketing strategy.
1. Custom Power Bank
Isn't it frustrating when your phone is about to die and you forgot your charger at home? Custom power banks are great promotional tech items because they have the ability to charge smartphones and MP3 players on-the-go! Battery powered, this item doesn't need to be plugged in to charge your mobile device.
2. Personalized Earbuds in Case
I can't bring my earbuds anywhere without them getting tangled! Your clients will appreciate these earbuds in a personalized case because it will save them the frustration of untying knots in their headphone wires. The clear top case provides optimal room and visibility for your multicolored logo.
3. Promotional USB Flash Drive Bracelet
Small flash drives can be hard to keep track of, which is why this promotional USB flash drive bracelet is perfect for people on-the-go. Keep your most needed files easily accessible with your silk screened logo featured on the memory key. In my opinion, this item is also a perfect giveaway for college and law firms.
4. Branded Bluetooth Speaker
Have you ever wanted to play music from your phone, but still be able to call and text? This branded bluetooth speaker wirelessly connects to your smartphone's music library and can play up to four hours of music when fully charged. Imprint your logo on variety of colors!
5. Customized Rotate Flash Drive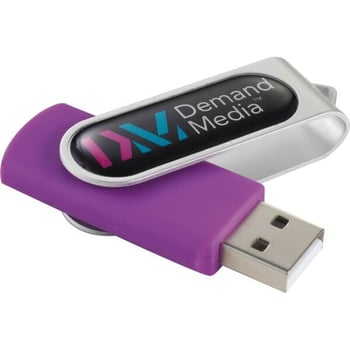 Whether it be for storing documents or transferring pictures, customized flash drives are a must have for the modern day working person. This product is one of the top promotional tech items because it features a standard USB plug for computers and laptops.
6. Promotional Phone Stand
I love this promotional phone stand because of its unique non-slip technology that holds your phone in place. This cost-effective tech item comes in multiple colors that will make your logo pop.
7. Personalized Beebop Headphones
High-quality, personalized headphones are popular promotional tech items among music lovers. Perfect as an employee incentive, these headphones have special technological features such as integrated call handling functions with a built in microphone to accept calls and texts.
8. Branded Wireless Selfie Stick
This increasingly popular tech item is great for group photos. Just use the camera timer function on your smartphone and attach it to the branded wireless selfie stick to take your photo. Your logo will appear on the back of the phone holder. Your company can only benefit from this promotional trend!
9. Promotional Cord Organizer
This practical tech item will save your client some frustration when it comes to desks crowded with messy wires. You can even use this custom item around your own office. The promotional cord organizer keeps cords neatly arranged using up to five slots. Your logo will be featured prominently on surface.
10. Customized Media Stand
It will be easy to send emails and make calls using this tech item! This customized media stand is designed to hold mobile devices and tablets while sleekly displaying your logo on the front.