Pinterest is exploding- and B2B companies are missing out.
Sure, we all know that Pinterest is great for consumer-based businesses selling jewelry, clothes, or other image-based products. But as its audience continues to grow, users are being attracted to the platform for different reasons.
You might even be surprised to learn that one-third of Pinterest users say they use the platform to follow brands and companies, regardless of industry. That's the second most popular reason users are on Pinterest.
Need more convincing? Given the fact that Pinterest is now the third most popular social media platform in the U.S. - ahead of Twitter and LinkedIn, that's 320 million monthly active users you're missing out on. And we're not just talking about women. New data shows that more than 50% of new signups are men.
Bottom line - Pinterest is a valuable marketing tool - even in the B2B world. So how do we learn how to use it properly? The best place to start is to take a look at the Pinterest marketing strategies other popular B2B companies are using.
Popular B2B Companies Using Pinterest Marketing Strategies
If you need any more proof that you should be adopting a Pinterest marketing strategy, all you have to do is look to the pros in your industry. Almost all of the leading B2B companies, such as IBM, Marketo, HubSpot, and Microsoft all have robust Pinterest strategies. Let's take a look at a few of them:
IBM
IBM is a leader in digital transformation. And one of the reasons they've remained at the forefront of a vastly changing industry for all these years is because of the creative ways they've remained relevant to their target personas.
Their Pinterest strategy is a great example. Keeping in mind that many Pinterest users are using the platform to follow brands and receive company insights, their page is designed to accomplish just that. Some of their top boards include "Women in Tech", and "IMB History". With 6,000 followers who are actively updated on IBM's posts, they are reaching their customers in a new way, by showcasing their not just a company that sells things.
"It's not just 'buy our stuff' messaging, but actually educate the market, make them better consumers, provide the sort of information that they need to be more adepts at big data and analytics in their own lives," Matt Carter, Global Program Director for IBM Big Data & Analytics said of their content strategy.
You'll notice one of their biggest boards is an educational Infographic board, loaded with content to educate their personas.
HubSpot
As digital marketers, we all look to HubSpot for the latest Inbound marketing tips and tricks. The software company's Pinterest page is a champion for the inbound approach.

They use it as a way to promote the content they crank out on a daily basis, by repurposing their blog posts and guides into bite-sized Pinterest pins. By adding a visual appeal to these pins, they are creating another platform for their personas to educate themselves.
You'll also notice HubSpot's board is also infographic centric. They have specific boards dedicated to marketing and sales infographics and other relevant topics in their industry. A lesson we can learn from HubSpot, is they don't just pin their own content. They have quite a few pins belonging to other brands as well. They're creating brand trust, by showcasing other relevant thought leaders in their industry.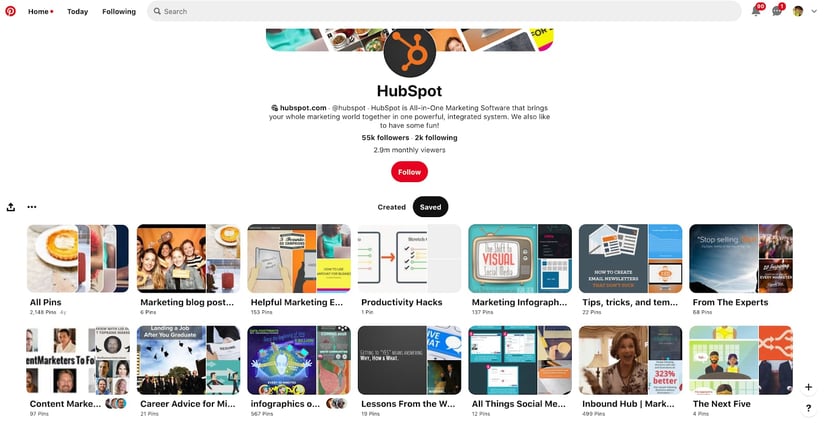 General Electric
We're even seeing leading manufacturing and engineering companies getting into the Pinterest mix. Take a look at how General Electric uses the platform in their B2B niche.
They also feature brand awareness boards such as "From the Factory floor", which showcases behind the scenes looks of manufacturing and engineering in action. But they also incorporate more product-specific pins, such as "Fabulous Kitchens", which feature aesthetically pleasing kitchen models that incorporate the GE brand, and "GE Lighting 100 Reveal", which has a similar purpose featuring GE lighting in action.
I'd encourage you to browse their Pinterest board, as they have quite a few additional pins that are both a creative way to connect with their ideal personas, and easily repeatable in almost any industry. And with over 22,000 followers, they're certainly a leader in the B2B Pinterest game.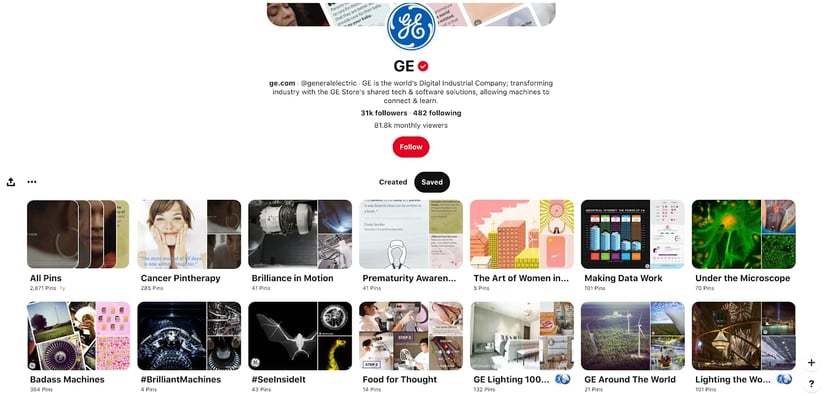 6 Pinterest Marketing Strategies for Your B2B Company
Taking in the insights from some of the leading B2B companies, we can start forming our own game plan for the platform. Let's take a look at 6 Pinterest marketing strategies that you can implement for your B2B company.
1. Start Learning the Pinterest Algorithm
Something unique about Pinterest than any other social media platform is that it's actually a search engine. And with any search engine, there's an algorithm to determine where Pins rank.
Just like Google, no one truly knows how the algorithm works. But there are many different theories and strategies out there to help with rank. If you treat it just like you treat SEO for Google, you'll be headed down the right path.
You'll want to find a balance between SEO tactics and keywords and creating useful, helpful, and intriguing content targeted to searcher's intent. We'll talk more about keyword optimization for Pinterest in a bit, but here are some quick tips to keep in mind as you start learning how to rank higher on Pinterest:
Relevancy - Make sure your content is relevant to the boards they're attached to. This will help Pinterest better distribute your Pins to users who are interested in them.
Consistency - By Pinning often on your account, Pinterest will deem you as an engaged user. Pinterest rewards consistent and active pages, by ranking them higher.

Rich Pins

- Utilize

"rich pins"

which allow information to be transferred straight from your website to the pin. This helps your page stay relevant, as your rich pins will constantly update with your website.

High-Quality Pins - Just like in Google, Pinterest rewards posts that are high-quality, useful, and fresh. These posts generate more saves and comments, which Pinterest will in return rank higher and keep top of mind in search results.
2. Optimize Your Pins and Boards for Search
Because search and rank is so central to Pinterest, keywords are more important than on any other social media platform. And if you optimize your pins correctly, you even have a chance to boost your Google ranking. Two gifts in one.
So how do we optimize for search on Pinterest? The short answer - by using relevant keywords in titles and descriptions.
But don't just include keywords in your pins. It's important that your boards remain consistent with your keyword strategy too. Remember that boards are searchable, and Pinterest's algorithm will factor in keywords used on a board to determine if the content on that board is relevant to a search.
Best practice is to have your board title, description, and pins all incorporate your target keywords for each category on your Pinterest page.
Here are some other areas you'll want to incorporate your keywords:
Profile Bio
Pin Descriptions
Image Alt-text
So how do you come up with your Pinterest keywords? The best place to start is Google Analytics. Choose the keywords that you currently rank well for in Google, and make these your board titles. Don't forget to include your keywords in the board's description, and in the pins associated with that board.
Let's take HubSpot for an example. They have a board titled "Marketing Infographics". The board's description is, "Marketing infographics and data visualizations for marketers".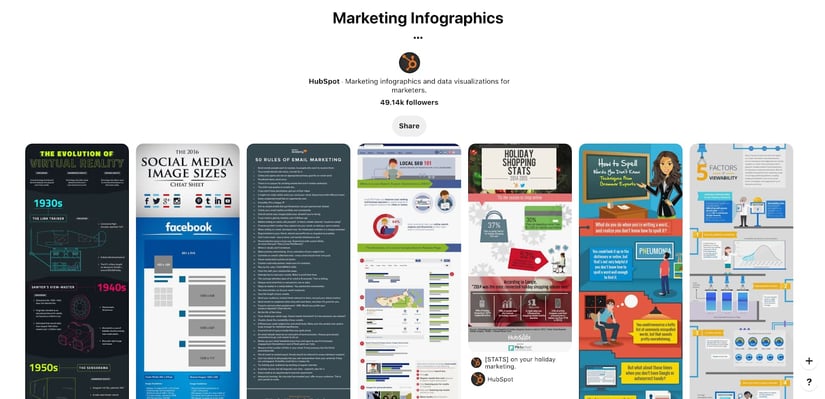 Don't forget about hashtags. On Pinterest, hashtags should be used just like keywords. Consider adding 2-8 relevant keyword hashtags at the end of your Pin descriptions.
3. Repurpose Content into Visual Assets
Alright, so now that we know how to optimize it, let's focus on what type of content you should be using.
The easiest way to bolster up your Pinterest strategy is to repurpose content you already have. If you're following an inbound approach to marketing, you're already investing quite a bit of time in content marketing. Think of Pinterest as another platform to promote your content.
Remember that Pinterest is very much image-based. So you'll want to make sure your posts are visually appealing. Here are some helpful tips to make sure your content is visual enough to meet Pinterest's standards:
Vertical Pin images perform best
The best aspect ratio for Pinterest images is 2:3 or 1:3:5
Branded images without faces receive 23% more Pins
Images with several colors receive the most repins overall, with 3.25 times more pins than images with single-colors
Images with more in the background are repinned more than images with less background
75% of Pinterest users say they're likely to watch branded videos about topics
With these insights in mind, you can better repurpose your content. Think about creating images for ebook covers and blog post illustrations. And we've already seen how well infographics perform on the platform. An easy way to make the repurposing content simpler is to consider your visuals while you plan out your editorial calendar. This will help your content perform better in general, but also make the Pinterest repurposing task a whole lot quicker and simpler.
Don't worry, you don't have to be a designer to create visually appealing images for Pinterest. There's a ton of different tools out there, and most of them are free and easy to use. Here are some of our favorites:
4. Show Off Your Company's Brand and Personality
If you take a look at the Pinterest pages of the three B2B companies we referenced above, you'll notice a common theme. They all showcase their brand's personality in some way.
Remember that a third of Pinterest users are on the platform to discover and follow new brands. So give them something to discover. Show the lighter side of your company. And prove there's a personality behind your logo.
Here are some Pinterest board examples from popular B2B companies showcasing their brands:
When deciding on the type of culture content you want to promote on Pinterest consider the following finding. According to Pinterest Insights, 6 in 10 U.S. adults agree they're more likely to remember brands they encounter online when they feel positive. So keep your content light-hearted and fun. You want to give prospects a look at what your brand values and insight into why your company is one they should trust.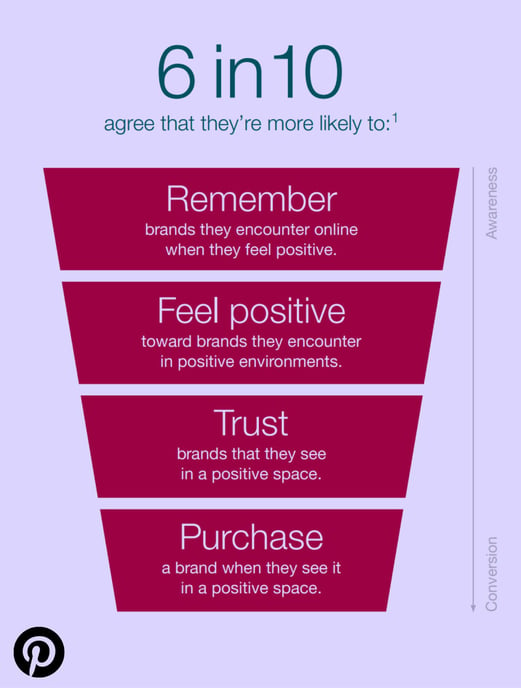 5. Engage with Other Accounts
It's not all about the content. To have an effective B2B Pinterest strategy, you must get active and engage with other users. By building personal connections with Pinterest users who follow your brand, and even reaching out to those that don't, you'll create a sense of brand loyalty that will keep people coming back to your profile for inspiration. Here are some ideas to fuel your engagement strategy on Pinterest.
Follow Similar Brands
The best place to start is by building up the accounts you follow. In return, you'll see your own followers increase. By following brands that are similar to you, you'll create brand consistency and help your content be found by others who might be interested in your industry as a whole. Also consider following influencers and celebrities who are aligned with your brand. The more high-traffic accounts you connect with, the easier it will be for users to find your profile.
Share Relevant Content
Just like other social media best practices, curated content always performs better and resonates stronger with users. On Pinterest, 80% of Pins are repins. So don't just focus on your own posts. Find other content that would prove valuable to your customer base and repin it to your own pages. This will also showcase to your own followers that you don't just care about your company and brand, but you care about providing them with valuable insights - even if it's not your own content.
Respond to Users who Engage
If a user pins or comments on one of your posts, engage back. Pinterest offers a direct messaging tool for businesses, where you can reach out directly to users who may have interacted with your account. Here are tips to utilize direct messaging to drive engagement.
Consider thanking those who re-pin your posts with a personalized message.
Set up group conversations with thought leaders in your industry, or other like-minded followers. This will help them not only connect with each other but connect with your brand on a very personal level.
Consider sending out specialized content, or follow-up information to those who repin certain posts in a topic.
Create Group Boards
Pinterest also allows you to create group boards, which can help you collaborate with other uses. This allows you to take control of the conversation, by allowing collaborators that you chose to add Pins and share ideas. Consider adding those that are already engaging with your profile or brand in some way. This will help them feel more like brand ambassadors of your company.
6. Target Users with Ads
As you begin to gain traction with your Pinterest account, you might want to dip your toes into the world of Pinterest advertising.
We recommend cleaning up your Pinterest page first before you start your ads journey. But, once you have an optimized page based on our tips above, Pinterest ads can be a great way to not only build up your Pinterest following but also increase traffic to your site.
Similar to other ad platforms, Pinterest allows you to target ads around keywords, interests, location, age, and other demographics. This allows you to narrow down any campaign that you run, targeted towards your ideal audience.
Pinterest Ads also offer audience targeting capabilities, which can be very beneficial in reaching customers who have interacted with your brand in some way already. Advertisers can target the following groups:
Website visitors
Users who have engaged with your pins
Users who have engaged with similar pins
A separate list you provide (ie: newsletter subscribers, people who have downloaded resources from your site, or those that you've had personal conversations with)
Like any ad platform, there's a lot of strategy that goes behind a successful campaign. If you do decide to pursue Pinterest ads, here's a great resource.
Discover the Power of a Strong B2B Pinterest Strategy
It's important to remember, you don't have to reinvent the wheel when it comes to your Pinterest strategy. Chances are, you already have a library full of inbound marketing content that can easily be repurposed for the platform.
So start small, one board at a time, and watch as your profile gains traction. The whole goal is to use Pinterest as another tool to distribute the valuable content you've already created and give people another avenue to discover your brand.
Don't count Pinterest out. B2B companies who embrace the platform will soon be on their way to increased leads, more engagement, and an overall boost in brand awareness.