Corporate sustainability is no longer an option. To remain competitive in most markets, you have to find new and unique ways to embrace this new social consciousness. People are looking to do business with brands that support their own values, and have the potential to make a difference.
One way to showcase your company's commitment to sustainability is to invest in corporate gifts, promotional products, and swag items that support a greater cause. These items can have a halo effect on your brand. Recent data shows that 46 percent of consumers have a more favorable opinion of an advertiser if the branded swag item they receive is environmentally friendly.
That's why our featured brand of the month is a company leading the way in the sustainability movement. Parkland creates eco-friendly branded backpacks made from recycled plastic bottles. But their mission goes even further. Here's their story:
Parkland: Making Sustainable Branded Bags
Parkland was established in 2015 with the goal of creating bags and accessories for everyday life. By making the exterior of all of their products from 100% recycled water bottles, they hope to inspire others to make sustainable choices. But they also aim to create sustainable bags that combine purpose with style, quality, and function. So when you invest in a Parkland bag, you know you'll receive a high-quality and purpose-driven product.
How are Parkland Bags Made?
Parkland has a pretty innovative process when it comes to turning one person's trash into a stylish accessory. Recycled water bottles are gathered, cleaned, and sorted. They are then grinded, melted, and transformed into yarn. That yarn is woven into polyester, which is dyed into fun colors and designs and used for the exterior of all Parkland products.
An extra fun fact? Parkland uses about 12 recycled bottles for each of their products. Multiply 12 by the number of bags you plan on investing in, and you'll discover how much waste you'll be reusing.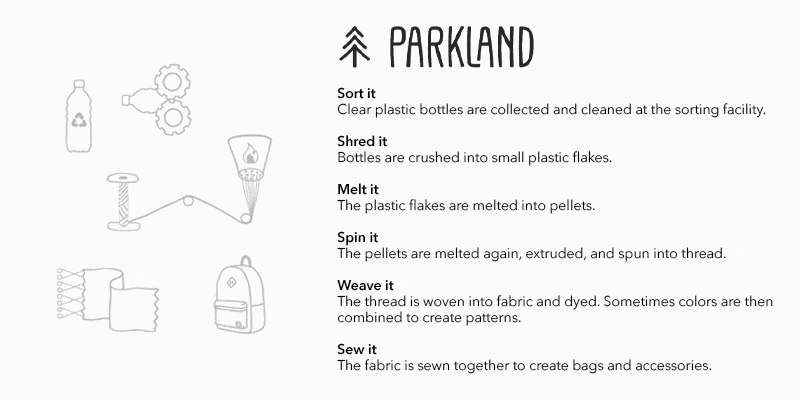 Parkland takes their sustainability efforts a step further by ensuring all their factories follow international standards regarding labor, wages, and safety practices. They work very closely with each factory and conduct regular reviews and audits to ensure compliance.
The company also practices sustainable efforts within their own business model. By using recycled cardboard boxes for shipping, and product packaging made from recyclable material, their mission is rooted in their overall brand identity. It's a company with a genuine purpose that's worth aligning with.
Top Parkland Bags & Accessories
Parkland has a lot to offer. From branded backpacks, coolers, and even fanny packs, there's much to choose from. And each Parkland product is highly functional and brandable with your logo. Choosing a Parkland item as a corporate gift or giveaway is a great way to show that you and your brand are eco-conscious and doing what you can to support the environment. Here's a look at some of our favorites from the Parkland collection.
Parkland Vintage Computer Backpack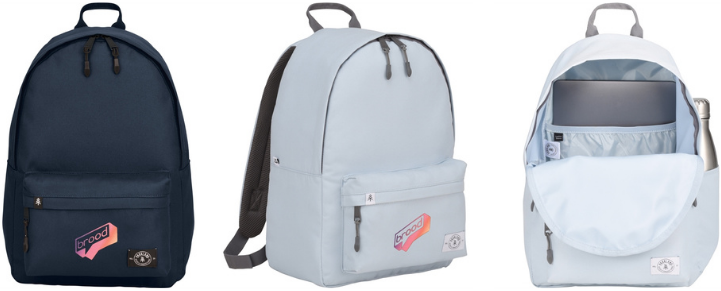 This bag combines tradition with innovation. Its vintage school bag style is designed to attract younger audiences, but the built-in 13-inch laptop sleeve also makes it a great corporate branded backpack. It's made from the same durable recycled polyester all Parkland products are made from, and also features a discrete water bottle pocket for added functionality. It comes in either black or navy. Co-brand with Parkland, by adding your company's logo on the front outside pocket, and you'll create a simple reminder to recipients of your own social consciousness.
Parkland Zippered Computer Tote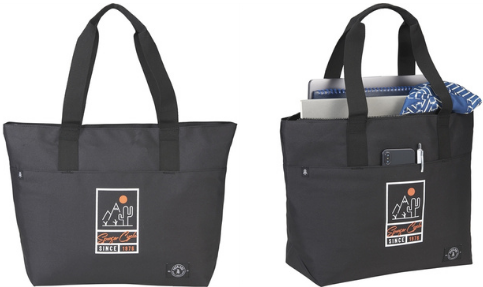 Here's a great option for hybrid workers making the commute back and forth from home to office. This zippered computer tote can be used as a work bag during the day and a personal out-and-about bag after hours. With a padded 13-inch laptop sleeve and internal organizational pockets, it'll be easy to pack everything needed for a long day at the office, plus any after-work activities. It also has heavy-duty, over-the-shoulder straps which can carry even the heaviest loads. Organization is made simple with the tote's front slip and internal pockets. Digital print your company's logo front and center, so it's always visible wherever this bag goes.
Parkland Tag Lunch Cooler
This branded lunch cooler is the perfect gift to pair with a customized bento box lunch container for a high-quality and eco-friendly gift. It has an insulated interior that's easy to clean. With an adjustable strap, throw it over your shoulder or across the body for a quick grab-and-go lunch box. Employees or hybrid workers will love the convenience of this functional and unique gift. Digitally print your logo for a premium branded gift.
Parkland Valley Travel Kit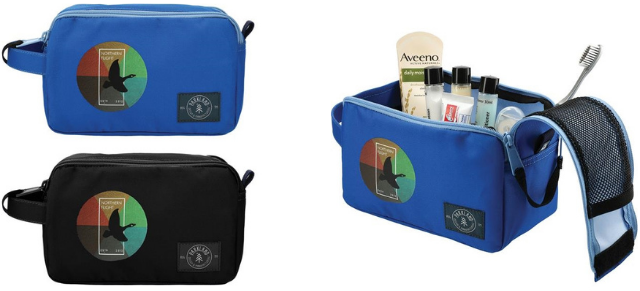 For those constantly on the go, the Parkland travel kit is a convenient carrying case for all road essentials. It's large enough to fit some of the most important travel accessories, like electronic devices, wallets, or personal hygiene products, but small enough to toss inside a backpack or suitcase. Your employees or clients will love the usability of this product and will show off your branded logo wherever they go. Choose between black or bluebird blue.
Parkland Fanny Pack

Fanny packs are back. Parkland's hip pack is both an on-trend and useful pack designed with both style and sustainability in mind. It can be worn either around the waist or across the body with its adjustable strap. Easily access your belongings with the dual front pockets. It's an all-around convenient yet stylish option that both clients and employees will appreciate. Don't forget about adding a customized logo on the pack's front pocket for maximum brand visibility.
Strengthen Your Brand with Meaningful Swag
Whether you're looking to give employee gifts, show customer appreciation, or leave a lasting impression on event attendees, investing in purpose-driven gifts will help as you strive to create more meaningful brand connections. Parkland bags combine the quality and traits of a premium corporate gift with the purpose and meaning that people are looking for. Create a positive association with your brand by giving one of Parkland's eco-friendly branded backpacks, bags, or accessories.