Complacency is often the death of innovation. I see it all the time as marketing managers navigate HubSpot.
This cutting-edge marketing platform is designed to make lives more productive and efficient. But laziness often prevents many users from maximizing the full range of tools HubSpot has to offer. At DMG, we love routine as much as the next digital marketer but not if it comes at the expense of productivity and overall marketing material quality.
Savvy HubSpot users should consistently measure the effectiveness of the tools they're currently using. But to take full advantage of everything the platform has to offer, they should also regularly look for opportunities to streamline and strengthen their marketing processes. The best place to start is to leverage the undervalued and often overlooked HubSpot Marketing Hub tools.
The Benefits of Leveraging Overlooked Marketing Hub Tools
Every marketing manager and HubSpot user should want to maximize the wide array of tools at their disposal. HubSpot users that take advantage of undervalued Marketing Hub tools will guide prospects and customers more effectively through the marketing funnel.
For instance, the social media monitoring tool can help increase engagement and traffic, email A/B testing can help convert more leads, and the multi-touch attribution model can help delight and retain more customers.
Remember, though HubSpot acts as an all-in-one platform, the value of each feature will vary according to the business it is being applied to. Broken down by the attract, engage, and delight stages of the inbound flywheel, here are the top underutilized and overlooked Marketing Hub tools that all HubSpot users and marketing managers need to know.
Attract Stage Tools
Though there's a wide variety of attract-stage Marketing Hub tools, they are a few key tools that are often overlooked by HubSpot users. Whether it's because they simply are unaware of their existence, or unfamiliar with how to correctly use them, it's important to learn how to leverage these tools to better serve prospects and clients.
Here's a list of HubSpot tools worth adding to your toolbox that will attract more customers:
1. Blog Optimization Tool
Ok, so maybe you're not an SEO expert. That's OK. The complexities of on-page SEO have been broken down for HubSpot users through the blog optimization tool.
Savvy HubSpot users should leverage this feature to provide them an on-page SEO checklist. It acts as a safeguard preventing users from publishing a blog that doesn't follow SEO on-page best practices. HubSpot users can leverage this tool to ensure their content gains visibility in search engines, attracting more qualified traffic to their websites. The blog optimization tool provides an easy-to-use interface with an on-page SEO checklist with the following recommendations.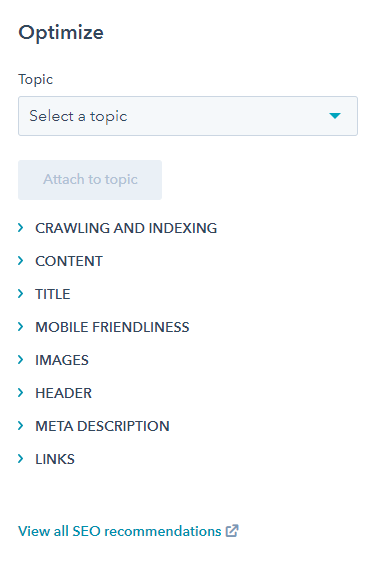 To access the blog optimization tool:
Navigate to the blog tool (Marketing ⇒ Website ⇒ Blog).
Open a blog draft.
Click on the Optimize tab at the top of the page.
Go through the On-page SEO checklist provided.
2. Social Media Monitor Tool
Social media is often undervalued by marketers, so it's no surprise there are some underutilized tools associated with it.
One of the biggest factors impacting a company's social media engagement is its response time or lack thereof. According to the 2020 Sprout Social Index, 40% of users expect brands to respond within the first hour of reaching out on social media, while 79% expect a response in the first 24 hours.
How is it possible for businesses with a large social media presence to authentically connect with their audience while maintaining response time expectations? Even with a double espresso, it seems nearly impossible. But what if there was a tool that could monitor social media interactions and notify you when your business is mentioned? Well, surprise, it's called the social media monitor tool and it's been sitting, collecting dust, and waiting to be used.
HubSpot's Social Media Monitor tool allows businesses to stay relevant by monitoring specific keywords and brand mentions to ensure companies never miss a beat.
The Social Media Monitoring tool has advanced capabilities, including custom keyword monitoring streams for each individual team member based on the interactions they care about most. HubSpot users that publish posts directly through the platform can use this tool to reply and like any comments within HubSpot itself, increasing engagement and overall social visibility.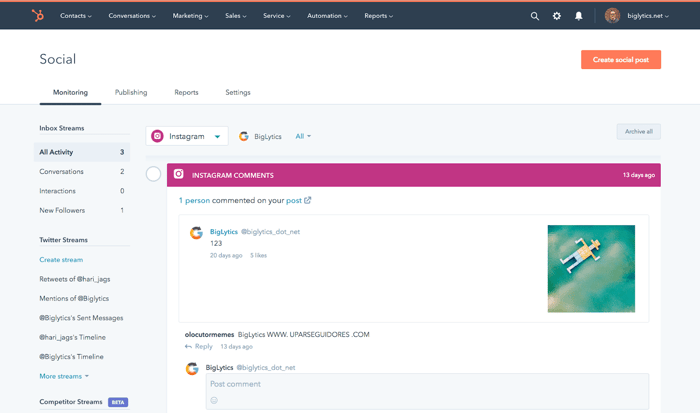 To access the Social Media Monitor tool:
Navigate to the Social tab (Marketing ⇒ Social).
Click on the Monitor tab in the top left corner (in between Manage and Analyze).
Click on the All Networks drop-down menu to toggle between social channels.
3. Schedule Another Tool
HubSpot users can boost their productivity by utilizing the schedule another feature. This works by allowing end-users to publish another post or to another social account by simply clicking the corresponding social icon next to Schedule another. This will automatically duplicate the existing content into the new post.

To access the Schedule Another tool:
Navigate to the Social tab (Marketing ⇒ Social).
Click the orange "Create a social post" button in the top right corner.
Click on the social channel icon you want to create the post for.
Create the social post.
Next to schedule another, click the social icon you want to create the duplicate content for.
Engage Stage Tools
In terms of underutilized Marketing Hub tools for the engage stage, HubSpot users should look to incorporate A/B testing for email marketing campaigns and progressive fields in forums. This will help convert more leads and better serve prospects or clients.
Here are some engage stage tools to add to your toolbox.
4. Email A/B Testing Tool
The email A/B testing tool helps better position users to send the right content with the right copy, ensuring maximum engagement.
While A/B testing or split testing may seem like a complicated technique, this tool creates an easy-to-use interface. HubSpot users that take the time to understand it can expect to see the following benefits:
Increased website traffic
Higher conversion rate
Lower bounce rate
Lower cart abandonment for E-commerce businesses
To access the Email A/B Testing tool:
Navigate to the Email tab (Marketing ⇒ Email).
Click Create Email. This will act as version A of the A/B test.
In the top left of the editor, click "run a test".
Enter a name for the variation B email in the dialog box and then click "OK".
In the upper left of the content editor, click the Variation A or Variation B tab to switch between the two variations.
After creating the A and B email variations, click the Settings tab to configure testing options. Below is an example of the testing options including A/B distribution, winning metric and test duration.


To analyze the performance of email variations, navigate to Marketing ⇒ Email.

Click the name of your A/B email. The results of the A/B test will be summarized on the Performance page. The winning email version and metric will be highlighted in green.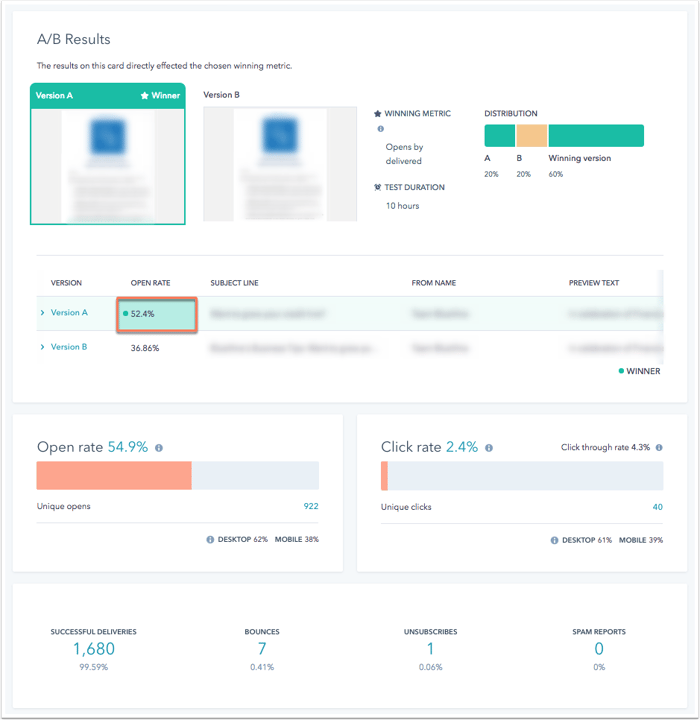 5. Progressive Fields Tool
Progressive fields can be used in forms to get more information from a contact that's already filled out another form. The progressive fields tool is useful in situations where a specific user has already downloaded a piece of content, such as an eBook or "How To" guide, and is looking to download another resource. It provides the end-user a more frictionless form completion process as they no longer need to provide redundant information.
This decreased friction can help increase form completion rate and ultimately convert more leads. Stop working harder and start working smarter by using progressive fields to make forms responsive and more efficient.
To access the Progressive Fields tool:
Navigate to Forms (Marketing ⇒ Lead Capture ⇒ Forms).
Click create a new form or the name of an existing form.
Once in the form editor, scroll down to the Queued progressive fields section.
Drag over the fields that will display in lue of a contact's previously captured property.
Click the pencil icon to edit progressive fields.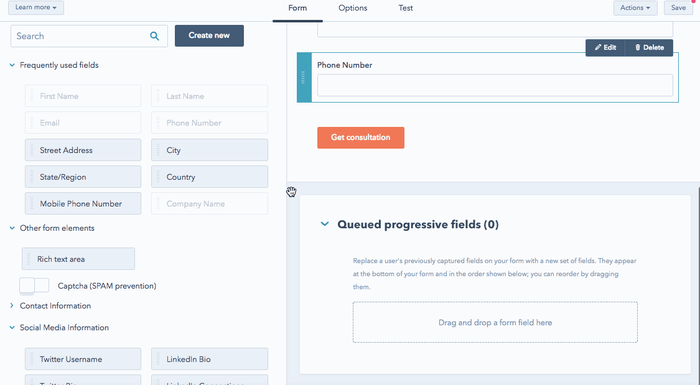 Retain and Delight Tools
Being aware of the underutilized tools to attract and engage more leads is just the first part of a larger equation. What is the point if we don't have the appropriate tools to measure, retain and delight these customers?
HubSpot users should look to expand their capabilities by leveraging multi-touch attribution models and custom properties. Marketing managers and HubSpot users that learn how to use these underutilized tools can more accurately assess the effectiveness of their marketing collateral. More accurate reporting and attribution will lead to more targeted marketing efforts in the future which will help better retain these customers.
6. Custom Multi-touch Attribution Report Tool
Multi-touch attribution models allow marketers to better understand which marketing initiatives are creating revenue for their business. The custom multi-touch attribution report tool provides clear and actionable information regarding which interactions and content types deserve credit for conversions.
HubSpot users can choose from a variety of attribution models to create the report that best fits their conversion path. Here is a breakdown of some of the different types of attribution models:
First Interaction - This type of attribution model attributes 100% of the revenue credits to the contact's first interaction in the conversion path.
Last Interaction - This type of attribution model attributes 100% of the revenue credits to the contact's last interaction in the conversion path.
Full Path - Full path attribution models seek to distribute conversion credit more equally among marketing initiatives. 22.5% of the deal revenue is attributed to the first interaction, lead creation, deal creation, and last interaction while the remaining 10% of revenue credits are attributed to all other interactions equally.
Linear

- A linear model attributes the deal revenue credits equally to each interaction along the conversion path.
To access the custom multi-touch attribution tool:
Navigate to Reports.
Click "Create custom report" in the upper right-hand corner.
Select Attribution in the left panel.
Choose Revenue, then click Next in the top right.
Click the pencil icon to name the custom report.
Click the Explore tab in the left panel.
Finally, click "See how it works" to watch a tutorial for additional information.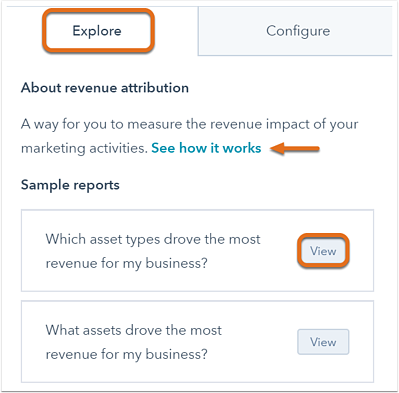 7. Custom Property Tool
Contact records provide the needed push that puts the marketing flywheel into motion. These records have properties that allow HubSpot users to report on the effectiveness of their marketing initiatives. These basic default HubSpot properties include:
Company properties
Deal properties
Ticket properties
But what if a business wants to create a report tailored to their specific business pipeline and customer journey? That's where the custom property tool comes into play.
A custom property is a property that is created to meet the unique needs of the end-user. Once a custom property is created, the property becomes available to use for every contact record in your CRM. Being able to create custom properties that are tailored to your business will unlock the ability to create more granular reports that can better illustrate the impact of marketing initiatives. Expanding reporting capabilities will place marketing managers in a new seat of influence as they can come better equipped with data-backed custom reporting.
To access the custom property tool:
Click the settings icon in the main navigation bar.
Navigate to Properties in the left sidebar menu.
Click the Filter by dropdown menu.
Select the object type the custom property will be created for.
Click Create property in the upper right corner.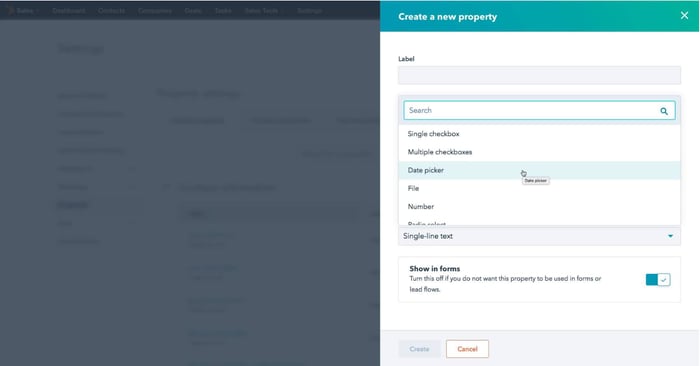 Utilizing Overlooked Marketing Tools to Expand Your HubSpot Capabilities
Quite honestly, the number of tools in HubSpot's Marketing Hub can be a bit overwhelming. And that's what can lead to complacency. But by educating yourself on these undervalued tools, you can save yourself a lot of time.
As always, it is the marketers that are ever curious, consistently self-educated, and primed with an innovative mindset that will end up differentiating and positioning themselves for long-term success.
Don't let unfamiliarity handcuff your HubSpot capabilities and prevent you from seeking out the lesser-known Marketing Hub tools at your disposal. HubSpot users that take the time and energy to learn and adopt these new tools will be positioned to better serve their business and their clients.