What comes to mind when you think of corporate logo apparel? Most people probably picture polo shirts with a logo in the upper right hand corner. While custom polos are appropriate logo apparel for some companies, for others, there's much more to ordering corporate apparel than just slapping your logo on a t-shirt and calling it a day.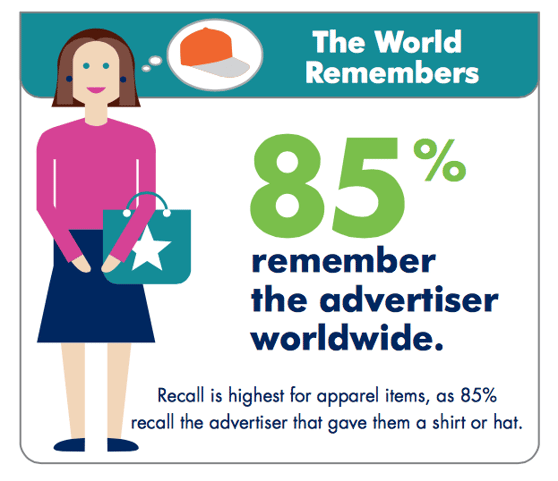 According to ASI's Global Impressions Study of 2016, logo apparel generates thousands of impressions worldwide – that's why it's very important to make sure you order the right type of corporate apparel for your business. You don't want to just blindly order logo apparel without the guidance of a brand specialist because you'd be risking ordering an item that doesn't make an effective impact on your target market.
I'm sharing our 4 best tips for ordering the perfect corporate logo apparel for your brand.
Tip #1: Understand who and what the apparel is for.
First, let's define corporate logo apparel Companies need logo apparel for a variety of reasons; however, at its simplest, corporate logo apparel consists of clothing items for your company's employees meant to maintain brand consistency for customers that come in contact with your brand. Before ordering, you must ask these two essential questions:
Who is the apparel for?
Are you ordering apparel for a labor-intensive group such as construction workers, or are you looking to outfit your office? Already, there are major differences in the types of clothing that will work best. Depending on the group for whom you're ordering, they will have different expectations for fit, comfort, safety and durability.
What is the apparel for?
Chances are, there's a specific reason you need corporate apparel. Is it for an event? Employee recognition? Everyday wear? If you're ordering clothing for an event such as a trade show, you'll probably want to go with a simple collared shirt for professionalism. On the other hand, if your clothing is an employee recognition gift, you'll want a high-quality comfort item such as a fleece jacket.
Tip #2: Know the difference between men's and women's corporate logo apparel.
Believe it or not, there are subtle differences in logo apparel when it comes to styles for men and women. For example, some men's dress shirts may have buttons on the opposite side from the buttons on women's dress shirts. Then there are the more obvious differences, such as the difference in body shapes and the fact that women's apparel tends to run smaller than men's.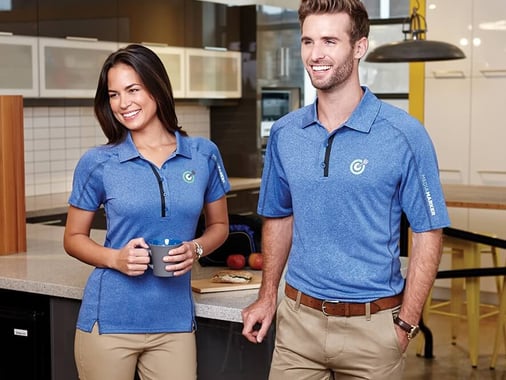 Luckily, when placing a clothingorder for your company, it's easy to account for the different needs of men and women. For example, most embroidery orders have a minimum quantity of 24 pieces. You can mix and match the products within that order--say, 12 ladies' shirts and 12 men's shirts. From there you can order however many of each size you need. This way everyone ends up with correctly sized and fitted apparel they'll actually enjoy wearing.
Tip #3: Work on the design with a professional.
Designing great-looking company apparel is more complicated than you may think! There are some things only a brand specialist such as myself would know about the ordering process. For example, a professional can help you understand how the stitch count of a clothing item may affect your design. Additionally, brand specialists can advise you on appropriate material and color choices for your apparel. As a brand specialist, I'm here to make sure your design is the best it can be.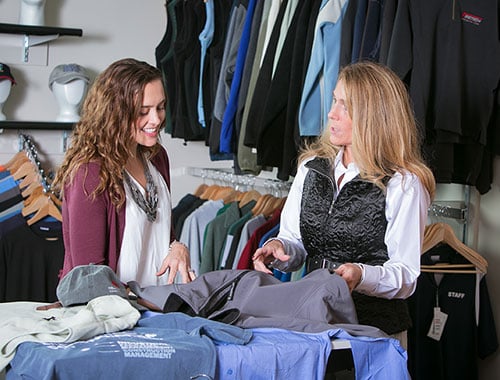 Tip #4: Think outside of the box.
There's much more to decorating logo apparel than just screen printing your logo. Consider these groundbreaking decoration options from Trimark Sportswear Group to get you inspired:
HXD
This cutting-edge decoration option from Trimark gives your logo dimension and makes it pop on apparel.
Deboss

If you want a unique 3D look that's a little less intense than HXD, debossing your logo on your company apparel might be the perfect decoration method for you.
Embroidery

Embroidery brings a look and feel of high-value to apparel. Despite being a tried and true decoration method used throughout time, embroidery is not limiting to your logo design; there are thread colors to match any colors in a logo to make sure your apparel is completely on brand. To go a step further, ask me about 3D embroidery or high impact wool stitching.
Laser Etching
This unique method offers companies a method of branding apparel in a very subtle, yet aesthetically pleasing way. In the video above, you will see that the process in which laser etching is achieved is truly fascinating!
These are just a few of the many options for decorating company apparel. Speak with me for more information about which decoration methods are right for your brand.
Closing Thought
I know, I know - there's a lot that goes into ordering the perfect corporate apparel. However, there's no need to be overwhelmed. Chat with me, a brand specialist, and my tips will help guide you along the path of ordering the perfect apparel for your company.