We've all been a recipient of an email newsletter. Some we look forward to, while some we are too lazy to open and click "unsubscribe." These emails often get deleted before we even think about them, let alone read them, and these are the emails we're all trying to avoid writing ourselves.
Email newsletters are popular with B2C companies, B2B companies, bloggers, agencies - everyone, more or less. This is because they can be a valuable tool for inbound marketers and sales teams when used correctly. Offering readers helpful, relevant, and interesting content all in one place, sent directly to their inbox seems like a no-brainer. Email newsletters continue to prove to engage customers and leads and keep brand awareness up, so the next time a reader may need your provided service or product they'll think of you first.
It sounds easy to accomplish, but many businesses find themselves struggling with how to craft or measure a great email newsletter that will accomplish all of the above.
How Does Your Email Newsletter Compare?
If you want to improve your email newsletter, the crucial first step is to check out what others are doing in your industry and find out how you compare. This will give you an idea of what you do well and what you need to focus on improving.
Monitoring and analyzing your newsletter metrics will also reveal areas to focus on. Email newsletters are commonly measured by the open rate - the percentage of recipients who open the email - and the click-through rate (CTR) - the percentage of recipients who clicked on a link in your email out of those who opened it.
Benchmarks vary from industry to industry, but Hubspot found that the average open rate across all industries is 20.94% and the average CTR across industries is 7.8%.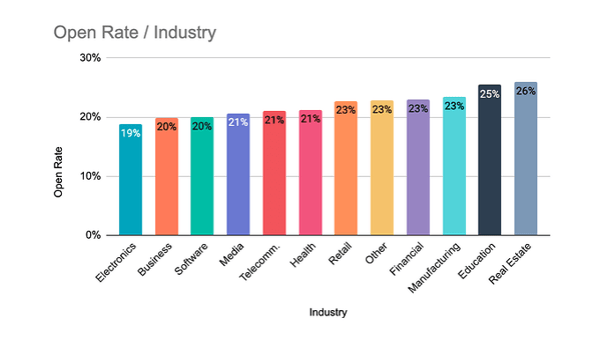 Source: Hubspot
While these aren't the only metrics you should be paying attention to when analyzing how your email newsletter is performing, they are a good place to start as they can clearly show how your recipients are (or aren't) interacting with your material.
6 Actionable Tips for Improving Your Email Newsletter
Email newsletters don't have to be challenging. If you're aiming to meet industry benchmarks when it comes to open rates and CTRs, start by implementing the following best practices, and grow from there.
1. Share Helpful Information
The first step in sending out a great email newsletter is choosing the right information to share with your audience.
Has your company recently published a timely blog article that could help your readers do better given the current market? Maybe you're hosting a webinar that will take customers step-by-step through a new offering. Whatever the content is, be sure you're only providing helpful information and not wasting your readers' time.
Below is a great example pulled from Meridian Imaging Solutions, a company that provides copy, print and IT services. Notice how they are sharing two helpful articles, both very relevant to the challenges currently facing their audience.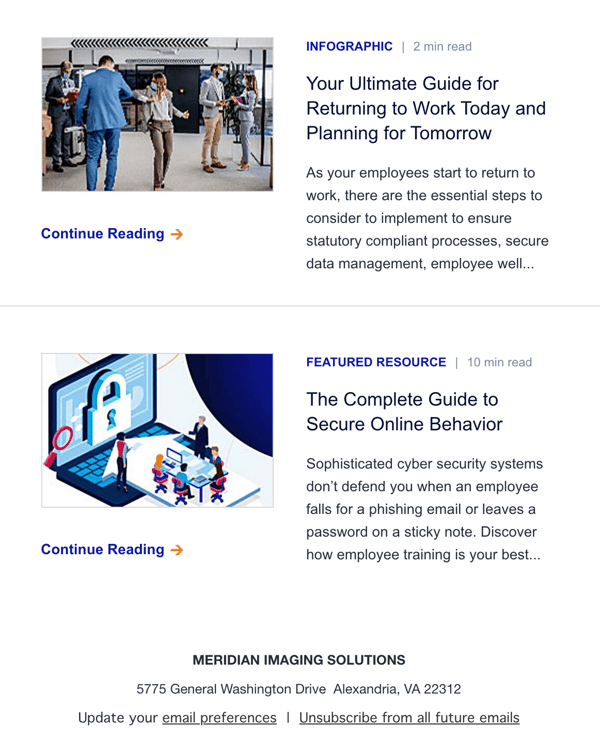 Don't try to hit the hard sale through a newsletter, or you'll lose your audience. On the other hand, don't write "fluffy" copy that isn't helpful or informative. It's important to find the right balance in content and to present it in a clear and concise manner.
2. Keep it Short
Attention spans are quickly getting shorter and shorter, especially when it comes to online interactions. When a reader has an attention span of 8 to 12 seconds, that doesn't give you much time to present them with interesting content they'll want to read.
With this in mind, keeping email newsletters short is key. Stick to the most important information that you want to share and leave out the rest.
Similarly, keep descriptions short and to the point. Try only including the title of the piece you're sharing and a 1-2 sentence description.
3. Break Up Text With Images
All email newsletters will benefit from images and graphics to coincide with the content being shared. Why? Simply put, readers love to skim and look at pictures.
Big blocks of text aren't interesting and can be difficult to read, especially on smaller screens. Try adding in a few relevant images to illustrate topics to readers. Here's a great example from the consulting firm Resonance.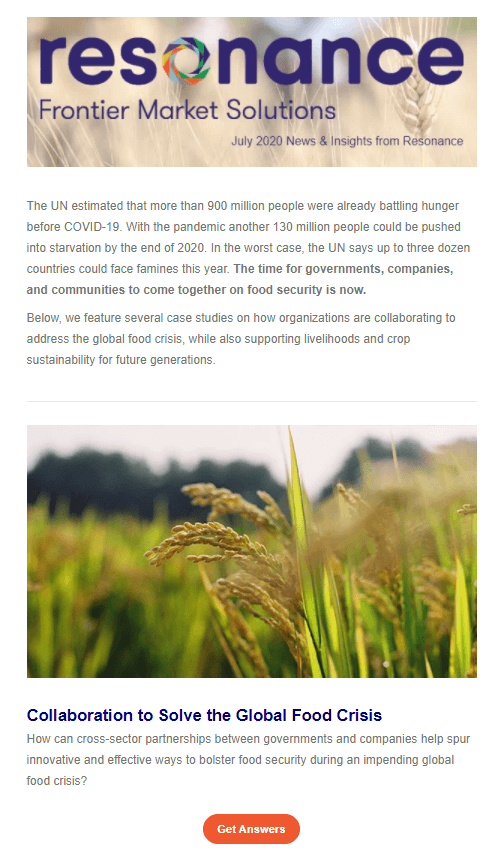 It's also important to include alternative text (alt text) for these images. Alt text is the copy that is shown when either the image is "read" or the image doesn't load. It should clearly describe what the image is. For those who use screen readers or those who don't have images enabled, alt text is crucial for usability and accessibility that allows them to read and interact with the newsletter.
4. Include a Clear CTA
Including multiple pieces of content, means multiple call-to-actions (CTAs). But does each CTA need to take center stage? Probably not.
It should be clear that an action can be taken with any CTA; clicking on the button, text, or image, will take the reader somewhere to learn more about the topic. Color is an important factor in CTA's. Believe it or not, the simple swap of a button color could make a huge difference in click-through-rate. Consider a Moz case study which saw a 187.4% increase in conversions by changing CTA color from green to yellow.
We've put together this great resource that digs deeper into the psychology of colors, and which are best to really attract customers to take action.
In your email newsletter, you're likely going to have multiple CTAs pulling people in different directions. It's important to consider the visual hierarchy of each. Not every CTA has to be the same size, color, or type because not all clicks are created equal.
Hierarchy of action is important when presenting a reader with multiple actions in one email. For example, let's say your newsletter includes three recent blog articles and a section encouraging readers to purchase tickets for an upcoming event. Formatting the CTAs that direct readers to the blog the same way makes sense - Read More, simply select your version of continued learning. However, the "Purchase Tickets Here" CTA for the event should be a different color and size, because it's a higher value action for the visitor to take.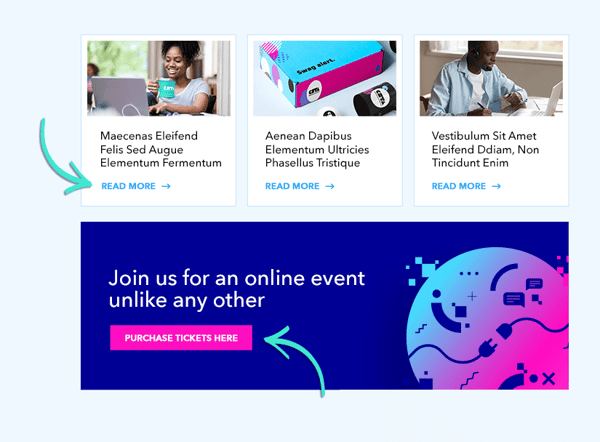 For the reader, this makes it obvious that tickets are clearly available, and continued reading on the blog is an option, too.
5. Have a Click-Worthy Subject Line
Forget what's in the email newsletter, if the subject line isn't engaging, no one will open it. The subject line has to be compelling.
Think of your subject line as your first impression. Is it interesting, intriguing, or witty? Sounds like something worth clicking on. Is it boring, confusing, or the same exact subject line as last week? This might not entice readers to find out what's inside.
Here are some great ideas to get you started:
Make them timely: September Conference: Important Travel Information
Make them location-specific: Things to Do in Boston Right Now
Target and personalize them: Hiking this weekend John? 8 Travel Tips Just for You
Use surprise: How We Grew Our Email Newsletter by 2,000+
Use FOMO (Fear of Missing Out): This Weekend Only: Special Event
Keep in mind that the subject line does have to align with the brand's voice. If the company isn't particularly witty, the subject line shouldn't be either. In that case, go the interesting or intriguing route.
Pro tip:
Go through your own personal inbox and review the emails you opened, versus the ones that are still sitting there. Inspiration can be gleaned from research, and the great subject line writers are good at what they do.
Want more examples? Check out Campaign Monitor's list here.
6. Write for (and Send to) the Right People
Writing an email newsletter for the right audience might be the most important thing you can do. Always keep your buyer personas top of mind when writing content. What would be helpful to them? How do they want that information presented?
Just like steering away from witty subject lines is smart if that's not your brand's voice, don't include a cat meme to lighten up your newsletter. But if that's what you're readers are expecting and wanting, definitely include it.
Along the same lines, curating a contact list to send the newsletter to will ensure you're interacting with the right people. Make it easy for website visitors to subscribe to the newsletter (and let them know what they're signing up for and how frequently they should expect it), and make it just as easy for them to unsubscribe if they aren't benefiting from it.
Pro tip:
Make sure to test your email before hitting the send button. After spending time and energy crafting a great newsletter, be sure it looks, reads, and acts the way you expect it to before you send it out.
Write and Send a Great Email Newsletter
Feeling overwhelmed? Don't worry, you can't make all these changes overnight. It's going to take time to evaluate what you need to improve in your newsletter and even more time to gradually implement some of these steps. But by knowing what to focus on, you're already off to a great start.
Remember the most important part is to focus on your customers and their needs. If you're giving them the information they need and want you'll be one step closer to higher click-through-rates.
Looking for more email help? Check out this recent article on email etiquette to get sales during an economic turndown.