If you're a HubSpot user, you may have noticed new options offering "smart rules" to different content modules you've never seen before. No, you're not seeing things...HubSpot recently released new Smart Content enhancements for users to take their marketing personalization to the next level.
You can now make all content and custom modules on your website "smart". What exactly does that mean? Personalized content and marketing just got a whole lot easier.
Customize the experience on your website based on the contact information in your CRM. Personalize forms, emails, even sales calendars based on your persona and their stage in the buyer's journey. Every module in HubSpot, even custom modules, now has an easy way to tailor your messages to the exact audience.
There's a whole lot you can do with HubSpot's Smart Content enhancements. So let's break it down and make sure you know exactly how to take advantage of this feature.
What is Smart Content in HubSpot?
Before we dig into the enhancements, let's take a quick refresher on what Smart Content is. Basically, it's when your marketing content, whether it's forms, CTAs, or even emails, changes based on specific viewer characteristics. You can customize this type of content based on the following categories in your CRM:
Contact List Membership
Lifecycle Stage
Device Type
Referral Source
Preferred Language
Country
Ad Source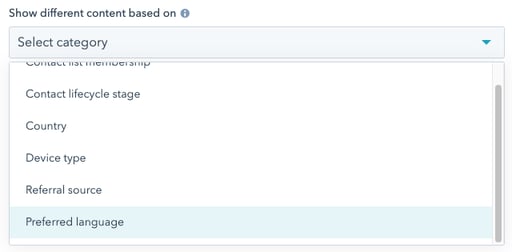 This feature has been around in HubSpot for a while. But historically, you could only add Smart Content in rich text modules and when creating forms. Now that HubSpot has added Smart Content to all modules, including custom-coded ones.
How to Use HubSpot Smart Content Enhancements
Honestly, there are now so many different ways to use HubSpot smart content. The best way to learn is to show you how with a few examples based on each category. This might help spark some inspiration for your own marketing campaigns.
Contact Membership
Perhaps the most powerful category we listed above that you can put a smart rule on is contact list membership. This means you can build a list of contacts with a certain type of attribute. Then, use smart content to show personalized content to this group of contacts.
For example, say you're hosting a webinar and trying to get people to sign up. You can create a list of contacts who have registered. Then add a smart rule to the hero image on the event page, and change the CTA for those that have already registered.
Lifecycle Stage
You might consider changing out CTAs, forms, or images based on lifecycle stage. For example, you might target returning website visitors with a different CTA than first time visitors, and even customers who have already purchased your products or services. Here's a great example from HubSpot: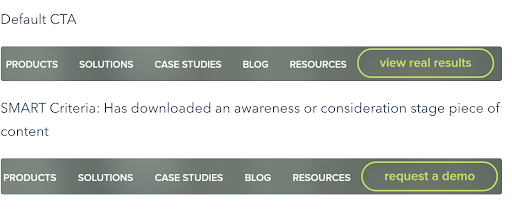 Device Type
In a world of "mobile-first" marketing, Smart Content based on device type can be very valuable. Now, you can set a smart rule to have mobile visitors see a completely different CTA, page, or form from those on a desktop computer. Here's are two different ideas:
Contact CTA's: Consider adding a smart rule that has a phone number appear for mobile users, making it easy for them to click to call.
Forms: Add a smart rule to simplify mobile-specific forms so the user has less information to fill out. Set up these forms with drop-down menus or checkboxes, since your user is on the go and likely filling it out quickly.
Referral Source
Use Smart Content by referral sources to target users based on how they found your site. This can be especially helpful if you have multiple personas that frequent different social media platforms. Maybe you present visitors from Facebook with one type of content and those from LinkedIn with another. You're able to get pretty granular with this too. Choose from social media platforms, email, direct traffic, paid media campaigns, or other custom sources.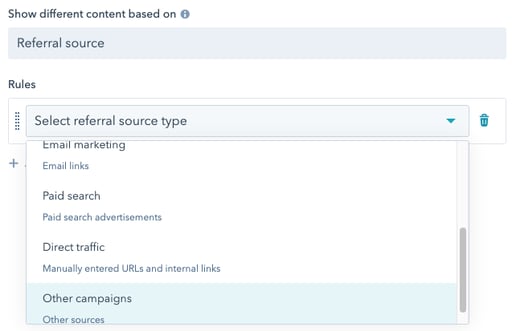 Preferred Language or Country
If you have customers all over the world, Smart Content by preferred language can help you hyper-focus messages based on where your customers are located. Display the language preferred by the user on their web browser. For example, if you have a pricing table for your services, you can add a smart rule that changes this based on what language your user speaks. So if you have an Italian website user, the pricing table will automatically adjust to show prices in Euros.
How to Use Hubspot Smart Content within a Custom Module
Alright, so now that you have some different ideas on how to use HubSpot's Smart Content, let's talk through the technical side of things. Here's how to turn on Smart Content while within a custom module:
First, navigate to the asset you want the Smart Content on, and find the module within it that you're planning on adding it to.
Click "Smart Rules" and "Add". Here you select the category you'd like to base your Smart Content on.
Then you add your rule based on the category you choose.
Press save, and that's it. Pretty easy.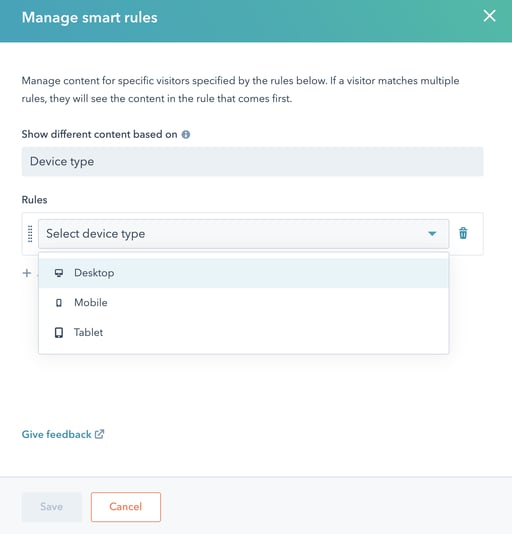 Benefits of HubSpot Smart Content Enhancements
So why are we so excited about HubSpot's enhancements to Smart Content? For one, personalized content is the future. Consider this: 99% of marketers say personalization helps advance customer relationships, with 78% claiming it has a strong or extremely strong impact.
The data backs this up. According to HubSpot, personalized CTA's result in a 42% higher conversion rate than standard CTA's. But the benefit of Smart Content goes beyond the power of personalization. So let's just list a few, to make sure you're fully onboard.
Strategic Targeting
We know the goal of content marketing is to create content targeted towards our personas. Sometimes, this can get difficult when you have multiple products or services, each targeted to different audiences. When you combine the data collected through your CRM with the benefits of HubSpot's Smart Content you can create content that's truly highly targeted towards the right personas.
Automatic A/B Testing
By tapping into AI-powered Automation, Smart Content allows you to spend less time A/B testing your CTA's, forms, and other content. HubSpot's feature enables content to optimize in real-time, taking into account past user behavior. Essentially, this used to be what marketers would have to do manually, to test what content works best for what users. Now, Smart Content makes life a whole lot simpler with automatic optimization.
Measurable ROI
Using Smart Content in your data analysis can give you valuable insights into how people are interacting with your content. As you collect more and more of this data, you'll be able to track your content's performance and create measurable ROI reports that will lead to smarter business decisions.
Convinced? Get Started With HubSpot's Smart Content
HubSpot's new Smart Content enhancements offer a powerful tool for implementing a user-driven contextual marketing strategy. To use it effectively, you must have a strong understanding of your buyer personas and the content they are looking for in each stage of their journey.
Dip your feet into Smart Content slowly and strategically. Trying just one type of Smart Content category for a specific period of time, and measuring its results and success can help fuel your strategy moving forward. Use the knowledge and insights you gain from Smart Content to tweak future content and create more targeted and personal marketing campaigns.