Considering purchasing HubSpot? You'll need to come up with a plan to implement it.
HubSpot is a pretty powerful tool. But to get the most out of your investment, it takes some knowledge, practice, and skill. That's why HubSpot requires all new users to go through HubSpot onboarding.
You have a couple options. You can either purchase direct onboarding with HubSpot or choose to go with a HubSpot partner agency. There are clear pros and cons to each option, and ultimately it comes down to your individual organization's needs and capabilities. We've put together this resource to help you decide which is best for your team.
Let's start with the basics.
Why Do You Need HubSpot Onboarding?
Okay, admit it. You've bought a new gadget - whether it's a new appliance or an entertainment device - and pressed the power button without a second glance at the owner's manual. I bet if you studied that booklet you tossed in the trash, you'd probably realize there are things your device can do that you never knew.
HubSpot onboarding is like that owner's manual, times 10.
Without adequate training on the software, you won't be able to use HubSpot to its full potential. That's why HubSpot requires it of any new customer.
With appropriate training you'll ensure:
You're getting the most out of your HubSpot investment.
You've implemented the software correctly.
You have a solid understanding of its capabilities.
Plus, with a point person on hand - whether it's a HubSpot consultant or an agency's team member - you'll have someone to lean on if you get stuck. Anything, especially migrating to a new software system, is a whole lot easier when you have someone to guide you along the way.

What Does Direct HubSpot Onboarding Look Like?
If you decide to onboard with HubSpot, you have a few different options. The level of onboarding will depend on the plan you decide to purchase. Each hub offers a different onboarding package. Here's a look at the onboarding options available for Marketing Hub: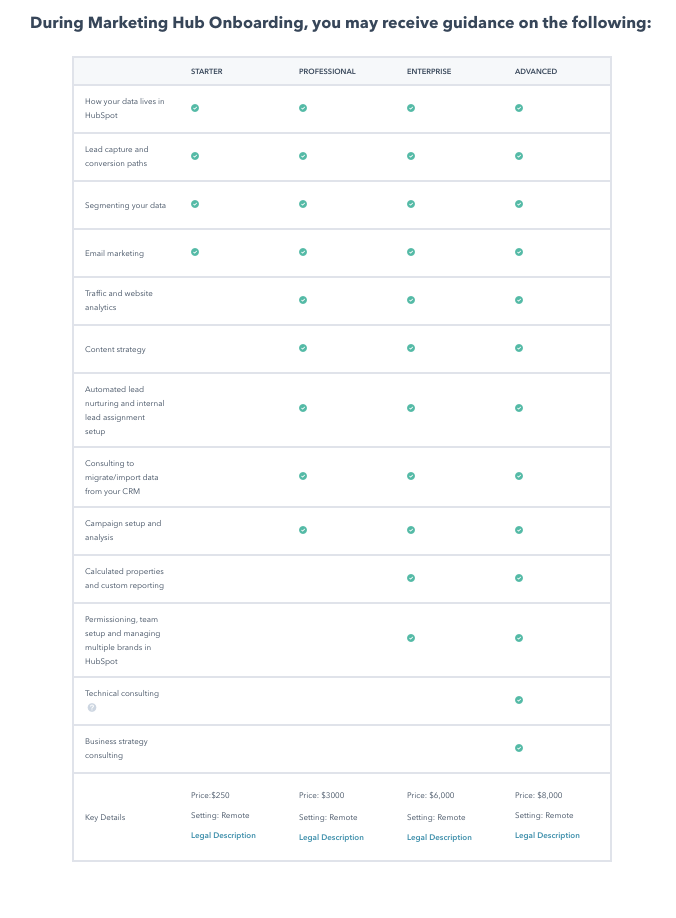 As a HubSpot onboarding customer you can expect the following:
90 days of onboarding
An assigned Implementation Specialist
Technical set up
One discovery call session
Up to 3 consulting lessons to discuss technical setup and any implementation issues
Advice on integrations
Guidance with your first inbound campaign
Ongoing support through HubSpot's general support system
Overall it's a good package for those businesses that already have a solid understanding of the HubSpot platform or those that might have more time on their hands to champion the data migration process. If you choose to purchase direct HubSpot onboarding you can expect to be responsible for the following:
The actual implementation - HubSpot will give you a detailed roadmap and advice along the way, but your team will ultimately be responsible for doing the majority of the set up.
Data migration - You'll be responsible for migrating your current CRM data into the platform.
Adjusting your internal marketing timelines to align with the new software tools and features.
What Does HubSpot Partner Agency Onboarding Look Like?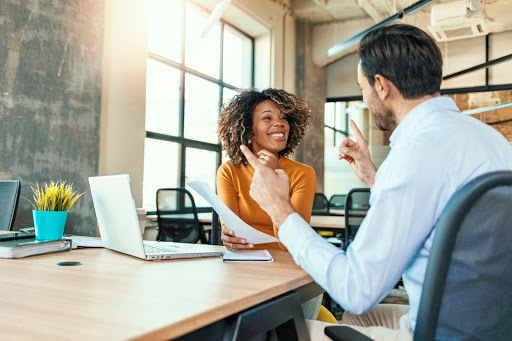 If you choose to partner with a HubSpot Partner Agency for your onboarding, things will look a bit different. Though your onboarding will vary based on the agency, you can expect more custom support through the process. Partner agencies generally work to come up with a plan designed for your individual business goals and objectives.
Here's a look at what could be included if you were to onboard with our agency, depending upon your unique business needs:
Users and permissions setup
Domains and subdomains connection
Install HubSpot tracking code on company website
Exclude company IP addresses

Contact list cleanup
Contact record view setup
Customize contact properties
Contact list creation

Connect social media accounts
Personal email connection & Book a Meeting link setup
Paid advertising integration
Setup basic reports and dashboards
Setup custom reports and dashboards
Third-party integration setup
Create custom Deal Stages and Deal Pipelines
Campaign setup
In addition to the basic technical setup of your portal, you can expect ongoing support with your marketing projects and campaigns. Typically, a partner agency will help onboard other team members, like sales reps or other supporting roles. We also ensure that your portal continues to work as it should. HubSpot is a living, breathing piece of software and if it's not managed correctly, it can easily become disorganized and ineffective. With a partner agency, you'll have a constant support person walking alongside you to ensure that everything continues to work correctly, and your team is using the tools you have at your fingertips.
HubSpot Partner Agency onboarding is a good option for businesses that have a more complicated buyer's journey or sales process. When you work with an agency, you'll have a more tailored experience based upon your individual sales process. If it's not quite as straightforward as the typical purchase process, a partner agency might be a good option.
You should also consider it if you're looking for a marketing partner for the future. One of the biggest differences of partnering with an agency is that your onboarding is never just "one and done." It's a constant and continuous process that comes with a relationship-driven by your success.
Don't Just Take it from us:
See what our clients have to say about working with us after 10 years as a HubSpot Partner.
Weighing the Pros and Cons
When it comes to HubSpot onboarding, you have two pretty good options. Both solutions - whether it be direct HubSpot onboarding or HubSpot Partner Agency Onboarding - provide adequate support to get you up and running with the platform. So it can be difficult to decide which is best for your business. Weighing the pros and cons can help. Here's a look at the good and the not-so-good of each option.
Direct HubSpot Onboarding Pros
Gain an understanding of the platform - By doing the implementation yourself, you'll gain a strong understanding of the settings and technical aspects of HubSpot. This can help you jump in with both feet and hit the ground running with your new CRM.
Concise timeline - When you onboard directly with HubSpot you have a strict and clear timeline - 90 days - to get up and running with the platform.
Consistent pricing - You know exactly what onboarding is going to cost and what you get with the price when you go directly through HubSpot.
Direct HubSpot Onboarding Cons
Increased responsibility - When onboarding directly with HubSpot you'll be expected to do most of the setup yourself. To be successful, this really requires an individual on your team to be laser-focused on the HubSpot implementation alone.
Cookie-cutter approach - HubSpot onboarding is standard for every business. You get exactly what you pay for, but nothing more than that.
Limited support - Though HubSpot provides you with an Implementation Specialist and plenty of customer support resources, the guidance and support you receive just doesn't compare to what you get when working with a partner agency dedicated to your business.
HubSpot Partner Agency Onboarding Pros
Ensure it's done correctly - A HubSpot Partner Agency does it for you, or with you to ensure everything is set up properly. When you work with an agency, they are responsible for the fine technical details of the software onboarding, allowing you to rest assured that you're maximizing your investment.
Personalized approach - There's no one-size-fits-all for HubSpot Partner Agency Onboarding. When you work with an agency like DMG, we always start our onboarding with a deep dive into your business. This fuels how we approach your onboarding process. No two processes are the same, it all depends on you and your needs as a business.
Ongoing support - Onboarding doesn't end after 90 days when you work with an agency. HubSpot onboarding is ongoing. We continue to work with your business and within your portal, to make sure everything continues to operate correctly. When business processes or markets change, we are there to help you swerve.
HubSpot Partner Agency Onboarding Cons
A more fluid timeline - If you are on a strict deadline, onboarding directly with HubSpot might be a better option. Because it takes time to find the right agency, and every agency's timeline is different, you might not be able to count on a 90 day period with an agency.
Varied Pricing - Again, it's hard to truly say what it costs to work with a partner agency. Every agency is different. Most are fairly comparable, if not cheaper, than HubSpot itself. But the services included will vary depending on the agency and the package you choose. With HubSpot, you know exactly what you're getting.
Which Onboarding Solution is Right for You?
There are clear advantages to each onboarding solution. The right solution will be what makes the most sense for your own organization. Consider the size of your team, your organization's goals, and the amount of bandwidth you have to work with.
What is it you are hoping to accomplish with HubSpot? Do you already have a strategic direction and plan in place once you adopt the software into your workflows? If not, we'd strongly encourage you to consider working with an agency partner.
HubSpot is a great tool that can help you take your business to new places of opportunity. But it's only as good as the driver behind its wheel. Onboarding with an agency partner will help you become the best HubSpot driver you can be with a pretty good co-pilot along the way.