Alright, let's be honest. We've all received that canned, overly dry, cookie-cutter cold sales email. And what do we do with it? Send it straight to the trash.
If you're in sales, we understand that email is one of the easiest ways to reach your prospects. The problem is businesses are sending out more emails than ever before. Twenty-seven percent more, to be exact.
So how in the world do you make yourself stand out? It's not as hard as you think. Incorporating personalized video into your sales emails is a tactic ignored by most reps, yet an easy way to create a real and emotional connection with your recipients.
We get it, a lot of email platforms out there make it difficult to record, embed or create a professional and customized video. But if you're a HubSpot user, using personalized video within your HubSpot sales emails is a simple process that should be part of your sales strategy. Not only will you see your email open rate increase, but you'll begin to have more solid conversations that lead to stronger customer relationships.
So let's walk through exactly how, why, and when you should use personalized video in your HubSpot sales emails.
Why Use Personalized Video in HubSpot Sales Emails?
Personalized video creates a human connection. That's the whole point. Adding it within your sales emails makes a seemingly mechanic outreach technique seem genuine and real. And it works. Sales reps that use video within their emails are reported to see 8 times higher open-to-reply rates. And personalized video has been seen to close more deals and improve customer retention rates. Here's how:
Humanizes
Personalized video humanizes the sales process, especially in the world of remote reps. You can build trust by allowing your prospects to hear the tone of your voice and see your body language. They'll see the energy and sincerity you have about helping them find a solution. That's something that just can't be replicated over a plain, text-based email.
Personalizes
A canned, templated email is so easy to spot. But by adding personal touch targeted to your persona, you show your prospects that you care enough to take time and tailor a message towards them. It's about so much more than just adding their name. Reference recent conversations you've had with these prospects, or add in personal insights you might have gathered from social media. Make it about them. You'll make even your cold emails so much different from the status quo.
Visualizes
Video is more visual. By including a personalized video within your HubSpot sales emails, you'll show your prospects how your product or service works. You can do product demos, show samples or examples, or incorporate unboxing videos. It's a more engaging way to interact with your brand, while a more educational way to learn more about your product or service.
When to Use Personalized Video in Your HubSpot Sales Emails?
So now that you're convinced you need to use it, when and how do you fit these personalized videos into your sales process? They can provide value in each stage of the buyer's journey. Whether you're attracting, converting, closing, or delighting, personalized video can set you and your emails apart. Below we've outlined how to use them to prospect, nurture and retain your customers.
1. Prospecting
Personalized videos in your HubSpot sales emails are an incredibly effective first touch with a prospect. It's how to stand out from all the clutter within your recipients' inbox.
Use prospecting videos as a way to introduce who you are and what your brand does. And don't - I repeat - don't - forget to establish value. Why are you contacting them, and how is your solution going to help with their challenges?
Personalized videos in the prospecting stage don't have to be super complicated. Think about what you would say in a regular, cold email and record yourself saying it. But don't forget to add in some personalization tokens to ensure you don't sound scripted.
Here are some ideas of what to include in your first touch video:
Helpful tips
Relevant data
A useful resource like a blog post or guide
An actionable next step
Make sure that the actionable next step is clear. For example, if you want them to book a meeting with you, make sure you give them clear steps on how to do that. Always make it easy for prospects to take the next step towards becoming a customer.
2. Nurturing
Once you've captured a lead, it often takes time to nurture these prospects into a sale. Personalized videos can help by showing potential customers that you're thinking about them. It's a very human and personal approach that doesn't have to eat up a lot of time.
Before a meeting: send an email including a personalized video that sets expectations for your upcoming email. Include the agenda, why you're excited about meeting with them, and reiterate the exact time and date of that meeting.
Post-meeting follow-up: after a meeting, send an email including a personalized video to follow up with what was discussed. You can recap what you talked about and clearly outline the next steps that you might have agreed upon within that meeting. We'd suggest also including a bulleted list within your email body to make it as straightforward as possible.

Check-ins:

Haven't heard from a prospect in a while? Send

a personalized video to check in with them

. This again helps your email stand out, just like when cold emailing but also shows your prospects that your thinking about them - as a human - and not just a sale. At the very least, it might prompt them to respond and tell you they're not interested.
3. Retaining
Finally, the best sales reps know the sales process is never over. Even after you've won the deal, you must continue to nurture the relationship. And if you do it effectively, you will not only create a lasting connection with your customer but maybe even turn that customer into a brand promoter. Personalized videos can help.
Thank you: Always, always send a thank you. Whenever you finally close a deal, make sure you thank your new customer and offer yourself as a resource. This will promote a feeling of trust with you and your customer while also inspiring positive reviews and referrals. And when it comes in video format, it's so much more genuine.
How to Create and Send Personalized Videos in HubSpot?
Now it's time to log into HubSpot and start learning how to use your software to take advantage of personalized videos. The following steps will walk you through the process of creating and sending your video within the HubSpot platform.
1. Get Set Up
First and foremost, you've got to gather the right equipment. Before we scare you away, we're not saying you need a professional videographer and studio to record your videos. The best personalized videos for sales emails look like they come from a person, not a production company.
But there are a few things you'll need before you press record. Pause a moment, and make sure you have the following:
A camera - Your computer camera or iPhone camera works perfectly fine. Make sure it's at eye level. You want the appearance that you're talking face to face with your prospect.
A microphone - The built-in microphone on your computer or iPhone will work fine. But if you have it, we'd recommend using an external microphone attached to earbuds or Bluetooth headphones.
Props - You can incorporate anything from your own featured products to fun personalization techniques like a whiteboard with your prospect's name on it. Don't go crazy, but props can be a fun way to add a human element to your video.
A place to record - We're not talking about finding a soundproof studio. Most of the time you can record your videos right from your desk. But if you work in a busy office, maybe book a conference room for your video. Choose a place that's quiet enough, and has bright, natural light that allows you to easily be seen.
2. Write Your Script and Record Your Video
Now, it's time to write your script. But before you start jumping into scriptwriting, it's important to note that this should not be a word-for-word verbatim of what you're going to say. We recommend coming up with a bulleted list of talking points that you want your video to cover. This will ensure that you're not reading word for word when using your "script." You'll come across as much more authentic and human.
Here are some helpful tips to help you formulate your script:
Personalize it by including your prospect's name and role or information about their company. You could also reference recently shared social posts by your prospect, publicly shared news about them, or, if you've talked with them before, references from your last conversation.
Keep it short. The

ideal length

for these types of videos is between 60-90 seconds. Over 50 percent of viewers will stop watching a video after the first minute. Especially if it's your first outreach.
Be conversational. Pretend like your talking to a friend. Make sure your script doesn't sound robotized and that it shows your prospects that you truly care about the problem they're trying to solve.
Use actionable language. Always think about the next steps and what you're trying to get your prospect to do. Make it clear how they can get there. Remember your video should help guide your prospect through the sales process.
Once you have your script, you'll want to practice it a few times before recording. And once you feel confident enough, hop into HubSpot and use the following steps to record your video.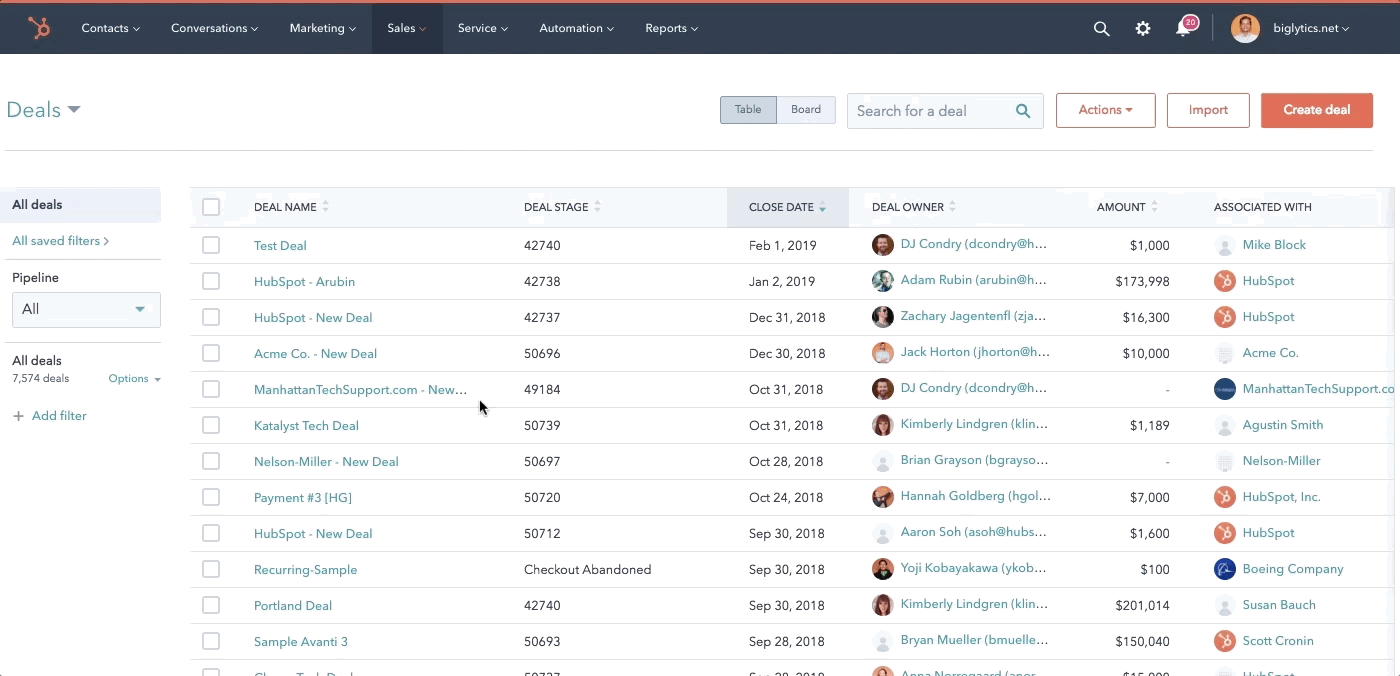 Navigate to your contacts database in HubSpot.
In the top left-hand corner, click "Contacts," then click "Contacts" in the drop-down menu.
Find the prospect you're looking to email and click their name.
To the right of their name, click "email."
In the email body text area, click the small video icon.

HubSpot Video

is powered by

Vidyard

. So you'll be prompted to set up your Vidyard GoVideo account if you haven't already and link it to your HubSpot account.
Once you've set that up, you can click "New Video."
In the dropdown menu, click "Camera Recording." You can change the camera settings plus preview what you're recording. If you're using a different camera than your webcam, you can also click the camera dropdown and choose the correct one—same thing with your microphone.
When you're ready to record, just click "start recording."
When you're done, name your recording and click the "insert" button in the bottom right.
Your video will automatically appear in the body of the email.
And now you're ready to draft the rest of your email and press send.
3. Write Your Email
Ah, the last step. Drafting your email copy is a key part of using personalized videos within your HubSpot sales emails. Your goal is to write an email that gets your prospect to play your video. Here are three things to consider when writing your email:
Subject line - Grab your prospect's attention using their name, and mention the word video. Actually, using the word "video" in an email subject line is said to increase open rates by

6 percent

.
Thumbnail image - The first thing your prospect will see when they open your email is the thumbnail image you choose for your video. So you want to make it enticing. Here's an idea, if you're using a whiteboard with the prospect's name, use that as the thumbnail image. Eyes will be drawn to their name and your face.
Email copy - Finally, the email copy itself should give some quick context about your video. Remember, the focus point of your email is your video. So you don't need much more than 1-2 sentences that give a quick preview of what they'll see when they press play.
That's it. Just press send, and you'll have sent your very first personalized sales video with HubSpot.
Ready to Start Using Personalized Video in Your HubSpot Sales Emails?
Adding video to your sales emails doesn't have to be complicated. In fact, if you're a HubSpot user, it's never been easier. Recording and sending videos is a straightforward process, and the benefits are profound.
Yet, there has to be some strategy if you want to see your sales videos truly converting and delighting prospects. By empowering your sales team with the training they need to create and use personalized videos effectively, your company will be one step closer to succeeding in the increasingly remote world of sales. A solid sales enablement strategy can help you and your team take the personalized videos you create in HubSpot and use them as a tool to grow your business.