If you aren't sure how to bring your buyer personas into your advertising efforts, start with Facebook first.
As with any other marketing channel, it's important to reach a broad audience to grow your base on Facebook—but you need to start by targeting the right people.
The Facebook Advertising platform is different from other advertising platforms because it allows you to target your audience using key identifiers, based on the actions users take every day.
Pages a Facebook user "likes", the links they share, their public personal information, and the content they interact with—Facebook compiles all of this information into categories such as behaviors, interests, life events, and more.
As a marketer, you can align these categories with the people you've already identified as your buyer personas. Then, you can use this information to set up your Facebook advertising audiences. An "audience" is the group of people to which your ad will be shown.
But how exactly do you apply what you've learned about buyer personas to a Facebook audience?
How to Build Your Buyer Persona Audience on Facebook
Creating a custom Facebook audience for each of your buyer personas (and their variations) can take time, and trial and error. To start, review your buyer personas. The classic buyer persona template from HubSpot does an excellent job of asking "Who is your buyer persona?"
Before starting Facebook advertising, you should know at least three of the following about each buyer persona:
Age
Employment history or industry
Marital status or life stage
Location
Income range
These factors can be applied in a range of Facebook identifiers to help establish a buyer persona audience.
Use Facebook's identifier categories such as interests, behaviors, job titles, employers, and other data points to learn what your buyer personas look like on social media. You will see your buyer personas transform into a complex group of individuals with shared activities and engagement patterns.
1. Target Using Behaviors
When creating your audience, think about the major life events that your buyer persona is going through.
Your buyer persona might say "Married; age 40-50", but Facebook lets you specify between "Parents with teenage children" and "Married; Family-based household" so you can cast a wider or smaller net. Facebook pulls this data from the profile information for users, as well as third-party sources.
2. Target Using Interests
All of the actions that an individual takes on Facebook can help identify their interests.
If a user has liked pages such as Green Bay Packers, Friday Night Lights, and Superbowl, their interests will most likely include Football, Professional Football, and the NFL Network. Using keyword research can help you think outside the box when defining interests for your buyer personas.
**Some industries, such as Real Estate, are not allowed to advertise using age, income, lifestyle, or other demographic factors to segment or show preference. Your Facebook page should be identified within your industry, and Facebook's ad approval team will let you know if your targeting is flagged for this reason.
Example Audience
A private Catholic high school in California is running a Facebook ad campaign to send traffic to a registration page for a recruiting event. One buyer persona is a parent with an 8th grade age child. This parent is worried about school safety and is willing to pay for better education further from their home if it means their child is safe.
To target this buyer persona, the audience for the ad is:
Location: 30 mile radius from school's location
Age: 35-50
Behaviors: Parents with pre-teen children; Moms with pre-teen children
Interests: motherhood, fatherhood; politics and social issues - charity and causes, community issues, Parent-teacher association; family
Facebook projects that within this 30-mile radius, the potential reach for this audience is 1.2 million.
A second buyer persona is a parent with an 8th-grade child who is looking for a religious education. Targeting for this buyer persona looks like this:
Location: 30-mile radius from school's location
Behaviors: Parents: with pre-teen children; Moms with pre-teen children
Interests: motherhood, fatherhood; community issues, parent-teacher association; family;
AND an interest in one or more of the following: religion, Catholic education; parochial school; religious education.
This buyer persona has a potential reach of 80,000. Over time, the Facebook Pixel installed on the school website showed that the smaller audience, focused on religious education, had a higher conversion rate than the larger audience of all parents.
3. Analyze Audience Overlap
As you can probably tell from the targeting, these two buyer personas have some traits in common. For your first campaign or two, overlapping some of your audience may help you hone in on the images, language, or links that appeal most to each buyer persona. However, Facebook best practices advise as little audience overlap as possible to keep advertising costs down. Once you've gathered enough data about your buyer personas, consolidate your audiences to maximize the reach and effectiveness of your ads.
For this example, the Catholic high school consolidated their audience to "All Parents with concerns of safety OR an interest in Catholic education." You can always analyze audience overlap using the Audience Overlap tool in your Facebook dashboard.
Even if you don't have very refined targeting like in this example for your first few ads, you will learn more about how effective your ads are as they run. Age, gender, and placement insights are easily accessible from within Ads Manager, as seen in the visual example below.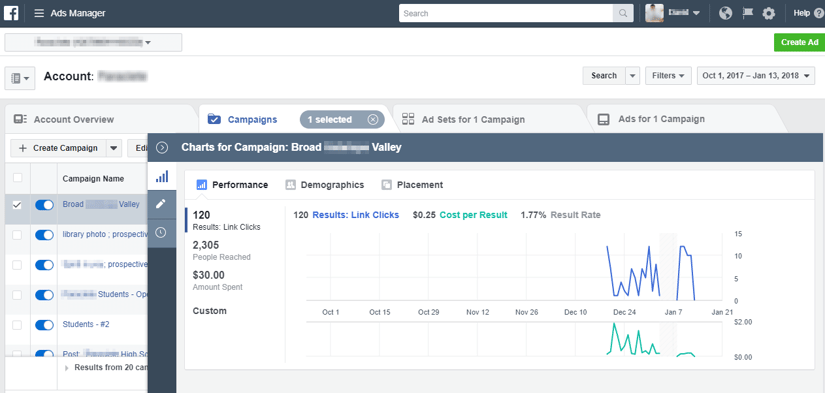 After the first month, both you and Facebook will be able to better assess your engaged audience. Once your organization's Facebook page has over 500 individuals connected to it, you can review the Audience Insights tool within the Planning Section of the Facebook Dashboard.
4. Review Audience Insights
With each ad you run, you're collecting data on who is engaging with your content.
As you create what you think are your buyer personas within a Facebook audience, use the data you gather to refine your audience and build even more accurate buyer personas.
For example, the school from the example above was targeting "Parents with teenage kids," which is a behavior/life stage, and saw an increase in conversions within the 55-65 age range. While their buyer persona had originally been built around the 35-50 age range, this segment of older parents was significant to their advertising, helping to increase the reach of the school's ads, while redefining the buyer persona based on actual engagement and conversions.
Speaking to Your Buyer Personas
Facebook's analytic tools help keep track of your buyer personas as they shift over time.
Different ad styles and content might appeal to one buyer persona while returning little engagement for another. The results from each ad campaign help to tailor how you present information or solutions, and reach your buyer personas where they are.
Ultimately, a well-run Facebook advertising program improves your relationship with your audience and builds trust so they choose your company in the end.