HubSpot is an incredibly powerful tool. There is a wealth of data and insights to be gained from using HubSpot as a content management tool, and as a customer-relationship manager. But with all of this information, it can be overwhelming.
Don't let all of the reports and metrics bog you down. There are a few key measurements that can have a tremendous influence on your inbound marketing efforts, and making some optimizations can ultimately save you time, while increasing the value of HubSpot for your marketing team.
Assess the average click-through-rate (CTR) of your blogs
Start with the blog. Your blog is where a lot of website visitors spend their time learning about your company, your service, and the solutions you can help them find. You're spending time and writing articles that add value to the reader, but you should also evaluate whether your blog is creating for your business.
First, look at the clicks you receive on blog articles. Keep in mind that HubSpot only tracks clicks on calls-to-action, and not on all hyperlinked text. In HubSpot, navigate to the blog, and select the Analyze dashboard. Scroll down to the third block or so, to the click-through rate for your top blogs. Select a date range to view a few months' worth of data.
Do any of your blogs have a 0% CTR?
If you have a large number of blog posts with a click through rate of zero, review the call-to-action, and make one of the following changes:
Move the CTA up the page

Think about how you read online. You start at the top, and scroll down. If the call to action is too far down the article, it gets buried as you scroll down. Move it up to increase visibility for readers looking for more in-depth info earlier on.

Change the CTA

Is your call to action not closely related to the page content? Take a step back, and think about the CTA from the web visitor's perspective. If the content offer isn't in line with the content of the page where the CTA lives, consider switching it out. If you don't have an eBook, pillar page or other resource to send traffic to, consider a simple contact button, like, "Have questions? Ask the experts."
If some of your blog posts have never had a click, take a look at the overall traffic to the post. Is anyone reading it? If not, you could just delete it. Not all blog posts are good, and don't let the content of yesteryear bring down your metrics.
Review "Organic Search" history
Where your website traffic comes from can provide plenty of insight into what your visitors are doing before they land on your site.
Some will argue that organic traffic is the most valuable to track, to see how effective your search engine optimization is on your site. Organic traffic is the most insightful to discover exactly what search terms are bringing visitors to your site.
In HubSpot's Reports navigation, select Analytics Tools. Select Traffic Analytics, and be sure Source is selected at the top.

Scroll down, and click into the "Organic Traffic" text.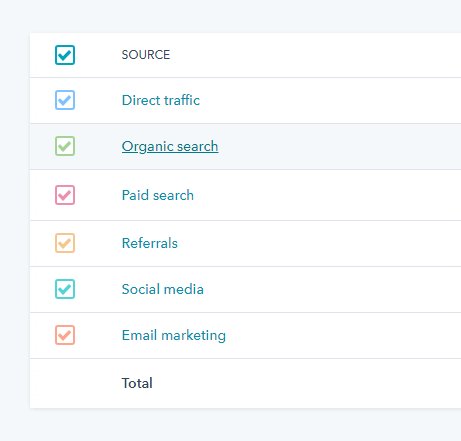 You'll see there first a record of "Unknown keywords SSL". Don't be alarmed if this unknown channel is your largest source of organic keyword search traffic. Google doesn't share its keyword information, so you won't be able to view the keywords performed on the Google search engine. The other keywords you'll see on this list are reported by other search engines: Yahoo, Bing, ask.com, aol.com, etc.
Under this first line item, you will see all the keywords that users have typed into a search engine, and ended up on your site as a result.
In this view, you can see if individual keywords brought in new contacts, or if there are weird keywords bringing irrelevant traffic to your website.
Organic search volume can also help you find particular trends and traffic seasons. In the charts below, you can see that sessions from search peaked in August. However, organic searches brought 4x more new contacts in October than in August. This can help you plan your campaigns around the times of year when visitors are more likely to convert, and assess which marketing efforts were more effective based on conversion rates.


View traffic sources that convert best
From the overall report, see which traffic source has the highest conversion rate, or do a little digging into contact records to see where the contacts of highest intent originate from. If you have a strong inbound marketing framework on your website, you may see the greatest traffic converting from organic, social, or referral traffic sources.
Referral traffic indicates your website visitors that have found a link to your site on another page out there in the internet. This connection from site to site makes your website stronger, as it let's search engines know that your page is referenced by other credible and relevant websites. But not all of these connections, or backlinks, are created equal.
Within the same Traffic Analytics tool, go back to view all traffic sources. Then, select "Referral" traffic. You can then review and audit the websites that are sending traffic to your site.
Track campaign performance
As a content management tool, HubSpot is able to collect different kinds of communications under a Campaign, and track the performance over time.
Emails, social posts, blog posts, calls-to-action, workflows, and landing pages can all be grouped together within a Campaign. In setting up a Campaign, they are best suited for directive that occur over the course of at least a few weeks.
For example, a private school has one campaign to track their Admissions efforts in finding leads to become freshmen in their upcoming school year. The Campaign includes a landing page for an Open House event, 3 nurturing emails, related keywords, and two blog posts.
You can assign a Campaign a start and end date, and establish goals to keep your team on track. Campaigns even have their own reporting tool, to compare the performance of different Campaigns easily.