It's what we've all been waiting for. Live trade shows are returning.
According to Northstar Meeting Group's latest PULSE survey, 81 percent of event marketers say they will hold their next in-person event sometime this year. And most of those events - 59 percent - will fall in the second half of the year.
But it's not business as usual for event marketers. Things have changed and marketers need to be proactive, not reactive to these changes.
"Now is the time for businesses to look at how they can become a part of people's lives, create differentiation and deliver genuine benefits that can drive relationships with both existing and potential customers," Jim Campling, president of marketing partnerships for Live Nation UK explained. "Those who grab the opportunity in a thoughtful and creative way will be the ones who stick around in fans' memories for years to come."
So how do you pivot and create these memorable experiences, in a world that's completely changed? Start by understanding how live trade shows will look different, and then adjust your strategy accordingly.
How Will Live Trade Shows Look Different?
It's safe to say that the first live trade show you'll attend will look different. As events slowly make their comeback, precautions will be kept high, people will be nervous, and crowds might be small. Expecting these changes can help you adapt your strategy accordingly.
Safety Upgrades
One of the biggest changes event marketers can prepare for is the safety protocols. Keep in mind that every state, city, and event will have different protocols. Make sure you're educated on these before you show up to your next trade show. In addition, we'd recommend having the following on hand:
Smaller But More Qualified Audiences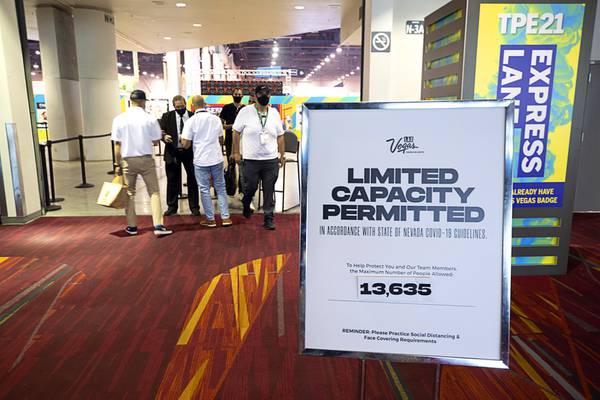 As live trade shows return, we'll see smaller, more focused events as the norm. Why? Partly because of capacity limits, and partly because of the reduction in trade show budgets. Businesses are forced to be pickier about the trade shows they attend. And though smaller events might seem like a bummer, these audience members are highly qualified. With travel riskier and more expensive, these attendees are more engaged than ever before.
Fewer Shows
It's going to be a slow return. Don't expect a jam-packed schedule of live trade shows right away. Event planners will slowly dip their feet into hosting live events. As they become more and more frequent and commonplace, the calendar will fill up. But it will take some time. The good news is that fewer trade shows on the schedule mean an opportunity to go BIG at the shows you do participate in.
4 Things to Do Before Your Next Live Trade Show
So we know that things are going to look a little different. But how can we as marketers prepare our brands for the return of live events? Here are 4 things you should do before your next live trade show.
1. Refocus Your Strategy
When live events took a plunder just over a year ago, you changed up your whole strategy. Now it's time to take a step back and adjust that strategy for a live audience. Whether you're attending an event or hosting your own, you'll need to consider having a strategy that caters to both in-person and remote attendees. It's no longer a purely virtual world.
Consider the following:
How should you adjust your current communications strategy?
Are you prepared to reach both in-person trade show attendees AND virtual attendees?
Is your current marketing strategy designed to engage with live audiences?
Plan a Hybrid Event Model
According to Northstar Meetings' survey, more than half of respondents are now planning meetings with both online and in-person components. We can expect hybrid events to be part of the norm going forward. Northstar Meetings even predicts all events having a hybrid component in the near future.
So, it's necessary, as you adapt your live trade show strategy to ensure you've considered how to also engage any virtual attendees. Whether you're attending a hybrid event like a trade show booth or you're planning your own, you can find some valuable ideas on transitioning to a hybrid strategy in this hybrid event checklist.
2. Realign Your Brand
Before attending or hosting your next live trade show, spend some time evaluating your company's brand, and if necessary repositioning who you are. A lot has changed in the past year, and chances are your branding and messaging needs to reflect these changes.
Run through this list of questions:
Have you gone through a rebranding recently?
If so, are all your marketing materials up to date?
Have you updated your booth display?
Are you using old giveaways?
If you haven't gone through a brand refresh, is there any branding that might need to be changed ahead of your event?
Remember, your brand is one of the most important parts of appearing at a live trade show. If there's confusion surrounding who you are as a company, then how can you leave a memorable impression on your prospects and customers?
3. Reevaluate Your Trade Show Booth
This is a biggy. In the past, it was pretty common to wait until the very last minute to pull out your trade show display and exhibits. You won't get away with that this year.
Your trade show display has not only been sitting in a closet collecting dust for over a year, but expectations have changed too. So, the likelihood that you can use everything just the way that it was for your last live event, probably isn't very plausible.
After realigning your brand and your messaging, make sure this translates to your booth. Update any outdated graphics. You'll also want to consider incorporating some safety measures into your booth as well.
Does it accommodate social distancing rules? Are you able to add any disinfection stations? You might need to revisit the overall layout to make sure you're following the protocols of the trade show you're attending or following state guidelines with the event you're hosting.
You'll also need to reevaluate the trade show giveaways you're handing out at your booth. Cheap swag items in bulk are no longer best practice. Remember your audience. You're reaching fewer people but more qualified leads. We recommend investing in fewer high-quality gifts that impress and delight your attendees. Think about trending products, premium branded drinkware, or back-to-the-office giveaways.
4. Reorganize Your Schedule
Finally, you must take a hard look at your event schedule, and reorganize if necessary. Many live trade shows that are happening have been rescheduled for the end of the year. With most happening around the same time, you might be dealing with tight timelines in between events. Plan accordingly.
You'll want to keep in mind the supply chain issues plaguing the nation. It used to be feasible to order things 3 weeks ahead of time, and expect your trade show materials to arrive just in time for your event. That is no longer the case. Plan on materials taking double that time, or longer, to arrive. So if you're planning on attending a trade show, or hosting your own, get started now. You can never plan too far ahead.
Live Trade Shows Are Back - Are You Ready?
Real-life experiences, like live trade shows, are as Jim Campling describes, "a playground for creativity." It's a chance for brands to truly connect with their customers and prospects in a real, emotional, and memorable way. And though virtual events filled the void temporarily, live events offer a type of connection that really can't be replaced.
They may look and feel a bit different for the next few years, but the value of in-person trade shows and events remains the same. So it's important as marketers that we keep up with the trends, and adapt our strategies accordingly.
It's been over a year since we've gotten to dust off those trade show booths and connect with our customers in real life. Let's do it right.