Normally, Google updates come abruptly. But for the first time, the masterminds at Google have decided to alert us about the newest update to affect page rank. Even better - they're giving us six months to prepare. Google's new update: Page Experience is scheduled to go into effect in May 2021.
To help you prepare your site, we've put together this guide. We'll break down what exactly Page Experience is and 6 things you can do now to ensure your site stays at the top of search engine results.
What is Google's New Update: Page Experience?
Page Experience will be a new factor in rank that measures what Google has named Core Web Vitals. These include site speed, interactivity, and visual stability. Google illustrates these metrics in the diagram below.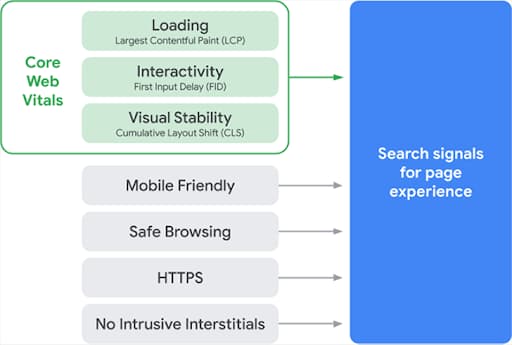 Feeling a little confused? Don't worry, when you break it down, it's much simpler than Google makes it seem. By learning the definition of each Core Web Vital, it will be easier to understand and picture what Google is talking about.
Largest Contentful Paint (loading): A complex way of saying the measurement of load speed. LCP measures the amount of time it takes to load the largest image or text block on the page. A good benchmark is no slower than 2.5 seconds.

First Input Delay (interactivity): The measurement of time between when a user first clicks or taps on something on your site to when the browser is actually able to respond to that interaction. It's also referred to as page responsiveness. A good benchmark for FID is less than 100 milliseconds.

Cumulative Layout Shift (Visual Stability): The unexpected shift of web page elements while a page is still loading. You've probably experienced this before when on a page, reading something, and all of a sudden the page jumps. Such an experience is usually caused by popups, ads, or slow loading fonts, images, or videos. The lower the CLS score the better, a good benchmark is less than .1.
Google illustrates CLS for us below: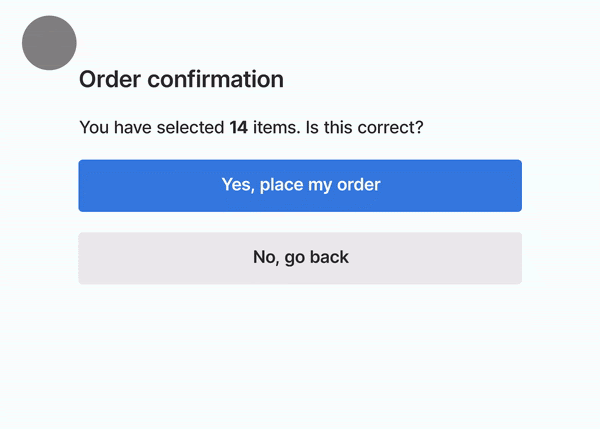 Here's the good news. Understanding the technical ins and outs of Core Web Vital is unnecessary. What you need to know is that these metrics are all focused on user experience. Google's priority is to deliver the best content available to its audience. The new Page Experience update is just another way to make sure that the information it's serving up provides a delightful experience.
This makes your job a bit easier because it means all you have to do is focus on your user's experience. Something that should already be the goal of your site. By improving your overall user experience, you'll be one step ahead of your competitors, and won't see rankings tank in May.
6 Ways to Prepare for Google's Update: Page Experience
We recognize it's helpful to have some actionable ways to focus on and improve user experience. So we put together this list of 6 ways to help ensure your site is ready for Google's Page Experience.
1. Increase Site Speed
One of the most obvious places to start is site speed. What do you do when a site takes too long to load? Go somewhere else? Most users do.
Google reports that when load time increases from one second to three, bounce rate increases by 32%. And if it increases just two seconds more to 5 seconds, a user is 90% likely to bounce. So site speed is critical to providing an excellent user experience. But how do you even find your site speed, and more importantly - go about reducing it?
The easiest tool to use is one offered by Google itself. Head over to Google's PageSpeed Insights tool and enter your domain URL. It will score your site on a scale from 0-100, with 0-49 being poor, 50-89 needing improvement, and 90-100 is ideal.
The tool also breaks down your Core Web Vital scores and recommends some optimizations you can make to improve these scores. Unless you're a developer, these suggestions can get a bit confusing. You'll want to have a developer take a look at what Google is recommending, but here are some clear ways you can improve site speed immediately.
2. Fix Page Structure and Design Issues
In order to fix usability issues, you'll have to first determine where they are. They are several tools out there that can help you run a usability audit. Crazy Egg, Hotjar, and Qualaroo all offer heatmaps of your site, which can be extremely helpful. Heatmaps will showcase where users are navigating to, and where they might be getting stuck or bouncing off certain pages.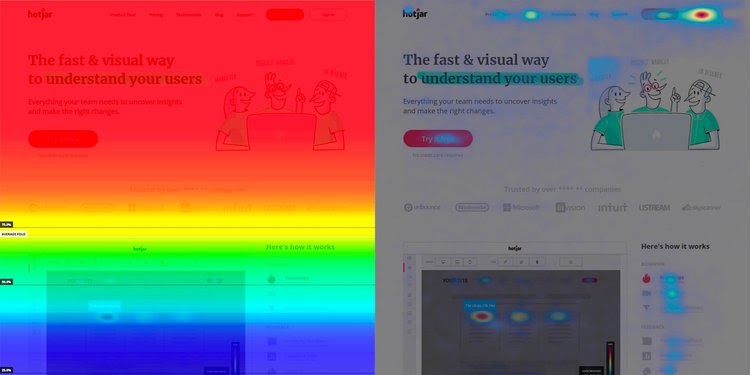 In the example above from Hotjar, you can see that users aren't scrolling through the whole page. The red signifies where most traffic is landing. They then click the "try it for free" button and leave the page. This gives valuable insight into page design and structure. If your site does have any poorly designed page structures, you'll be able to notice it pretty quickly while analyzing a heat map of the page.
3. Analyze and Improve Bounce Rate
Bounce rate can be a clear sign of a bad user experience. If someone clicks on your site, and they instantly bounce (exit or click back), that's a sign to Google that a user is not getting what it wants from that page. Eventually, this will lead to a lower site rank for that specific search query.
So what's considered a good bounce rate? There's not exactly a straightforward answer. According to Crazy Egg, the majority of website bounce rates fall between 26% and 70%. That's a pretty broad range. So it's important to break it down by industry and page type. Neil Patel put together this infographic which breaks down some different bounce rate benchmarks per industry.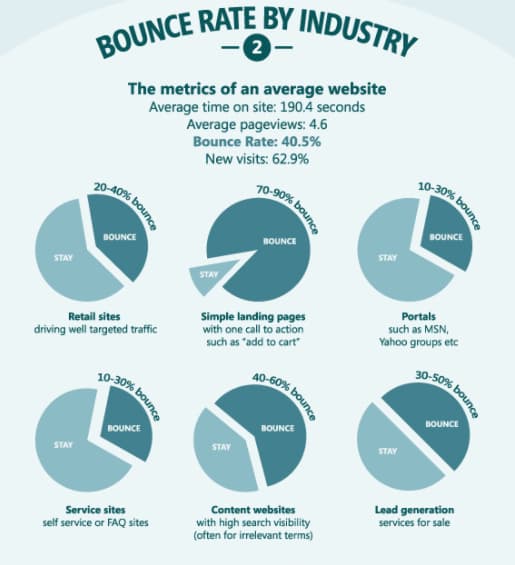 So maybe your bounce rate isn't where you want it. How do you improve it? Again, it really comes down to thinking about user intent, and what the user is expecting when they click your page.
Here are our tips to decrease bounce rate:
Limit pop-ups that block your content.
Make your site and content readable (use bullets, headers, short sentences, and paragraphs).
Limit external links, and prioritize internal links.
Use CTA's wisely: don't overwhelm or confuse the user with multiple options.
Use videos and infographics to increase user's time on the page.
Consider using takeover CTA's - or strategically messaged pop-ups that appear when a user is about to leave the site.
4. Make Sure Your Site is Mobile Friendly
Is your site mobile friendly? You'll want to make this a priority before the Page Experience update goes into effect. Not sure? You can check with Google's Mobile-Friendly Test tool.
One reason for a low score is you're simply not using a mobile responsive site design. A responsive site is when the way a page is displayed and arranged changes based on the size of the device screen. So whether a viewer is on a phone, tablet, or desktop device the page will format accordingly. This is considered the best way to ensure a mobile-friendly experience. You can create a consistent experience for all users, no matter the platform.
Luckily, there's a lot of options out there for easily building a mobile responsive site. HubSpot's CMS offers hundreds of responsive templates that allow for easy drag and drop site building for even the most novice of designers. Here's a great resource if you're seriously considering the pros and cons of redesigning your site.
If your site is already responsive, consider the following tips to increase mobile-friendliness.
Use variable fonts - not all fonts seen on desktops are able to appear on mobile devices
Make your site scrollable
Prioritize white space
Make buttons big enough for mobile devices
Don't hide your site's search bar - make it easy for users to find information
5. Improve Site Security
Part of the Google Page Experience update includes a focus on site security and browsing safety. Now is a good time to double-check your site to ensure that it offers a secure HTTPS connection. It's as easy as looking at your site's URL. If it begins with HTTPS you're covered, but if it begins with HTTP, you'll either need to purchase what's called an SSL certificate or turn on SSL within your domain provider.
For HubSpot's Marketing Hub users, an SSL certificate is included at no extra cost. But there is a step you'll want to take to make sure all users are served the secure version of your site.
In HubSpot's Domain Manager, you'll want to click "edit" on the domain you are adding the SSL to. At the bottom of the screen, you'll want to check off the box that says "Require HTTPS".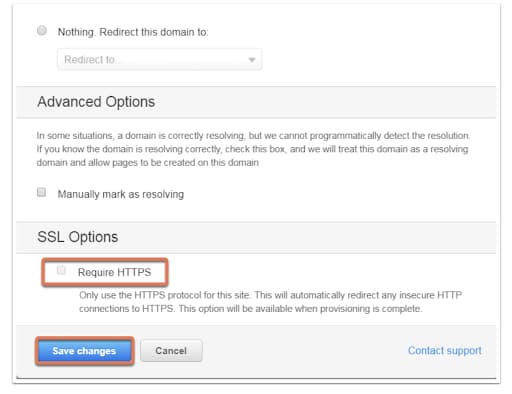 Thinking of switching to HubSpot as your website provider?
Once you know your site is secure, you'll also want to double-check your pages for malware. Online tools can make this process easy. Here are some of our free favorites to use:
If you do discover malware on your site, you'll want to enlist an expert to help fix your site. The tools we listed above offer services to help fix any problems you might discover.
6. Offer Compelling Content
Finally, one of the best things you can do to prepare for the Google Page Experience update is what you should always be doing anyway. Focus on content. It's the best way to ensure your users are experiencing the page experience they expected.
Even with the new Page Experience update, good quality content is still said to be the leading factor in page rank. So make sure your content is the best quality it can be.
Remember who your audience is, and create content designed for them. By providing helpful content that answers their questions, you'll be ensuring a superior user experience.
Here are some actionable ways to ensure your content is useful, helpful, and compelling:
Write about the right things: Be sure to research opportunities, including your competitor's sites, to find what your audience is looking for.

Define who your audience is: Clearly define who the audience is for each post or content you write. This will help ensure you're creating the right experience.

Create better content than anyone else: This will require significant research on your topic, well-informed posts with examples, graphics, illustrations, videos, and anything else that will set your posts apart from everyone else.

Keep your content updated: It doesn't just end when you press publish. You'll want to constantly reevaluate and update your content to keep it fresh and relevant. While your preparing for Google's Page Experience, consider refreshing high-performing posts, and content that might be outdated and affect user experience.
Now is the Time to Prepare for Google's New Page Experience Update
It might seem like there's a lot to consider ahead of the Page Experience update, but considering Google usually doesn't give a warning, we're actually ahead of the curve. So use your time wisely between now and May 2021. Consider working towards these six website optimization tips, and you'll ensure your site stays on top of the rankings when Page Experience goes live.
But don't forget that content is and always will be king. Without quality content, your efforts will be in vain. With so much strategy, we often forget that mastering Google's algorithm really is pretty simple. It's about providing a quality, superior, and helpful user experience to your audience.