I would compare choosing a custom embroidered cap for your brand to embarking on a thrilling journey in which you encounter various mini-adventures. This blog article contains information about decorating, fabrics, and personalization options for custom embroidered caps that you would have never considered before. Get ready for an intimate look into the process of ordering custom embroidered caps; one of my most popular and effective promotional items. Let's get started!
A lot goes into created a customized cap like the finished products pictured above. You probably noticed all the intricate details that make up a custom cap, however, we must start with the basics. Here are the three major design considerations that must be addressed when ordering custom embroidered caps.
Design Consideration #1: Style
Before we get into the nitty-gritty decorating details, we must start from the very beginning of the custom cap creation process by selecting a cap style. View the three most common custom embroidered cap styles below to get inspired.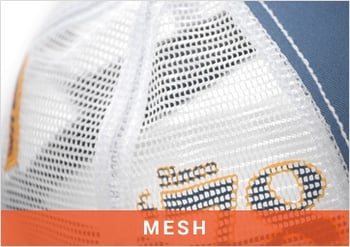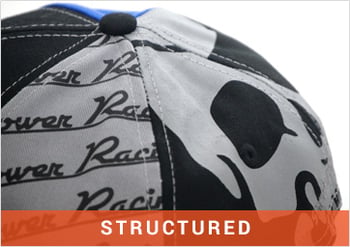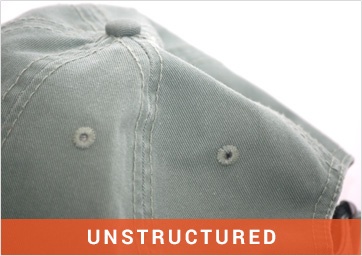 Wait a minute.
Q: The structured and unstructured caps look pretty similar. What's the difference?
A: The terms "structured" and "unstructured" refers to the cap's material. All it means is that structured hats have a more stiff, fitted fabric, while unstructured baseball caps are made of a softer, more floppy material.
To put things into perspective, about 95% of our customers want unstructured hats, unless they're looking for "trucker" hats. Trucker hats are structured caps with mesh, exactly like the cap labeled "mesh" above. Mesh trucker caps used to be considered sub-par, but are now making a strong comeback. This brings us on to our next aspects of ordering custom embroidered caps: choosing the fabric!
Design Consideration #2: Fabric
I like to think of the cap's fabric as a blank canvas. The fabric is the background on which your logo and other designs will appear, therefore, you must make sure the fabric you choose is one you're comfortable with.There are dozens of fabrics to choose from. Take a closer look at the three most popular fabrics below to get an idea of what works for my customers.
Pigment Dyed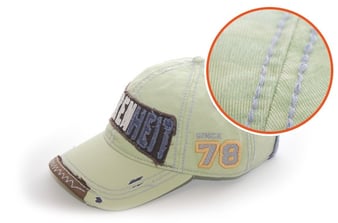 Hands down, pigment dyed fabric is the most popular; 75% of our customers order this type of fabric. It is a much softer, washed out kind of look.
Garment Washed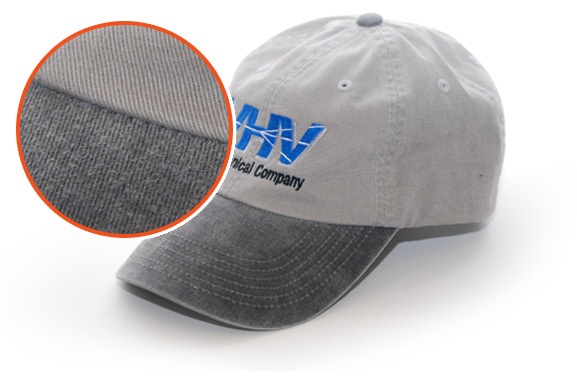 Garment washed fabric is like pigment dyed; it has a softer look. For instance, the color black will appear as a soft, faded gray.
Brushed Cotton Twill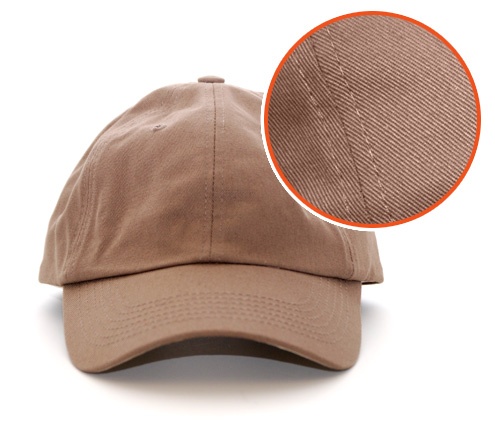 Brushed cotton twill means bold, solid colors. For example, if you want black, you get black, as opposed to pigment dyed where black would come out as a grayish color.
Design Consideration #3: Decoration
Now for the fun part: decoration! Customization is what really makes a cap your own. First, you should know that crazy, eye-popping designs are not commonly used by my corporate customers. So, before I show you all of the creative options available, let's take a closer look at a custom embroidered cap design that is typically ordered by clients.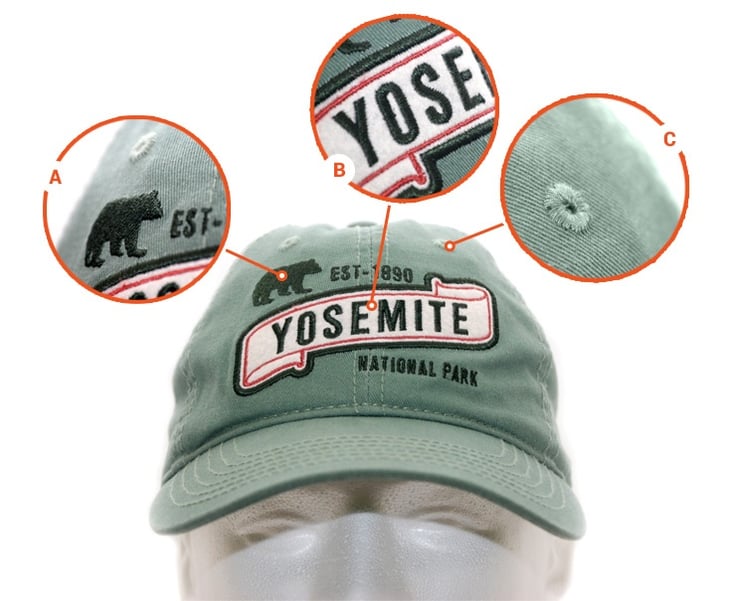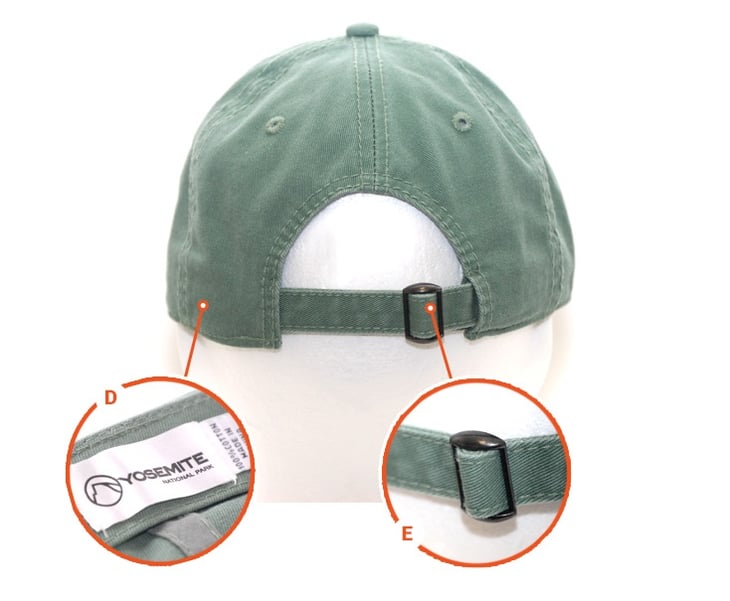 A. Flat Embroidery
Flat embroidery is used on almost every promotional cap. Most commonly, it is used to communicate small amounts of information (ex. "EST - 1890") or display a logo. Flat embroidery has no padding, hence the word "flat."
B. 3D Embroidery
3D embroidery is very popular decoration option. It incorporates padding in the embroidery to give the embroidered design a 3D appearance. In this case, it is used to draw decorative attention to the logo.
C. Sewn Eyelets
Sewn eyelets are another popular feature that you're probably used to seeing on caps. These classic decorations have a functional purpose, too; they allow air into the cap so your head doesn't get too hot and sweaty!
D. Personal Labels
Personal labels are included on the inside of custom caps as a more subtle way to communicate information. For example, you may want wearers of your custom cap to visit your website, but you don't want your long website URL to be included on the exterior decoration of the cap. This is were personal labels come in. Labels can include the company name, logo, slogan, address, or website address.
E. Slide and Tuck Buckle Closures
Slide and tuck buckle closures are regularly requested by my customers, but some feel that this style of closure is cumbersome to use and adjust. I've noticed that clients are coming to prefer Velcro over buckle closures because of the ease of use.
Now, take a look at some other popular decoration features not included in the above diagram: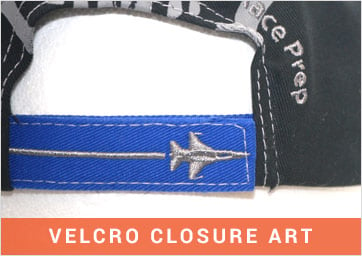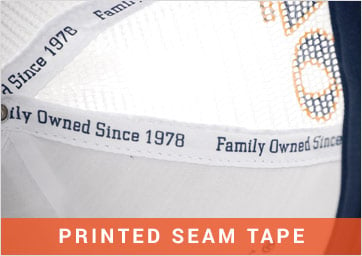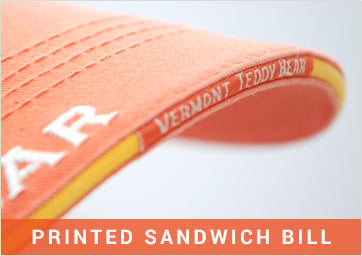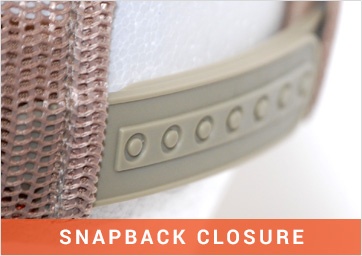 Now that you've got a taste of the basics when it comes to ordering custom embroidered caps, let's get into some frequently asked questions.
All You Need to Know About Ordering FAQs
Q: There are so many design options. How will I choose and accurately communicate my design intentions when ordering?
A: In the beginning of the ordering process, I will teach you about which kind of hat to pick and other design options. Once that basics are out of the way and you feel that you have a solid understanding of styles and fabrics, I will direct you to the Fahrenheit website where you can get more of a visual of the design options that are available.
I will also make sure that you receive a sample of the cap you design so you can approve the fit and decorations before placing your order.
Q: What is the average production time?
A: It depends. If you're ordering hats domestically, it usually takes 12-15 working days. However, if you order a completely custom cap (which most of my clients do), it takes about 3 months. That's why it's very important to give yourself a decent amount of time before your deadline to order caps. You must consider decorating possibilities, fits, and changes if you aren't satisfied with the sample.
Q: How much will it cost?
A: One of the first questions I will ask you is about your budget. Most customers spend $10-$15 per hat, but it all depends on the designs you include. Intricate and detailed designs are more expensive.
Q: What is the minimum order?
A: The minimum for this type of custom headwear is 144 pieces.
Now what?
You're probably wondering why you need to know all of these details about what goes into creating a custom cap. I believe my clients deserve to know what's available in the world of custom cap design, because all too often people order a basic, cheap cap that comes out looking basic and cheap. For just spending a little extra cash on 144 caps, you will get a highly customized product that your employees and clients will actually want to wear. I can assure you that our cap supplier, Fahrenheit Headwear, produces exceptional products that are worth your dollar.
So remember, don't order a cheap hat! Leave yourself plenty of time to order, work with my design team, and ask for a sample cap. Then, you'll be well on your way to receiving a high-quality promotional item that will do wonders for your brand.