So you're dipping your feet into LinkedIn advertising. Smart choice. LinkedIn is one of the best places to reach decision-makers in the B2B space.
It's not just about audience size. Sure, with over 690 million members, LinkedIn offers a lot of potential users to reach. But what makes it such a powerful platform, is the quality of its audience. LinkedIn users aren't just influencers. Its audience members are made up of more than 63 million decision-makers, including over 10 million C-level executives. This audience carries twice the buying power of the average web audience.
LinkedIn ads have the potential to get your message directly in front of the right person. But it's essential to master your LinkedIn ad targeting strategy to maximize effectiveness and ensure you aren't wasting money in the wrong places.
There are quite a few different ad targeting techniques available on the platform. So we've put together this guide to help you navigate the different LinkedIn ad targeting options so you can confidently optimize your LinkedIn ad targeting strategy to create ads that convert.
Different Types of LinkedIn Ad Targeting Available
In order to truly understand the different types of LinkedIn ad targeting options available, you have to understand what audience targeting is, and why it's important. It's all about understanding your buyer, their journey, and how to reach them at each stage throughout.
By using audience targeting in LinkedIn, you'll be able to get your message in front of the right person at the right time. LinkedIn audience targeting options allows you to use specific internal data to segment your audience by demographics, interests, occupation, and various other characteristics, to better match your ad content to the most optimum audience for your message.
There are quite a bit of options when it comes to the types of LinkedIn ad targeting available. In this section, we'll describe each targeting option, and how to properly use it for your LinkedIn ad campaigns.
LinkedIn Location Targeting (required)
The only required LinkedIn ad targeting option is location targeting. This is one of the first settings you will configure when you set up your ad campaign. Location targeting helps you get your ads in front of people in specific cities, states, or countries. You can target by all of the following:
Country
State
Metropolitan Area
City
County

Keep in mind that the default setting for location targeting includes people who live permanently in specified locations, or who were recently in those locations. Depending on how your business operates, and if you have a strict territory you serve, you might want to consider narrowing this option to only show ads to those that live permanently in a given location.
Audience Attributes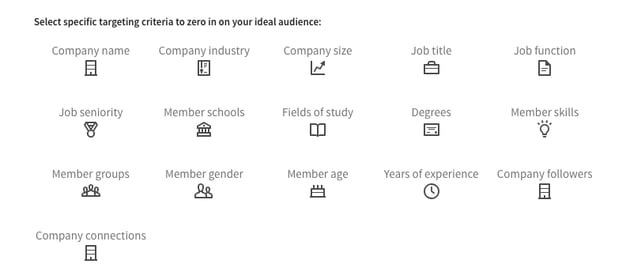 LinkedIn has an extensive array of audience attributes, allowing users to granularly target ads. Here's a look at what's available:
Company: Target based on company industry, size, name, followers, growth rate, or category. This is a valuable tool for account-based marketing campaigns that focus on targeting users from a specific company.
Demographics: Ads can be targeted based on a user's age or gender on their profile.
Education: Users can be targeted by the level of education, degree, field of study or school, college, or university the member is associated with.
Job Experience: Target ads to users based on job function, seniority, title, skills, endorsements, or years of experience.
Interest and Traits: Users can be further targeted based on their member groups, or interest categories identified from actions or engagements users take on the platform.
You can select up to 100 different selections when using audience attributes. But, as we'll discuss further below, you don't want to limit your audience too much. It's important to have a broad enough audience to ensure your ad is reaching enough people.
Matched Audiences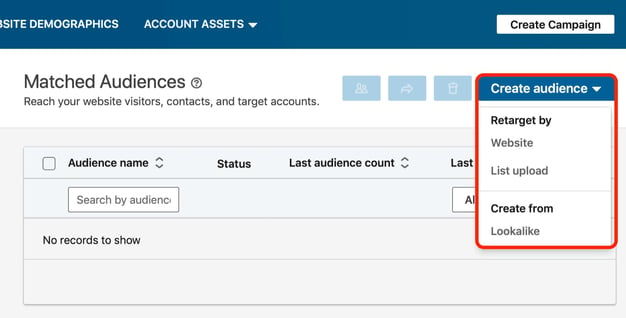 LinkedIn also provides users the capability to create custom audiences, which allows the integration of internally curated data and audience segments into campaigns. The following can be incorporated into LinkedIn ad campaigns:
Upload a company or contact list for targeting.
Integrate your CRM platform and target internal audiences.
Create lookalike audiences, or extended audience with similar traits, based on an uploaded list.
Retargeting options for prospects who took one of the following actions:

Visited a page on your website
Viewed one of your ads
Opened or submitted a lead generation form
Engaged with your LinkedIn page
RSVP'd for your LinkedIn event
LinkedIn Ad Targeting Best Practices
Now that we've got an understanding of the LinkedIn ad targeting options available, let's take a look at some of the best practices you should follow when launching your ad campaigns. The following tips will help ensure you're maximizing the ad targeting capabilities within the LinkedIn platform.
1. Clearly Define Buyer Personas
It's hard to effectively target your audience if you don't have a clear understanding of who that is. That's why we suggest, before launching any LinkedIn ads, spend some time clearly outlining who your buyer is, and what characteristics define them. Here are some questions that will help guide you through this process:
Does your target audience have specific job functions?
Do they have specific skills?
Where are they located?
Do they work in a certain industry?
Do they belong to certain LinkedIn groups?
Dig deeper:
We've put together this resource to guide you through the process of creating buyer personas to adequately represent your company's target audience.
Below is an example of a buyer persona. Notice how it lists the things she cares about, her professional background, personal background, and places she might spend her time while online. Let's look at how we might use LinkedIn targeting to reach Marie.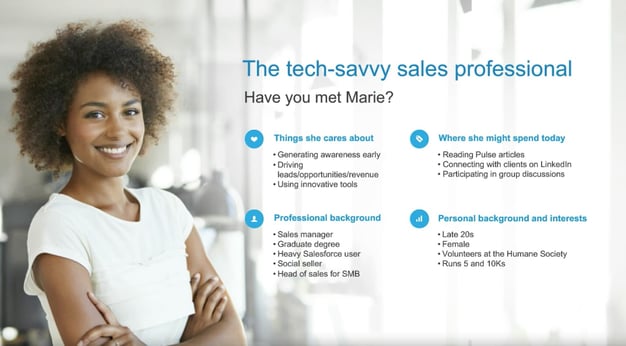 Here are a few different campaign ideas that could be successful:
Campaign One:
Targeting based on Job Function: Selecting an audience with a Job Function listed as sales.
Target based on Seniority level: Selecting an audience with a Seniority level of manager or above.
Campaign Two:
Targeting users who are a part of Tech & Small Business LinkedIn groups.
Campaign Three:
Targeting based on Skills.

Selecting an audience who lists "social selling" as a skill.
Selecting an audience who lists "LinkedIn Sales Navigator" as a skill.
Because we clearly understand the characteristics that drive Marie's decisions, we are much better equipped to pinpoint the targeting areas in LinkedIn to focus on.
2. Start With a Broad Audience Before Narrowing It Down
Yes, LinkedIn's audience targeting options can be a bit overwhelming. It's very tempting, as a marketer with a very clear buyer persona for their business, to layer on several different targeting options thinking you're hyper-targeting your exact customer. But when you start broad, your ads will have a much larger potential audience pool to target.
LinkedIn recommends choosing only two to three filters within your targeting efforts. Best practice is to keep your target audience over 50,000 potential users. For the best results, LinkedIn recommends trying to get your potential audience to reach between 100,000-300,000 users.
Once you start gathering metrics and data about who in this audience is engaging with your content the most, you can then start to narrow things down further. LinkedIn offers real-time click demographics that will show you exactly who is engaging most with your brand. Use this knowledge to decide who you might want to eliminate from your audience, and who you might want to put more spend on.
Also, be sure to A/B test your ads. In the example above, we had three different campaigns for one buyer persona. Analyzing which campaign performs better will give insight into what audience attributes are best used to target this buyer persona.
3. Try Audience Expansion to Expand Reach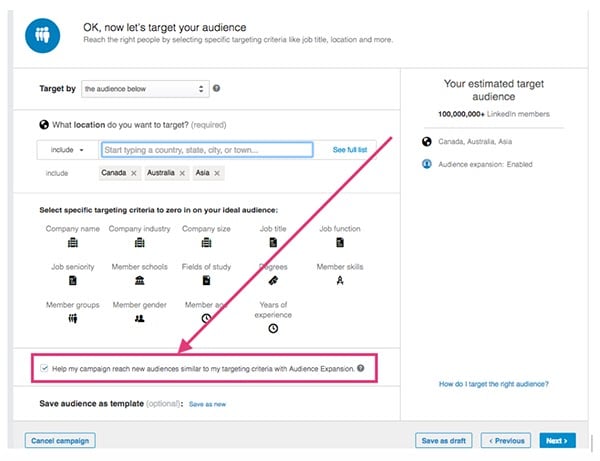 Audience expansion is a valuable tool within LinkedIn Campaign Manager that allows you to expand your audience even further, but still in a strategically targeted way. Essentially, audience expansion allows you to reach prospects that are similar to the parameters you've set for your ads, allowing you to reach LinkedIn users that you're unaware could have an interest in engaging with your business or brand. Thus, you'll discover potential customers that might not even be on your radar.
It's pretty simple to use audience expansion. Simply click the "enable audience expansion" button when you're selecting your audience targeting options for your campaign. This will then show your ad to similar audiences to the targeting you've selected.
Audience expansion is best used when you are in the beginning stages of building your LinkedIn audience. Consider using this tactic when you know you might be missing certain members of your audience, but aren't sure yet what defines those members.
4. Test the Seniority Function for Better Results
Seniority is a targeting characteristic unique to LinkedIn, so it's easy to overlook. But testing this function can help to significantly broaden your audience.
LinkedIn found that most users skip entering their age when they create their profiles. And for users that don't have an age entered, LinkedIn uses an estimate based on their first graduation date. So when you use this as a targeting characteristic, you're actually significantly shrinking your audience pool. Instead of targeting based on age, consider using seniority or years of experience. This is calculated by the number of years someone has been employed and is much more complete on the majority of members' profiles.
Here's some data that LinkedIn compiled after conducting its own internal study on seniority vs years of experience:
If your targeting executives, targeting by age diminishes audience size by 70 percent
When targeting entry-level healthcare workers, targeting by age reduced audience size by 92 percent.
When targeting IT career starters by age, the audience diminished by 91 percent.
When targeting education professionals by age, audience size diminished by 89 percent.
5. Use And/Or Targeting to Include or Exclude Audience Types
When you're ready to start narrowing down your audience, the and/or targeting feature can be valuable. This allows you to get even more granular within a targeting category, or exclude people specifically based on a characteristic.
For example, if you're looking to target graphic designers, you can target the job title graphic designer OR graphic design as a skill AND a certain level of experience.
Here's how to find and use LinkedIn's And/Or functionality:
In the audience section of the campaign you want to create, find the "start building your audience section".
Select the targeting criteria you want to use.
Expand your audience by selecting "add more attributes" using the "or" feature.
Target your campaign even more by clicking "narrow audience further (AND)" and adding corresponding attributes.
Click "exclude audience" to exclude certain targeting attributes.
Review your audience criteria by clicking "view audience summary".
Pay attention to the "forecasted results" tab on the right-hand side of the campaign manager. This will show you how each different AND/OR criteria changes the size of your target audience. Remember LinkedIn recommends having a target audience between 100,000 to 300,000 users.
Reach The Right Prospects with LinkedIn Ad Targeting
If you're embarking upon your first LinkedIn ads journey, congratulations! You're on the path to reaching and converting more customers. Investing a little more time and energy into your LinkedIn ad targeting strategy will set you up for the biggest ROI.
Take advantage of all the data LinkedIn offers to target the professionals in your niche market. But don't neglect your own data. Combining matched audiences with the internal LinkedIn attributes will ensure you're not missing any possible LinkedIn users who would become qualified leads for your business.
But remember, it's all about finding the sweet spot. Much like all digital marketing strategies, LinkedIn ad targeting takes testing, measuring, and experimentation to find exactly what works for your business and audience.