So you just published a really great blog post. You spent hours researching and writing it, and you're pretty proud of it. But what if I told you that there's only a 9% chance that someone will find and read your post?
In one day, around 1.8 billion pages of new content are published on the web. Ahrefs found that 90.63% of that content gets zero traffic from Google. As a content writer or blogger for your business, that's pretty discouraging.
But there are ways to be part of that 9.37% of the traffic. And it all comes down to optimizing a blog for search. So before you start writing your next post, use this SEO checklist to help guide you to publishing content that drives traffic.
8 Steps to Optimizing a Blog for Search
When optimizing your blog for search, there are tons of different tips, tricks, and techniques that can be used. So it's important to note this is not a comprehensive list of SEO best practices. The following SEO checklist focuses on the on-page SEO efforts that will improve visibility and search rank for your blog posts.
Now let's take a look at 8 steps to optimizing a blog for search.
1. Do Keyword Research
First and foremost, you have to know what you're trying to rank for. A solid blog optimization strategy is built on the foundation of keyword research. This is the process of searching for and analyzing search terms to uncover the best possible phrase to build your blog post around. By evaluating the search volume and ranking difficulty of these queries, you'll be able to pinpoint the phrase you should target.
There's a bunch of different ways you can go about keyword research. Here's the process we typically recommend.
1. First, make a list of important and relevant topics based on your business and industry. One of the best ways to come up with this list is to ask your sales team for the most frequently asked questions they get, or the topics that most often come up in sales conversations.
2. Use these topics to create more specific long-tail keywords. Long-tail keywords are search phrases that are at least three words or more.
For example, an IT company might choose IT Security as a topic. The following could be long-tail keywords that fit within this topic.
Security Tips for Modern Employees
Strategies for Securing Employee Remote Access
Email Security Best Practices
Come up with as many long-tail keywords as possible. The more phrases you have to choose from the better.
3. Next, you'll want to analyze these phrases on the Search Engine Results Pages (SERPs). Start by typing your phrase organically into Google. Pay attention to both the search results, and Google's autofill feature. These terms are highly searched, and provide suggestions for other relevant long-tail keywords that could be used.
You can also find use in Google's "searches related" feature. You'll notice at the bottom of a search page a list of relevant keyword ideas related to your root keyword. These are all good that Google is telling you are highly searched by others.
4. Finally, take the list of possible phrase words that you've compiled and use a keyword search tool to analyze them. Pay attention to search difficulty and search volume. You'll want to find the sweet spot between a high enough searched term, but not too high, where it makes it difficult to rank.
If you're wondering what keyword research tool you should use, here's a list of apps we recommend:
2. Structure Your Blog Post Based on Your Long Tail Keyword
After doing your keyword research, you should have a pretty good idea of what long-tail keyword you want to go after. In order to properly optimize your blog post for search, you now need to structure your whole post around this keyword.
There are four essential parts of your blog that should incorporate this keyword. We'll discuss the best practices of each one.
Title Tag
One of the most important aspects of any piece of content is the title. It's the first thing that anyone reads. It's also the first thing that Google scans when accessing the relevancy of your content.
Make sure to include your keyword within the first 60 characters of your title, to avoid your headline being cut off in the SERPs. If you have a long title, and there's no way around it, make sure your keyword is as close to the front as makes sense.
Headers & Body
You should regularly mention your keyword throughout your post. Yet you shouldn't keyword stuff. Find the balance between. We recommend trying to incorporate your keyword in the first and last heading when possible. Relevant keywords can fall in between.
The biggest thing to remember when structuring and writing the body of your content is to answer the reader's question and format it in the most helpful way to the reader. If you focus on accomplishing this first, your blog will likely naturally follow the keyword cadence your striving for.
URL
Yes, even your URL is important. It's one of the first things search engines crawl on a page. Remember, every post you publish lives on its own, unique URL. So be sure to include your long-tail keyword.
Notice the example below from HubSpot, including the keyword phrase "email marketing examples."

You'll also want to keep longevity in mind when optimizing your URL. When possible, try and keep dates and numbers out of your post. Try and leave out anything you feel might change with the age of the post. This will ensure you don't have to edit your URL as you update your post. This is important. As your post ages, it gains authority from other sites. By changing a URL, you risk losing all that built-up authority.
Meta Description

Don't forget about the meta description. The purpose of the meta description is to give search engines and readers some context into what your post is about. It's oftentimes the short description that appears on the SERPs page right under the title tag. Although, nowadays, Google's algorithm has advanced so much that it's not always guaranteed that the meta description is what's pulled into the SERPs. If Google determines another piece of your content as more helpful to your reader, it will pull that snippet instead.
Keep this in mind when writing your meta descriptions. By truly summing up your blog in a maximum of 300 characters, and including your relevant long-tail keyword phrase, it's more likely Google will determine your meta description as helpful and relevant. This gives you more control over what appears on the SERPs page.
Again, don't just keyword stuff. Copy matters a great deal for click-through rates. This is what gives the reader context into what your post is about, and what determines if they want to click on your post or not. Always make your meta descriptions as engaging as possible.
3. Format for Readability
Most people searching Google for answers don't want to spend a ton of time reading an article. Generally, they're looking for a quick answer to a specific question. So being direct in your posts, and formatting for a speed reader is a smart choice for both user experience and SEO optimization.
It's important to note that this doesn't mean you have to write shorter blogs. In fact, a study done by HubSpot actually found that longer blog posts (between 2,100-2,400 words) get the most traction from Google and generate the most leads.
It makes sense. The more content that's on the page, the more context a search engine has to determine what the post is about. And for the reader, the more valuable and knowledgeable your post is, the more likely they are to trust your company as an authority figure.
So how do you keep your content readable yet valuable, in-depth, and informable? Here are some important tips:
Write short, choppy copy
Break up content into short paragraphs
Use headers and subheaders to create sections
Use bullet points
Incorporate lists
4. Use related keywords
We talked about the importance of choosing one focus long-tail keyword that you go after for rank. But you can't neglect using related keywords throughout your blog's copy. That's actually one of the ways Google begins to understand the context of your content. By using synonyms, the search engine rewards you for not keyword stuffing that same long-tail phrase over and over into your blog's body.
It's important to note that Google's algorithm has become significantly advanced since the early days of SEO. It now understands related concepts and synonyms, which makes it pretty easy to discover what related keywords you should use.
When you type in your long-tail keyword into Google, take notice of what appears in the search result. Here's an example using the long tail keyword "actionable SEO tips." Notice how "quick" and "important" also appear. Google deems these related to the searcher's intent when researching for "SEO tips."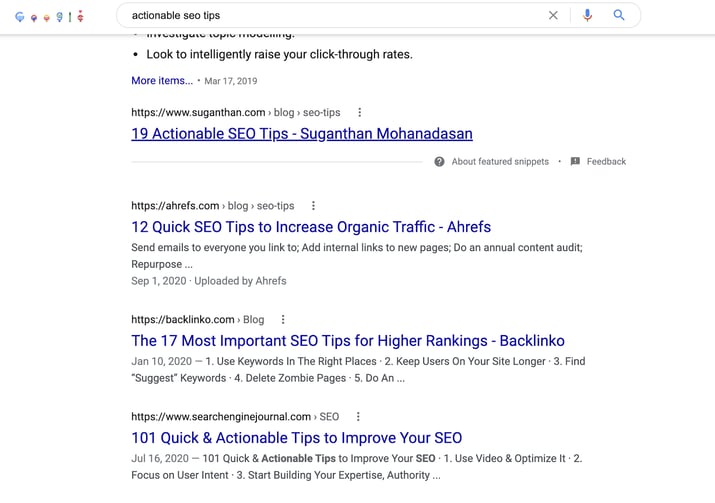 Before you start writing your blog, make sure you do a little research into possible related keywords. This will not only make your content easier to read, but it'll help you rank for more related search queries.
5. Link to Existing Content
Always incorporate links to related content where they make sense. This is a valuable strategy that not only helps your reader, but will boost your rankings - for all your pages. Here's why.
When Google "crawls" a page, it's following links. It's bot, known as Googlebot, will arrive at a homepage of a site, and follow the first link on the page. As it follows links throughout your page, it begins to work out how each page is related, and which pages cover similar subject matter. As it begins to understand the relationships between your content, Google will divide link value across your pages. For example, if you have a high-ranking and relevant blog post with a lot of backlinks, incorporating a link to that post will help your new post receive some of that already built-up link value. It's an important strategy to take advantage of.
Stepping aside from search engine science, internal links are also extremely important for readability. Remember, this is our main goal as bloggers. By providing additional resources to helpful and related content on your site, you're providing a good user experience. This will help you naturally rank better and make all of your content more helpful, useful, and enjoyable to read.
Pro Tip:
Always make sure you're going back and updating old content with new internal links. This will help Google determine the relationship between relevant posts, thus helping your blogs rank faster for similar search queries.
If you're a HubSpot customer, an easy way to find internal link opportunities for your post is to use the SEO panel. This tool automatically suggests linking to other internal resources on your site and saves you from having to rack your brain or search your site for similar topics.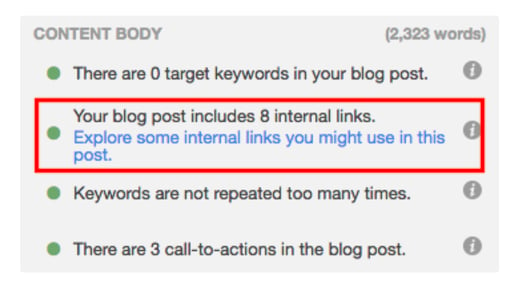 6. Make Content Evergreen
Whenever possible, try and make your content evergreen. This not only makes your life easier year to year as you refresh old content, but it also keeps your blog relevant and valuable to readers. The longer your content is available while still attracting traffic, the higher Google ranks its authority, and thus the higher it becomes in search rank.
So what makes content evergreen? Think of blog posts based on topics that will always be important information for a reader in your industry.
Here are a few evergreen content ideas:
Frequently asked questions - Chances are these questions and answers will always be helpful for the reader. You might need to add to this list year after year, but you likely won't have to make too many changes.
"How To" Guides - Relevant "how to" guides for your industry will likely be knowledge that your prospects will be searching for year after year.
Tutorials - Showing a prospect how to use a product or service is important and normally, processes don't change much.
Testimonials - A review is a review. Good feedback is something that should always be highlighted, and never diminishes in value.
So how do you make evergreen content?
Focus on language that is timeless.
Don't add unnecessary dates - especially in the URL.
Avoid speaking about timely events or circumstances.
Now it's important to note that as a blogger for your business, you shouldn't ignore trends and industry news. There's a time and place for this on your blog. But you should keep a record of what blogs are trend-focused, so you can go back and easily update these year to year. This will keep all your content fresh and valuable both to readers and search engines.
7. Optimize Your Images with Alt Text
Don't forget about your images. If you're smart, you're probably including a variety of images in your blog that help explain and support your content. Images also break up your text and make your blog more attractive to read.
But it's easy to forget about image optimization. As smart as search engines are, they can't quite yet understand what an image is referencing without some contextual text. This is known as image alt text - and it's essential for a high-ranking blog post.
When writing your image alt text, think of phrases that are descriptive in a helpful way. They should explain what the image is about, and also incorporate your long-tail keyword phrase when relevant. Keep the following in mind when writing your alt text:
Be specific
Keep it under 125 characters
Don't use "image of…"
Simply describe the image
Use keywords when relevant, but don't keyword stuff
If you're a HubSpot customer, the SEO Panel will automatically recognize if you've optimized your images with alt text, and remind you if you haven't.

8. Don't Use Too Many Similar Topic Tags
Finally, a common and often overlooked mistake when optimizing your blog for search is misusing topic tags.
Topic tags are used to organize your blog content. They are usually the "category" that your blog falls under, and typically your blog lander will list out these categories, making it simple for your reader to find a relevant post under these categories. Sometimes bloggers will tag their posts with multiple topic tags, thinking this will help their blogs be found. But using too many similar tags can actually get you penalized by Google for having duplicate content.
Every time you create a topic tag, you're actually creating a new website page where the content from those topic tags appear. By using too many similar tags, Google thinks you're showing the content multiple times throughout your website. And this can affect search rankings.
So keep it simple. Tag the most relevant topics, but don't go overboard.
Use this Checklist to Optimize Your Blog
When you get ready to write your next blog post, have this list handy and walk through it step by step. You'll begin to realize that it doesn't take much to boost your search rankings. By being intentional about the words you choose, the format you use, and the topics you write about, you'll begin to see your blogs rank higher and attract more traffic.
The biggest thing to remember when optimizing a blog for search is to write for the reader - not the search engine. Your content will rank the highest when you're writing to solve a reader's problem, and using words, images, and a format that is designed to help and inform.
After all, that's what search engines are looking for. So the best SEO tip we can give you is to stop writing for the algorithm and write for the person. The rest will follow.