In the promo products industry, we get asked a lot of questions about promotional product ROI.
"How do I know I'm getting a return on investment through promo items?"
"Are they worth the investment?"
"Do prospects actually care about these products?"
Your questions are completely valid, and we understand your concern. Ordering giveaways for your business takes planning and research. The last thing you want to do is waste time and money on giveaways your customers and clients won't appreciate.
You want to see results from your investment, but there's a problem – how can you measure the results?
Defining ROI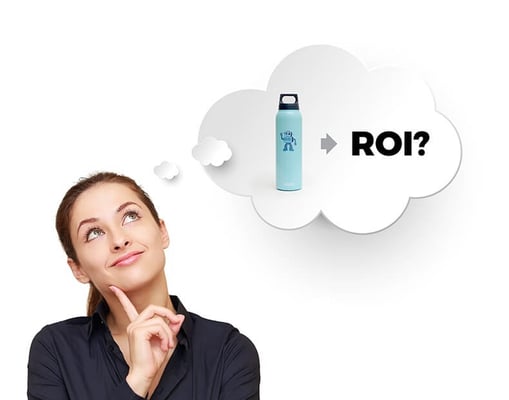 Marketing return on investment, or ROI, is a percentage used to measure profitability. It's also a formula that many marketers dread, and sometimes even avoid, calculating.
While it may not be glamorous, this metric is part of the business. Unfortunately, as you know, measuring the ROI from promo products is not as straightforward as measuring the ROI from, say, a digital marketing campaign.
Researchers have found that advertising specialties remain less expensive per impression than most other forms of advertising. With a low CPI (cost-per-impression), giveaways are a cost-effective way to promote your business.
But before you order products for your business, it's important to understand the value of the investment. With other forms of marketing and advertising, this is often done by dividing net profit by the total investment, and then multiplying by 100 to reach a percentage. But ROI in the promotional products world goes much deeper.
First and foremost, are you viewing your investment from a dollars perspective, or are you focused on making an impression on customers and clients? If your goal is the latter, you really want return on impressions.
Return on impressions is an ROI metric that focuses on brand image. Promotional products are known to leave impressions, and you can measure the impact of your investment through consumer response. Rather than viewing your company's investment from a monetary standpoint, return on impressions centers on what's really important – the customers.
Here are a few ways marketers can measure promotional product ROI, without even using a calculator:
1. Staying Power
Useful products have the power to make an impact because they fit into the everyday lives of consumers. Giveaways that are built to last also have more staying power. When researchers asked people how long they typically keep giveaways, the average was close to 8 months. Some were kept even longer, depending on the item.
It's important to remember that every time your customer uses your product, they are promoting your brand. The chances of others noticing your name or logo increases when your giveaways last for months. You can increase your ROI through staying power with products that are long-lasting and useful.
2. Brand Image
You already know that promo products can improve brand image, but you may not know that 85% of promo product recipients could identify the advertisers on the items they owned.
Giveaways increase awareness, and they can improve your brand's overall image. Customer perception of your brand has an influence on your success. Promo products are a great way to enhance brand image. A Promotional Products Association International (PPAI) study asked respondents to recall the specific product, advertiser, and message of a promotional item they had received in the past two years. 76.2% could recall all three key pieces of information.
A positive brand image increases return on investment and return on impressions because your company is more likely to be remembered by consumers. If you're giving away promo products to attract prospects, your product could be their first impression of your business. Ask yourself – "how do I want my company to be perceived?" when ordering for trade shows and events.
3. Customer Reactions
Promo products differ from other forms of advertising because they are personal. Consumers see ads on TV and in print, but with giveaways, they get to physically hold the advertisement. When a marketer hands out a promo item, they are creating a bond with the recipient. This is a personal way to reach out to your target audience.
Thoughtful products show appreciation for a target audience. 69 percent of consumers would pick up a promo product if they deemed it useful.
You can measure your company's investment by focusing on your customers, and presenting them with giveaways that make them happy. Consumers will have a positive reaction to products that grab their attention, and your thoughtfulness will also be appreciated.
You can measure ROI, without doing any math, by thinking about return on impressions. The way you reach out to customers matters, and it helps improve staying power, brand image, and customer reactions. The next time you hear "ROI," don't cringe – think about the impression your promo products are making on customers.