You know how important content is to the buyer's journey. And you've jumped full force into a content marketing strategy. Each month you spend valuable time and resources on crafting strategic content for each phase of the funnel.
But where's the pay off? How do you know if this content you're creating is actually attracting prospects, converting leads, and delighting customers? You have to measure your content marketing ROI.
Content marketing return on investment (ROI) goes beyond demonstrating the value of your work. It's about proving whether or not the content you're producing is positively impacting business goals such as lead and revenue generation. And if you can prove ROI, the more likely you'll receive the coveted 'green light' to produce more valuable content.
So, do you have a content marketing ROI report that you regularly analyze? No?
That's okay, you're not alone. That's why we put together this guide on content marketing ROI. It includes an overview of what content marketing is, the intuitive formulas needed to measure content marketing ROI, and the most important metrics you should track to prove the value of your content.
What is Content Marketing ROI?
In order to fully understand content marketing ROI, let's first clearly define what return on investment means. Stated simply, ROI is the difference between an investment and the return you get based on your investment.
Content marketing ROI, however, refers to the positive financial contribution of your content efforts on business goals and objectives and are connected to substantial metrics and KPIs. These should be data points such as the total number of leads and revenue total rather than vanity metrics such as the number of social shares and impressions.
Content marketing ROI is more difficult to measure than other marketing initiatives such as pay-per-click advertising (PPC). In a PPC campaign, ROI is pretty straightforward. You can easily view the total cost investment and tailor the campaign to improve key metrics such as conversion rate and cost per conversion. But when it comes to content marketing, ROI gets a bit trickier.
There's a common misconception among marketers that a successful content marketing campaign means a high ROI. But in reality, these are interdependent. How could a successful content marketing campaign not result in a large return on investment? Well, let's take a look at an example.
Let's say you're a content marketer and you've just created a high-quality SEO-rich blog post that is ranking 2 in Google SERPs. You're extremely proud of your hard work and you're ready to create a report that illustrates the impacts of your content. At first glance, the high number of page views and increased website traffic is encouraging. But after digging deeper into the analytics, you realize that despite being a high-quality piece of original content, it has resulted in zero ROI for your company.
In other words, increasing website traffic, generating brand awareness, and having a robust backlink strategy is not enough if it doesn't result in meaningful and measurable revenue generation. While these vanity metrics provide a basic benchmark for gauging content marketing success, organizations need to find a way to illustrate content marketing ROI.
An Intuitive and Effective Formula for Measuring Content Marketing ROI
Content marketing is not a niche marketing tactic. In fact, 91% of B2B companies utilize content marketing to generate more leads, build customer loyalty, and boost sales revenue. But what's the point of spending time and money creating a robust content marketing strategy if you are unable to demonstrate its financial implications? According to The CMO Survey, a surprising 65% of marketers can't quantitatively demonstrate the impact of their marketing efforts.
While there are several formulas for effectively measuring the ROI of content creation, the formula below is perfect for quick calculations. An intuitive, easy-to-use formula has a higher likelihood of being consistently used rather than a complicated formula that may provide granular insights. It goes without saying, successful digital marketing shouldn't require a refresher in mathematics.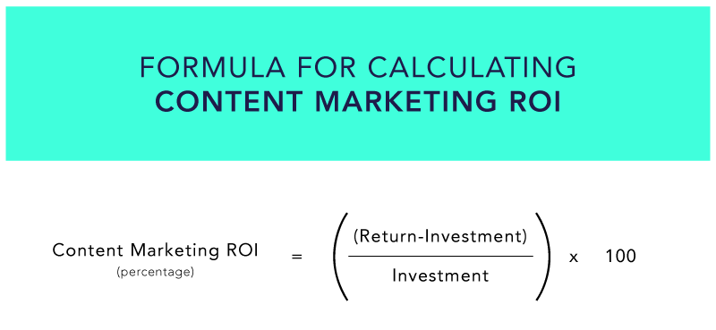 Now that we have our formula for calculating content marketing ROI, let's see it in action. For example, let's say you create a high-performing SEO-rich blog post that results in generating $5,000 in sales. In order to determine your content marketing ROI, you'll need to subtract the total investment from your returns. Be sure to calculate your total investment rather than just the cost of one piece of content.
Total investments can include:
Company overhead factor
Paid ad spend
Customer relationship management (CRM) software
Pay rates for all personnel involved in content creation (account managers, graphic designers, editors)
After calculations, you find your total investments add up to $2,000. So if we plug in our returns and total investment into our intuitive formula, we can clearly see the fruits of our content labor with a content marketing ROI of 150%.
(Return) $5,000 - (Total Investment) $2,000 = $3000
$3,000 ÷ $2,000 = 1.5
1.5 x 100% = 150% ROI
Businesses should leverage their historical performance in order to set realistic ROI benchmarks for their business. But a general rule of thumb is if you spend less on content creation than you earn in revenue, your content efforts are worth continuing.
Top Three Content Marketing ROI Metrics to Track
There is an overwhelming number of content marketing metrics to gauge the profitability of your content marketing efforts. However, there are three main metrics that matter most: content engagement qualified leads, and sales volume.
Many marketers fall victim to the classic "over-tracking" mistake. They cast too wide of a net and attempt to track everything while losing sight of their main goals. In order to successfully prove your content marketing strategy is profitable, we suggest strategically choosing a few metrics that best align with your campaign goals.
Content Engagement
The first step to implementing a profitable content marketing strategy is to develop information-rich content that keeps audiences informed and engaged. Content engagement metrics dig deeper into specific audience behaviors and begin to uncover how prospects interact with content. Here are the two main metrics you can leverage to track content engagement.
Bounce Rate - Represents the percentage of website visitors that enter a site without taking a desired action. A low bounce rate on a website page is indicative of valuable content as visitors are staying and taking the time to absorb information.
Time on Page - A metric of the time website visitors spend on different pages. This metric provides insights on content that is underperforming, providing an invaluable opportunity to optimize and inject information that resonates better with the target audience.
Qualified Leads
One of the main reasons B2B companies leverage content marketing is to generate more qualified leads. Qualified leads are prospects that have not only entered the marketing funnel but are actively showing interest in your products or services. A robust customer relationship management (CRM) software like HubSpot has tracking capabilities that enable users to keep tabs on qualified leads through content offerings and form submissions.
Sales Volume
When it comes down to brass tacks, decision-makers will place the greatest emphasis on sales volume metrics. This should come as no surprise as the ultimate goal of your content marketing campaign is to nurture qualified leads and convert them into repeat customers.
In order to effectively measure sales volume metrics, you need to analyze the following:
Conversion Rates - The percentage of website visitors that make a purchase.
Page Value - Website performance data that highlight the pages that generate the most revenue.
Total Transactions - The total number of purchases made at any given time.
Start Measuring Your Content Marketing ROI
The need for a repeatable, effective, and intuitive process for evaluating content creation has transitioned from a business luxury to a business necessity as content marketing continues to grow in popularity. Content marketers that clearly define their content marketing ROI are better positioned to convince key decision-makers to expand their content creation efforts.
Now that you have a comprehensive understanding of content marketing ROI and are equipped with an easy-to-use formula and the right metrics to track, the only thing left to do is to start creating more information-rich content that nurtures leads and drives revenue generation.