Sales enablement may have started out as a business buzzword, but it's evolved into a sales requirement.
Gone are the days where sales reps can rely solely on their outgoing personalities to win deals. Competition is steep, buyers are empowered, and the world has turned virtual. Today, sales enablement training programs are what drive businesses to revenue growth.
Why is Sales Enablement Training Important for Companies?
Sales enablement is a broad term, but essentially it can be defined as any activity, tool, training, coaching or practice that enables salespeople to sell more effectively and efficiently. It started out as a trending business philosophy that's turned into an organizational best practice.
Why? Because it's clear who uses it and who doesn't.
Let's take a look at the findings from HubSpot's 2021 Sales Enablement Report. The survey took a deep dive into sales teams across the globe and their performances in the past year. According to the report, 65% of sales leaders who outperformed revenue targets had a dedicated sales enablement person or team in place.
It's clear that investing in sales enablement can lead to revenue growth, especially during a period of great change. What's even more interesting is the amount of sales teams that have not only adopted sales enablement training, but also hired specific people to help implement it. As you can see from above, the majority of sales leaders surveyed (59%) have a dedicated sales enablement person or team, separate from their sales managers or marketing team.
The best sales enablement programs will have dedicated team members solely focused on empowering sales teams with the tools, resources, and sales collateral they need to be successful. They bridge the gap between sales and marketing teams, and create a seamless process for the sales team to use marketing resources to drive revenue growth. And it obviously works.
So How Do You Launch a Sales Enablement Training Program?
If you're leading the charge of your business's sales enablement efforts, you might be wondering where to start. Hiring a sales enablement manager is critical. This person should have experience in both sales and marketing. This is because they are responsible for developing the strategy, overseeing technology implementation, and providing onboarding and training while keeping all parties informed and involved.
Oftentimes this role is most effective when assumed by a third-party leader. Because this person or team is in charge of uniting both sales and marketing teams, outside guidance is often helpful for the smoothest transitions.
Looking for Guidance?
Our agency has guided several sales teams and businesses to success by implementing a sales enablement strategy, and we'd be happy to start a conversation with you about your own sales enablement goals.
Once you've defined who will lead your sales enablement charge, there's a clear process we recommend following. These six steps will help you successfully implement a sales enablement training program for your business.
1. Establish a Sales Enablement Vision
Like any growth strategy, a sales enablement program needs to have clear revenue goals, targets, and objectives. This will give your program direction, and help as you evaluate, analyze, and report on what's working and what's not.
To determine what your goals should be, we always recommend accessing where you are right now. Sales enablement requires a close alignment between your sales and marketing teams. Take a hard look at how you operate right now and determine what areas might need improvement. Here are some questions to think about as you evaluate how well your sales and marketing teams currently work together.
What is your current process for setting company goals and translating them into departmental goals?
How clearly defined is this process? Do employees at all levels understand it?
How do you currently set marketing and sales goals? Are these shared or separate goals?
Does everyone in your organization clearly understand your company's target buyer?
How do leads get passed between marketing and sales? Is this process clearly understood by both teams?
Do you have a content creation process in place? Is this content currently used in your sales process?
What technology are you currently using for marketing and sales? Do you have a CRM and do you use sales automation tools?
Once you've assessed where you're currently at, it will be a lot easier to create a guiding vision and actionable goals for your sales enablement training program. Revenue goals will be unique to your business, but a guiding vision can help you determine what those revenue goals should be.
Business consultant John Kotter says it best. "Without a sensible vision, a transformation effort can easily dissolve into a list of confusing and incompatible projects that can take the organization in the wrong direction or nowhere at all."
You should be able to describe your vision in five minutes or less. Imagine being able to repeat it in a short pep talk or speech that gets your team excited about the change to come. Once you have this guiding plan in place, your actionable goals tied to revenue targets will fall easier into place. Your team will also be more likely to come together in agreement and support your sales enablement training program if they can see the long-term value it provides.
Next, determine what this vision will cost. This figure will help you determine what your revenue goals should be. Consider the following:
What resources do you have internally to help you accomplish this vision?
What resources do you need that you don't have?
How much more revenue do you need to realize this vision
2. Create a Lead Qualification Framework
Once you have your vision and goals in place, the next step is to determine how many leads and customers you'll need to make this happen. This requires a deep understanding of who your customers are, and even who your customers aren't. Everyone on your team should be on the same page as to who you're trying to target as a customer. This will help guide the marketing team with their content creation, and your sales team with prospecting, while ensuring both teams aren't wasting time on negative personas.
A lead qualification framework is a fancy way of saying a standardized process used to decide whether a lead is a good fit for your product or service. Effective lead qualification frameworks need to start with the buyer. The following steps will guide you as you create your own process to qualify leads:
1. Define who your ideal customer is.
In order to determine who's qualified and who's not, you have to define your qualification standards. Who is the ideal customer that your marketing teams are focused on and your sales teams are going after? Creating an ideal customer profile is a great way to define your target audience. Here are some questions to discuss between your marketing and sales teams to help you create your ICP:
What economic factors, like company size or revenue, make a customer ideal or not?
What type or types of industries are ideal customers?
Are there legal standards that are required to purchase your products or services?
Are there any other attributes that make a buyer idea or not?
The answers to these questions will help you put together a profile of your ideal customer. Here's an example of a B2B company's ICP:
Industry: Manufacturing
Location: Northeast America
Size: Less than 250 employees
Budget: $50,000
2. Determine what makes your ideal customer sales-ready
Even if a prospect fits within your ICP, that doesn't necessarily mean they're ready to talk to you. That's why it's essential to measure what makes them ready to buy. This requires outlining the buyer's journey. Determine what steps prospects take in the sales process. Here are some examples:
Website interactions including content conversions, forms submitted, live chat conversations
Email engagement including email opens, clicks, replies, or unsubscribes
Social media engagement including likes, comments, and conversations with sales
Take the above actions and break them down by the level of interest they indicate. For example, someone that opens an email may be categorized as passively interested in your products, whereas someone who clicks a "contact us" button, would be classified as sales-ready. Someone who unsubscribes would be classified as uninterested, and someone who downloads a product guide might be actively interested in your product or service.
Okay, here comes the fun part. Once you've defined your ideal customers and determined what makes them sales-ready, it's time to combine the two. This is what HubSpot calls the Lead Qualification Matrix. Here's an example you can use: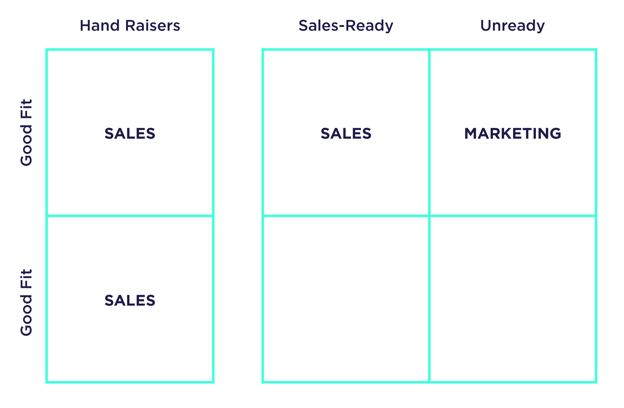 This six-category matrix will help you define which leads can be passed on to the sales team, and which need continued nurturing by the marketing team. This type of lead qualification framework will help both teams determine who they should be targeting, and who should take ownership and responsibility of different prospects in regards to their specific stages in the buyer's journey.
3. Align Marketing and Sales Together
Once you have your lead qualification framework outlined, it's time to align your marketing and sales teams together, so no lead goes untouched. A good way to keep everyone accountable, and your business on track towards its revenue goals, is to create a service level agreement (SLA) between your marketing and sales departments.
What is a SLA? It's a two-way agreement, with marketing promising a certain number of leads to sales and sales promising to follow through with those leads in a given timeframe.
To create a realistic SLA you'll need to dig into data from the past year of sales. Record the answers to the following questions:
How many qualified leads did you generate?
How many leads became sales opportunities?
How many of those sales opportunities closed into customers?
What was the value of each sale?
Use this information to calculate the following metrics:
Lead-to-opportunity conversion rate or # of opportunities ÷ total number of leads
Opportunity-to-close conversion rate or # of new customers ÷ total number of opportunities
Average deal size or sum of all deals ÷ # of deals
Have your numbers ready? You'll now use those to calculate your SLA. Use the following questions to walk you through the process.
What's your revenue goal?
How many deals do you need to close to achieve that goal?
How many opportunities do you need to close that many deals?
How many qualified leads do you need to have that many opportunities?
The number you come up with for question four determines what your marketing team's goal should be: the number of qualified leads they need to generate for the sales team.

Next, the sales team needs to contact those leads. Their responsibility is to do so as quickly as possible. A good rule of thumb is no longer than 24 hours, but you'll have to do some experimenting to discover the optimum time frame for your business and sales team.
And there you have it — your first SLA. Keep in mind that this is just a starting point. You'll want to consistently measure and recalculate your SLA numbers as time goes on to figure out what's most beneficial for your bottom line and revenue goals.
4. Start Holding Regular "Smarketing" Meetings
Having a SLA is just the first part of aligning your sales and marketing teams together. In order to maintain cohesion between departments, it's essential to hold regular meetings. HubSpot refers to these accountability check-ins as "smarketing" meetings, and it's a necessary part of a sales enablement program.
The cadence of these meetings is up to you. We recommend having at least a monthly check-in, but for some business verticals, weekly meetings might make more sense.
Smarketing meetings should be centered around detailed discussion of closed-loop analytics, or reports from both marketing and sales teams. This will keep everyone accountable for reaching their SLA goals. These meetings should also focus on future strategies as goals change throughout the year and revenue targets shift.
Here are some discussion points to keep in mind as you plan your Smarketing meeting agendas:
Review qualified leads
Discuss sales follow up efforts
Discuss any changes to lead qualification standards
Technology updates
Content updates
Keep in mind that these meetings should be dedicated to solving problems. There's often a lot of tension between marketing and sales teams. This is a place where teams can come together, work out their problems and come up with an aligned strategy to accomplish the goals set by the SLA.
5. Develop a Content Strategy
By now, it's pretty understood that content is an essential part of marketing. But it's not just about creating content. There needs to be a roadmap and fluid content strategy to incorporate it into the sales process effectively. Without it, content will fail.
Having a content strategy will help both marketing and sales teams work together to create materials that assist both departments. Plus, having consistency in your content will ensure brand cohesion in tone, style, and voice across all sales collateral and outreach.
Start with the following steps to create a content strategy:
Take into account your SLA goals - How many leads is the marketing team responsible for bringing sales? What's the timeframe for sales to follow up? What's your revenue goal? These are the questions that will help frame your content strategy. Defining your goals in alignment with your content, will help you see the purpose behind that content, and determine where any gaps might be.
Perform a content audit - It's helpful to know exactly what materials you already have on hand. A content audit will help you focus your efforts on the content that's most effective to your sales process. Don't just make a list of your inventory. Analyze how these different materials are performing. This will give you insight into potential changes that can help improve lead generation, marketing processes, and sales success. Determine where the gaps are, and what additional pieces of content would be helpful or useful to your sales team and your customers.
Map out the buyer's journey - Now it's time to start creating content that will resonate with both marketing and sales. To do this, you need to map out the buyer's journey and determine what questions your customers are asking in each different stage. Then create content that answers each of these questions. This will ensure you have a comprehensive content strategy that reaches your customer at every stage.
Analyze and Report - Finally, keep track of what's working and what's not. Your content strategy is a living and breathing methodology, and it should change and adapt with your customers. Take a hard look at what types of content or sales collateral is performing well and create more of it. And at the same time, take note of what's not working or resonating with customers, and cross it off your list.
6. Implement Technology & Identify Gaps
Once you have your processes and content organized and laid out, it's time to think about the tools that can make these tasks easier for both your sales and marketing teams. The best technology will accelerate these processes while creating a cohesive, organized, and accessible place for all your marketing and sales collateral.
Start by accessing the current state of technology at your company with a tech stack audit. This will help you determine what tools are currently being utilized by your marketing and sales teams and the gaps that you should prioritize filling.
Every business's tech stack will look different based on the industry. But these three questions can be used across industries to ensure your technology is meeting the needs of sales enablement.
Does your technology have a centralized location?

For any sales enablement training program to work, there must be what HubSpot calls a "single source of truth." This is a system that both the marketing and sales teams can easily access which contains all of the data that marketing and sales decisions will be based on. We recommend using the HubSpot CRM.
Are your tools able to integrate with each other? Take a look at what you're currently using to automate tasks, publish content, or do sales outreach. Do they integrate with the core centralized location? The best tools will automatically feed into this centralized location, and not require double backing to enter extra data. When possible, get rid of any tools that don't offer this type of seamless integration.
Are there any gaps in your technology that need to be filled? Talk to your team members on both the marketing and sales side. Get their feedback on what technology is working and what's not, and what resources they wish they had. Also take a hard look at the tools you have now that might not be working as effectively as you thought. Determine if these gaps can be filled with additional training, or if it might be time to switch platforms or providers.
Empower Sales With A Sales Enablement Training Program
When it comes down to it, sales enablement training is really all about bringing your marketing and sales team together so they both can do their jobs more effectively. By establishing a sales enablement training program, you'll be opening up lines of communication between the two teams and making it easier for everyone to share content, materials, technology, and software.
If sales enablement resources are easy to find and access, they're much more likely to be used. This is a three-way win for your business. With sales enablement, your marketing team will see more value in their content efforts, your sales team will close more deals, and your business will see revenue growth.