Virtual events have been around since before the COVID-19 pandemic, but recently they are gaining immense popularity because of all the canceled conferences, parties, and social gatherings as the business world shifts to large-scale remote working, and social distancing requirements.
What Qualifies as a Virtual or Online Event?
Online events range from small Q&A sessions to large remote presentation-style conferences, to pre-recorded videos or recurring webinar series. They give the opportunity for people all over the world to attend and are budget friendly. Audiences love them—82% would rather watch a live video than read a social post and 74% of live video viewers say that real-time interaction leads to a better understanding of the brand.
Virtual events are also easily measured with analytics built into different streaming platforms. The depth and quality of tracking metrics is typically what you pay for, meaning free hosting tools have light reporting (like overall audience count) compared a paid tool with detailed reports on average attendance duration, engagement, etc. These deeper analytics give insight into audiences to measure if a company is providing the best content and solutions for customer problems, and measure the return on the time and resources invested in hosting the event itself.
There are hundreds of video streaming platforms out there, each with different means of streaming, virtual event capabilities, price, and reporting features to track these metrics and help get the most out of hosting a virtual event.
Before You Host
Set goals
When investing in any new strategy, it's important to properly set goals and determine how to measure success and prove ROI. Consider setting KPI's for the virtual event like:
Increase blog audience by %
Nurture existing leads to become sales qualified
Generate new leads
Increase website traffic to key pages
Increase social media engagement and followers
Plan every detail, outcome, and possible issue
It's important to carefully plan out a virtual event—prepare for anything to happen, and lock down unknowns before the event. Successful events have carefully planned execution at each stage to meet goals and maintain order for the optimal attendee experience.
Pick the right time. Make sure there aren't any conflicting events such as a major conference or webinar where everyone in the industry is already attending. Take time zones and normal schedules into account; not everyone can wake up early or work late to attend an event.
Promote the event. People aren't going to sign up if they don't know about the event. Share your event and what attendees will get out of it on social media, on the company website, a partner website, in blog posts, and through email. Give the public several opportunities to sign up to maximize attendance.
Prepare to troubleshoot technology. There's always a chance for something to go awry. Test connections, presentations, audio and video prior to the actual event in a full simulation to work out any kinks. Create a backup plan (just in case!) so the event can proceed without losing the audience's attention.
Be inclusive. Make sure fonts, images, and presentations are clear and easy to understand. Viewing a presentation on a screen is different than viewing it in person on a big screen. Make slides or a recording available to people who signed up but couldn't end up going to engage the inevitable portion of the audience that will find value in the virtual event, but simply couldn't attend.
Have an engaging element. Most platforms have some type of engagement feature like a comments section or poll feature. Companies get live feedback from the audience and it'll keep attendees interested.
As the details begin to take form, it's crucial to pick the right streaming platform to best engage your audience, track metrics for your goals, and be accessible. Luckily, there are a few great options to consider.
LinkedIn
LinkedIn Live allows organizations to connect with their network in real-time. It's a professional platform where organizations can create better connections with their communities and members in their industry.
Host on LinkedIn Live
Need two devices, one for streaming and one to monitor live comments.
A third-party broadcasting tool like Socialive and Switcher Studio.
Sync the broadcasting tool with a personal or company LinkedIn account.
Works with LinkedIn Events to create a native landing page with a unique URL.
What LinkedIn Live Measures
Engagement metrics. Likes, comments, and shares.
Lifetime awareness metrics. Watchtime, views, viewers, and viewers at peak.
Audience firmographics. Top pages, job titles, and locations.
Facebook Live
Facebook Live allows anyone to broadcast from a mobile device or desktop. Companies use this platform to connect with their audience on a channel most audiences already have. Hosting a live video on a familiar platform creates a connection with the audience so the company isn't just a website or logo, there are real people working behind it.
Hosting on Facebook Live
Stream natively through a personal or business page, and on a mobile device or desktop.

See the number of live viewers and a stream of comments while broadcasting.
Can stream up to 4 hours long.
Saves video to the profile once finished.
Facebook Live Metrics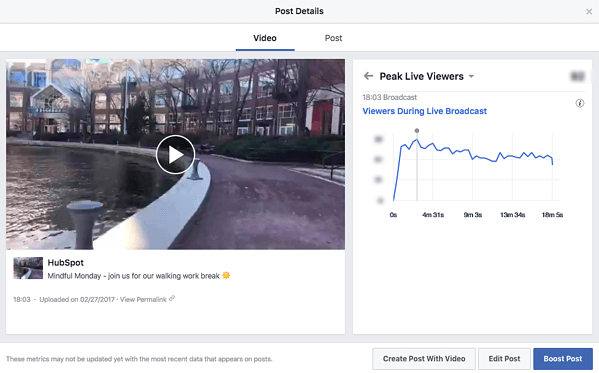 Peak live viewers, total views, average watch time, people reached, and the demographics of who watched the video.
Additionally, click into each metric to see how it changed over time during the live video.
See the typical viewer during the broadcast, based on their Facebook profile information.
Demio
Demio is a paid tool used for larger virtual events like webinars. It can host live videos or automated campaigns. Demio allows companies to create custom landing pages that align with their brand. Hosts can even "bring an attendee to the stage" by giving them access to the video and microphone.
Streaming on Demio
Send out the registration page link.
Share screen, show slides, and share downloadable handouts.
Private or public chat.
Polls that allow sharing to the audience.
Customizable replay pages.
Turn video into an automated webinar.
Set up with certain email marketing platforms to automatically segment lists.
Demio Metrics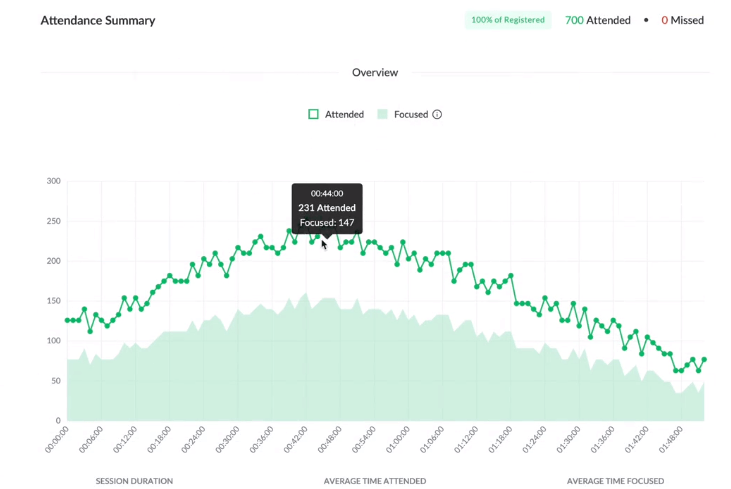 Total number of registrants.
Number attended and missed the webinar.
Registration conversion rate.
Average time attendees were in "the room" (having the tab open).
List of attendees that can be downloaded as a CSV file.
See the Results
Virtual events are the norm and will continue to be for the foreseeable future. Find the hosting platform that best fits your goals, company brand, and target audience. Invest time and resources into the platform that provides a seamless experience for attendees to maximize metrics and help everyone get the most out of a virtual event—your company, your pipeline, and your audience.