Just when we thought we figured out this whole virtual event thing, the hybrid event makes its entrance. Now the challenge is hosting a virtual and live audience, and how to engage both to create a successful hybrid event.
Sure, things get a bit more complicated. But hybrid events also can offer a lot of potential. By giving attendees options, you'll expand reach, while still capitalizing on the engagement opportunities a live event offers.
So what exactly is a hybrid event, and how do you host one? This hybrid event checklist will walk you through the what, the why, and the how of hybrid events. And by the time you reach the end of this post, you'll feel ready and empowered to host your very own hybrid event.
What is a Hybrid Event?
Let's start with the definition of a hybrid event. Simply put, a hybrid event combines a live in-person event and audience with a virtual component and virtual audience. This can either be live or recorded, depending on your event goals.
A successful hybrid event will integrate the physical in-person component seamlessly with an online audience. Both attendees, whether virtual or in-person, should be able to listen to speakers, engage with each other, participate in activities, and network.
It's important to note that a hybrid event is not just a live stream of an event to an online audience. A true hybrid event combines the best of both types of events, creating a truly engaging, and interactive experience no matter where the attendee is located.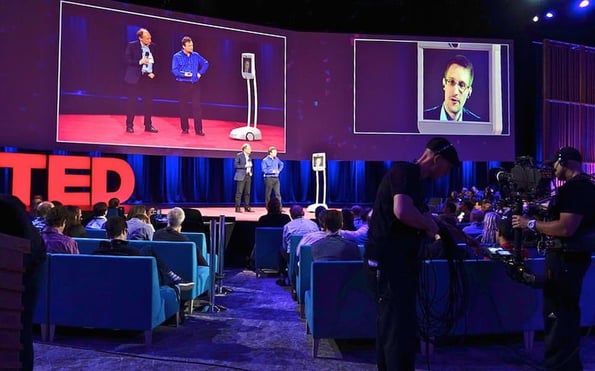 Why Transition to a Hybrid Event?
So you might be thinking this whole hybrid event thing sounds a bit complicated. Why not just stick to a virtual event? There's no denying that virtual events offer tremendous value. And there are situations where a strictly virtual event makes sense. But hosting a hybrid event opens the door to the benefits that in-person events offer, while still capitalizing on the value of virtual. It's the best of both worlds. Here's what hybrid events can offer:
More Engagement
When done right, hybrid events allow both audiences to connect and participate. This offers more engagement and interactivity than a strictly virtual event.
Flexibility
We all have those moments where we're planning on attending an engagement but something comes up. By hosting a hybrid event, you open up the possibility for those audience members who might have last-minute plan changes and would otherwise cancel. This gives flexibility and puts less stress on your attendees.
Increase in Reach
Even as life begins to go back to normal, and in-person events begin again, there will always be someone who can't attend for one reason or another. Whether your event is too far, or they just have another conflict, offering a virtual option to an in-person event will expand the reach. This allows those that might otherwise skip your event completely to still attend and thus engage with your brand.
Reduction in Cost
Depending on the size of your event, hosting a hybrid event can free up some event costs. If half of your attendees are planning on attending virtually, that's a whole lot of food, space, and maybe even travel costs you don't have to pay for.
Evergreen Value
A hybrid event makes it easy for you to create a full video library of recordings from your event. Simply include slides, speaker recordings, and online Q&A's from the event itself, and archive it on your website or give access to audience members for years to come. This also gives you the opportunity to go back and repurpose event content that can be shared on social media, through email marketing, or even created into blog posts or website content.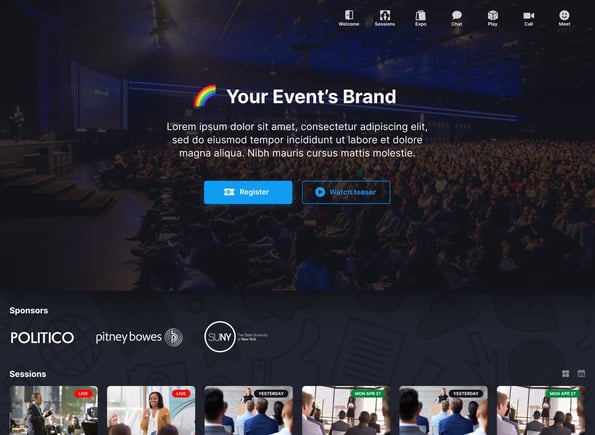 How to Host a Hybrid Event: Your Hybrid Event Checklist
Alright so now that we know what a hybrid event is and why it's valuable, let's get into the fun stuff. How exactly do you host one? We've put together this hybrid event checklist, broken down into the before, during, and after stages of your event planning.
Let's get started!
Before the Event
1. Set a Budget
Every event has a cost associated with it. Virtual events received a lot of hype because they allowed businesses, brands, and event planners major cost savings. Without the expenses of a physical venue or hosting attendees in-person, there's a lot of extra room for event marketing. When it comes to hybrid events, you'll have to budget for both the in-person and virtual portions of the event.
Now that's not to say that a hybrid event is still going to break the bank. There's a lot of room for cost savings, as you won't have to invest in quite as much space for a venue. If you limit the size, you won't have to spend a ton on refreshments or live entertainment either. Plus, with an expanded reach, you can invite more people to your event, which opens the potential for more liquidity from ticket sales.
So what all do you need to budget for? Hybrid events will still require using a virtual event platform and investing in technology to enable video streaming. Plus you will have the live venue, and possibly travel costs for speakers. It can be a lot to keep track of, so here's a shortlist of what you want to consider when hashing out your budget.
Hybrid event platform
Cameras and tripods
Studio microphones
Live venue
Speakers and/or travel expenses for speakers
Refreshments
Music or entertainment
Event swag or virtual event swag boxes
Related:
Choosing a hybrid event platform can be tough. We break down exactly what to look for, and list some of the best software apps out there in this guide.
2. Create a Balanced Agenda
Hybrid events are all about balance. You have two different audiences with two different needs. To make your event successful, you have to find the common ground between these two groups. Start by defining what each group wants from their event experience.
In-Person Audience
An in-person audience won't need as much hand-holding when it comes to engagement. They will likely be excited and ready to participate and connect with others. They've invested in being at your event, so they will likely expect a full day of sessions. They might not need as many breaks and will be more focused on any speakers or presenters.
Virtual Audience
Your virtual audience will prefer short, easy-to-digest content. They will need more attention when it comes to engagement, and they will likely be multitasking during your event. They might need or want more breaks, and be less inclined to network unless promoted.
Catering to a Hybrid Audience
So what's the middle ground? Consider breaking up your agenda. Don't have your virtual audience attend every single session that your in-person audience is attending. You can record these sessions, and have them available for your virtual audience to watch on-demand at their will.
Offer a select amount of sessions to both audiences. During these sessions, keep interaction a focus. Offer questions & answer portions of each segment, and come up with creative ways to engage both audiences. We'll talk about engagement activities and how to connect both audiences below. The bottom line to keep in mind when setting your agenda is to find a balance. Keep each audience's needs in mind, and cater to both. This will keep both sides engaged and present at all times during your event.
3. Create Event Buzz
As with any event, you want to get people excited. This is especially important when it comes to hybrid events. The more excited people are, the more likely they are to engage with each other, and the more connected overall your audience will feel.
Event buzz can also help spread brand awareness, especially when leveraging social media. Attendees who are excited about attending will spread the word via their own private channels. This could lead to other prospects interested in attending, or just introduce your brand to someone new. Event buzz is essentially a user-generated content strategy that can be valuable to your marketing efforts as a whole.
Here are a few ideas to help create event buzz for your hybrid event:
Create an event hashtag
Create an event page on your social platforms
Add a countdown clock to your website and email campaigns
Encourage attendees to share photos of their swag
Share unboxing videos
Create a hype video or event trailer
During the Event
4. Host Speakers On-Site
When hosting a hybrid event, you have an option to have your speakers remote or have them on-site. We suggest making every effort to have any speakers, panels, or other educational sessions live with your in-person audience. Here's why.
First, and foremost, it makes your brand look more professional. Having speakers on a stage, with your company or event logo in the background gives more credibility to your speakers. There's much more energy and interaction when speakers are on stage, and it will be seen and appreciated by your virtual attendees.
It also will help virtual attendees feel more connected. They'll be able to see and hear reactions from the in-person audience and tap into the energy of the crowd. Despite being remote, your virtual audience will feel like they're part of the live experience.
5. Connect the Online & In-Person Audience
This is a tough, yet very critical step, of any hybrid event. If you want to truly capitalize on the benefits a hybrid event offers, you have to find a way to connect your two-segmented audiences. One of the main reasons people attend events to begin with is for the networking aspect. So by bridging the gap between the online and offline audiences, you'll create a much more valuable experience for event attendees.
Luckily, this is where your hybrid event platform comes in handy. The best software will offer various avenues of engagement for both audiences. This can come in various forms like live polling, chat rooms, direct messaging, or even digital business card exchanging. The best hybrid event platforms can even offer virtual booths for sponsors and exhibits.
Keep in mind that both audiences should find value in these engagement methods. This requires communication with your attendees. Make sure your in-person audience brings their laptops or devices, so they can communicate with the virtual audience. Also, make sure your speakers are engaging with the virtual audience as well. By incorporating question & answer activities from both sides (virtual and live), you can ensure both audiences are engaged while learning from each other.
Another idea to encourage networking is to build meet and greets into the agenda. Make these meet and greets virtual and available to both in-person and remote audiences.
It's important to make these engagements feel natural. Don't force your guests to do anything. But by encouraging both your in-person and remote attendees to use the interactive tools built into your software platform, it will seem like a normal networking opportunity provided by the event.
6. Use Social Media to Encourage Engagement
Social media is a valuable tool before, during, and after your event. But during your event, it can be utilized to encourage both sides of your audience to engage with each other.
Here are a few different ideas:
Encourage your live attendees to post a selfie with a remote attendee on social media
Have your live attendees connect with a remote attendee and share their favorite session so far
Have remote attendees connect with live attendees and share photos of their event swag at home
Remember when we talked about event buzz? If you followed through with that advice, you'll have created a special social media channel for your event. Use this page to keep a live feed of event happenings throughout the day. Encourage attendees to share photos, post comments and join in on any group conversations.
Keep in mind that the social presence of your event will depend on how much effort you invest in it. If you neglect to post anything on social media about what's happening during your event, don't be surprised if your audience doesn't engage with your brand throughout the day. By being an active and vocal presence on this platform, you'll see a lot more engagement come to fruition.
After the Event
7. Create a Video Library
Following your event, you want to capitalize on one of the biggest advantages of the digital part of your hybrid event. All the content that you've recorded and made available to attendees during your event should be made evergreen and housed in a place where it can be used long after your event is over.
Many hybrid event platforms allow you to create a space where you can share your resources and store your videos. Keep this in mind while you're shopping for the best provider.
You won't want to just store your videos statically though. Consider repurposing these pieces of content into new resources that can be actively integrated into your future marketing strategy. Here are just a few ideas of content you can create:
Create training courses from recorded sessions.
Establish a "lesson of the day, week or month" to share on social media.
Publish video tips to be used in email newsletters or sales outreach.
Write blog posts for each recorded session, and include the video on each post.
Get creative with your repurposing, and you'll see a much greater ROI from a hybrid event than a traditional live event can offer.
8. Analyze the Success of Your Hybrid Event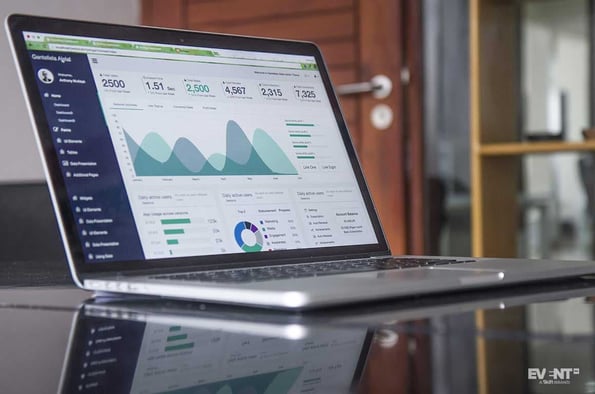 Once everything has been said and done, and the dust settles, it's time to sit down, roll up your sleeves, and dig into the metrics of your event. One of the nice things about having a hybrid event platform is it makes the analytical process a whole lot easier. Your software system likely tracked behaviors such as registration, login, chat, views, downloads, and shares. Now all you have to do is put some context behind these metrics, and use them to plan your follow-up strategy and as a guide for your next hybrid event agenda.
When analyzing these metrics, pay special attention to the engagement level of each attendee. For those with a high engagement score, Consider sending more targeted follow up to those with high engagement scores. Maybe you have your sales team reach out with a specific piece of content, or you send a targeted email with additional resources pointed towards the specific categories they were engaged the most with during your event.
9. Follow Up With Both Virtual & In-Person Attendees
This brings us to our last step in our hybrid event checklist. The follow-up.
Best practice with any event is to thank your attendees. This essential step should not be skipped when hosting a hybrid event. We encourage you to take things even a step further with a targeted and strategic follow-up approach. Oftentimes this can be the most valuable part of the whole event.
You've just provided this exceptional educational experience for your attendee, and given them a chance to truly connect with your brand. Now, it's time to follow through and encourage them to take the next step with your company. Here are some critical follow-up messages you should be sending after your hybrid event:
Thank you emails to all attendees. This is a small, but important step. Thank your audience for their time, send some event highlights, and share some photos that capture the energy and brand connection your event offered.
"Sorry we missed you" emails to those that signed up for your event but didn't show. Include event highlights in this email showing them what they missed. This acts as another touch point to any leads your pre-event marketing might have sparked up.
Send a post-event survey to attendees. This will help you get insightful feedback on what you should improve for your next hybrid event.
Have your sales teams send personal follow-ups to your event attendees too. This reinforces the messaging from your first "thank you" email while adding a personal and human touch.
Use these Steps to Host Your Own Hybrid Event
Don't be intimidated by the new and unknown of a hybrid event. When you really get down to it, a hybrid event just combines the best features of an in-person and virtual event, creating an even better opportunity for your brand to connect and engage with audience members.
Keep in mind that even as events return to normal, our audience members have changed. The virtual world has changed events forever. Audiences will expect their brands to offer options and flexibility. So it's a critical time to learn the hybrid event process and start fine-tuning your strategy.
And really, with the right tools and knowledge more accessible than ever, hybrid events aren't too difficult to figure out. The extended reach and increased opportunity to connect for both your audience and your brand make hybrid events a challenge worth stepping up to.