As B2B marketers, we focus a lot on LinkedIn. That makes sense. It's the social hub for decision-makers, thought leaders, and C-Suit members in the B2B space. But what if I told you there's another platform out there - that's claimed the crown for the go-to network for B2B research? Would you want to tap into it?
Facebook is often overlooked as a lead generation tool by B2B marketers. Yet, it's the largest social network and swimming with potential B2B leads. Forty eight percent of B2B decision-makers use Facebook for research. And these decision-makers spend 74 percent more time than other people on Facebook.
So yes, Facebook is an effective B2B lead generation tool. But it takes thought and strategy to see the results you're looking for. These five tips will walk you through how to generate B2B leads on Facebook.
1. Take Advantage of Facebook Groups
Just like LinkedIn, Facebook has a groups feature that, used the right way, can be extremely effective in generating B2B leads. How? Let's first look at the audience potential.
Currently, there are more than one billion people using Facebook Groups every month. These communities are areas where users discuss their passions, share thoughts, plan events, and build relationships. Sure, a lot of them are designed for more personal interactions and B2C networking. But, if you seek out industry-specific groups, you'll notice excellent opportunities to engage with other professionals in your space, while using it as a platform to build yourself as a thought leader and brand authority.
Here's an example of a dialogue that took place in the Facebook Group B2B Sales Professionals Group.
If you follow and engage with the right groups, you'll be given the opportunity to share knowledge about your product or service for prospects that are actively seeking out answers.
Another option is to create your own Facebook group and invite relevant prospects to it. For instance, if you're a software company for private schools, maybe you create a group called "School Management Software Hacks". Here you can share helpful information to your target audience on how they can use various software to their advantage. Build trust by sharing unbiased tips, but also present your services as a solution when group members pose problems that your products or services could help solve.
Here are some ideas for valuable content you can post in either the group you created or relevant Facebook groups to your industry:
Thought-provoking questions or answers to existing questions
Expert-led interviews
Infographics relevant to your industry that shares insightful stats or facts
Industry-related news and articles
Polls or surveys
Video tutorials
Remember, don't be quick to sell on these pages. Whether you're posting in your own Facebook Group or as a contributor in another, always focus on providing helpful and valuable content to your audience. The goal is to position your brand as an authority in your industry. As a result, prospects will eventually turn to your product or service as a solution. If trust is effectively built within Facebook Groups, you'll begin to see it generate B2B leads.
2. Come Up with a Solid Facebook Video Strategy
Video is everything on social media, and Facebook is no different.
By leveraging Facebook's video capabilities you have the power to significantly increase your engagement rates. According to Hootsuite, Facebook's average engagement rate is .18%. But the average engagement rate for Facebook video posts is .26%. That's a significant increase, and strong motivation to come up with a solid Facebook video strategy.
Here are some ideas on how to use the different types of Facebook videos to help generate B2B leads.
Standard Video - Use the standard video feature on Facebook to share educational content that helps push your target audience further down the funnel. Have your sales reps share videos that provide valuable information about a certain product or service. This could be tutorials, product unboxing, or just valuable knowledge related to your industry. Always make sure reps include some sort of CTA or action point for prospects to take at the end of these videos.
Facebook Watch - This is Facebook's version of streaming video. In Facebook's official announcement of the video platform, they describe it as a way to "connect people, spark conversation and foster community.
This means it's another great way for B2B marketers to humanize their brand by creating video content that helps facilitate discussions. Facebook Watch is a great platform to launch a content or interview series. Maybe you create a weekly discussion with various industry experts or influencers. This will get people talking, while also providing valuable insights to your B2B prospects.
Facebook Live - Hosting a webinar or virtual event? Facebook Live is a great platform to either extend your audience or use it as your primary host. To use it as a lead generating tool, keep the following tips in mind:
Tag your business account and other followers that might be interested in your video.
Interact with viewers via the comments. Respond to questions, and post your own.
Make sure to include a call-to-action in your video description and in the video itself.
3. Connect with Prospects Using Facebook Messenger
One of the best ways to put a human face to your brand is to interact with your prospects as a human. That's why conversational marketing has such a huge role in generating leads. Facebook Messenger allows you to take advantage of conversational marketing right on the platform itself. By answering the questions, complaints, or concerns of your prospects - instantly - you'll help reduce friction while improving the customer's experience.
You can also use Facebook Messenger to take your advertising strategy to the next level. The platform allows you to send personalized messages as an ad campaign. To generate more B2B leads on Facebook, we recommend utilizing this feature with a Facebook Messenger marketing platform like MobileMonkey. This software gives you the ability to provide automated responses to users. If they respond to your message, they automatically become a lead in your CRM.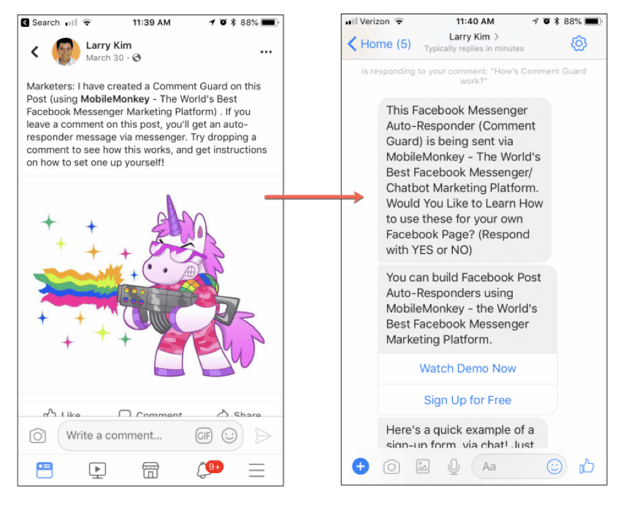 Finally, Facebook Messenger can be a valuable tool to reach out directly to valuable prospects. Sometimes it takes a personal touch to get prospects to make that final leap to becoming a customer. Reach out to professionals you interact with on Facebook Groups, thorough comments, or other posts. This puts yet another personal spin on your brand that your customer base and prospective audience will value.
4. Target New Prospects Using Facebook Ads
Alright, now advertising. Facebook has a robust toolbox of targeting methods for B2B marketers to take advantage of. This will ensure any ad campaign you run is getting in front of the right people, at the right time.
Curious about how to use Facebook's extensive targeting options? We created this helpful guide that walks you through exactly how to target your buyer personas with Facebook advertising.
When using Facebook advertising, you can choose from 11 various ad campaign objectives.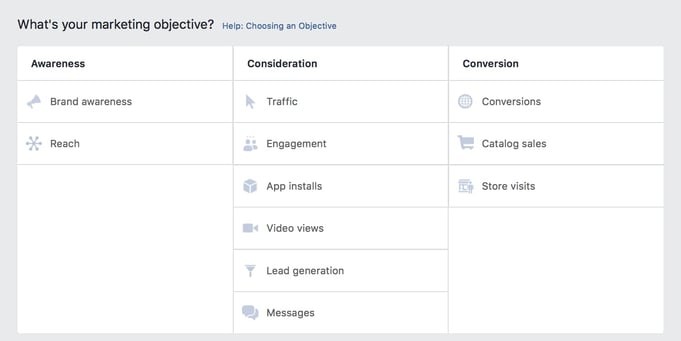 Since this post is about generating more B2B leads, we'll focus on lead generation campaigns. These ads are tied to a form. If a user clicks on your ad's CTA, they are given a form to fill out. The form is usually already filled in with their contact information, pulled right from Facebook, so it's ready to be sent with just a click of a button. Here some highlights of Facebook lead ads:
Mobile-friendly
Targeting Options
Easy to fill forms improve conversion rate
Customizable forms
With

CRM integration

, leads can easily be synced to your database.
Facebook also gives you the opportunity to run remarketing campaigns. This can help engage prospects you might have reached, but not quite converted. It's another way to use Facebook to generate leads.
By creating a custom audience within Facebook Ads Manager, you can target (or retarget) Facebook ads to users who may have visited your site, visited a certain page but didn't convert, who have engaged with your Facebook content before, taken a certain action on your company's app, or performed some other type of action that you have data on in your own CRM.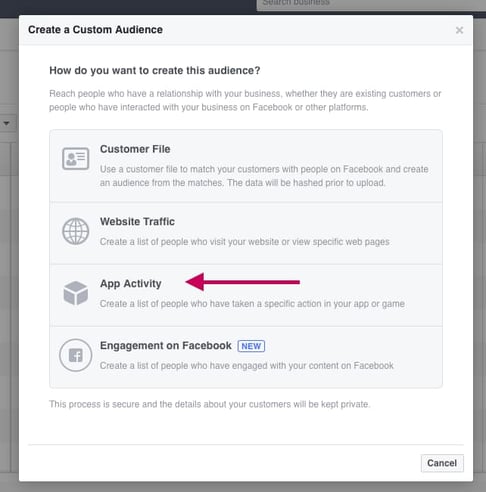 When utilizing Facebook retargeting efforts, consider being strategic about the pages you create. You'll need to use a Facebook tracking pixel on your website that allows you to measure, optimize and build audiences for your campaigns. Consider creating the following pages, and adding the tracking code to each page. This will help you create better B2B reengagement campaigns within Facebook.
Pricing Page
Feature specific or bottom-of-the-funnel blogs
Webinar sign up page
Cancellation page
By tracking who is visiting these sites, and not taking action - or in some instances - taking action, you'll have more targetted re-engagement campaigns.
5. Learn the Facebook Algorithm
Finally, it's important to realize that, much like Google, in order to be successful at Facebook marketing, you have to learn its algorithm.
We all know of the infamous changes Facebook has made to its ranking system, which in theory, makes it harder for businesses to get in front of their prospects organically. Historically, Facebook used to rank content by date. Now it's ranked based on relevancy and user engagement. The social platform tries to find the content it feels its user will care about the most and shows these posts first. As a result, businesses have seen a huge hit to organic reach.
That's not to say you can't still be successful in generating B2B leads on Facebook organically. It just takes a bit more intentional strategy. By keeping your content helpful and useful for your audience, you'll see a higher level of interaction. And, higher interaction means a higher search rank on the organic newsfeed.
The following tips will help you beat the Facebook algorithm while keeping your content valuable, creative, and useful to your target audience:
Open-ended questions - these invite interaction, which in return will increase social reach.
Try posting at different times of the day. This will help reach different audiences.
Facebook's algorithm prioritizes images and videos.
Share helpful information, like links to recent blog posts, or high-value long-form content guides.
Reshare Facebook live videos.
Post audience polls.
You'll also want to keep in mind not to post too often. Once or twice a day is best practice. Any more than that and you could be accused of spam. That would take a bit of a hit to your organic reach.
Should Your B2B Brand Market on Facebook?
Yes. That answer is absolutely yes. Sure, Facebook often gets the reputation of a B2C marketing tool, but there's quite a bit of potential for B2B brands to reach their target audience, and generate leads they might be missing.
With 58 percent of B2B managers pointing to Facebook and LinkedIn as social media platforms with the highest ROI, Facebook is certainly a platform that shouldn't be ignored.
B2B Facebook marketing works. You just need the right strategy to generate the leads you're looking for.