When your company is participating in a race or fun run, there's no better way to promote team spirit than matching shirts. In this article, we'll show you how to find and design the perfect race shirts for your company's event.
What defines a great race shirt? It's one that people enjoy wearing both during and after the event. If you're going to spend part of your budget on shirts, make them something your team will love to wear again and again!
Here are our best tips for ordering winning company race shirts.
Start with the right shirt
When ordering any custom apparel for your organization, there are many considerations for the garments themselves. It's particularly important to pay attention to these details with race shirts, since people will be doing lots of physical activity while wearing them. Comfort is key.
Here are the main considerations you need to keep in mind when searching for the right race shirts:
Material
Beware of standard cotton t-shirts. They'll quickly become hot, sweaty, and uncomfortable in a race situation. Instead, opt for performance-wear designed specifically for athletics. Moisture-wicking or Dri-fit technology are musts.
Fit
A stylish, workout-appropriate fit will help ensure racers' comfort during the event, and it will also make it more likely that they'll choose to wear the company shirt after the race. Simply by offering both ladies' and men's cuts, you can provide shirts that people will feel good in.
Price
Of course, budget is a main consideration when choosing any company apparel. The right shirt only works if it's the right price. Get a sense of the type of shirt you want and the price range for those options before you start seriously shopping. That way you can align your quality expectations with your budget.
Align your design with the event
Race events are great opportunities for team building—and they're fun! Use these design tips to create a shirt that represents who you are as a company.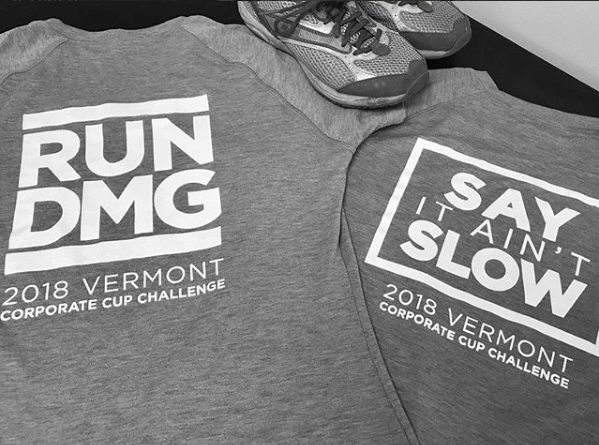 Color
Sure, you can use your typical brand colors for your race shirts, but why not mix it up? Try creating a shirt in a bright color to make your team stand out, or go to the opposite end of the spectrum and choose grey or white for a sleek look. Whatever you choose, color will be the very first thing people notice about your race shirts.
Pro tip: Sponsoring multiple teams? Order separate colored shirts for each team, but use the same imprint design. Then you can have distinctive teams while still coming together as a cohesive group.
Layout
There are some important points about the layout of the shirt's design elements that people often forget:
Don't cram too many words, graphics, or logos onto the shirt--it just won't look good.
Leave space for participants to pin the race bib on the front of the shirt without covering any of the design.
Don't forget the back! Hopefully, more people will be seeing the back of you than the front during the race, so put thought into what you want them to see.
Messaging
You don't have to stick with just the same old logo and tagline when it comes to adding messaging to your race shirt. Come up with something creative! You could choose a theme for your company's team, or include the event name so employees will have a memento from race. Think outside the box and have some fun with it.
Participating in a race with your company is a great bonding experience. Help your team members look their best and feel great with the right company race shirts. Need a place to start? Browse our collection of customizable performance t-shirts and start designing.