When it comes time for companies to order promotional products for a certain event, or just their brand in general, the relativity of the product comes to mind. You want to pick products that are useful and relevant to the recipient's life. You want to pick a product that your client will actually use, because the usability and likeness of your promotional products are essential when it comes to maximizing your ROI.
The solution is easy. To pick an effective product that people like, marketers must look to current entertainment and lifestyle trends for an insight in to consumer values. A way to be relevant and stand out among other companies to consumers is through maximizing your company's use of digital reward promotions, which gives customers access to the latest digital content with physical and digital rewards. Today, I'm going to suggest some ways to delight customers with digital rewards, but first, let's answer some FAQs you probably have regarding digital promotions.
Q & A: Digital Rewards
Q: First of all, what are digital reward promotions?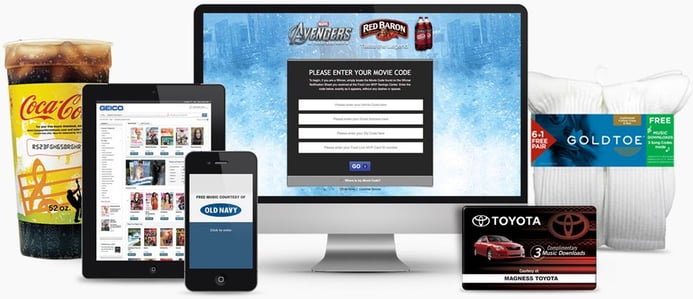 A: Don't worry; this concept can be confusing at first! Digital rewards are made up of a countless selection of physical and digital products. Popular digital incentives often promoted by companies are free music downloads, movie tickets, digital movie rentals, and eBooks. Physical products include coffee, phone cases, and restaurant rewards.
Most commonly, these rewards come in the form of a color printed, high-quality card with a redeemable code and a website address to redeem the reward. However, you can choose to distribute them in other ways as well. Send customers their redeemable digital reward codes through direct mail, printed on custom packaging, on coupons, or via email.
Q: What other kinds of rewards are available?
A: There are literally thousands of rewards available among 20 different categories from digital magazines to free pizza! Here is a full list of rewards you can choose from. More than likely, you'll find a reward that is 100% relevant to your company and your buyer personas.
Delighting Customers with Digital Rewards
To understand how to delight customers with digital rewards, you must be familiar with HubSpot's Inbound Methodology. Delighting your customers is the last step of the Inbound method for marketing online. Even after you've closed a client, you must continue to engage and delight customers in order to make them a promoter of your organization, to ensure they'll come back for more. Here are some ways for your company to delight customers using digital reward promotions:
Thank customers after a purchase.
When a customer makes any kind of purchase, big or small, it's important to show your appreciation for their business. Give your customers a digital reward at the checkout counter when they complete their purchase. What a great way to create customer loyalty and increase sales! See how Auntie Anne's famous pretzel chain used digital gifts to skyrocket sales and build customer loyalty in this case study.
Include digital gifts in your email marketing.
Thank customers for signing up to receive emails from your company by including rewards in your next email blast. This will allow your brand to connect with customers in a positive way rather than just blowing up their inbox.
Incorporate digital gifts into your social media efforts.
Previous customers that support your brand are no doubt follow your brand's social media channels. Spark conversation and brand awareness among consumers by implementing social media campaigns that offer digital reward promotions.
Reward loyal customers with digital incentives.
While utilizing digital gifts does wonders to facilitate customer loyalty, they can also help maintain the loyal customers you already have. This case study of Mariott® Hotels proves that giving previous customers digital rewards shows appreciation for their business.
Remember clients on holidays and other special occasions.
Remember, digital rewards can be sent through direct mail or email! Send your clients a "happy birthday" or "happy holidays" message with a digital incentive included. Imagine how special your clients will feel when your brand gifts them on special occasions.
So we've covered how to delight current customers with digital incentives, but how about new customers? As it turns out, there's ways for you to delight new customers with digital gifts, specifically at event giveaways.
Introduce your brand with digital reward cards.
Warmly greet your prospects by including a digital reward card in your company's information packet. This is a great way to break the ice at trade shows, college fairs, or career fairs. People will remember your brand for the high-value rewards your booth offers.
There are definitely other ways to delight customers with digital gifts; these are just a few. Put on your marketing thinking caps and come up with ways specific to your business to delight customers with digital rewards.