When I first started my job as a sales support specialist, I never thought my daily responsibilities would consist of researching and requesting dozens of face mask samples from various vendors.
Throughout the process of testing all the different types of masks, the team and I were able to find the most comfortable and protective face masks to offer our clients while standing by our values as a company: think big, never settle, and make a difference.
We didn't settle until we found the perfect masks for our clients.
We wanted to make sure that we found the best masks that would fit a variety of people with different comfort levels for wearing face masks and help them do their part in slowing the spread of COVID-19. We saw this journey as an opportunity to research and learn everything there is about face masks in order to make the best recommendations to our clients.
We discovered a lot of useful information about face masks and learned about the latest safety standards.
Here's h

ow to choose the best CDC compliant face mask

.
The Difference Between 1-ply, 2-ply and 3-ply
The "ply" for a mask is the thickness or the number of layers the mask consists of. For the best protection, wear 2-ply masks or higher.
Wearing a mask keeps your germs to yourself instead of releasing them into the air. The more layers in a mask, the higher the probability of filtering out tiny particles before breathing them in, reducing the chance of the germs spreading to others.
How a Mask Should Fit
The CDC recommends that masks fit securely, tightly and comfortably along the sides of the face.
Some of the mask samples we received didn't fit tight enough against our face and wouldn't provide adequate protection for the wearer and others, while some were too tight to breath for different face shapes.
The masks we offer do fit securely on the side of the wearer's face and can comfortably breathe and talk through while wearing. Though we've tested out many styles of masks, it's important to remember that these masks aren't one size fits all - testing out a variety of masks is the best way to find the one that fits properly.
Mask Material
We've seen face masks made out of various materials: from cloth and denim to the same foam that koozies are made out of! The most important thing to remember is to wear a mask that has at least two layers and that's easy to breathe through.
To fully sanitize after regular use, it's crucial that reusable masks are durable enough to be hand washed or machine washed up to 30 times.
Ear Loops vs Ties
A face mask that fits correctly is crucial; both ear loops and ties are approved by the CDC. Ear loops are the more sanitary option because there are fewer touch-points on the mask. In other words, the wearer doesn't have to touch multiple spots on the mask to remove it.
Ties are a better option for wearers that have sore ears from the constant friction of the elastic loops. To remove a mask, touch as little of the mask as possible and remember to wash your hands immediately after removing.
If ears are sore from constant mask wearing, try the mask backer. The mask backer is a simple way to prevent back of ear strain while wearing face masks. Full color customization is available on both sides to print any pattern or logo.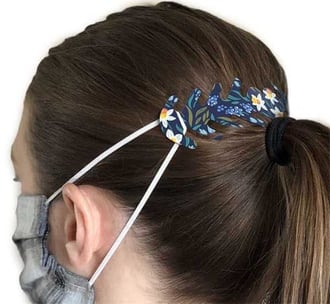 Other Tips
Face mask wearers should avoid touching the mask once they're around other people to prevent the spread of germs. Make sure the mask is secure and in a comfortable position for the entire duration it needs to be worn.
Those who wear glasses often deal with their glasses fogging up while wearing a mask. To fix this issue, simply adjust the fit of the mask before leaving the house. Make sure the mask sits firmly underneath the bottom rim of the glasses and that there's a little bit of space at the bottom of the mask between your chin and mask in order for the exhaled air to be released.
What We Learned
Our journey to find the best face mask for our clients didn't happen overnight. It took a lot of time, research, and testing. Face masks aren't a one-type fits all piece of equipment. There are hundreds of different styles, protective levels, and materials to choose from. What's most important is that they fit properly, are easy to breathe out of, and are worn around other people.