You've done it. You just shot and edited a great video. You had an amazing interview subject, the lighting was superb, and they sound great. Now you want to enhance that video with a great music track played at a low volume underneath. Where do you get one? How much does it cost? Which song is right for your video?
This post will help you sort through these questions. There are a few providers of music specifically for online video that I will outline in this post. They are YouTube Audio Library, Premium Beat, Getty Images, and Shutterstock.
I will also give some tips on how to sort through the literal thousands of tracks to save you time so you can publish your awesome video.
The Free Option: YouTube Audio Library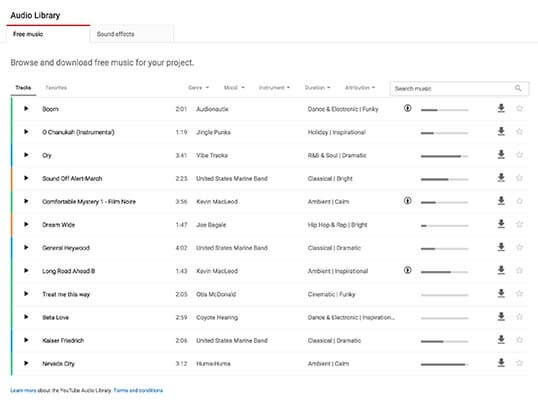 YouTube has always been a great platform for finding music since it was founded over 10 years ago. But the smart folks over at Google have made finding music for your videos even easier. They created a platform for royalty-free music under Creative Commons licensing. And the best part is they are all free. However, some require attribution to the artist in the video description. YouTube has been oddly vague about the limitations of what you can and can't do with these tracks which is not normal when dealing with music copyright. But this is a great place to start for a first video or for short videos going on YouTube or Facebook. There are a few other sites that offer free tracks, but I haven't found any as organized or with as good of a selection as YouTube's.
The one drawback of YouTube is the size of their collection. It's pretty good, but the paid alternatives are much larger. This means the chances of another company using the same song as you in one of their videos are much less likely. Also, it means more options so you're more likely to find something that exactly fits the tone of your video.
Paid Options
These providers are definitely a more professional option. Which one you choose is really personal choice, depending on what features of the site are important to you. I will outline as many features on each as I can. They all have an incredibly large selection and the price per track on each site is around $50. You can use the tracks from these sites as much as you want, on as many videos as you want.I also provided a rating on each service out of 5 stars.
Shutterstock
Shutterstock is a stock image provider that started offering music in addition to their images. Very similar to Getty Images, they have a large selection organized in a similar way.
Pros
Very simple and easy to navigate website
Cons
Few filters mean more time searching through irrelevant tracks
Must sign up for an account to download previews
Overall Rating - ★★☆☆☆
Getty Images
Most people know Getty Images for their stock image library. But they also have a stock music library as well. Right on their homepage you'll see the genres you can search by. You can filter by genre, subgenre, mood, lyrics, duration, speed, and instruments.
Pros
Lots of filters to help save time
Downloadable previews you can put in your video editor
Sound effects also available for $10 each
Cons
The site isn't very well designed and the text is small
Overall Rating - ★★★☆☆
Premium Beat
Unlike Getty Images and Shutterstock, Premium Beat is only a stock music site. It is the best designed out of the three and has all the same filters as Getty Images. Where Premium Beat really stands is it's loops and shorts feature. Each track comes with alternate versions in short chunks that when placed end to end flow perfectly. This means you can put a few in the timeline on your video editor and customize your music track, making it unique and fit easier to the length of your video.
Pros
Really well-designed website, better looking than Shutterstock
Loops and shorts included with every song
Lots of filters to help you find what you need faster
Cons
Most of the filters are hidden in the "Advanced Filters" menu which took a while to find
Overall Rating - ★★★★☆
Finding the Right Track
So, you've decided which music provider you like, now how do you find which track is best for your video without spending hours listening to song after song? It helps to take these factors into account before you listen to a single track:
Tone and mood of the video
Target persona's tastes
Company brand
Now with that in mind, here are my tips to narrowing your search down until you have one track that fits your video perfectly:
Start with the "Corporate" genre. These tracks usually work really well as background tracks for business videos because they have a good balance between fun and serious moods and a good mid-tempo beat.
Add some filters. Prioritize what is most important for the music in your video. It could be tempo, mood, instrument, or length. Those are your filters.
Start listening and immediately determine what you don't want. It's a lot faster to determine what doesn't work for your video.
Refine your filters based on what you don't want. Were the songs you listened to too slow? Filter only fast tempo tracks. Were they really sad sounding? Set the mood to uplifting or bright.
Keep listening and repeat steps 3 and 4. It may take some refinement before you like your search results. But stay diligent. It will pay off when your awesome video has some awesome music.
Limit your time. I usually don't spend more than 20 minutes searching music. The listen and search refinement process should go pretty quick.
Choose three tracks you like. Download the previews and try each one in your video editor. Narrow those down to one and you're done.
Finding music for your marketing videos doesn't have to be a long and difficult process. Just have a goal in mind, think of your ideal music track, and identify what elements of the song make it the way you envision. Then it's as easy as heading over to your favorite music provider and doing a little searching. Now go make that awesome video even more awesome!