The legacy sales rep is finally obsolete.
It's a tough pill to swallow, but it's time for sales leaders to recognize that the traditional way of selling just isn't going to work while the pandemic continues to evolve.
As sales interactions are forced online, reps are struggling to build personal rapport with their clients because their tech stacks aren't setting them up for success. The majority of companies have their sales teams using scattered and disjointed technology not equipped to keep up with the transition to the digital world.
It's not only hurting the current team but it's driving away new talent. Salesforce found in its third annual "State of Sales" report that 81% of sales reps believe it's important to have a connected view of data across the entire customer journey, while only 49% of businesses have fully integrated systems. Top sales reps are looking for companies that have recognized the shift in selling, and invested in the right sales tech stack to set up their teams for success.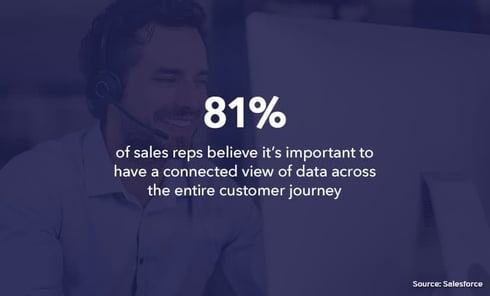 So as a sales leader, how do you find the right technology to help bridge this gap between the digital world and your reps? First, you have to fully understand the processes your company is currently using. This will give you insight into what can be improved.
Build a Better Tech Stack for Your Sales Team
At this point you might be wondering, "what is a tech stack?"
According to HubSpot, a sales tech stack can be defined as the set of technologies or software tools an organization uses to support salespeople and help them communicate more effectively with prospects.
As sales processes adapt to the economy and new societal norms, your tech stack will also need to pivot. The idea is to always ensure the tools you're using effectively maximize efficiency and lower cost. When there are so many different tools out there, it can be challenging as a sales leader to determine what technology your team needs to succeed. So the first step in building a better tech stack is to understand exactly what your team is already using and how each tool fits into the sales process.
1. Tech Stack Audit
A tech stack audit will give you insight into the gaps that your technology currently has, and the holes that are important to fill. It's important to note that with new apps and updates being launched every day, you will need to prioritize this type of audit regularly. It will help you discover new tools to assist your sales team and company in the following ways:
Save valuable time for sales reps
Save money on useless apps
Consolidate tools when possibly
Maintain a centralized place for all of your data
Start your audit by first outlining your prospecting cycle. Think about how your team currently goes about identifying target accounts. Where do they go to research and find contact information? What channels do they use to engage prospects? Are your reps primarily using email, phone, or social media to connect with buyers?
Next, think about where your current applications fit into these processes. Are there any inefficiencies, and how much would it cost to move to a different system? Also, think about how a specific application integrates with other systems, and if there might be a better, more comprehensive alternative.
It's essential during this process that you talk with your sales team. In most cases, your reps are the ones out on the battlefield using these technologies every day. They will likely provide some of the best insights into what works, what doesn't, and where there might be gaps.
As you go through your audit and are asking these important questions, make sure you have a centralized place to record all your data and keep it organized. The following "Platform Audit" template from HubSpot will guide you in the right direction.
On this worksheet you'll want to list out all the apps you can think of, and then pass it along to the rest of your team for input. This will help ensure all the tools you use are accounted for. Once that's complete, you'll want to focus in on the apps that impact the most people, cost the most money, and integrate with other applications.
While analyzing your current apps, consider these four options for next steps:
Check for overlap, consolidate apps that do the same things.
Integrate the remaining apps with HubSpot, or another centralized tool to allow for a single place for all your data.
If an app isn't able to integrate to a centralized location, consider replacing it with something that is.
Consider whether this technology is critical to your business. If it is, and it's not able to be integrated, continue to use the app separately from HubSpot, or your centralized software. Making a list of the apps that you are using independently will help keep you and your team organized, and make your next tech stack audit easier.
2. Define Your Needs
Once you have an idea of what needs your current tech stack is meeting, you'll be able to pinpoint the areas that need improvements. Define where you'd like to implement better processes, and don't forget to consider the new sales environment in this process.
When considering new technologies, prioritize ease of use and tools that integrate. Here are four areas you'll want to consider when evaluating new software solutions:
Sales Intelligence: Your team needs the right applications to help them prospect. Sales intelligence platforms will help your reps find, monitor, and understand data insights into prospects and existing business.
Sales Engagement: Now, more important than ever is having the right tools for your teams to connect with buyers on a personal level. Sales engagement solutions will allow your reps to create better, more personal, and engaging conversations with their potential customers.
Analytics and Reporting: Having a comprehensive analytic solution that provides real-time data insights into how your sellers are performing is key to monitoring success. It also helps reps better understand their customer's buyer patterns, the areas they might need to focus on, and ideal up-selling opportunities.
Coaching and Training: The best sales teams are invested in their growth and improvement. Having tools that help refine technique and establish best practices will improve closing rates and better overall success.
There are tools out there that specialize in each of the above tactics. But there's nothing more frustrating for a sales rep then having to log into a hundred different apps just to access the resources they need. Remember, your tech stack's whole purpose is to streamline tasks so reps have more time in their day to sell.
That's why we recommend a tool like HubSpot. Not only does HubSpot offer a comprehensive solution like Sales Hub, which provides technology for the four critical areas mentioned above, it also has a vibrant ecosystem of over 200 integrations with other non-HubSpot tools. This allows businesses to continue to use industry-specific tools, while also streamlining their overall tech stack experience.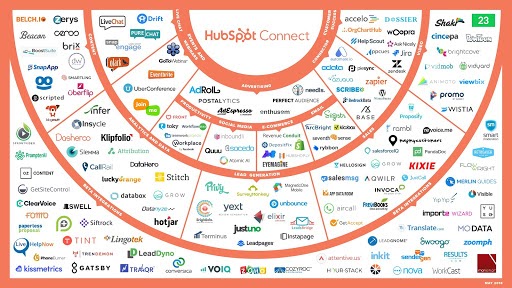 3. Prioritize Training
Once you have your tech stack defined, every team member must know how to properly use it to give them results. Sales enablement training refers to a strategic approach to enhancing sales performance across your organization. In short, it means not only getting your team up to speed on your new processes but making sure they understand how to use these processes to connect with today's buyers.
As a sales leader, it's essential your team sees and understands all the latest features and enhancements in your tech stack. It's also important to note this isn't just a one-time thing. Regular instruction should be prioritized as the sales environment continues to change, and tools continue to evolve.
Use this Tech Stack to Recruit New Talent
Realigning legacy sales teams around new processes can be an uphill battle. And quite honestly, you might be faced with some opposition. It might be time to part ways with those resistant to change.
The good news is there's an up and coming talent pool that's already adopted this new inbound approach to selling, and they see the results. As generations shift, the modern sales rep is more motivated to close deals when processes are efficient.
I see it all the time. Young professionals are out to dinner with their family, and they get an alert on their watch about an email from a prospect. It's easy to respond, so they simply type a response right then and there. If it's easy and efficient, they are motivated to perform. That's the new generation's way of selling, and it's working.
Millennials who show higher use of sales technology exceed their projected revenues by over 50% compared to Baby Boomers. And companies with a robust tech stack in place experience 205% more revenue growth and 725% higher sales velocity than companies without.
New talent will be attracted to a robust sales tech stack. So once you have this new recruiting tool, what's the best way to position it to new recruits? My best advice is to develop a clear sales enablement strategy.
1. Develop a Sales Enablement Strategy for Your Team
Start by defining your sales enablement strategy with your current team. You must develop an internal culture that embraces the new way of selling before you start looking externally. When new talent does join, they will notice and appreciate this forward way of thinking and be anxious to contribute.
Sales enablement is defined as arming your sales team with the content, training, sales collateral, and tools they need to engage with buyers.
Think about how you can enable your team in the current remote environment to reduce friction with their prospects, offer a more personalized approach, and deliver more compelling presentations. What will help them create more personal communications, prospect more effectively, and monitor their successes?
Here are a few effective solutions I've seen sales team embrace:
Personalized video

- In the new normal, personalized video is a key way of making remote messaging more of a connection. It puts a face to your brand, builds credibility, and introduces a human connection to the sales process. We've seen it boost email click-through rate up to 300%, triple response rates, and increase meetings booked by 500%.
Video created with Soapbox
Use social selling

- Help your sales team learn how to leverage the power of their social network to find the right prospects, build trusted relationships, and reach their sales goals. Salespeople who properly utilize this method outperform their peers by 72.6%.
Video Coaching - As a sales manager, your team's roleplaying efforts have likely become more challenging with everyone working from home. Additionally, it's important now more than ever that your reps become comfortable in front of the camera. Implement a video coaching strategy by having sellers record themselves in a given scenario, and then give them individualized feedback.
Once you've outlined your sales enablement strategy and refocused your current sales team on why these changes are essential, it will be easier to convince a new recruit that your company offers a forward-thinking culture and has a sales team ready to embrace change.
2. Make Your Tech Stack and Sales Enablement Strategy Known
Once you've developed a robust tech stack and implemented enablement strategies into your workflow, make it known. Make sure you include your technologies and tools in job postings and recruitment efforts. Share your company and sales team's successes on LinkedIn.
Most importantly, reach out. Again, as sales professionals, we know the power of personalization. Reach out to possible talent on social media, and share the new sales enablement strategies your team has adopted.
3. Emphasize Training & Enablement
Finally, emphasize to recruits your company's focus on training and enablement. The modern sales rep doesn't just understand how technology helps streamline tasks; they also appreciate that it's constantly evolving. They value educational opportunities to build on their skill sets as sellers and tools that will help them continue to learn, grow, and succeed.
Remember The Ultimate Goal of Sales
It's important to note that the goal of sales hasn't changed. In order for sales people to convince their prospective customers that they have the right solution, they have to truly understand their problems, pains, and objectives. What's changed is the methods in which salespeople must collect this information.
It takes adaptation to survive. As sellers, we must refocus our efforts on truly understanding. And the only way to do this is through a sales team that embraces technology. The modern sales rep gets this, and has embraced it. They are seeing results because of it.
As sales leaders, these are the type of sellers we want on our teams. Now is the time to build up your tech stack, so you can attract the right people motivated to sell efficiently and effectively in the new digital age.