Even as in-person trade shows return, virtual events are here to stay. So now is the time to master your virtual event strategy.
The good news is that companies and organizations are finding new opportunities to create more engaging virtual events while boosting brand awareness. We've seen it with our own clients as they experiment in the virtual event world and discover new kinds of success.
Recently, DMG formed a partnership with the Computer Science Teachers Organizations (CSTA). When COVID-19 forced their annual conference to go virtual, they challenged us to come up with a way to bring attendees together in a distant world. Our solution? Swag.
Here's the story of how swag helped humanize CSTA's first-ever virtual conference.
Who is CSTA?
CSTA is a membership organization that supports and promotes computer science teachers across the US and Canada. One of their main goals is to provide educational opportunities to K-12 educators and their students, so they can better navigate information technology's ever-changing world.
Professional development is important for educators in every field, but it's essential for computer science teachers. In an industry that sees rapid changes almost every day, CSTA's members look forward to the annual conference where they have the chance to connect with other teachers in their industry and learn and grow in their field.
Because of this, CSTA dedicates a huge chunk of the year to planning for its annual conference. For the past 19 years, the conference has brought together thousands of educators all over the country. And CSTA 2020 was going to be the biggest event yet.
But then March hit, and everything changed.
Challenge: Creating an Engaging Virtual Event
When COVID-19 canceled all large in-person gatherings across the world, panic ensued. The conference committee knew that the event must go on. It was just going to have to look a bit different. But organizers still felt an intense pressure to host an event that would live up to member expectations.
For many, one of the biggest takeaways from the conference each year was the personal connections.
"Not only do I learn about new curriculum or teaching techniques, but I have the opportunity to build direct connections to someone who is doing it," Derek Babb CSTA Conference chair member reflected of previous years.
So, one of the biggest challenges the committee had to tackle was determining how to keep that same sense of engagement and connection in a virtual environment. They had to duplicate the sense of community and involvement that had resonated so well in past conferences.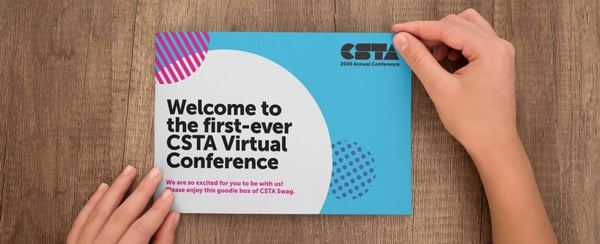 Solution: Using Swag to Boost Engagement
CSTA recognized that planning and holding a virtual event would be a lot different then the in-person process they were used to. After researching the shift of their event to the virtual platform, CSTA quickly concluded they needed to develop something creative to keep engagement high. They needed to humanize the event somehow, while also making teachers feel appreciated, even at home amidst a pandemic.
That's when CSTA reached out to DMG, and we helped them find the answer - swag.
Sending 2,000 boxes of swag to their attendees wasn't something they could do alone. So together our team at Delta Marketing helped them put together a plan of attack.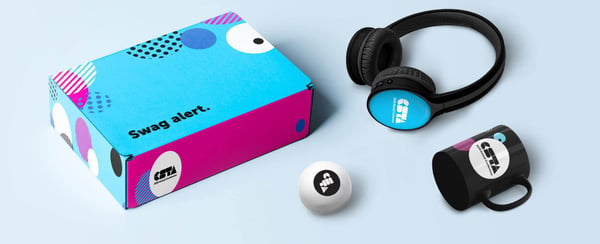 Creating a Virtual Event Strategy
Our brand activation team met with the team at CSTA to fully understand what it was they were trying to accomplish. We discussed their personas, goals, and aspirations for the virtual event. After this diagnostic discussion, we put together a comprehensive presentation with recommendations tailored to their needs.
We included the following elements:
Promotional products designed to promote engagement
A custom-designed box
Award ideas
Kitting and fulfillment options
Drop-ship and mailing timeline
Virtual Event Engagement Strategy
Once we had a roadmap in place, the next step was to create a plan of engagement. With a conference that looked so different from years past, we needed to help create a strategy for CSTA to share the exciting new plan for this year's event and generate awareness and demand for the event
Social media played a key role in this game plan. We helped design a swag box filled with gifts tailored to their personas. We then helped them incorporate a postcard to be included in their box, which encouraged recipients to share their conference moments, key takeaways, or swag items on social media. The results on Twitter were astounding.
Those are just a couple of the fun posts shared on Twitter the weekend before the conference. The hashtag #CSTA2020, which CSTA asked attendees to use when posting, exploded. CSTA watched as they saw their Twitter impressions soar from 10K to 45K in just one day.
"When the boxes finally shipped, the results were even better than I could have imagined. Attendees LOVED the boxes and had so much fun unboxing them. Weeks later, they were still talking about them! Delivering them the Friday before the conference began was perfect as it increased enthusiasm and build-up for the conference," CSTA Event Manager Michelle Lippoli shared with us.
Part of the success was the eye-catching design of the box and swag. We made sure everything, including the box design, collateral, and items inside the virtual event kit, all tied back to the CSTA brand guidelines.

Execution and Fulfillment
One of the key reasons we saw such a successful rate of engagement from the CSTA virtual event swag boxes was because of the personalized fulfillment. These boxes arrived at every attendee's home, personally addressed and delivered.
As we mentioned earlier, the timeline was important. CSTA wanted each box to arrive on the Friday before the event. With 2,000 attendees all over North America, this wasn't an easy task. But thanks to the relationships we have with various fulfillment partners, we were able to help with sourcing, producing, and kitting all the items to arrive according to schedule. DMG handled the entire execution and fulfillment process.
The Overall Results
Things might have looked different for the CSTA conference this year, but the changes were nothing but positive. The conference saw a record-breaking amount of attendance. We surveyed the 2,000 attendees, and 98 percent reported they loved the swag boxes they received. Overall, DMG sent out 2,000 boxes, filled with 16,000 items.
"This partnership made a huge impact on our teachers and helped us exceed an overall organizational goal -- helping teachers feel celebrated and appreciated. I'm already brainstorming what we can do next year with DMG," Lippoli said.
CSTA is already brainstorming for next year's conference. Their biggest challenge now? How to top this year's enthusiasm and swag box. Luckily, our team at DMG is dedicated to keeping up with the latest trends in event swag, and we'll be ready to bring a long list of ideas when the time comes.