In the past, the manufacturing industry has generally been slow to transition to modern marketing tactics. The owners of these companies tend to lead with legacy mindsets. Just a few years ago, many remained skeptical of what we like to call the inbound marketing secret sauce. In 2018, manufacturers on average were only spending 8% of their annual budget on advertising and lead generation.
Oh, how the times have changed.
According to the 2021 Manufacturing Content Marketing Report, 39% of manufacturing marketers now claim that their organization has a documented content marketing strategy, which is up from 21% from two years ago.
In order to be competitive in today's increasingly digital market, manufacturers need to place concerted effort in developing a content marketing strategy built around high-quality content.
Why is High-Quality Content Necessary for Manufacturing Businesses?
As a manufacturer, you might be asking yourself, "Why do I need to invest the time and money into a high-quality content marketing strategy?" The answer is pretty simple. It's all about buyers' trust.
The goal of content marketing is to help your prospects and customers learn, grow and succeed. By providing solutions to your customers and their pain points, you're creating a relationship of trust that will propel them forward in the sales journey.
We get it. Your mind is focused on your products and their features. But your customers want solutions. They don't necessarily care about the nitty-gritty of the products you're creating. Be quick to teach, not to sell. Marketers who are adopting this strategy within their manufacturing businesses are succeeding. Eighty-two percent of marketing manufacturers credit business growth to better content creation. You can be a part of this growth by creating your own high-quality content for your manufacturing business.
What Makes High-Quality Content for Manufacturing Businesses Different?
There are a lot of things that set manufacturing businesses apart from other industries. Content marketing is one of them. Understanding the key differences in your audience, buyer's journey, and products or services offered, can help you create higher quality content. It's all about perspective. Here are some factors to keep in mind.
Seemingly Dry Industry - First, let's address the elephant in the room. Manufacturing can be a "boring" industry. And that's OK. It actually presents a valuable opportunity for those savvy manufacturing marketers to create high-quality content that sets them apart from their mundane competitors. Remember, as a content marketer, your job isn't to create exciting narratives. It's to create solutions.
Expectations for Expertise - Unlike a B2C audience, a B2B manufacturing audience does not want to be sold to. Emotional, spammy copy sets off the skeptic alarm while statistics, logic, and expertise resonate. Manufacturers need to demonstrate their established expertise in order to start building trust from their audience.
Complex Products Result in Longer Buying Cycles - Manufacturing companies typically offer complex products or services that need to be supported with high-quality content to ensure their target audience understands the offering. When creating high-quality content for manufacturing businesses it's important to consider each stage of this journey and create content that effectively nurtures prospects through this longer sales cycle.

Specialized Niches - A majority of manufacturers offer products or services used in only a small number of uncommon situations. This means the content you create might be the only available resource for your audience. That's a lot of value that should be priorities. Your audiences are looking for highly specific information, and if you can offer it, you'll be one step ahead of your competitors.
How High-Quality Content Benefits Manufacturing Businesses
Embracing the differences listed above can lead to substantial ROI. Manufacturing businesses dedicated to implementing high-quality content will actively engage their target audience and ultimately generate more qualified leads. Here are the top five benefits of creating high-quality content for manufacturing businesses.
1. Shortens Buying Cycle
As prospects spend more time on your website consuming high-quality content, they initiate the ever-important stage of consideration. In an industry as complex as manufacturing, prospects will need an abundance of targeted content to persuade them to convert. Manufacturers can implement a content marketing strategy built on answering their target audiences' most pressing questions, comments, and concerns to educate their prospects and shorten the long buying cycle associated with the manufacturing industry.
According to a recent report, fewer than half (40%) of manufacturing marketers craft content based on specific stages of the customer journey. This statistic highlights the opportunity for savvy manufacturing marketers to start segmenting their content based on the following stages:
Awareness
Consideration
Decision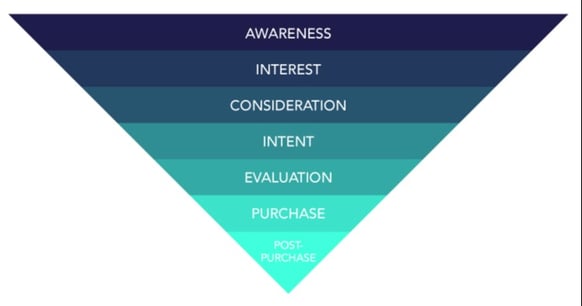 Creating content that educates your buyer personas will groom them in preparation for their first point of contact with a sales representative. Manufacturers can combine high-quality content with a robust CRM like HubSpot to track prospect content engagement. This information can be used by the sales team to create an actionable strategy for conversion that shortens the buying cycle.
Let's take a look at an example. Say a website visitor just filled out a form to download your Ultimate Guide to Contract Assembly for OEMs. A new contact record will be created for your prospect that tracks their content consumption. The sales rep can leverage this to create a customized email that provides other relevant content offerings, ensuring a productive and successful first point of contact.
2. Generates More Qualified Best-Fit Leads
High-quality content marks the starting line for your target audience. When manufacturers populate their website with an abundance of high-quality content, they are providing their target audience with the information needed to decide if the service or product is right for them. This will weed out potential customers that don't align with your services, allowing sales reps to focus their energy on converting best-fit leads.
Manufacturing businesses can also leverage a gated content strategy to build out an email list filled with marketing qualified leads (MQLs). Manufacturing companies can gate long-form content including whitepapers, guides, and eBooks with a form to collect important contact information. Contact information like email addresses can be used in future digital marketing campaigns to send targeted marketing collateral including segmented newsletters and customized content to qualify leads and provide the ever needed final push towards conversion.
It is important to keep in mind that if you ask your prospects to fill out a form and provide their contact information, you will need a comprehensive CRM like HubSpot to track and save this crucial information.
3. Builds Thought Leadership
When manufacturers consistently supply their target audience with content that clearly and concisely answers their questions, they are creating a relationship founded on trust, transparency, and authority.

It's time for manufacturers to make the strategic shift from creating content that sells to creating content that educates. Implementing a content marketing strategy built around educating the target audience will in turn establish your brand as more than a manufacturing solution provider but as a forward-thinking teacher in the industry. A manufacturing company that establishes itself as a thought leader in the industry will start to bring in more website traffic from their competitors and other parties simply looking to expand their manufacturing knowledge. This greatly improves brand awareness and helps solidify a trustworthy image in the minds of your target audience.
4. Helps Buyer Personas Find Your Website
Manufacturing companies who consistently publish SEO-rich content that is built around a comprehensive inbound marketing strategy improves their chances to rank higher in search engine result pages (SERPs). With more relevant and high-quality content ranking and populating prime real estate on SERPs, buyer personas now have more exposure and more avenues to enter your website and move further along in the buyer's journey.
5. Creates the Flesh and Blood of Your Manufacturing Brand
Take a moment and consider the type of companies you like to do business with. Does the company offer a product or service that is completely superior to competitors or does it have more to do with customer satisfaction?
I would like to believe that in most cases, it is the people behind the product or service that makes the difference. The ability to show potential prospects that your manufacturing company is more than the sum of its products and services with intelligent and approachable employees is a huge benefit.
No matter the industry, people do business with people. As digital marketers, we can never lose sight of this fundamental truth. High-quality content written in the proper tone humanizes businesses and helps create the flesh and blood of your manufacturing brand. The manufacturers that prioritize writing consistent, helpful content will transform their image from the common manufacturing company that sells complex products or solutions to a unified brand with an identifiable voice willing to help nurture prospects
5 Manufacturing Content Marketing Ideas to Get You Started
We work with a lot of manufacturing companies that lack a dedicated internal content department. With minimal investment, you'd be surprised with what your small team can accomplish as long as there is a thought out strategy in place. Here are five ideas for high-quality content offerings you can start creating today:
They ask, you answer blogs - Use Google and keyword research tools like SEMRush to find out the top questions your target audience is asking and then create tailored blogs answering those questions.
Industry FAQs - Create an easily accessible page dedicated to succinctly answering the questions, comments and concerns your sales and service departments answer most frequently.
Conduct customer interviews - Compile a list of questions to ask a customer about their recent experience with your manufacturing product or service and transform it into an SEO-rich case study or project profile.
Gated long form content - Identify a highly searched topic and capture the prospect's contact information with valuable and educational gated long form content such as whitepapers, eBooks and guides.
Repurpose sales presentations - Ask to see your sales reps presentations to get the creative juices flowing. The statistics, graphs, and figures will make engaging blog content.
Creating High-Quality Content for Your Manufacturing Business
Implementing a content marketing strategy built around high-quality content for manufacturing businesses is no easy feat. It requires time, resources and the ability to overcome steep challenges.
However, the manufacturers that put in the work to understand the nuances of their industry will be better positioned to implement high-quality content that builds thought leadership, shortens the buying cycle, attracts best-fit customers and most importantly generates more leads.
Getting ahead of your competition all starts with knowing your industry and your buyers. Need some help? Outsource content creation and partner with a trusted marketing agency so you can focus on what matters most: growing your manufacturing business.