Great news for hybrid and remote offices. Google is making it easier for teams to collaborate, even while apart. The software company recently unveiled a new Google Workspace update, which will include new features gradually released over the next year.
Branded "Smart Canvas", the new Google Workspace update will enhance apps like Google Docs, Sheets, Chat, and Meetings with new productivity features. The idea is to make remote meetings seamless, online collaboration easy, and hybrid work simple.
If your business (like ours) is a Google Workspace user, then you might need some time to get use to these changes. But ultimately, once you get a hang of the updates, you should see a boost in workplace efficiency.
To help you adapt, we've listed out some of the new features you can expect along with five tips to boost productivity with the Google Workspace update.
1. Use Smart Chips for Better Collaboration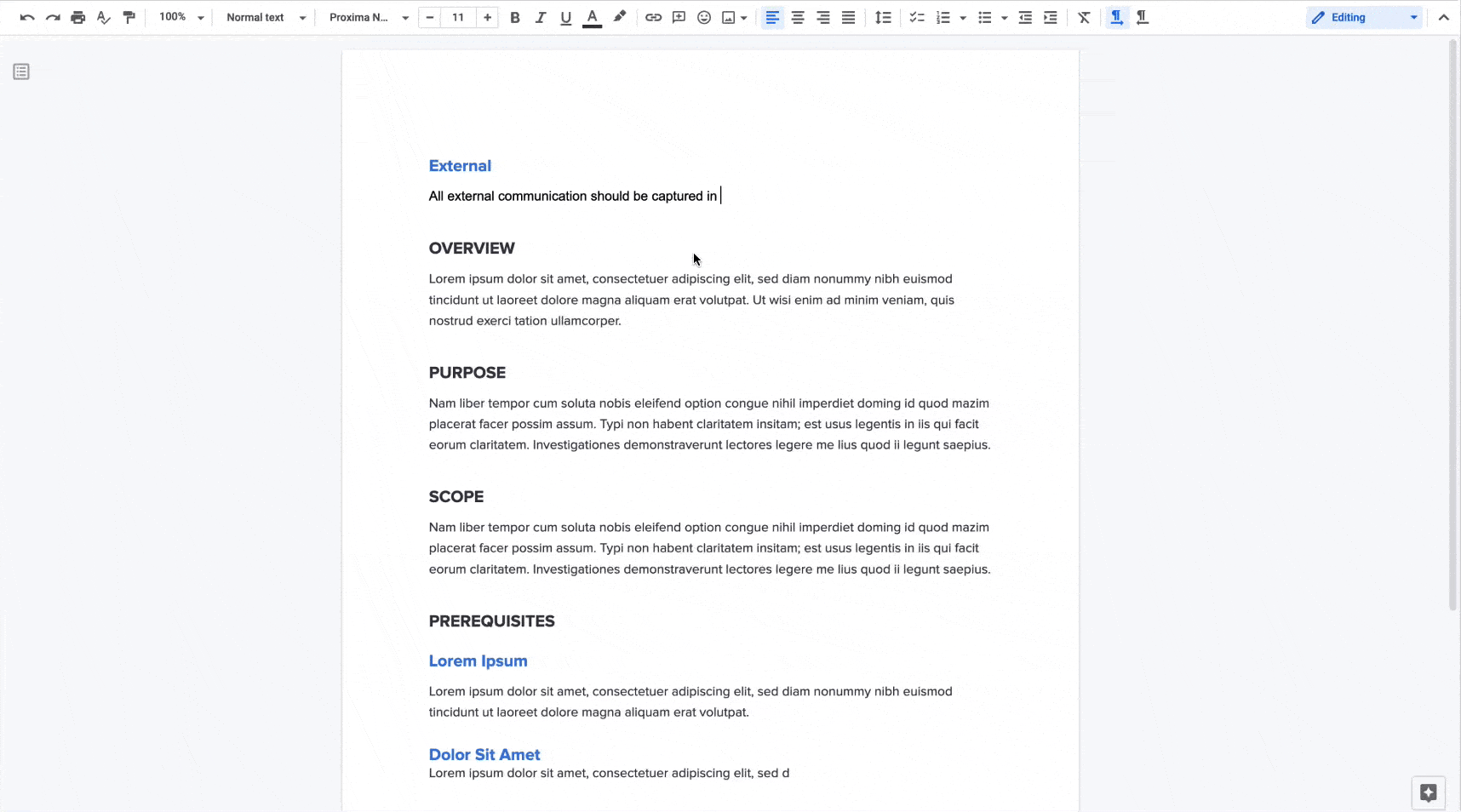 If you readily use Google Docs within your business, you're well aware of the mentions feature. The new Google Workplace update takes this tool to the next level with Smart Chips.

Smart Chips allows a user to not only tag other users with the "@" symbol, but also add other links for files, events, and even meetings. For example, if you have a meeting agenda you can easily add a Smart Chip that links to the meeting on your Google calendar. Just type "@" and you'll see a list of links pop up that you can choose from.
You can use smart chips to link all of the following directly into a document:
Other users with Gmail or Workspace email addresses
Other Google Docs, Sheets, and Slides
Google Calendar Events
The cool thing about linking to another file is that you can preview that individual document in a small, resizable hover box, while still on the original file. This is especially helpful while screen sharing a document during a meeting. It also helps cut down on open windows on your screen.
Soon, you'll also be able to assign checklist action items to other people on your team. This is especially helpful if you have a large project, where various team members are managing different aspects. These "tasks" can also integrate with Google Tasks.
2. Utilize More Screen Space with Pageless Docs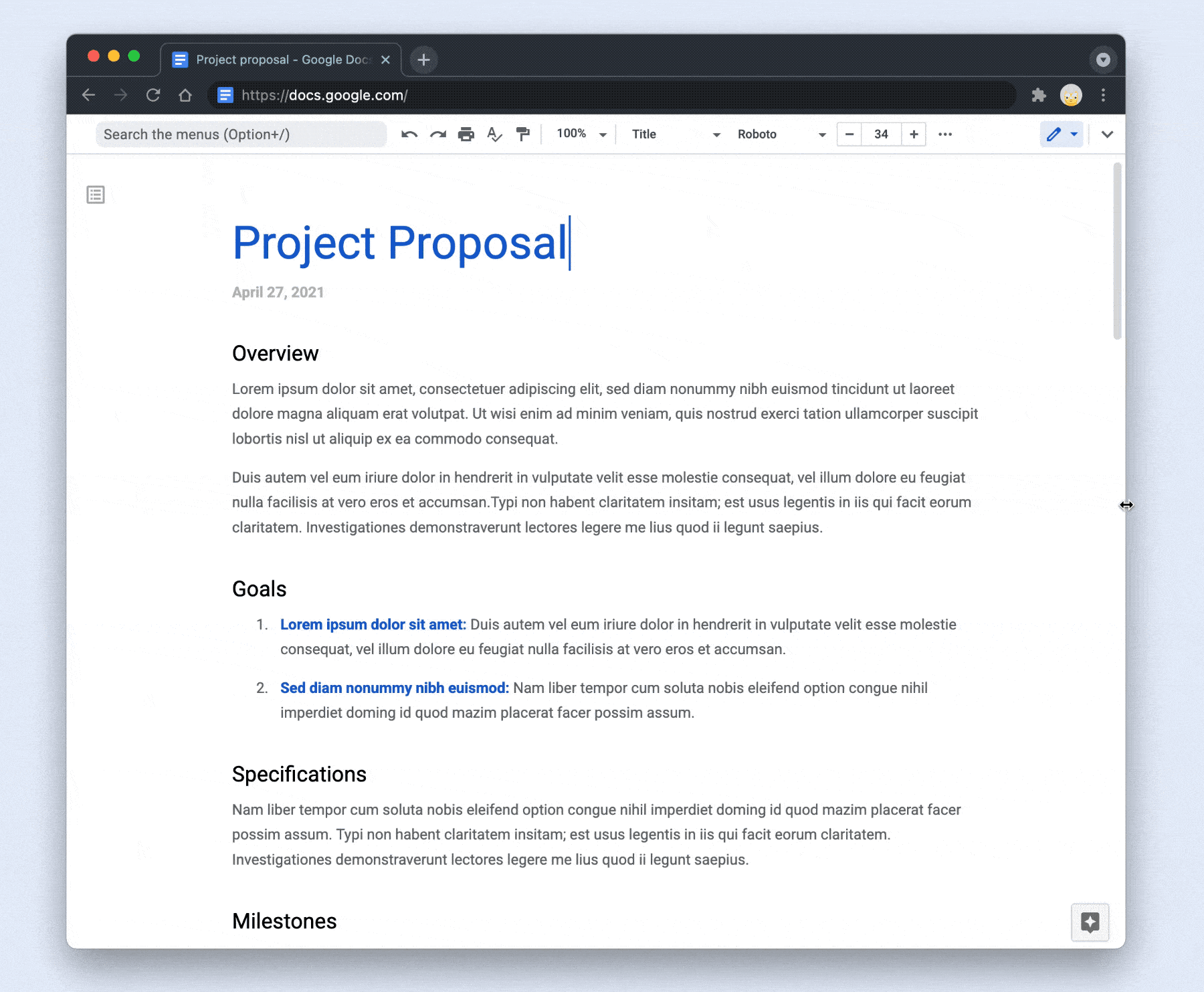 The Google Workspace update will also soon be rolling out a new pageless format option within Docs. This means, instead of writing as if your document is going to be printed, the pageless format will remove traditional page boundaries and give you one clean white space to work with.
The benefits of this are twofold. If you're writing lots of digital content (like me), your text will appear more like it would on the web. I mean really, if you think about it, it kind of seems silly that all this time we've been writing as if we're printing our documents. But how many of us are actually doing that?
The pageless format is also great for split screeners, or those with billions and billions of tabs open…(I'm guilty 🙋‍♀️). The new format option adapts to your window, rather than forcing you to keep your document full screen to see everything. It expands to whatever device or screen you're using, and makes working with wide tables or large images much easier.
Don't worry, pages didn't disappear. If you do want to print or convert to a PDF, you can easily switch back to the paginated view.
3. Run Better Meetings with New Integration Tools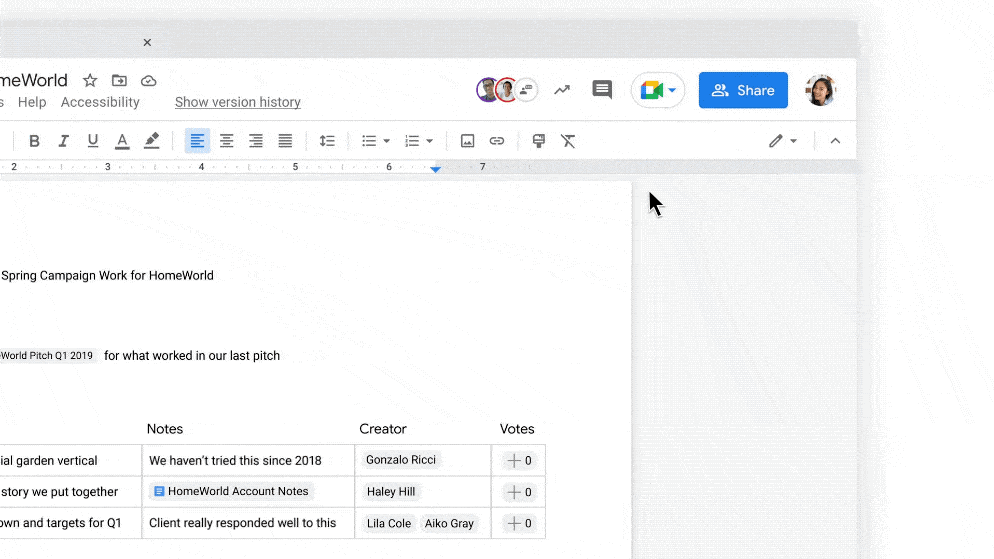 Virtual meeting platforms are ruling the business world. Yet, often a poorly thought out user experience limits their functionality. This used to be the case with Google Meet. It wasn't particularly easy to screen share or present, especially if you were already working within a document.
Enter the new Google Workspace update. Now, you can easily present the content your working on to a Google meet call, directly from the file your working on. Coming later this year, Google has also announced that users will be able to use Google Meet directly within Docs, Sheets and Slides so you can actually see your teammates while your collaborating.
Another fun feature that will boost engagement among virtual meetings, is the ability to create polls, Q&As, and chats all during a meeting.
4. Communicate Better with the new Google Chat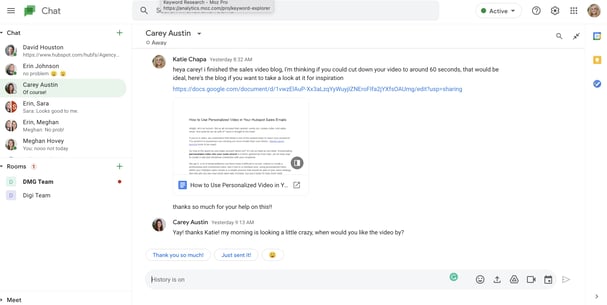 Google chat, formerly known as Google Hangouts, is also getting a revamp. If you're a Google Workspace user, you might have experienced the frustration of sharing a document link via hangouts, which can only be sent in one, long, convoluted, URL.
In the all-new Google chat, these links will automatically turn into a preview thumbnail of the document. Even better, this thumbnail is clickable, and you can actually open the document right within a chat. This means you can work with your team members, or receive live feedback, while simultaneously editing the document.
Google chat also offers a full interface where you can still access all your apps like your Calendar, Tasks, and Keep tabs. Plus, with a search bar at the top, you can easily search messages for certain conversations, files, or images that might have been shared in the past. With everything in one place, you'll be able to work more efficiently and productively.
Access apps like Calendar, Keep, Tasks, and Maps from a quick-access sidebar similar to the one in Gmail.
5. Write Better with Assisted Writing Features
If you're a fan of Grammarly, you'll get excited about this new feature. The Google Workspace update includes new assisted writing features in Docs which will help you edit your work more effectively.
Now you'll notice in addition to red underlines for misspellings, and green for grammar, a purple underline for style. The writing assistant will also offer suggestions about different kinds of writing style issues, including offensive language and inclusive language. The assistant will also help with word choice, passive voice, and tone. According to Google, a similar analysis feature will be rolled out in Slides to help users gain better insights while reviewing data.
A fun little added bonus, you'll now also be able to use emoji reactions in Google Docs. So the next time your colleague blows you away with an idea, you can leave the appropriate feedback. 🤯
Work Smarter with the Google Workspace Update
Not all of these new features are available right now, but you'll likely notice them gradually rolled out throughout the year. Google says they will slowly implement these new features, starting with Docs and building from there.
Don't expect a huge, sweeping change in the software. That's exactly what Google is trying to avoid. The goal of the update is to help users build new habits gradually and organically, rather than throwing up a new and overwhelming framework. Take it from the executive director of Google Workspace, Erika Trautman, herself.
"The whole idea is that these are tools people already know. We don't want anyone to have to spend too many brain cells thinking about how to adopt this new functionality; we want it to just be really easy and intuitive to bring the power of Smart Canvas into their day-to-day work."
That's good news for us. The Google Workspace update won't require a lot of learning. But by being aware of some of these new features, you'll be ready and prepared to work faster, harder, and smarter.