Can you see it? The light at the end of the tunnel?
We've been talking about it for quite a while (just over a year, to be exact). Now, as we gradually become a COVID-19 vaccinated society, the prospect of in-person events returning is no longer so far off. Which means it's time to reevaluate your field marketing strategies and think about what people will be expecting in the post-pandemic era.
In person events are expected to return in a big way. But, at the same time, virtual events are still predicted to dominate at least the better part of 2021. The best field marketing strategies will combine digital and in-person-based tactics to engage with customers and create personal connections for your brand.
To understand what field marketing looks like in the post-pandemic era, we first have to start with a solid understanding of what field marketing is.
What is Field Marketing?
Field marketing is a type of experiential marketing. It usually involves a sales and marketing-minded individual who can engage with customers and prospects personally. Traditionally, these types of interactions would take place at events, trade shows, and conferences. But we've now seen this expand out to include virtual and digital connections.
Why is Field Marketing Important?
The best brands today are real, authentic, and human. Personal connections are necessary to build trust and brand authenticity. Field marketing focuses on making these face-to-face, personal and human connections by putting a face behind your brand.
How? Let's take a look at the key benefits that field marketing offers:
Improves Brand Perception
Ever been frustrated with a negative review or comment? Field marketing allows you to take control of the conversation surrounding your brand. Use field marketing as an opportunity to discuss any negative experiences with your prospects and customers. Show them you care, and give them an outlet to interact and experience your brand first-hand. Field marketing also gives you a chance to share with your customers and prospects your brand values and mission. All of this can lead to an improved brand perception.
Creates Better Customer Relationships
Strong relationships lead to repeat customers. Field marketing gives your brand a chance to connect with your customers in a personal way, which helps provide a superior customer experience. Use field marketing strategies to connect one-on-one with your customers and establish a relationship that extends outside of business interactions.
Gives Valuable Insight into Customers
When you get to know your customers, you are privy to inside information. Face-to-face or one-to-one interactions give you the chance to ask for feedback from customers. Talk to them about their experiences, and use this knowledge and insight to refine messaging, reevaluate prices and analyze product offerings.
Creates Trust
The biggest benefit of field marketing? It creates trust. Customers are hardwired to be skeptical of brands. In today's digital world, the buyer is intelligent and self-informed. They expect answers instantly, or else they'll seek them out themselves. That's what makes field marketing so valuable. By putting a human face behind your products and services, they have a tangible place to seek the answers to their questions. This instant gratification, combined with human interaction, creates a layer of trust that can't be ignored.
10 Field Marketing Strategies in a Post Pandemic Era
The benefits of field marketing speak for themselves. The real challenge lies in how to effectively create a field marketing strategy in a world where face-to-face interactions are distant and heavily focused on remote and virtual experiences. Even as the world begins to return to normal, things won't look the same, and field marketing certainly will have changed.
So we put together a list of 10 field marketing strategies that are tried and true in the post-pandemic era.
1. Host Hybrid Events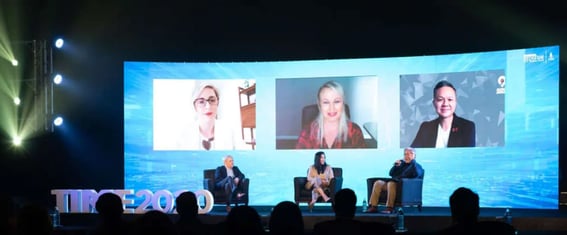 Events are one of the most natural field marketing strategies. It gives brands a chance to connect on a personal level with potential leads and prospects. When events were canceled due to COVID-19, virtual events entered the picture. Now, as we enter the post-pandemic era, we'll begin to see hybrid events as the way to build experiences around your brand.
Hybrid events allow you to reach an even broader audience while catering to your prospects and their individual needs. Even when real events return, not everyone will be ready to jump on board. By holding hybrid events, you'll show brand empathy while still connecting, either in person or virtually, with your target audience.
It doesn't stop there. Hybrid events can offer a lot of value to brand activation. Here are just a few of the key benefits:
Establishes Brand Authority - By hosting an event packed full of industry knowledge, you're painting your brand as a thought leader in your market. This leads to trust. Prospects will be much more likely to buy from you if they trust your expertise.
Allows Attendees to Experience Your Brand First Hand - Whether you're selling a product or a service, hybrid events can allow you to share what your unique selling proposition is. Give attendees product demos and samples. Let them experience what you have to offer for themselves. Hybrid events allow you to walk the walk of your marketing.
Leave a Memorable Impression on Event Attendees - The whole point of field marketing is to impact your customers in a meaningful way, driving them to build a relationship with your brand. What better way than to host an extraordinary experience? Hybrid events are an outlet your brand can use to get creative while giving your attendees something of value that will leave a lasting impression of your brand and inspire them to continue the conversation with your brand.
How do you host a hybrid event? We're glad you asked. This hybrid event checklist walks you through the protocol and best practices from start to finish.
2. Let Your Customers Tell Your Story
There's nothing more powerful than a customer doing the marketing for you. Think about it. Who do we trust more? Our friends or the voices in television commercials?
Tapping into our repeat customers, and asking them to share their stories, is a field marketing strategy that can be tapped into in the remote and in-person world. This type of social proof will build a solid foundation of trust with prospects considering your products or services.
There are a few different ways you can use social proof as a field marketing strategy. Here are a few ideas:
User-Generated Content

- Ask your most loyal customers to take to their social pages and share their own experiences with your brand. This can include an actual testimonial, or it can be as simple as fun photos of them repping or interacting with your company. This works in two ways: it acts as social proof to prospects and humanizes your brand to those potential customers.
Tap Into Influencers - Are there any micro-influencers that your target personas value? Influencers have already built up a high amount of trust with their followers. As long as they are relevant to your industry, this trust can be tapped into and used as a form of social proof for your brand. Reach out, and ask if they'd be willing to partner with you and your company.
Encourage Brand Ambassadors - With size restrictions placed on gatherings, a smart field marketing strategy taps into brand ambassadors to help you reach the same amount of people. When you divide and conquer, your loyal customers can help you still touch the same amount of people, even if you aren't physically traveling to these locations. Consider a rewards or referral program for those customers who share your brand, products, or services in their own corporate circles, get-togethers, or event gatherings.
3. Create Online Networking Opportunities
One of the great things about live conferences is the networking opportunities that go with them. This is a big part of field marketing and encouraging one-on-one connections with your brand. So how do you recreate this digitally?
Encourage online conversations. When you host your own hybrid or virtual events, ensure that you offer a place for guests to connect. Whether this is through online chat rooms, message boards, or individual video calls, ensure that you're prioritizing these networking options.
The good news is the right virtual event platform will offer an easy way for guests to connect and network with each other. Consider investing in these types of programs to make the most out of your field marketing strategy in the remote world.
Another idea that can easily be added to hybrid or virtual events, or even online webinars, is to offer one-one sessions with your speakers. These thought leaders have incredible value to your customers or prospects, so give them a chance to connect with them individually and on a more personal level. This can easily be achieved through virtual meetup sessions.
4. Send Gifts to Prospects or Customers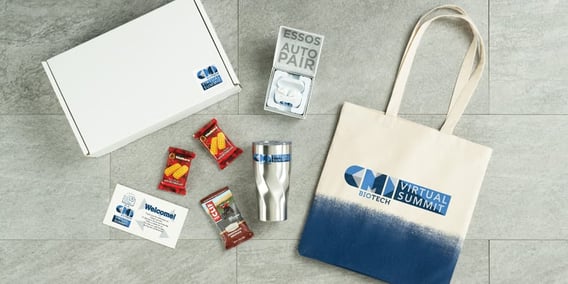 How do you feel when you receive a gift in the mail? Valued and appreciated? That's the power that direct mail and gifting can have. Sending gifts right to the doorstep of your customers, prospects, or even event attendees can help bridge that connection gap that your field marketing strategy might have.
Honestly, what better way to connect with people than to show them they're valued and appreciated?
When choosing gifts for prospects or customers, it's important to keep your target persona in mind. To be an effective field marketing strategy, prospect and customer gifts need to be hyper-personalized, useful, and intentional. We also suggest thinking hard about the packaging. According to a study done by Dotcom Distribution, 58 percent of people say that "gift-like" packaging influences their perception of a brand, while 60 percent consider the brand to be more "upscale" when they use premium and customized packaging.
From the gift and packaging selection to dropshipping the actual packages to clients' doorsteps, we talk more about how to send corporate gift boxes here.
5. Engage with Prospects & Customers Using Video
A lot of the above field marketing strategies use the power of video to connect with employees. But we can get even simpler with our methods. Video, just in itself, is a field marketing strategy that can't be ignored.
Consider tapping into live video to bring field marketing into your more traditional marketing strategies. Here are a few different ideas.
Record a product unboxing or demo, and include it in email newsletters and sales outreach.
Host live video sessions on social media platforms where you interview customers, industry thought leaders or answer frequently asked questions.
Have your sales reps record and send out personalized videos to customers.
Create video snippets from hybrid, virtual, or in-person events and showcase these on various marketing channels.
It's easy to get caught up in complicated remote and digital tools. But really, when we boil down most of these tools, they all are founded on the power of video. While these more complex digital field marketing strategies shouldn't be overlooked, it's also important to take advantage of the personal connections that a simple video can bring.
6. Tap Into Partners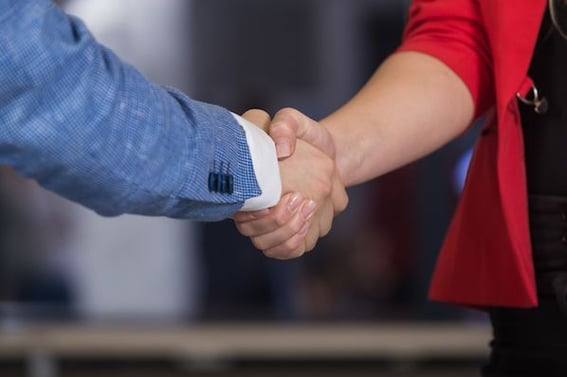 Forming partnerships is important now more than ever. By pairing up with a brand, maybe not a direct competitor, but a relevant contender in your industry, you'll expand your reach while offering more value to your customers.
Here are a few ideas for partnerships:
Co-host an event, webinar, or conference
Product display partnerships
Sponsored content partnership
Collaborative product lines or services
Social media featured posts
By partnering up with other relevant companies in your industry, you'll find new ways to connect with prospects. It's a field marketing strategy that will keep doors opening in the future too. By planting the seeds for your partnerships now, you'll begin to see your relationships grow in conjunction with your brand exposure. Some benefits include:
Higher perceived brand value - By partnering with another brand, you'll increase the value of whatever it is your offering. You've heard that saying, "two minds are better than one". It holds true in the business world. Two companies can always offer more than one.
New and innovative ideas - Brand partnerships allow you to think creatively with other thought leaders in your industry. Brainstorming with new minds can help spur new ideas and a different way of thinking.
Increased exposure - Maybe the most obvious benefit of brand partnerships is the ability to tap into a whole new customer base. If you partner with a reputable brand (which you should), you'll tap into a group of people who already hold a certain level of trust for that brand. A brand partnership allows your company to tap into that trust.
7. Launch a Cause Marketing Campaign
Cause marketing campaigns are popping up everywhere as consumers begin to demand more from their brands. They want the organizations they do business with to align with their values. In fact, nine out of 10 millennials say they are likely to switch to cause-branded products, while three-quarters of consumers report feeling.
So how does cause marketing relate to field marketing? In order for a cause marketing campaign to be successful, it has to feel real and authentic. It also needs to resonate with your prospects and customers on an emotional level. This is where the field marketing strategy comes into play. For the best success, bring your cause marketing campaign out into the real world.
Let's take a look at some real examples from B2B businesses.
The tech company, IBM, aligned with the cause to support and encourage women in the computer technology industry. Company representatives interviewed students around the country and created the video series

COD3Rs

that spotlighted successful women who had to overcome the challenge of being a female in a male-dominated industry. The result was an inspiring message to the nation's youth, and the program expanded to more than 90 schools in the country.

Tork, a supplier of napkins, toilet paper and other paper products, launched the campaign "

Take Back the Lunch Break

" in 2018. It's now an annual and national movement where every year, on June 21st, the company and partners call on employees and restaurants to "take back the lunch break." The campaign gains traction on social media each year, with coworkers, employees, and other companies sharing photos of how they step away from their desks and reclaim their lunch break. Take a look at

#takebacklunch

on Instagram or Twitter.
So, what ways can you implement a cause marketing campaign into your field marketing strategy? Here are some campaign ideas that will not only help your company make a difference but help customers resonate with your brand.
Launch a special product or service line, and donate a percentage of your profits to a charity your target audience values.
Create socially conscious messaging around an industry-relevant cause.
Hold a pledge drive for a cause your company supports. Use social media and other marketing outlets to rally customers together for this day of giving.
Grab your employees and get out and volunteer. Sometimes the simple act of doing can be a huge field marketing strategy in and of itself.
8. Update Your Team's Sales Collateral
Your sales collateral speaks for your business. Sales reps can only do so much to engage with prospects in your target audience. By equipping them with the right tools to spark the personal engagement you're after, you'll be on your way to a more successful field marketing strategy.
So, what types of sales collateral should you have in your team's toolbox? Think of material that will spark emotional connections and create personal connections while nurturing your prospects along in the buyer's journey. Here are some examples:
Case studies
Onboarding videos
Customer testimonials
Interactive presentations
Battle cards
When creating your sales collateral, keep in mind how your sales rep might be using it out in the field. Add an extra layer of interaction and engagement to anything you create. And keep it personal. This will enable reps to sell effectively both in-person and digitally. It will also help customers or prospects trust your brand more during product demos in the field.
9. Create Personalized Experiences for Strategic Accounts
Account-based marketing is an important part of any field marketing strategy. Why? The definition of ABM says it all. Account-based marketing is a strategic form of marketing where key "target" accounts are identified and marketed to individually, based on their specific personas or needs. It's personalized marketing.
By creating personalized experiences for strategic accounts, you'll be tapping into the benefits of ABM and using a field marketing strategy that creates lasting, memorable relationships. So, where do you start?
First, determine the high-value accounts that you'd like to go after.
Determine their personas. Map out their characteristics and what guides the decisions that they make.
Start your outreach, and make it personal. Offer to meet up with targets in a virtual happy hour or coffee. If you're able, consider taking them to lunch. If you're not, send them a

work from home care package

, or a "virtual coffee," and then offer a time where you can enjoy it together over video.
10. Market with Empathy
Finally, the last piece of advice to guide you in your field marketing strategy is to market with empathy. Field marketing is all about creating human experiences and a community around your brand. In today's world, this is impossible to accomplish without taking time to truly understand what your customers are dealing with.

Take some time to think hard about your target personas and any customers you may have spoken with recently. Ask these questions:
What type of tone did they have?
What were they dealing with outside of your business transaction?
What is their home situation like?
Are they working from home?
Do they have to remote teach their children?
By approaching any field marketing strategy with empathy, it will be much easier to build the personal connections we're after and leave a lasting impression on our customers. Remember, we really are human. So it's essential to think of each other as humans and not just businesses.