Phone, keys, wallet, sunglasses...face mask?
As spring transitions to summer, I have to continuously remind myself not to forget the most important - and now trending - accessory of the season when I leave my house, a face mask.
Face masks are the trending fashion accessory that's sweeping the world. When we go out in public, it's extremely common to see many people wearing face masks every day.
Some people even coordinate their outfit with their mask!
Why face masks are a trending fashion accessory
Face masks became a staple in everyone's wardrobe and many industries took notice and put their own creative twist on this PPE-turned-accessory. From the fashion industry to the promo world, brands and businesses made wearing a mask fashionable and intentional.
Anyone of any age or style preference can rock this trend
It's a form of self-expression
Safety first, fashion second
With many companies selling fun and creative masks, it's important to remember why we're wearing them. Face masks are worn to slow the spread of COVID-19 and protect those around you. Before purchasing a reusable mask from any retailer, make sure the mask is at least 2-ply and machine washable. Face masks are not one size fits all, so test out a few different styles to find the one that fits your face the best.
Everyone can embrace this trend
Unlike most fashion trends where only young adults follow, face masks are worn by everyone as a necessity to help protect others. Many brands use this to their advantage and creatively design face masks to fit the aesthetic of their brand. This is seen in industries like the promotional world, restaurants, retailers.
Some restaurants even purchased branded face masks for their employees. Wearing these branded masks prevent the spread of germs from employees to customers and also creates a stronger sense of community among employees. It's recommended that everyone wear face masks in public, so why not make it fun? Companies that provide matching face masks promote safety and brand awareness.
A new form of self-expression
More businesses and stores are reopening, and everyone has the opportunity to have fun with face masks and use them as a form of self-expression. Many people express themselves through facial expressions, but with masks we can't necessarily do that. Custom face masks are the creative alternative solution.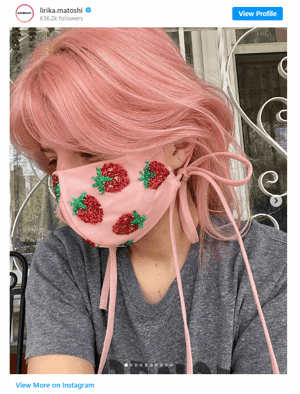 Scroll through Instagram and you'll see influencers and celebrities posting pictures with masks and include the hashtag #MaskingForAFriend. People like Sophia Bush and Arnold Schwarzenegger use this hashtag to normalize wearing a mask and help spread accurate information about the benefits of wearing a face mask.
Face mask, but make it fashion
Face masks are worn to prevent the spread of COVID-19. Face masks are highly recommended, but they don't have to be boring. They can be creative and used as a form of self-expression while still following the recommended safety guidelines. When getting dressed, don't forget to incorporate the most important accessory of the year - the face mask.