Honestly, when I first discovered UV light sanitizers, I was a bit skeptical. How could light, without any sort of cleaning solution, effectively kill germs? But after a bit of research, I learned UV light has been used by medical facilities and doctors for hundreds of years.
The recent shortage of hand sanitizer and cleaning solution spurred the creativity to bring this technology to the consumer's use. Now products like UV power banks, UV sterilizer wands, and UV device sanitizers are popping up, claiming to kill germs quickly and effectively with the use of ultraviolet light.
Like any new product, people have a lot of questions about how UV light sanitizers work, and if they are effective. So we did some research to help you decide if they're a promotional product worth investing in.
How do UV light sanitizers work?
UV light technology was discovered in the 1870's by a physician named Niels Ryber Finsen. He actually won the Nobel Prize in 1903 for his use of light radiation to treat diseases such as Lupus. Since his discovery, hospitals have been using this technology to disinfect surgical suites and cut down on the spread of drug-resistant germs.
So what is UV light and how does it work? Ultraviolet light is a type of electromagnetic radiation that produces three main types of UV rays:
UVC rays have the shortest wavelength and the highest energy. This gives them the ability to destroy molecular bonds that hold together the DNA of viruses and bacteria.
Can UV light sanitizers protect against the Coronavirus?
The big question is will these light sanitizers kill COVID-19. As of now, there isn't a definitive answer, but research suggests it's quite likely.
According to the FDA, UVC radiation has been shown to destroy the outer protein coating of the SARS-Coronavirus. Though a different virus than the current COVID-19, this leads researchers to believe that UVC radiation may also be effective in inactivating the current virus our world is struggling with.
Alex Berezow, a microbiologist who has studied UV light extensively, says, "UV light kills everything: bacteria, fungi, viruses. It should kill coronavirus."
One thing we do know for sure is that UV light sanitizers are effective in killing simple viruses like the flu. A study released in 2018 showed UVC light was effective in killing airborne H1N1, which is the common strain of the flu virus.
"UVC light has a very limited range and cannot penetrate through the outer dead-cell layer of human skin or the tear layer in the eye, so it's not a human health hazard," says David Brenner, who directs Columbia's Center for Radiological Research. "Because viruses and bacteria are much smaller than human cells, UVC light can reach their DNA and kill them."
It's also important to note that the surface you're using your UV sanitizer on matters. Smooth surfaces like marble and glass are easier to disinfect than wood or cloth. This is what makes them most useful on things like electronic devices.
Our Top UV Light Sanitizer Product Picks
There are a lot of different UV Light Sanitizing products on the market that claim to be effective. It can be hard to differentiate between the cheap claims and the high quality trusted products. We've put together a list of our top picks that you can be sure are effective and of high value.
UV Power Bank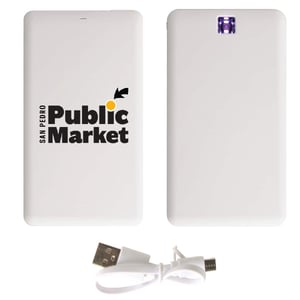 This UV Power Bank combines UV technology with the convenience of a portable power bank. It features a 4000 mAH battery that can provide a full charge for most smartphones, and has dual Lightning and Android connectors, a Type-C adaptor, and a standard USB port. It has a built-in Ultraviolet light that works just like a flashlight on a phone. It's great for cleaning your toothbrush while traveling, or quickly sanitizing other high touch surfaces you might come across while out and about.
When it comes to customization, you have some flexibility with your logo. Choose between a one, two, three, or full-color imprint on the front of the device.
Smart Phone UV Light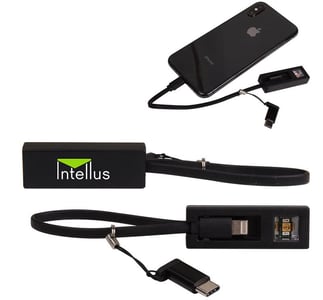 If I had to guess the one thing you always had with you, it would probably be your smartphone. Am I right?
This Smart Phone UV light is a great way to make sure you always have a cleaning tool with you as well. It turns your smartphone directly into a sanitizer, by plugging right into your device. With a Lightning/Android connector, plus the Type-C adaptor it's compatible with almost any device, and also uses very minimal battery. With the keychain attachment, you'll always have this cleaning option with you. Customize it with your company's logo by choosing between a one, two, three, or full-color imprint.
UV Wireless Charger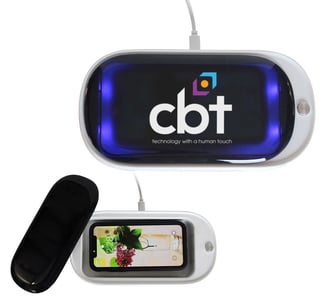 Another two-in-one product, this UV wireless charger combines the flexibility of power with the sanitizing powers of UV light. Here's a scary thought - the average cell phone is covered in 25,127 bacteria per square inch. This UV cleaner can help cut that number down while giving your device a battery boost. It's also great for cleaning other high touch items like keys or watches.

An important note - to take advantage of the wireless charging feature, your device must have a built-in Qi or an external Qi receiver. The newer versions of iPhones including the iPhone 8 and up all have Qi integration built-in. Check your phone's compatibility here.
The charger comes with a Type-C input cord, and can also be branded with a full-color imprint.
Custom UV Sanitizer Box

If you have multiple items that you'd like to quickly sanitize, this UV sanitizer box is useful. It looks almost like a mini tanning bed, and small items like keys, phones, pens, or even your mask can fit inside. Plug it into a power source and close the lid. All of your enclosed items will be sanitized with UV light on the case's top and bottom.
The portable size makes it perfect for desks or even use in the car. Your logo can be imprinted in full color in the center of the box and will stand out nicely with the box's two-tone design - white exterior and grey interior.
Custom UV Sanitizing Station & Charger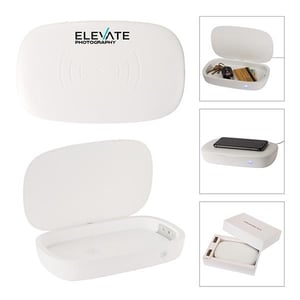 Take the UV Sanitizer Box one step further with this deluxe version that includes a wireless charger. It's perfect for travel when you know you have a lot of items to pack. Its large size is deeper than the standard sanitizer box. This offers more versatility when it comes to the items you can sanitize. It works just the same as the standard version, with UV light on both the top and bottom, which activates when the case is plugged into a power source.
Branded UV Sterilizer Wand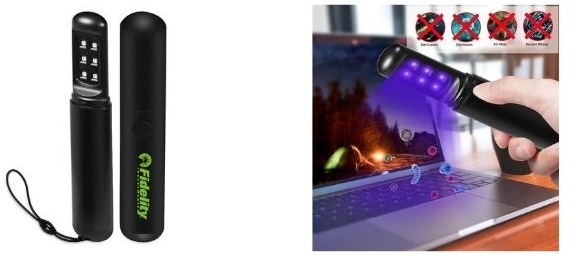 UV sanitizers aren't just limited to cleaning small items. This UV sterilizer wand allows you to use the technology on almost any surface, such as toilet seats, keyboards, door handles, even pet supplies. Its portable size makes it perfect for the pocket or travel. The UV sanitizer lamp is powered by 2 AAA batteries, so there's no need for cords.
Consider storing this in your backpack or suitcase when traveling, and you'll always have a quick and easy sanitizing solution. Unlike hand sanitizer, you don't ever have to worry about running out. It comes in white or black and can be personalized with a full-color imprinted logo.
Need more PPE Solutions?
With the new demand for PPE products, it sometimes can be hard to find exactly what you're looking for. That's why UV light sanitizers can be a great alternative to products that might be out of stock. With any new technology, there will understandably be doubts about effectiveness, but research proves that in most cases UV sanitizers are effective in killing 99% of germs.
When considering effectiveness, it is important to choose high-quality products. All of our products are tested and designed to work as UV light should, so you can rest assured that you'll be picking a germ-killing product.
If you're in need of more creative PPE solutions, we encourage you to browse our collection. We've hand-selected products that we know are high quality and designed to keep you, your clients, and your employees safe.