CamelBak water bottles are extremely popular and high quality products from a company that specializes in making outdoors equipment for athletes like bikers, hikers, runners, and walkers. Best known for its water bottles and hydration packs, CamelBak's reusable water bottles gained swift popularity when plastic bottled water was officially deemed harmful to the environment.
Now, CamelBak water bottles are not only popular among athletes, but they are widely used among all kinds of companies and organizations as promotional products. Their popular design and look appeals to all audiences. For example, multiple colleges across the country sell custom CamelBak water bottles printed with their logo on campus.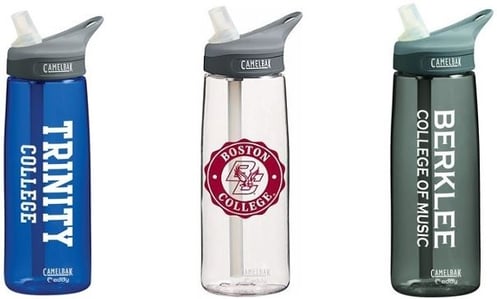 So many colleges sell these water bottles because they are trendy. In fact, a couple of CamelBak's water bottles were chosen as some of the best reusable water bottles by Good Housekeeping. It will definitely pay to promote your brand with a high quality, trusted product!
I've compiled a collection of custom CamelBak water bottles, but first, here are some of my favorite styles to get you inspired.
1. Promotional .6 Insulated eddy

I like this bottle because of its unique, two tone color scheme. The promotional .6 Insulated eddy is a double wall bottle that keep water cool and prevents condensation. Great for charity racers or just people on the go, this custom bottle features the signature CamelBak flip-up bite and sip straw. Use this water bottle to promote your brand or event.
2. Custom 21 oz. Podium

Looking for a simple sports bottle from the trusted CamelBak brand? The custom 21 oz. Podium is the promotional bottle for you! This bottle features the Jet Valve, a self-sealing drinking spout. This bottle is specifically designed for athletes because it releases water while you squeeze, making for an easy and quick drinking process. Perfect for fitness and wellness themed companies.
3. Logo 32 oz. Chute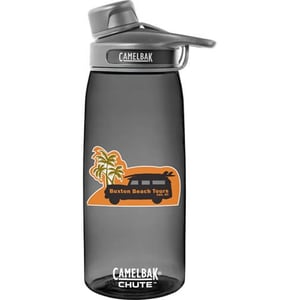 The logo 32oz. Chute has yet a different spout design: a high flow, ergonomic spout accompanied with a leak-resistant turn cap. I like this water bottle because of its sturdy and tough design. This water bottle is the perfect fit for athletic recipients participating in physical activity.