It's harder than ever for sales reps to get in front of top prospects. The cast-a-wide-net-and-hope-for-the-best approach of years past has made the email inbox a scary, cluttered place of irrelevance. It's no wonder prospects and leads aren't responding to these tactics (I know I'm surely not).
The only way to capture (and keep) attention in the saturated email space is with highly personalized and contextualized outreach.
When done well, video is a powerful sales tool to help your team cut through the noise and get your message in front of the right people. Think about it as an opportunity to provide an experience for your prospects, leads, and customers — an experience that's delightfully personal, useful and human.
This one-to-one human experience is exactly what it takes to stand out to your audience and see better response rates.
Video as sales enablement
Video is an effective way for sales reps to personalize their prospecting outreach. It helps sales teams tailor their messages at every stage of the sales funnel. Video puts a face to your brand, builds credibility, and introduces a human connection into the sales process from the first touch — something that's been absent from the sales landscape for far too long.
Adding video to the sales process has been shown to...
Boost email click-through rates up to 300%;

Triple response rates; and

Increase meetings booked by 500% (source: Vidyard).
Here are some tips for boosting sales response rates with video:
Don't get hung up on getting started.
Video has a lot of hype right now. If you haven't yet peeked behind the video curtain, you might not feel equipped with the time, resources or know-how to be successful with video. But you can't afford to drag your feet any longer.
And there's really no excuse anymore.
Video technologies are becoming increasingly user- and budget-friendly. A great example of this is Soapbox, a Chrome extension by Wistia that makes it easy to record, edit, and track videos. You can even split the frame to show your face and your screen. There's no fancy equipment or editing software needed — just you and your laptop.
Ugh but I look dreadful on camera...
Wistia put together a short list of best practices for looking your best in a webcam shot. Follow these tips and even sales rep Joe will be presentable on camera in no time.
Make a remarkable first impression with video voicemails.
We've all heard the old adage: you only have one chance to make a first impression.
Video voicemails in the prospecting stage foster a one-to-one human experience for prospects right off the bat — and provide a more compelling medium for you to introduce yourself, share about your brand, and demonstrate your value upfront.
Personalization is key here. The average retention of personalized videos is 35% higher than non-personalized videos. Do your research on the person and company you're reaching out to so you can really go above and beyond. Use what you've learned to share what you like about their business and how your product or service could help make them even better. Be the problem solver and the solution for your prospects.
Here's an example I like: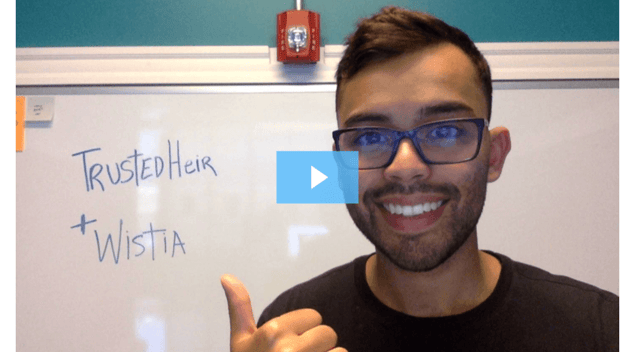 Use video throughout the sales cycle.
The opportunities of video voicemails span far beyond prospecting.
Incorporating video into every stage of the sales process — initial outreach, pitch presentations, demos, thank yous, meeting recaps — will infuse your sales process with the personalized delight factor necessary to stand out.
And this doesn't just sound good— it works. The Wistia sales team has integrated video voicemails throughout the sales cycle and saw a significantly higher click-through rate of sales outreach emails containing video voicemails (42%) as opposed to text-only emails (10%).
Here's our Client Services Manager Elizabeth putting it into practice: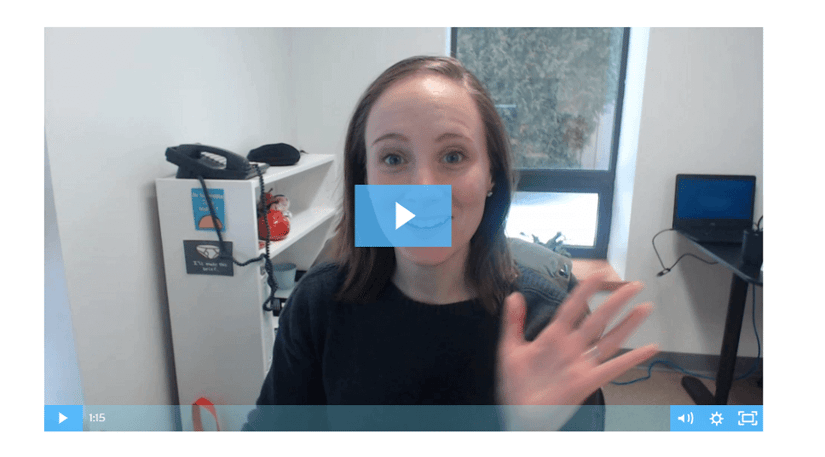 Track and optimize.
Videos are far more human than text-only blabbity blah, but they shouldn't just be feel-good fluff — they should be actionable. Your videos should take your viewer on a journey that culminates in action.
Always include a call-to-action (CTA) within the video to provide a conversion path and move viewers further down the funnel. Your CTA could be book a meeting, access another video or piece of content, or start a live chat with a sales rep. Soapbox makes it easy for you to include a CTA in your sales video and track its conversion performance.
Like anything worth doing, make sure you're tracking and measuring the results of your videos and CTAs. Track these metrics over time and be open to experimentation in order to pinpoint what resonates most with your audience, when, and at what stage in the funnel.
Be authentic.
Most emails sound totally canned (let's be honest, most of them are).
The whole point of incorporating video as a sales tactic is to humanize the sales cycle. And no human is perfect.
If you're like most people, it's hard to see yourself on video because all you can see are those glaring imperfections. But that's what video is all about — embrace the imperfect. The stammer, the weird analogy that came out without warning, the hand gestures that take over when you're feeling really jazzed.
Now I'm not recommending that you approach videos with reckless abandon. But don't shy away from what makes us all human. These authentic eccentricities captured on video help you build connection, trust, and relatability with your viewer, and faster.
Quality over quantity
Sales has been focused on quantity over quality for far too long, clinging to an obsolete belief that more is better. But it's obvious that this is no longer a viable business approach.
Using video as a sales tool flips this on its head. Yes, it requires more work upfront to reach a smaller pool of prospects, but the quality of your outreach will differentiate your sales outreach from the rest. You'll connect with prospects on a deeper level and build rapport more quickly than those sticking with traditional email methods.
You might just find that being human is your biggest sales asset. Now isn't that a relief!